PDL BioPharma And Neos Therapeutics - The Deal That Could Have Been
Summary
After Kaleo deal, PDLI has close to $500 in cash.
For the past year, PDLI mgmt. has stated they plan on making an equity pharma offer.
Neos was that offer.
Regrettably - for PDLI shareholders - the deal was not accepted.
The deal should provide reassurance for PDLI shareholders that mgmt. is committed to pharma acquisition strategy that is cash accretive.
I began following PDL Biopharma (NASDAQ:PDLI) in March of 2017, when I wrote my first SA piece on the company: 2017 Could be a Gamechanger. You are welcome to read that article if you want to learn more about the company and why their stock dropped from $7 to $2 over the past few years. My second article on PDLI - Now is the Time to Buy - outlines my bull thesis for the company, including potential near term (1-6 month) catalysts for the stock. Essentially, I argue that PDLI is a conservative investment with a $500 million balance sheet, about $5.5 book value, nearly $3.5 per share of cash on balance after the Ariad and Kaleo deals, and a growing potential for earnings with Tekturna - a third line hypertension drug for patients intolerant to ACEs and ARBs (generic hypertension medication). Additionally, I write that one key catalyst for 2017 is the potential of an acquisition. Generally, I understand that many acquisitions are risky business, and often may not produce the synergies that the acquiring company hypes. However, PDLI is, in essence, like a public company that operates like a private equity shop, with a history of accretive debt and royalty deals in the pharmaceutical space. Recently, PDLI has entered the pharma equity space, namely with their purchase of Noden pharma and the Tekturna/Rasilez products.
Mid-way through Q3 2017, PDLI management followed through on projections they have made all year and made an unsolicited deal for Neos Therapeutics (NASDAQ:NEOS). Below is a synopsis of Neos' business model from their recent Q2 17 10Q:
They have "… a pipeline of extended­ release pharmaceuticals, which include two approved products and one proprietary product candidate in late stage development for the treatment of attention deficit hyperactivity disorder ("ADHD"). Adzenys XR­ODT was approved by the FDA on January 27, 2016 and launched commercially on May 16, 2016. Also, the Company received approval from the FDA for Cotempla XR­ODT, its methylphenidate XR­ODT for the treatment of ADHD in patients 6 to 17 years old, on June 19, 2017, and plans to launch this product in the fall of 2017. In addition, the Company manufactures and markets a generic Tussionex (hydrocodone and chlorpheniramine) ("generic Tussionex"), extended­ release liquid suspension for the treatment of cough and upper respiratory symptoms of a cold." (Aug. 2017 10Q)
Below is a glance of Neo's pipeline: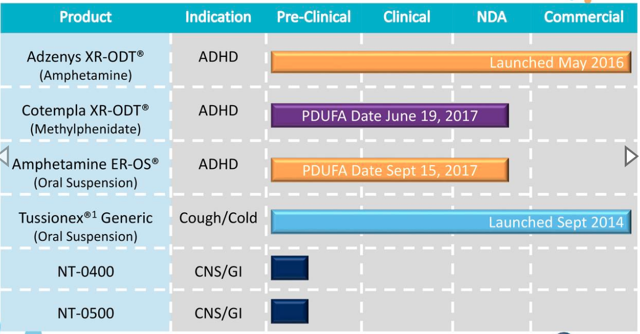 PDLI offered a buyout at a 40% premium to the share price of about $7.3 on Thursday Oct. 26, 2017, at $10.25 per share. I started writing the article over the weekend of Oct. 27, before it was announced that Neos - for a third time - rejected the offer as it stands. For the sake of analyzing whether or not PDLI made a shareholder friendly acquisition offer in the Neos deal, I will present my simple analysis about Neos and deal-the-could-have-been.
The total cost of the acquisition was for $10.25 per share x 28,080,635 Neos shares = $287,826,508, or an estimated 58% of PDLI's cash on the balance sheet as of the end of Q2 2017.
Reviewing Neo's product lineup and pipeline, I see immense revenue growth potential for Adzenys XR-ODT and Cotempla XR-ODT. These products are two patent protected extended release ADHD medications that have orange flavor and dissolve in the mouth (see investors slides below):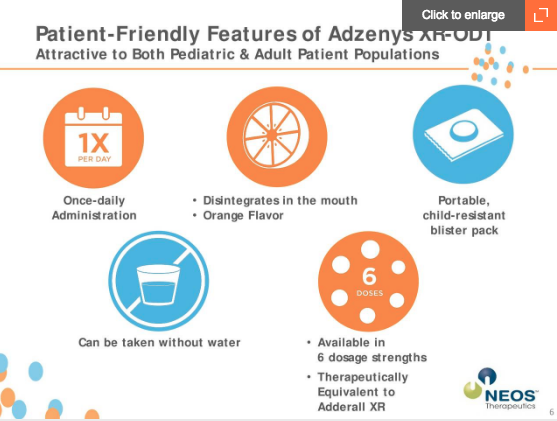 Clearly, the ADHD products are clearly geared towards school age kids. In Neo's most recent 10K, they state that the ADHD is a $10.4 billion dollar business (albeit a crowded one), and an extended release ADHD pill that dissolves in the mouth would - in my view - offer a unique niche within this $10.4 billion ADHD market. A child could eat it with breakfast in the morning, and the extended release of the drug could stay with the child through the school day. This is important to parents that do not want the hassle of sending medication to schools to be administered by the school nurse (should the school even have one). Indeed, Neos' CEO Vipin Garg alludes to the target audience for Adzenys and Cotempla in his comments from the Q2 17 Neos conference call:

(Quotation from Seeking Alpha: Q2 17 Neos conference call transcript)
Until the past year, Neos has made most of their revenue from generic Tussionex (hydrocodone and chlorpheniramine medicine). Yet 2017 is the first year where the 125 person Neos sales team has commercialized Adzenys XR­ODT. Likewise, Cotempla XR­ODT will start commercialization in January 2018. You can see the impact the launch of Adzenys XRODT has had on Q2 2017, as revenues are up over 230% from Q2 16 to Q2 17:

The footnotes spell out - rather clearly - that the sales increase are nearly all due to Adzenys.
Looking at Neo's balance sheet, they have $57,362 in cash and $21,262 in short term investments, and they have $62.4 million in liabilities (including $66 million in current and long term debt). The deal from PDLI stated that Neos must have $45 million on year end cash balance. Noes' 2016 cash burn was approximately $90 million, compared to about $25 million in 2015. In the Q2 earnings call, Vipin Garg (CEO) stated that the company has enough cash to get to cash flow positive after the $34 million equity raise that occurred just before the earnings call. That comment - in my view - might be a stretch, given the cash burn rate from the most recent two quarters.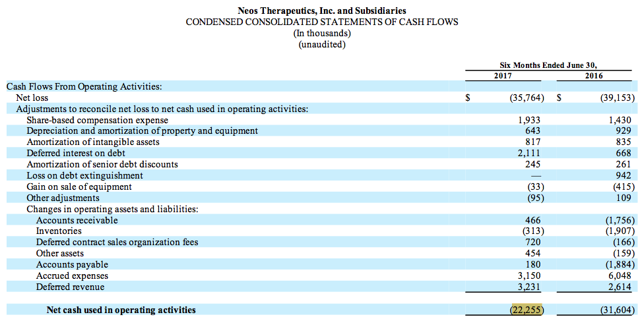 If the first half of 2017 is any indication of what it would take to get to cash flow positive, they have a challenging road ahead of them in the back half of 2017 and 2018. I would assume the R&D ($12 million in 2016) would be less in 2017 and 2018 because their lead pipeline drugs have FDA approval. Nevertheless, SG&A was nearly $50 million in FY 2016, which makes cash flow positive a stretch in 2017 or 2018, even with the 49% gross margin that Neos attained in Q2 of 2017. That being said, Q2 17 margins do not include Cotempla sales, since it doesn't begin commercialization until January 2018.
In summary, Neos will be tight on cash, and they may struggle to achieve the cash flow positive goals - hyped by management - without an equity or debt raise. Indeed, the recent SA post stating that Neos is considering taking other acquisition offers could be considered evidence substantiating my argument.
As a PDLI shareholder, I am disappointed that Neos rejected the offer. Since PDLI would have had another $220 million of cash after the Neos acquisition, that seems like a more than reasonable cash runway to bring the Neos products to cash flow positive without the fear of another equity/debt raise, one that Neos could face if they go it alone. Furthermore, given the sales potential of the Neos ADHD products, the acquisition offer validates my faith in PDLI management's ability to identify wide moat products with unique growth potential in niche corners of the pharmaceutical sector. For that, I trust - trust which is now verified - that PDLI's future acquisition offers will be cash accretive.
This article was written by
Value oriented (and special situations) individual investor.  I look for good balance sheets, hidden assets, or - on the short side- the inverse of that.  Focus on fundamentals and an accounting analysis.  Finance is not my day job; I am a self taught investor.
Analyst's Disclosure: I am/we are long PDLI. I wrote this article myself, and it expresses my own opinions. I am not receiving compensation for it (other than from Seeking Alpha). I have no business relationship with any company whose stock is mentioned in this article.
Seeking Alpha's Disclosure: Past performance is no guarantee of future results. No recommendation or advice is being given as to whether any investment is suitable for a particular investor. Any views or opinions expressed above may not reflect those of Seeking Alpha as a whole. Seeking Alpha is not a licensed securities dealer, broker or US investment adviser or investment bank. Our analysts are third party authors that include both professional investors and individual investors who may not be licensed or certified by any institute or regulatory body.