Today's ADP data came in ahead of expectations and shows a massive rebound from last month's low read. Last month's read in both the ADP and NFP were no doubt affected by the round of devastating hurricanes that came through but the affect is limited. Looking closely at the data it is easy to see that the impact was short lived, shallow and with no lasting negative effects. In fact, the data also shows that labor markets have not only rebound from the storm affects but have strengthened from pre-storm levels.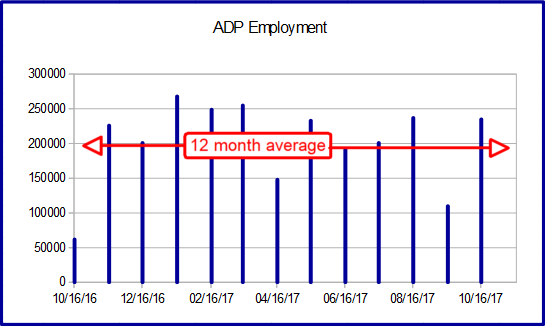 Headline ADP is 235,000. This is more than double the last month's read and 35,000 above consensus estimates. The gains were broad across all sizes of business and sectors of the economy with isolated weakness in only 2 segments. Small business added nearly 80,000 new jobs, midsized 66,000 and large ones 99,000. The goods producing sector created 85,000 of those jobs with 66,000 attributable to the housing sector. The services sector created 150,000 new jobs with gains offset by declines in trade/transport/utilities and information totaling -77,000.
Storm Affects Were Limited And Short Lived
Looking to the weekly jobless claims data it is easy to see the affect storms had on the labor markets. Initial jobless claims spiked with the Harvey, subsided a bit and spiked again with Irma and Maria. It is also easy to see that in the wake of their passing those spikes have retreat to set new long term 44 year lows, in line with prevailing labor market trends and consistent with tightening labor market conditions.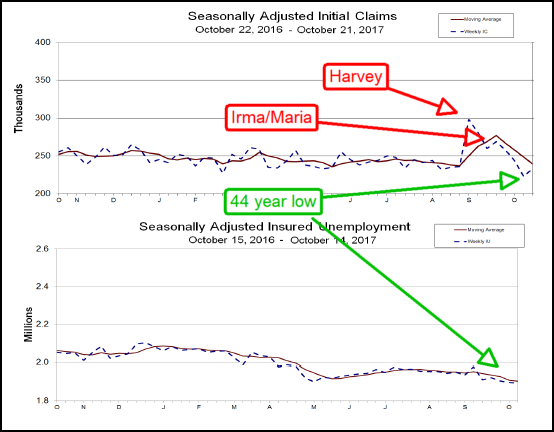 Looking to the continuing claims figure and more importantly the total claims figures the data shows little affect beyond the first week of job loss. That means that most Americans who were displaced from their work due to the hurricanes were back to work within 2 weeks of the storms passing. Both these metrics have also moved lower to set new seasonal and long term lows, consistent with labor market health and tightening.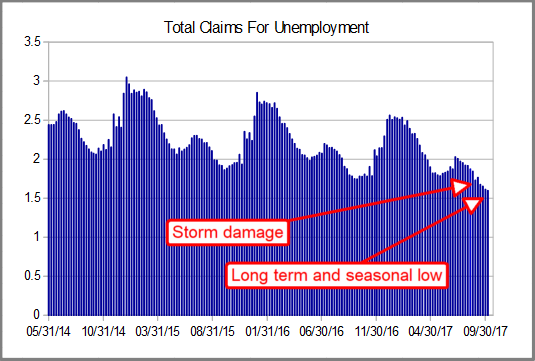 The Long Term Outlook
Looking to the long term, and by that I mean the KC Fed's Index of Labor Market Conditions, the US economy has been signaling the onset of robust labor market and GDP growth for nearly 2 years. The Index signaled this when it crossed above the 0 line for the first time since the Housing Bubble and Global Financial Crisis and has been confirming it with positive and positively trending readings ever since. In the October read Activity Increased to 0.50 from 0.41 and is near long term highs while momentum fell moderately to 1.08 and remains above levels normally seen during US bull market expansions.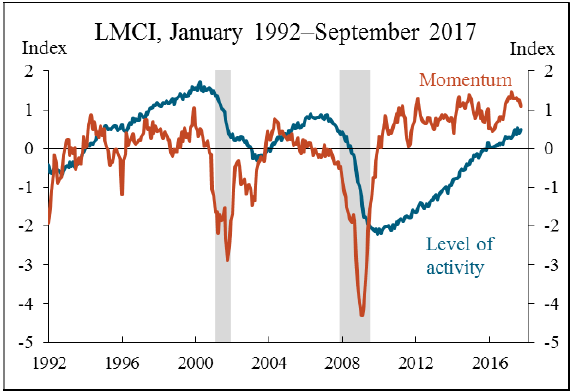 What To Expect From The NFP
What to expect from the NFP? Nothing but good things. The headline number should be on trend and in the range of 200,000 or so. Unemployment should hold steady or decline, providing there is no influx of workers seen in the Labor Force Participation Rate or Workforce to Population Rate to offset it. The most important bit I think though will be the average hourly earnings. Earnings have been trending above 2% YOY for some time now and are a driver of savings, retail sales, GDP and inflation.
A Thought
A thought - The storm is likely to be a net positive for the economy into the long term. Rebuilding is boosting construction employment and that is something the economy has sorely needed for some time. A lack of workers has long been a cited by economists and home-builders as one factor among many holding the housing market back.
Forbes - America's Housing Construction Labor Shortage
CNN - Home Builders Can't Find Enough Workers
Disclosure: I am/we are long SPY.
I wrote this article myself, and it expresses my own opinions. I am not receiving compensation for it (other than from Seeking Alpha). I have no business relationship with any company whose stock is mentioned in this article.