Dividend growth investors look for quality companies who have a history of raising their dividends on a regular basis. Although not as comprehensive as the U.S. Dividend Champions list, Canada's dividend-paying companies also present investors with dividend growth opportunities and have thus far received limited coverage on SA. This is a monthly series that identify the most recent dividend increases of the Canadian Dividend All-Stars, companies who have raised their dividend for at least five consecutive years.
Of note, U.S. based investors should be aware that they are subject to a 15% withholding tax on dividends paid within a taxable account. On the other hand, should U.S. based investors hold their Canadian dividend paying stocks in their retirement accounts, there are no withholding taxes on dividends paid due to our mutual tax treaty.
OCTOBER'S UPDATES
October was another slow month with little activity as only two Canadian Dividend All-Stars, Fortis (NYSE:FTS) and Altagas (OTCPK:ATGFF) raised dividends. Unfortunately, there were equally as many who fell off the list in October as both Corus (OTCPK:CJREF) and Shaw Communications (SJR) lost their status after failing to announce a dividend increase. They join Home Capital Group (OTCPK:HMCBF), Aimia (OTCPK:GAPFF), Brookfield Office Properties and Royal Gold (RGLD) which all fell off the list for various reasons. Of note, Altagas can be purchased by U.S. investors either on the TSX or through the OTC market while Fortis is dual listed on both U.S and Canadian exchanges.
| | | | | | | |
| --- | --- | --- | --- | --- | --- | --- |
| Ticker | Company | Date | Yiled | Old | New | Inc. |
| (FTS) | Fortis Inc | Oct-16-17 | 3.82 | $ 0.4000 | $ 0.4250 | 6.25 |
| | Altagas | Oct-19-17 | 6.79 | $ 0.1750 | $ 0.1825 | 4.29 |
The Altagas and Fortis recent performance varies greatly and when looking at their one-year charts, Fortis has outperformed Altagas by a large margin. In fact, their charts are pretty much polar opposite - as one goes up, the other goes down.

(Source: Google Finance)
Despite the price appreciation, is Fortis still a good buy? Let's take a quick look at their valuation.
Fortis – Sector: Utilities: Industry: Regulated Electric
(Streak: 44 Years)
Fortis Inc. is a Canada-based electric and gas utility holding company. The company's segments include regulated utilities and non-regulated utilities. The regulated utilities segment includes operations both sides of the border and the Caribbean, while their non-regulated utilities segment consists of non-regulated-energy infrastructure, which comprises long-term generation assets in British Columbia and Belize, and the Aitken Creek natural gas storage facility.
Fortis holds the second longest dividend growth streak in Canada with an impressive 44 straight years of dividend growth. The company began trading on the NYSE a little over a year ago (October 14, 2016), and as such may not be as well known as some of its US regulated utility counterparts.
When comparing against their historical P/E ratio, Fortis seems to trade in-line with historical averages (See F.A.S.T. Graph below). However, when looking at other metrics such as their Graham Number, they appeared overvalued. The current share price of C$47.51 is 13.8% above their Graham Number of C$41.63. Likewise, their PEG ratio is currently 3.13 and a PEG over 1.0 typically signifies that the company's earnings are not keeping up with the company's share price and as such can be considered overvalued. Finally, the company is trading at a 13.1% premium to Morningstar's quantitative fair value of C$42.00.
Fortis operates in a regulated environment that is relatively stable. In recent years, they have achieved significant growth through acquisition, and despite signs of overvaluation, Fortis has shown great consistency. Fortis is one of those companies where you can buy, hold and rest easy.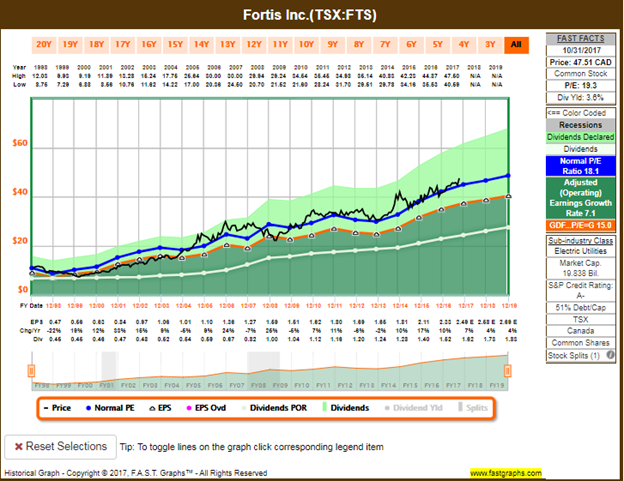 Disclosure: I am/we are long FTS. I wrote this article myself, and it expresses my own opinions. I am not receiving compensation for it (other than from Seeking Alpha). I have no business relationship with any company whose stock is mentioned in this article.
Editor's Note: This article discusses one or more securities that do not trade on a major U.S. exchange. Please be aware of the risks associated with these stocks.