Standex Upcoming Earnings - What To Look At
Summary
A highly diversified company reported Q1, 2018 EPS of $1.10 on $214.4 million in revenues, down 1.8% and up 19.4% from the year-earlier level, respectively.
Yearly revenue growth is marked by an increase in long-term liabilities, goodwill, and intangibles.
A major segment which is accountable for 51% of company's sales is in a decline after having a record revenue in 2015.
During the Q1, 2018, restructuring costs, acquisition-related cost, and interest expense did not let revenue seep into net income.
The company has reported Q1, 2018 earnings. The research provides highlights of the report and makes an evaluation of previous financial results and long-term performance of the company so as to investors would know at what numbers they should look in the report.
Standex (NYSE:SXI) failed to increase net income and EPS due to three factors. The company incurred $1 million of acquisition-related costs, $3 million of restructuring costs, and interest expense rose by $1 million compared to the first quarter of fiscal 2017.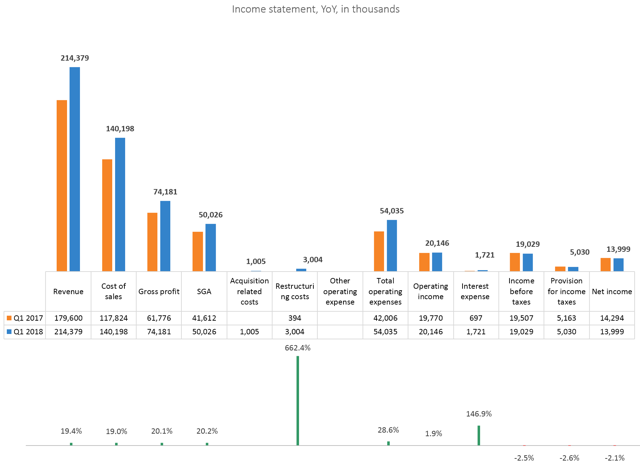 (Data: Company's report, calculations by author)
In the previous reporting period SXI achieved quarterly revenue of $217 million, representing a year-over-year increase of 18.1%. The top line increase translated to the bottom line. Therefore net income was $14.1 million, which represents YoY growth of 15.9%. Thanks to the expenses, whose growth was less than that of revenue. Cost of goods sold and SGA represents a growth of 13.7% and 9% respectively. Operating income for the Q4, 2017 came in far better than in the prior year at $20,6 million. This was an increase of 47% versus Q4, 2016 when the company's operating income was $14 million. The improvement in operating income was primarily due to the absence of other operating expenses (which the company incurred in Q4, 2016) related to the divestiture of the Roll, Plate, and Machinery (RPM) business in the Engraving segment. The improvement in quarterly operating income was partially offset by restructuring costs of $2.7 million which SXI incurred during Q4, 2017. In Q4, 2016 the company also recorded $7.3 million non-cash loss to adjust the net assets of this business to their net realizable value.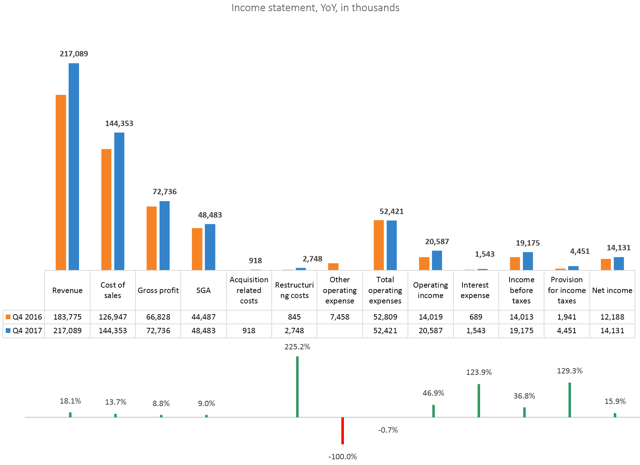 (Data: Company's SEC files, calculations by author)
While Q4, 2017 results are positive, the full year achievements are not that bright. Revenue and gross profit came in flat. Whereas operating income and net income were reported lower than 2016 results. Revenue did not seep into operating income due to combined $8.2 million of on-going SG&A expenses related to the Horizon Scientific and Standex Electronics Japan businesses (which were not in the prior year). However, these increases were partially offset by a decline in SG&A expenses of $4.5 million, which occurred in consequence of divestiture of RPM business and shrinking of administrative compensation costs ($2.5 million and $2.0 million respectively). During the twelve-month period ended June 30, 2017, the company reported operating income of $65 million. That was a 7.6% decrease from the prior year. In fiscal 2017, net income at the company was $46.5 million. This is a decrease of 10.6% versus 2016 when SXI earned $52 million.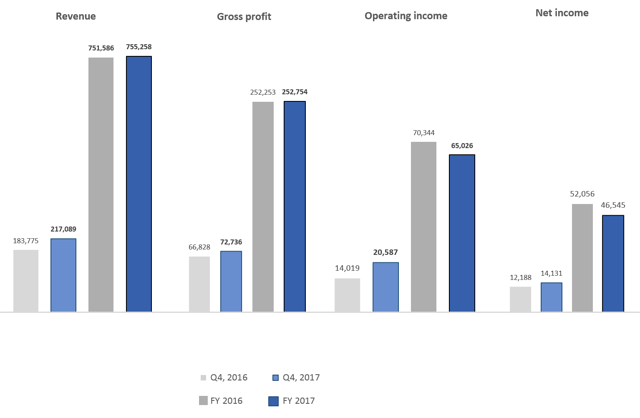 (Source: Company's SEC files, calculations by author)
During fiscal 2017, SG&A was 23% of revenue, compared to 22.6% in 2016. The change in the margin had a negative influence on net income of $3 million. SXI incurred $7.8 million acquisition-related costs in 2017, which were not in the prior year, and negatively impacted net income. In 2016 SXI had written off assets before it sold RPM business. In 2017 the company did not incur such loses and a positive change in this margin added $7.5 million to net income.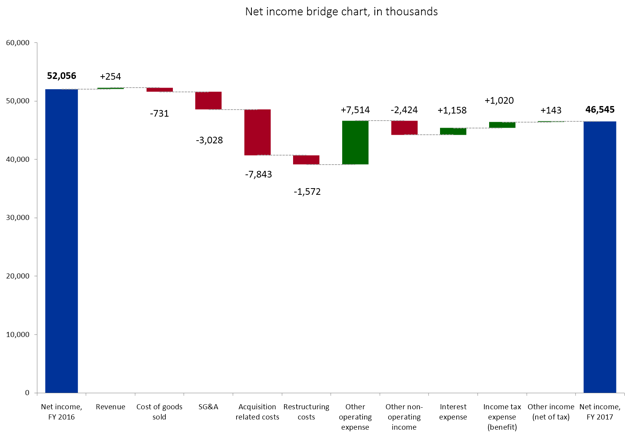 (Data: Company's SEC files, calculations by author)
SXI has been increasing its D&A since it went public, which absolute amount was $20.3 million in fiscal 2017. The ratio of D&A to revenue increased from 2.4% in 2016 to 2.7% in 2017, resulting in a favorable impact on EBITDA in an amount of $2.4 million.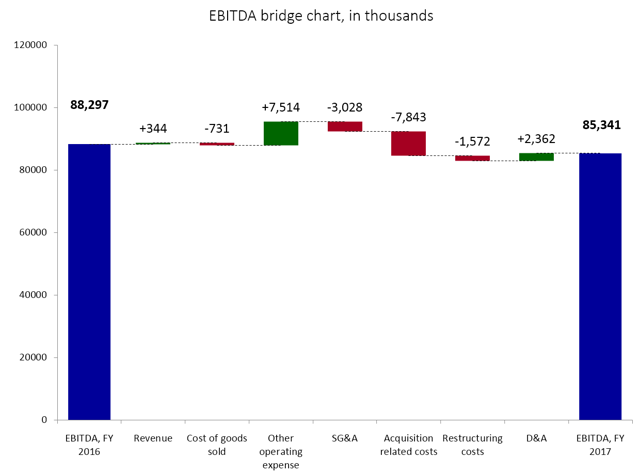 (Data: Company's SEC files, calculations by author)
In fiscal 2017, the most prominent changes in current assets are boosting accounts receivable and inventories, whose YoY growth was 22.2% and 13.3% respectively. SXI has been letting its clients postpone their payments since 2009.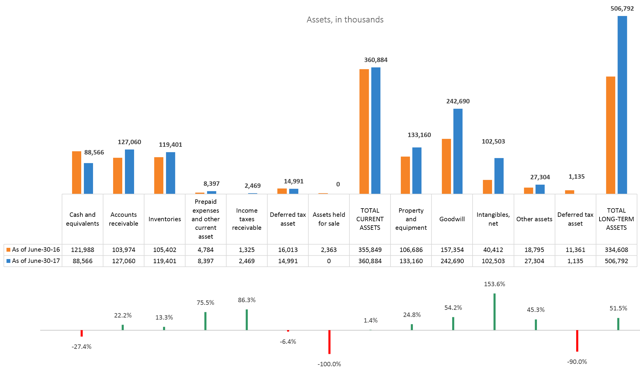 (Data: Company's SEC files, calculations by author)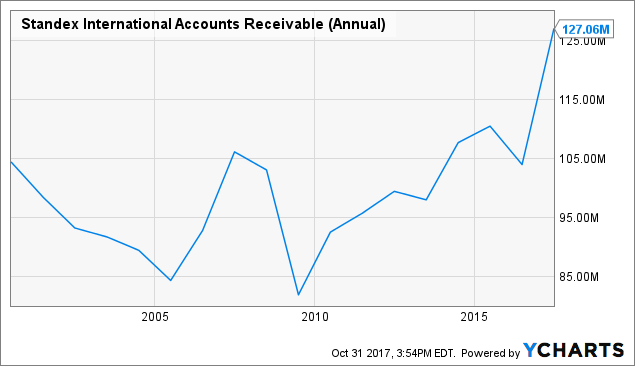 SXI Accounts Receivable (Annual) data by YCharts
Inventories have been advancing at a higher pace than sales. During the past 10 years, the company experienced 36.3% rise in inventories, whereas sales advanced only 8.3%. Those factors both contribute to the increase of operating expenses through possible bad debt and warehouse and other costs.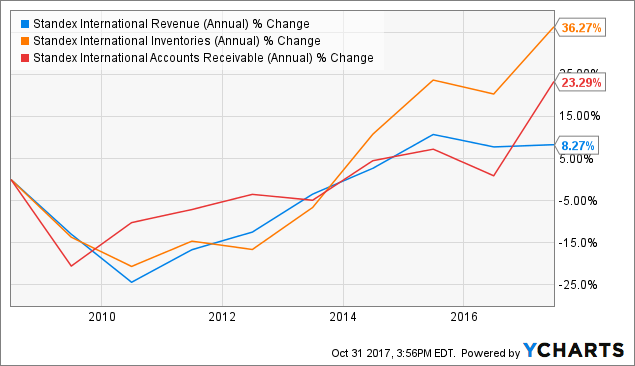 SXI Revenue (Annual) data by YCharts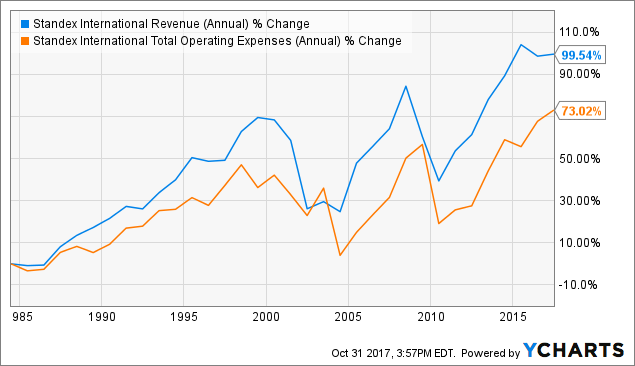 SXI Revenue (Annual) data by YCharts
As for long-term assets, there is a sharp rise of goodwill and intangibles at the rate of 54.2% and 153.6% respectively. Assets were recorded due to acquisitions which resulted in $153.5 million cash outflow in fiscal 2017. Goodwill recorded as a consequence of these transactions is attributable to potential revenue increases from enhanced access to the new markets and synergies created from integration with a key supplier. That might cause possible future impairment charges for goodwill and non-amortizable intangible assets.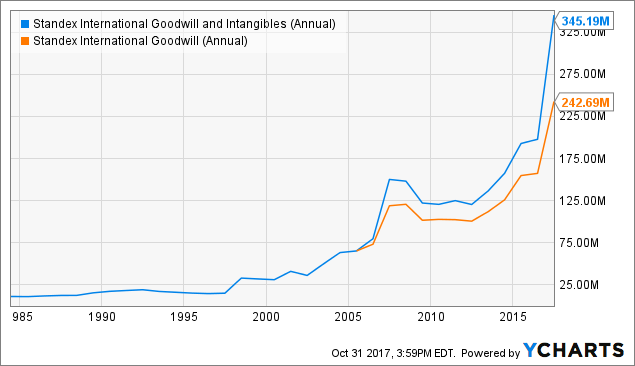 SXI Goodwill and Intangibles (Annual) data by YCharts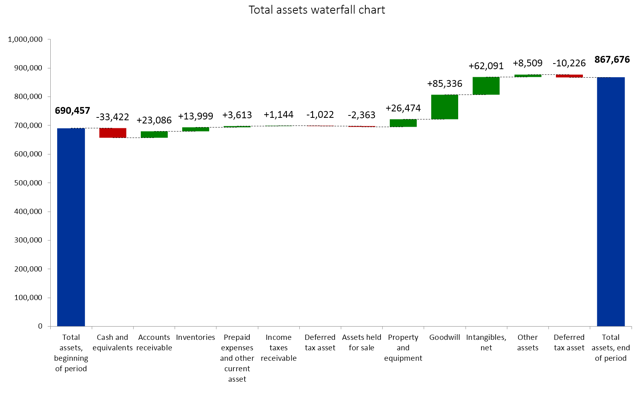 (Data: Company's SEC files, calculations by author)
Not only we can detect the deterioration in cash and equivalents but also accounts payable and accrued liabilities increased 25.1% and 15.6% in 2017. Long-term liabilities rose from $92.1 million to $191 million, representing 108% increase year-over-year. The company, therefore, is experiencing a gain in both current and long-term liabilities.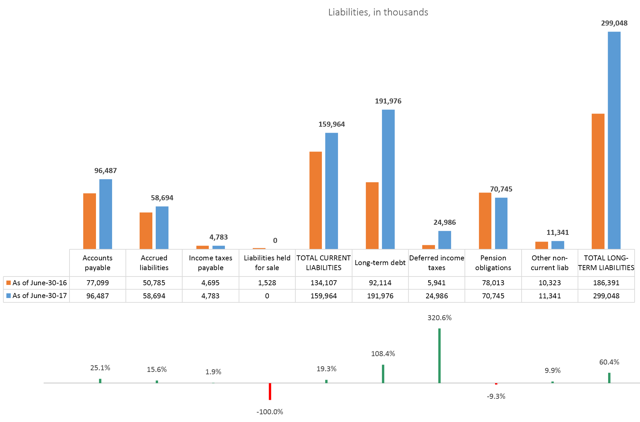 (Data: Company's SEC files, calculations by author)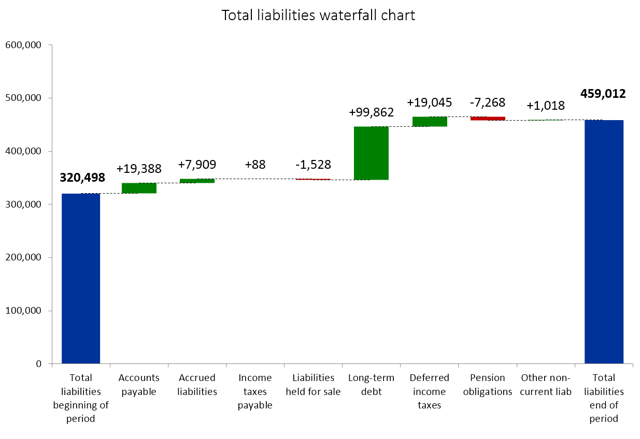 (Data: Company's SEC files, calculations by author)
The growth rate of total liabilities surpassed that of total assets over fiscal 2017. Even though SXI managed to add 5.7% to retained earnings.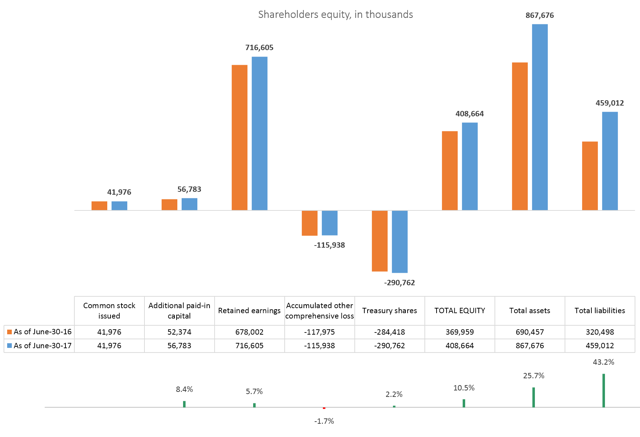 (Data: Company's SEC files, calculations by author)
The purchase of property, plant, and equipment in the amount of $26.4 million and cash from operations which came in at $64 million in 2017 versus $81.2 million in 2016 reduced free cash flow to $37.6 million.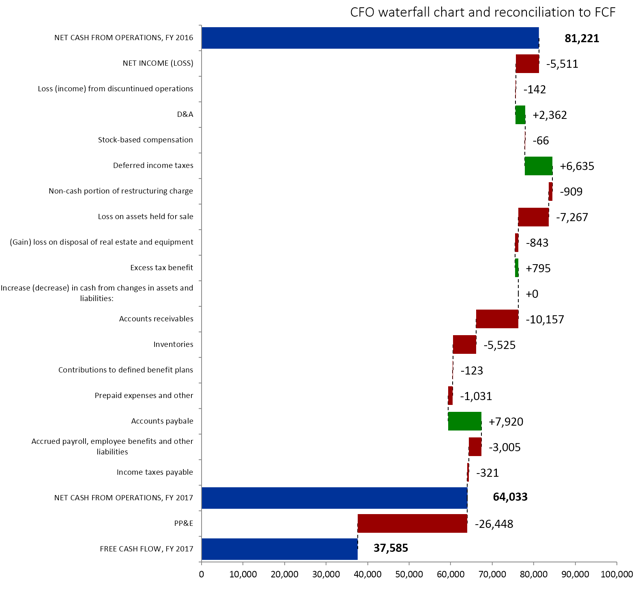 (Data: Company's SEC files, calculations by author)
Revenue growth acceleration stunted in 2015. As a result operating income and net income declined from $79 million and $55 million to $65 million and $47 million respectively from 2015 to 2017.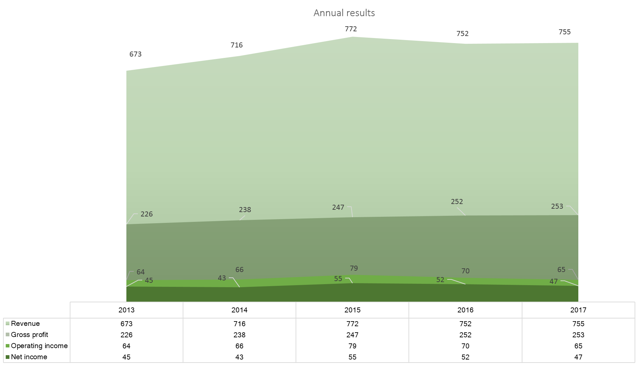 (Data: Company's SEC files, calculations by author)
However, the company managed to return COGS expenses to the level of 66.5 percent of revenue in 2017. That is a good sign. Also, we see a promising tendency in D&A expenses which have risen from $13.1 million to $20.3 million since 2012. However, the growth rate is stable and D&A remains almost the same at a 2.7 percent of revenue.
During Q1, 2017, COGS rose by 19%. Since revenue growth was 19.4%, the company improved gross margin. However, that improvement was partially offset by 20.2% increase in SGA.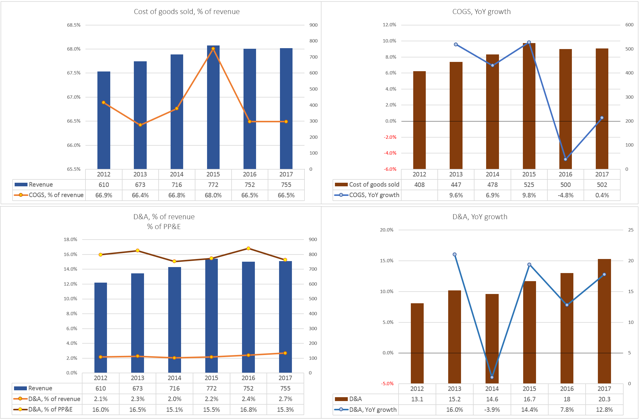 (Data: Company's SEC files, calculations by author)
At the same time, the company has been experiencing a steady growth of interest expense, which, in consequence of acquisitions, has risen to $4 million but still remained 0.5% of revenue.

(Data: Company's SEC files, calculations by author)
While gross margin of 33.5% has not changed since 2012. Net margin increased from 5.1% to 6.2% although it had a peak ratio of 7.1% in 2015. Operating margin decreased from 10.3% to 8.6% despite having a peak ratio of 10.2% in 2015.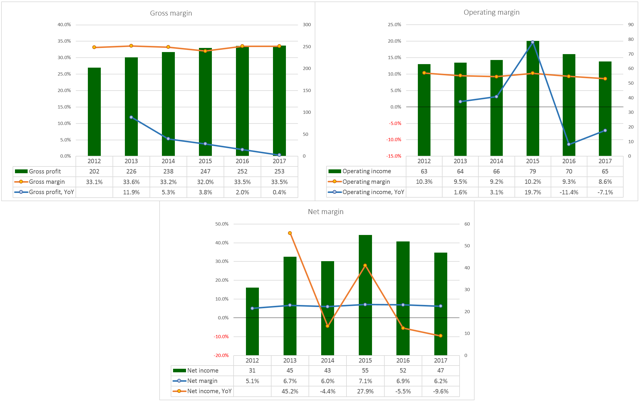 (Data: Company's SEC files, calculations by author)
Major SXI's cash outflows are debt repayments and capital expenditure which are covered by company's cash inflows, mostly in form of debt borrowings.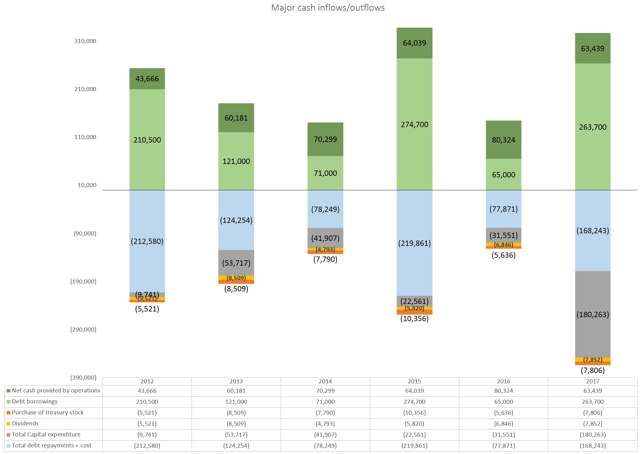 (Data: Company's SEC files, calculations by author)
The diagrams below show a revenue growth in each of company's segment and a contribution to a total revenue. Engineering Technologies, Electronics, and Hydraulics show the best results, whereas Food Service Equipment constitutes more than a half of combined revenue.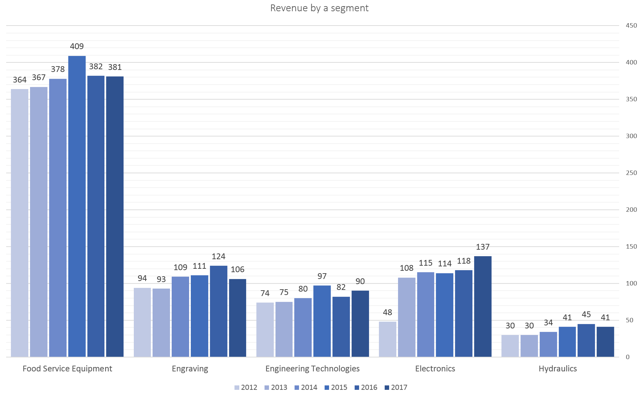 (Data: Company's SEC files, calculations by author)
Conclusion
The management has actively used outside financing in order to improve revenue. SXI achieved revenue of $772 million in 2015, that, since then fell to $755 million. As all the margins remained stable, especially the gross margin, the decrease in net income from $55 million to $47 million (2015-2017) could be attributable to either a downturn in Food Service Equipment and Engraving industry or to the fact that SXI is losing its market share. And investors should assess this dynamic as a matter of priority. And those segments added 11.2% and 22.8% respectively.
We should also expect SXI to lower its long-term liabilities using primarily proceeds from cash flow from operations. Which means we would better to see CFO increase as a proportion of debt borrowings in the report prior to buying the stock. However, SXI increased long-term liabilities by 7.2% to $205.9 million from $192 million. CFO came in at a loss of $5.45 million for the first quarter, much worse from a positive $1.4 million in the year-earlier quarter. Proceeds from borrowings increased from $29.5 million to $63 million, which were primarily used to repay the debt in the amount of $52.8 million, up from the year-earlier quarter, when SXI repaid $17.5 million.
The company definitely shows good results in terms of revenue and margins. Therefore, recommendation for the stock is hold. This recommendation will remain until we see any betterments in CFO and long-term debt during two next reporting periods.
SXI is to pay dividends of $0.18 per share on November 28. The ex-dividend date is November 8.
This article was written by
Trader, Stock analyst, US equities
Analyst's Disclosure: I/we have no positions in any stocks mentioned, and no plans to initiate any positions within the next 72 hours. I wrote this article myself, and it expresses my own opinions. I am not receiving compensation for it (other than from Seeking Alpha). I have no business relationship with any company whose stock is mentioned in this article.
Seeking Alpha's Disclosure: Past performance is no guarantee of future results. No recommendation or advice is being given as to whether any investment is suitable for a particular investor. Any views or opinions expressed above may not reflect those of Seeking Alpha as a whole. Seeking Alpha is not a licensed securities dealer, broker or US investment adviser or investment bank. Our analysts are third party authors that include both professional investors and individual investors who may not be licensed or certified by any institute or regulatory body.