Tesla: What's My Line(s)?
Summary
Tesla will need another Model 3 line. Where will it put it, and how will it pay for it?
Take a bow, Steve Funk. You were right about Fremont's Model 3 capacity.
Take two bows, Edward Niedermeyer. You nailed it, twice, about what's really happening with the Model 3 production lines.
The Solar Roof story gets ever more vague and laughable.
And Tesla sets two goals that it is unlikely ever to meet.
I'm writing this after reviewing Tesla's (NASDAQ:NASDAQ:TSLA) Third-Quarter 2017 Update, and before the conference call begins.
There are some fascinating pieces to the Update.
Tesla Needs Another Model 3 Line
First, most fascinating, is this one:
With respect to the timing for producing 10,000 units per week, it has always been our intention to implement that capacity addition after we have achieved a 5,000 per week run rate. That will enable us to make the next generation of automation even better while making our capex spend significantly more efficient.
Quite obviously, an additional production line will be needed to reach 10,000 cars per week. And so, it appears, Seeking Alpha's own Steve Funk was right all along. Tesla's existing Model 3 capacity is no more than 5,000 cars per week. Steve, take a bow.
And, Edward Niedermeyer of The Daily Kanban, front and center, please. Now, a big bow. And another. Because I think your most recent blockbuster article about how Tesla originally ordered two Model 3 production lines, but then cut it back to one, has just been vindicated.
And, Mr. Niedermeyer, I suspect Tesla's reference to the "next generation of automation" is powerful support for your earlier story about the pilot stamping plant in Michigan.
It is much to the shame of mainstream business press outlets such as Reuters and Bloomberg (though The Wall Street Journal is a notable exception) that they never picked up and pursued those stories.
Is there room at the Fremont plant for this additional line? Everything I know about Fremont says the answer is, no. So, Tesla will need a great deal more capital to complete and install such a second line.
So Much for "Alien Dreadnought"
Tesla's Update states:
[T]he Model 3 production process will be vastly more automated than the production process of the Model S, Model X or almost any other car on the market today, and bringing this level of automation online is simply challenging in the early stages of the ramp.
OK, so it will be (but quite evidently is not yet) more automated than other processes. And not just more automated, but "vastly more automated." But, an interesting qualification: vastly more automated than "almost any other car on the market today."
So, it turns out, at least one other auto manufacturer already has achieved this "alien dreadnought" which was to be so unique to Tesla.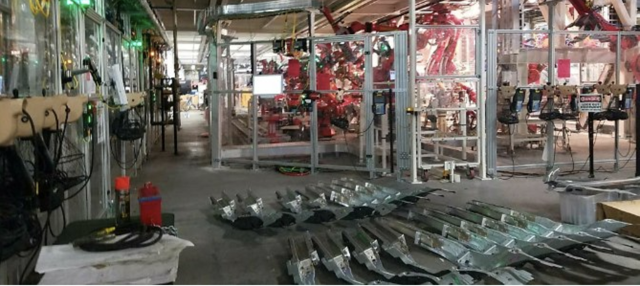 (Tesla's alien dreadnought Model 3 production. Courtesy of The Daily Kanban.)
Note, also, that Tesla does not indicate whether the first Model 3 production line will achieve this "vastly more automated" status, or if that will have to await the second line (for the step-up to 10,000 cars per week) with its "next generation of automation."
Gentle readers, it is increasingly obvious that the Emperor is wearing no clothes. Tesla has no special manufacturing technologies or ideas that other auto manufacturers lack. To the contrary, in terms of manpower-per-car, and excepting only the ultra-expensive exotics, Tesla is about the least efficient manufacturer out there, and that by a country mile.
Let's touch on a few other points.
Solar Roof Tiles
The big solar roof tiles party happened more than a year ago. Tesla promised to begin sales this summer.
Has there been even a single sale to a third-party paying customer? None that I know of.
Now Tesla writes:
Solar Roof installations will initially ramp slowly in Q4 as we move the production process from Fremont to Gigafactory 2 in Buffalo. As we fine tune and standardize the production and installation process, we expect to ramp Solar Roof production considerably in 2018.
Could Tesla possibly have been more vague about this?
Were the Model 3 not such a keen focus of attention this quarter, Tesla would justly be mocked for having announced this product more than a year ago, and still having absolutely nothing to show for it.
Services and Other
In the automobile industry, service is a huge profit center. At Tesla, it's a chronic loser. In Q3, Tesla reported "Services and other" revenues of $304 million against costs of $367 million.
That is by far the largest quarterly loss yet in the "Services and other" category. Why is that happening? As I have written, it's because Tesla includes its CPO sales in "Services and other," and it is taking a bath on its CPOs for a host of reasons, all of them indicating worrisome business practices. (See part III, here.)
I Can't Believe Tesla Said This (Part 1)
We expect Model 3 non-GAAP gross margin to reach breakeven by end of Q4, because of increased capacity utilization, and it should improve rapidly in 2018 to our target of 25%.
Tesla right now is achieving a non-GAAP automotive gross margin of 18.7%, selling primarily Model S and Model X cars with average sales prices of well over $80,000. And it wants you to believe it will achieve a 25% gross margin on the Model 3?
I Can't Believe Tesla Said This (Part 2)
Based on what we now know, we currently expect to achieve a production rate of 5,000 Model 3 vehicles per week by late Q1 2018, recognizing that our production growth rate is like a stepped exponential, so there can be large forward jumps from one week to the next.
I took several math courses in college, and yet recall nothing about "stepped exponentials." Was I failing to pay attention?
Regardless, I very much expect that six months from now, Tesla will be back explaining why it is that it failed to achieve a production rate of 5,000 Model 3 vehicles per week by late Q1 2018.
This article was written by
I have a J.D. degree from Yale Law School, practiced for 30 years as a trial lawyer in commercial cases, and in the decade that followed managed a $1B+ portfolio for a family office. I have recently retired and am free to write about whatever I want. And so I will.The fellow in my icon is Galileo Galilei, who famously said: Eppur si muove.I say, less famously: Time is the only reliable solvent of folly.
Analyst's Disclosure: I am/we are short TSLA. I wrote this article myself, and it expresses my own opinions. I am not receiving compensation for it (other than from Seeking Alpha). I have no business relationship with any company whose stock is mentioned in this article.

I am short TSLA via long-dated options.
Seeking Alpha's Disclosure: Past performance is no guarantee of future results. No recommendation or advice is being given as to whether any investment is suitable for a particular investor. Any views or opinions expressed above may not reflect those of Seeking Alpha as a whole. Seeking Alpha is not a licensed securities dealer, broker or US investment adviser or investment bank. Our analysts are third party authors that include both professional investors and individual investors who may not be licensed or certified by any institute or regulatory body.