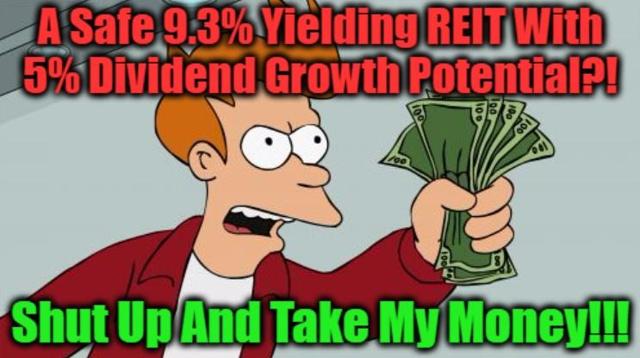 As a highly risk tolerant contrarian value investor specializing in high-yield dividend stocks, I'm not afraid to be greedy when others are fearful.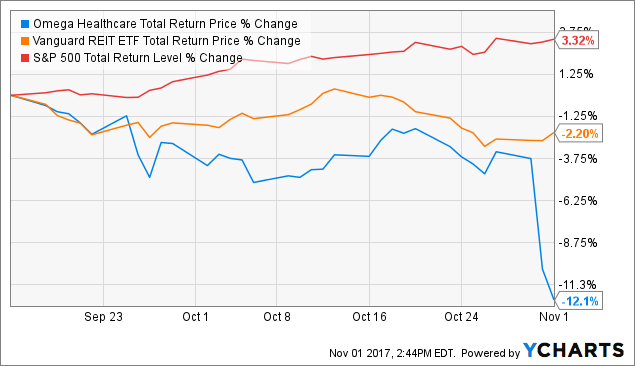 OHI Total Return Price data by YCharts
And in recent weeks, I've been closely watching the markets, as several industries, most notably retail REITs and midstream MLPs, have taken a beating, resulting in no less than 25 high-quality, dividend growth stocks now trading at 52-week lows and making it onto what I call my "ultra value" list.
Because of the market now being so highly overvalued, and about a year overdue for a correction (historically speaking), I've avoided adding anything to my real money EDDGE 3.0 (eternal daily dividend growth endeavor) portfolio.
However, on Tuesday, the market went too far, sending shares of one of my favorite high-yield dividend growth stocks, Omega Healthcare Investors (OHI) down nearly 10% at one point, due to disappointing Q3 2017 earnings.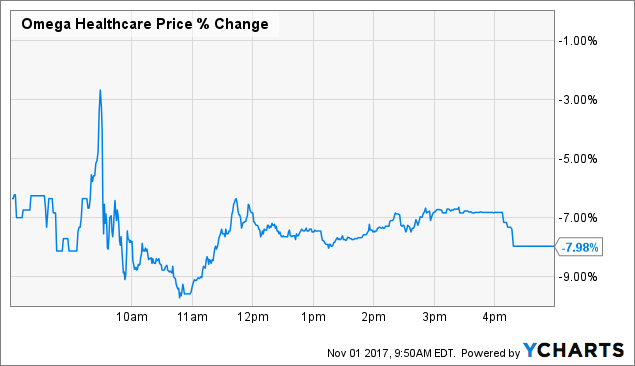 OHI Price data by YCharts
After carefully analyzing the results, the earnings presentation, and the conference call, I am confident that Omega's crash to a new 52-week low is a major overreaction.
Which is why I reshuffled my portfolio in order to buy $14,000 worth of shares at $28.05. This locks in a safe 9.3% yield for a stock that's likely to continue growing its payout at about 5% over the next decade.
Let's take a look at three reasons why now represents a likely excellent opportunity to buy Omega, which I consider the industry gold standard, but also what risks factors investors need to watch in the future.
Tough Industry Conditions Means The Worst Year Since 2003
Omega Healthcare has made a name for itself by managing strong and consistent growth over the past 14 years, no matter the economic or interest rate environment.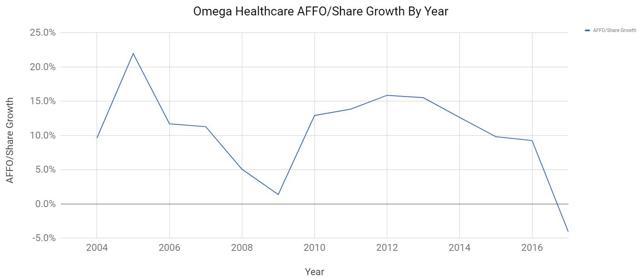 Sources: Earnings Releases, Chart By Author
Which is why this quarter's very poor showing sent shares falling off a cliff, because it now appears that Omega's full year AFFO/share will shrink for the first time since 2003.
| | | | |
| --- | --- | --- | --- |
| Metric | Q3 2016 | Q3 2017 | YoY Change |
| Revenue | $224.6 million | $219.6 million | -2.2% |
| AFFO | $169.9 million | $163.6 million | -3.7% |
| Shares Outstanding | 204.1 million | 206.6 million | 1.2% |
| AFFO/Share | $0.83 | $0.79 | -4.9% |
| Dividend | $0.61 | $0.65 | 6.6% |
| AFFO Payout Ratio | 73.3% | 82.1% | 12.0% |
Sources: Earnings Release, GuruFocus
Specifically, despite $241 million new investments, including 16 new SNF facilities, the REIT reported negative revenue and adjusted funds from operation or AFFO (REIT equivalent of free cash flow and what funds the dividend).
This decline was due to Orianna, its fifth largest tenant, becoming distressed due to a steady decline in occupancy over the past three years (from 92% to 89%).
That may not sound like much, but keep in mind that the SNF industry operates on razor thin margins, and according to Omega CEO Taylor Pickett, during that time, Orianna's revenue growth of 2% was more than offset by a 6% increase in operating costs. This has caused its EBITDAR (Earnings before Interest, Taxes, Depreciation, Amortization, and Rent) Coverage ratio to fall below 1 last quarter, indicating the operator's cash flow wasn't covering its rent. Thus, Omega has removed Orianna's rent from its results, as it renegotiates with the tenant to switch out new stronger operators into its 42 facilities leased from Omega, and a lower annual rent of $32-38 million from the current $46 million.
Management expects this transition to take about six months, during which time Orianna's rent will only be accounted for in cash (rather than as a receivable).
Basically, this means that Omega is going to not count on any Orianna rent for the next two quarters, which is why its results were so weak (without the impairment revenue would have been up 2%, and AFFO flat) and why it lowered its AFFO guidance for the year to $3.27 to $3.28.
The reason this has spooked the market so much is that Omega was also facing challenges with Signature, its 3rd largest tenant, which is currently struggling with liquidity issues. Signature has fallen further behind on its rent in Q3, and while its existing credit line covers the rent, Omega is considering deferring 10% of its rent for three years, (a total decrease of 0.67% in OHI rent) in order to help the tenant survive.
In addition, Daybreak, a smaller (non top 10) operator, was placed on cash basis in September because of a short-term liquidity issue. That means it won't be able to pay rent until January (when Omega expects rent to resume without further issue).
In other words, the reason Wall Street is running scared from Omega is that the market likely expects the REIT's largest tenants to continue to struggle, potentially requiring many more such lease renegotiations, with potentially lower future rents, and additional impairments.
That in turn could, if the situation worsens, force Omega to stop growing its dividend or even cut it if the industry downturn continues for several more years.
But Things Aren't As Bad As They Seem
It's important for investors to realize two important facts about Omega. First, it's the industry gold standard, with by far the largest and most diversified property portfolio in America.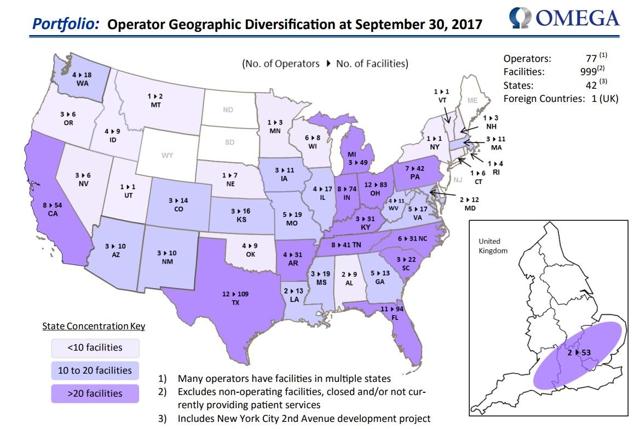 Source: Omega Healthcare Earnings Supplement
In addition, Brad Thomas, Seeking Alpha's REIT Guru, spoke with Omega's CEO yesterday, to get his opinion on the safety of the dividend and its future growth trajectory.

Source: Brad Thomas
As you can see, Omega remains highly confident in its ability to grind out this industry downturn, all while maintaining and growing the payout as it has for the last 22 straight quarters.
Of course, management's bullishness and optimism about the dividend is no guarantee of its actual safety. After all, Wall Street is littered with the dividend cut corpses of many a fallen MLP (Kinder Morgan (NYSE:KMI), Plains All American Pipeline (NYSE:PAA), Energy Transfer Partners (ETP), Williams Partners (NYSE:WPZ)), or other high-yielding stocks (such as Windstream (NASDAQ:WIN), or Frontier Communications (NYSE:FTR)).
However, the key to determining whether or not Omega Healthcare can indeed maintain a safe and rising payout over time comes down to three things: whether or not its business is still growing, how well its cash flow covers the dividend, and the strength of its balance sheet (too much debt is almost always what ends up forcing dividend cuts).
A careful analysis of these factors shows that Omega's dividend future is not nearly as bleak as the current share price would indicate.
Omega's Business Continues To Grow
Despite the terrible, negative growth quarter, Omega's underlying business continues to grow.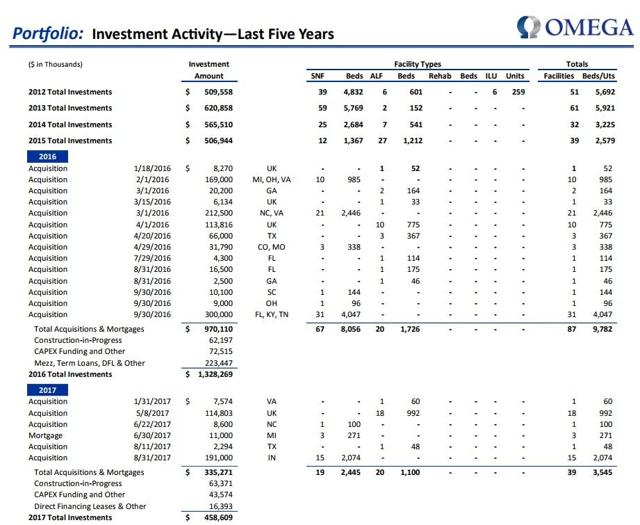 Source: Earnings Supplement
In fact, currently Omega is on track for about $612 million in total 2017 investments, which on par with its historical norms prior to its record setting 2016.
Most importantly, the investments the REIT is making continue to be highly accretive to AFFO/share, a major concern for all investors when AFFO/share is in decline.
| | | |
| --- | --- | --- |
| Source Of Capital | 2017 Capital Weighting | Cost Of Capital |
| Retained AFFO | 21.3% | 0% |
| Debt | 40.1% | 4.2% |
| Equity | 38.6% | 11.4% |
| Weighted Average Cost Of Capital | 100% | 6.1% |
| Cash Yield On New Investments | NA | 8.75% to 9.5% |
Sources: Management guidance, earnings releases, earnings supplements, Gurufocus
While true that Omega's low share price means it can't afford to grow accretively (AFFO/share increases) through pure equity issuances, thanks to its ongoing ability to borrow cheaply, as well as its retaining of a relatively large amount of AFFO, its actual weighted average cost of capital or WACC is much lower than the cash yields its receiving when it acquires new properties.
For example, in the last quarter, it purchased 15 Indiana SNFs for initial cash yields of 9.5% with annual 2.5% rent escalators baked in.
In addition, it purchased an Eastland, Texas-based SNF with a 9.25% initial cash yield. This means that the $204 million that Omega spent on these 16 properties is expected to generate $19.2 million a year in cash flow, which is almost double the expected decrease in Orianna rent the company is facing starting in 2018.
In addition to new properties, Omega is also investing into organic growth, with $36.4 million invested in ongoing project construction and renovations.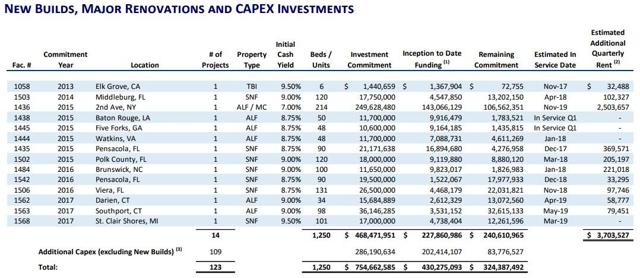 Source: Earnings Supplement
These organic growth projects are also generating high 8% to low 9% cash yield rates, meaning that once they are complete by May 2019, Omega can expect about $19.6 million a year in additional cash flow.
Latest acquisitions: $19.2 million in annual AFFO
Organic pipeline: $19.6 million
Projected Q4 2017 acquisitions ($112 million): $10.6 million
Projected 2018 acquisitions ($447 million): $41.4 million
Total: $90.8 million in future annual AFFO growth (13.9% growth in AFFO)
Given Omega's decreasing use of expensive equity to funds its growth (more on this later), I estimate that its share count will increase by approximately 1% by the end of 2018. That means that in the next five quarters, barring any major acquisitions of other SNF REITs or additional distressed tenant renegotiations (which may happen), Omega's AFFO/share will grow by about 13%.
Now understand that, given the struggles of the industry, I actually expect further distressed tenant renegotiation/write downs shoes to drop.
However, the point is that unless they result in more than $91 million in annual rental decreases, Omega's AFFO/share is likely to remain at least flat and likely continue to grow in the future.
Which brings us to the second important factor in determining Omega's true dividend safety, the rock solid coverage ratio.
Omega's Dividend Safety Remains The Envy Of The Industry
The first thing that investors need to look at to judge a dividend's safety is how well AFFO covers the payout.
Omega Healthcare AFFO Payout Ratio Over Time

Source: Brad Thomas
As you can see, Omega's payout ratio has been rather volatile and danced on the edge of unsustainability (over 100% payout ratio) before. However, in recent years, despite a very impressive dividend growth rate, management (which has lived through far more catastrophic industry conditions in the past), has been highly disciplined in maintaining a very conservative payout ratio.

Source: Brad Thomas
That's both to retain more AFFO to invest in the growth of the business and also to ensure that Omega's dividend remains safe and is able to grow, as the SNF industry continues to consolidate in the face of very challenging conditions.
But even if Omega is able to keep the dividend safe and growing, will it be able to continue at its current 1 penny per quarter pace? When you run conservative growth scenarios, the answer appears to be yes.
| | | | |
| --- | --- | --- | --- |
| Metric | Worst Case Scenario (No AFFO/Share Growth) | Conservative Scenario | Bullish Scenario |
| 2018 Dividend/Share (1 penny per quarter increase) | $2.74 | $2.74 | $2.74 |
| AFFO/Share | $3.28 | $3.47 | $3.70 |
| AFFO Payout Ratio | 83.5% | 79.0% | 74.1% |
Sources: Earnings Releases, Management Guidance, Author calculations
For Omega to keep raising the dividend 1 penny a quarter, as it has for several years now, would mean a 6.2% year-over-year payout increase in 2018.
Now, in a worst-case scenario, in which all of the REIT's AFFO growth through investments is offset by about $90 million in reduced rent (a 13.8% hit that is HIGHLY unlikely as it would represent a catastrophic industry collapse) than the current dividend growth trajectory would result in a still safe 83.5% payout ratio.
In fact, assuming absolutely no AFFO/share growth Omega could maintain its current dividend growth strategy through mid 2019 before its AFFO payout ratio rose above 85%, which is the upper safe limit for this industry.
In fact, I wouldn't start to be worried about Omega's dividend safety until the payout ratio breached 90%, which wouldn't happen until mid 2020 at its current payout growth rate.
Or to put another way, assuming that 100% of Omega's new investments over the next three years are offset by renegotiated, lower rental leases with distressed tenants, it could continue to grow the dividend at its present pace with little risk to dividend safety.
And for THAT scenario to play out would mean about $270 million in lower AFFO, or a 41% reduction in rental basis, which literally cannot happen unless the entire SNF industry is on the brink of death.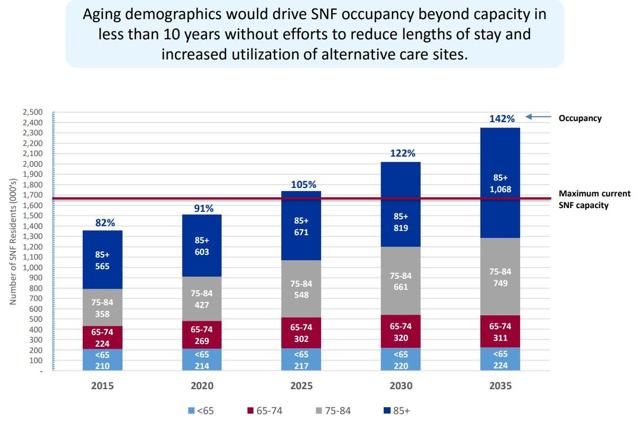 Source: Omega Healthcare Investor Presentation
That is almost certainly not how things will play out, given that SNF occupancy rates are likely to rise substantially over the next three years, thus boosting the bottom lines of Omega's tenants.
In the conservative case I modeled, I assume that 50% of Omega's marginal investment AFFO is eaten up by reduced rent agreements, which would require $45 million in decreased rents in 2018 compared to $18 million in 2017 (150% worse).
Again, I consider that highly unlikely, but even in this highly conservative scenario, Omega's payout ratio (including next year's 6.2% dividend hike) would end up at 79%, exactly the same as 2017's per management guidance. And, if we don't get anymore rent lowering renegotiations (due to distressed tenant default), then Omega's payout ratio falls to a SWAN like 74%.
The bottom line is that, barring a swift and dramatic SNF apocalypse (which current EBITDAR coverage ratios and occupancy trends show is NOT likely), Omega's dividend remains rock solid. That's especially true, given the REIT enjoys the strongest balance sheet in the industry, meaning that it's unlikely to face a liquidity crisis that forces a dividend cut.
Fortress-Like Balance Sheet
The biggest threat to any pass-through dividend stock, such as REITs or MLPs, is that it gets cut off from both debt and equity capital markets. That means that it can't grow at all, or refinance debt that comes due.
Fortunately, OHI has a highly conservative balance sheet, in fact, one of the strongest in the industry.


Source: Earnings Supplement
For example, Omega's leverage ratio is 5.1, compared to the industry average of 5.7. More importantly, its fixed charge coverage ratio remains strong and has been remained so over the past five years, despite significant deterioration of the industry's fundamentals.

Source: Earnings Supplement
And, given that Omega literally has no debt coming due in the next 3.25 years, shareholders can rest easy knowing that creditors aren't going to force a dividend cut.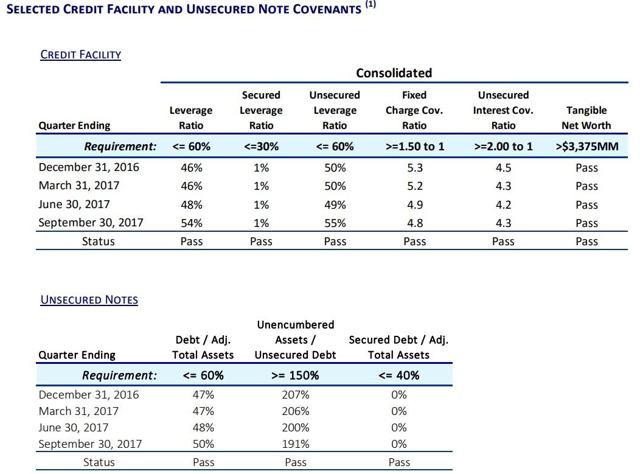 Source: Earnings Supplement
That's because the REIT is nowhere near breaching its debt covenants, which is what would allow lenders to immediately call in their debts, resulting in a liquidity crisis. This, combined with Omega's industry leading scale, means that it is one the few SNF REITs with an investment grade credit rating.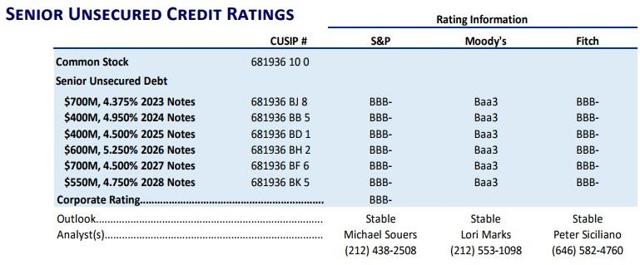 Source: Earnings Supplement
Eventually I expect the SNF industry to recover (when demographics push up occupancy rates), which will mean Omega Healthcare should get a credit upgrade.
But in the meantime, it will likely continue to enjoy plentiful access to low cost capital to continue rolling up the industry's facilities and growing its highly secure dividend.
Dividend and Total Return Profile Remains Among The Best On Wall Street
| | | | | | |
| --- | --- | --- | --- | --- | --- |
| Equity | Yield | 2017 Payout Ratio | Projected 10 Year Dividend Growth | Potential 10 Year Annual Total Return | Risk-Adjusted Potential Total Return |
| Omega Healthcare Investors | 9.3% | 78.7% | 4.9% to 7% | 14.2% to 16.3% | 26.5% to 30.5% |
| S&P 500 | 1.9% | 34.5% | 6.1% | 8.0% | 8.0% |
Sources: Earnings releases, Management guidance, Gurufocus, Multipl.com, CSImarketing
My primary goal is safe and secure income, but I also care about total returns and risk-adjusted returns (total returns/five-year beta). That means that I look at three things when investing in a dividend stock: the yield, the dividend safety (payout ratio and balance sheet), and long-term payout growth prospects.
As I've just shown, Omega is well situated, even in these challenging industry conditions, to continue growing its dividend by 1 penny a quarter for the foreseeable future. If it does this for the next 10 years, that would represent 4.9% long-term dividend growth and likely generate about 14.2% total returns (9.3% yield + 4.9% yield).
However, that's a highly conservative scenario in which management isn't able to accelerate its growth such as if the share price recovers and allows for accretive equity sales, which would allow it to make faster, and larger facility acquisitions.
Given Omega's past growth rates, I think it's possible that once the SNF industry stabilizes and begins to prosper (in five to 10 years), Omega's realistic long-term dividend growth could come in at 6% to 7% a year, meaning it has a potential total return of as much as 16.3%.
Best of all for risk-averse investors, the stock has a very low five-year beta 0.535, meaning that in the last half decade, the stock has been 46.5% less volatile than the S&P 500. This means the stock's risk-adjusted total return potential is a mouth watering 26.5-30.5%, or over three times what today's overheated S&P 500 is likely to generate.
In other words, Omega Healthcare Investors offers one of the best risk-adjusted total return profiles of any stock you can buy today. That makes it a very strong buy in my book, especially given the current ludicrous valuation, which could result in even stronger potential total returns.
Valuation Is Now "Slap You In The Face" Ridiculous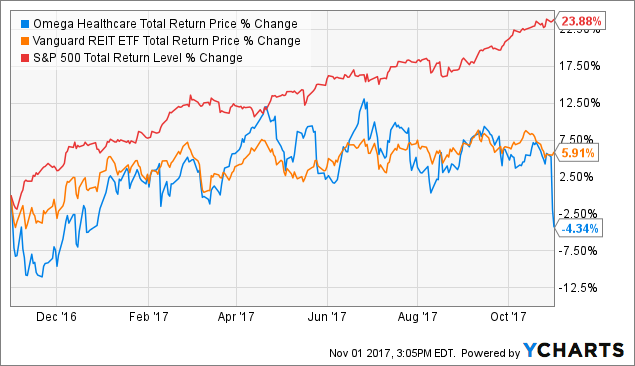 OHI Total Return Price data by YCharts
It's been a brutal year for Omega, with shares underperforming REITs by 10% and the broader market by 28%. However, this kind of knee jerk crash is exactly what sets my mouth watering.
| | | | | |
| --- | --- | --- | --- | --- |
| P/AFFO | Historical P/AFFO | Yield | Historical Yield | Percentage Of Time Yield Has Been Higher In Last 22 Years |
| 8.8 | 11.8 | 9.3% | 6.5% | 12% |
Sources: Management Guidance, Fast Graphs, Gurufocus, Yieldchart
That's because, while Omega has never been a high-flying REIT (the SNF industry's challenges have meant it always trades cheap), today, the price to full year AFFO is a ludicrous 8.8, nearly as low as the sub-8 level it traded at during the height of the financial crisis.
More importantly, the yield is at its highest point in six years and has only been greater 12% of the time in the past 22 years.
And, keep in mind that this includes the financial crisis and 2000-2002, when the entire SNF industry was shattered by numerous bankruptcies, which is highly unlikely to be repeated this time around (industry EBITDAR coverage ratios are already stabilizing and occupancy rates appear to be slowly rising).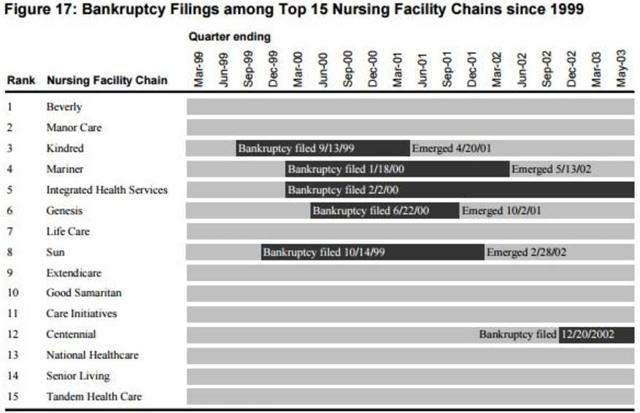 Source: Centers For Medicare and Medicaid Services
Or to put another way, given Omega's fundamentally sound and growing business, its industry-leading balance sheet and ongoing access to cheap growth capital, the risk-adjusted yield is at an all time high.
| | | | | | |
| --- | --- | --- | --- | --- | --- |
| Forward Dividend | Projected 10 Year Dividend Growth | Projected Dividend Growth 10 Years After That | Fair Value Estimate | Growth Baked Into Current Share Price | Margin Of Safety |
| $2.60 | 0% (worst case scenario) | 0% | $38.06 | -8.6% | 24% |
| | 4.9% (conservative case) | 3.0% | $48.67 | | 41% |
| | 7% (best case) | 5% | $55.54 | | 48% |
Sources: Gurufocus
Still need convincing that Omega is a screaming value? How about this then, using a 9.0% discount rate (the historical S&P 500 ETF total return since 1871 net of expenses, and thus the opportunity cost of money), we can calculate the net present value of Omega based purely on its dividends over the next 20 years, in a variety of scenarios.
Even if we assume absolutely no dividend growth over the next two decades, shares are still 24% undervalued today, because the market is pricing in an 83% dividend cut over that time period; a ludicrously pessimistic outlook.
And given that we've seen how Omega's long growth runway (courtesy of demographic megatrend and ongoing industry consolidation) is likely to result in at least modest growth, the more realistic assumption is that Omega is currently trading at fire sale prices, specifically a 41% to 48% discount to fair value.
In this overheated market that's among the best values you can find, especially for a stock with such astounding risk-adjusted total return potential.
Risks To Watch Going Forward
While I'm a big believer in Omega Healthcare (I have 8.4% of my life savings invested in it), there are nonetheless several major risk factors that I'll be watching closely in the coming quarters and years.
The first is obviously further tenant problems going forward, both on an individual operator level and for the industry at large.

Source: Earnings Supplement
Specifically, that means keeping a close eye on Omega's portfolio EBITDAR coverage ratios, payment mix, and occupancy.
The good news is that Omega's payment mix, while still highly dependent on Medicare/Medicaid, has been trending in the right direction (towards more stable private payers).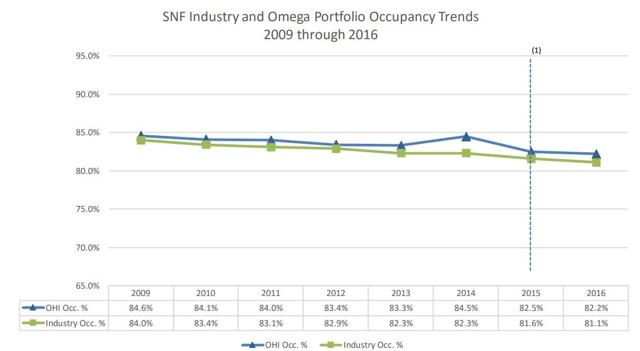 Source: Investor Presentation
Occupancy as well has been stable, which is good news because despite the aging of the US population, SNF occupancy rates have actually been falling over the past few years due to shifts in Medicare/Medicaid policy towards alternative payment models such as bundling and managed care.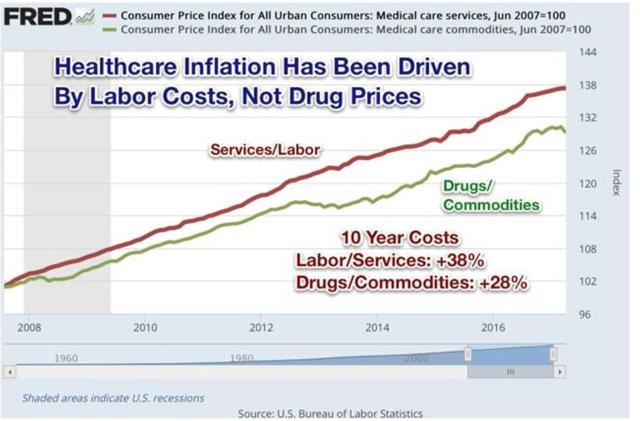 Source: Hoya Capital Real Estate
Due to the labor-intensive nature of the SNF industry, productivity gains (such as from technology) are hard to come by, meaning that rising labor costs over the past decade, combined with increased compliance costs (regulations) and lower reimbursement rates from Medicare/Medicaid, have resulted in a steady slide in the EBITDAR coverage ratio of the entire industry.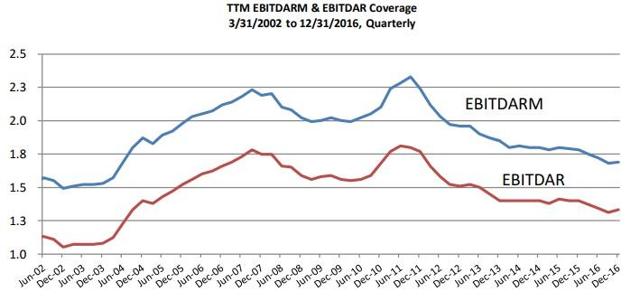 Source: Investor Presentation
In the last five quarters, the operator coverage ratio has been stable and appears to have bottomed much higher than the approximate 1.1 that resulted in the SNF doomsday scenario of the early 2000s.
However, as we are seeing now, just because the industry at large appears to be stabilizing, there are plenty of lower quality operators that continue to struggle.

Source: Earnings Supplement
Specifically, Omega gets 32.6% of its rent from either distressed tenants (those with EBITDAR coverage under 1) or those that are perilously close to not being able to pay their rents.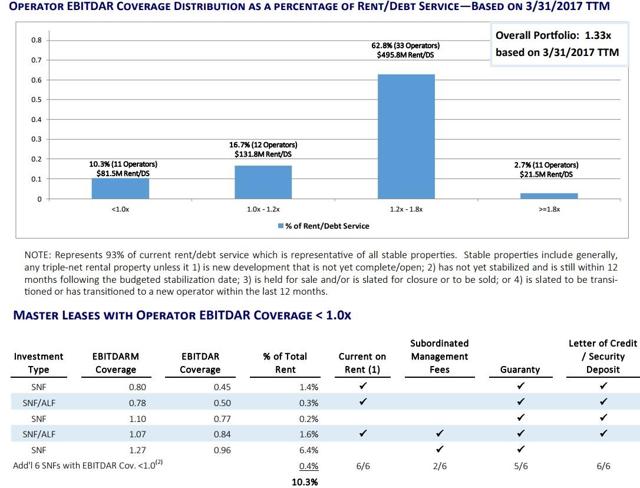 Source: Earnings Supplement
The good news is that Omega's experienced management team has made sure to structure its leases with distressed tenants in ways that protect its rent flow, via master leases (which block operators from shutting down only failing facilities via an "all or none" rental agreement) and collateral and line of credit backed rent streams.
That being said, Omega investors need to be prepared for several more Orianna-style renegotiations that involve a reshuffling of operators, potential sales of underperforming facilities, and lower rental rate agreements. That in turn could result in much slower AFFO/share growth than we've historically seen (barring major large scale acquisitions), which could result in management slowing the pace of quarterly dividend growth from $0.01 to just $0.005 or even $0.0025.
Now keep in mind that as long as the AFFO payout ratio remains strong (85% or less), the dividend will remain safe. However, the stock market may take any potential AFFO and dividend growth slow down as an excuse to further punish shares, which means Omega's price isn't likely to recover anytime soon.
Now for investors like myself, who are highly risk tolerant and price insensitive (we only care that the dividend is safe and growing), this doesn't represent a major concern.
However, keep in mind that the REIT business model is predicated on paying out 90% (or more) of taxable income as dividends, and thus retaining relatively little AFFO to internally fund growth.
In other words, Omega, like all REITs, needs to raise external growth capital from debt and equity markets.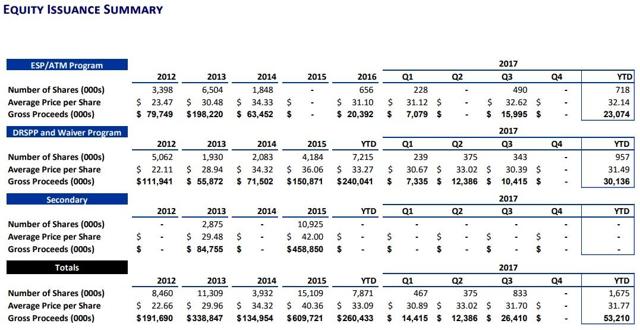 Source: Earnings Supplement
Over the past five years, Omega has raised over $1.5 billion in equity capital from investors, or about $307 million per year on average. However, due to a low share price, that figure has understandably fallen off a cliff.
And, with the share price now even lower post earnings (under $29), Omega's ability to raise growth accretive growth capital could be further impinged, resulting in slower asset growth in the future.
Combine that slower rent growth from a larger property base, with potential future renegotiated/reshuffled portfolio rent declines, and Omega's growth prospects are now far more uncertain, at least in the short to medium term. That's because, while true that a rapidly aging population will eventually force SNF occupancy rates up, and thus restore the industry to health (and make Omega far more popular on Wall Street), the demographic megatrend underpinning the REIT's long-term growth catalyst is still five to 10 years away.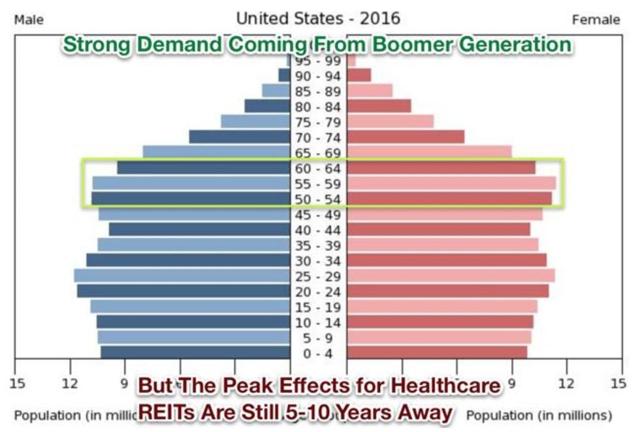 Sources: Hoya Capital Real Estate
Finally, we can't forget that the SNF industry is likely always going to be largely at the mercy of Medicare/Medicaid policy risks, given that the majority of funding for patient stays comes from government sources, a long-term trend that's likely to continue.

Sources: Hoya Capital Real Estate
That means that any potential changes to current Federal healthcare policy, such as the AHCA's (GOP ObamaCare repeal and replace bill) proposed changing Medicaid (which is what pays for SNF stays) could be shifted away from matching funds and towards an annual block grant to each state.
In other words, while the GOP's attempts to eliminate the current system may be dead for now, should Medicaid ever move to a block grant system, then SNF operators could be squeezed as states have to make very hard budgetary choices about how to allocate limited Medicaid funding.
Bottom Line: Omega's Industry Leading Scale, Management Team, and Balance Sheet Mean That It Will Likely Weather The Industry Storm With Dividend Growth Intact
Don't get me wrong, while Omega Healthcare may be the industry gold standard, the numerous challenges facing the SNF space mean that it's not a sleep well at night or SWAN stock.
This means that while the current dividend remains highly secure (due to a low payout ratio and strong balance sheet), and the long-term industry trend is likely to be highly positive, in the short to medium term, ongoing SNF struggles with low coverage ratios (caused by rising costs, low occupancy, and Medicare/Medicaid reimbursement changes) could lead to several more earnings reports (and market reactions) like the one we've just seen.
Basically, that means that Omega's share price isn't likely to recover anytime soon. However, if you believe in the long-term thesis (demographic megatrend will eventually cause occupancy and industry profits to recover) and the ability of Omega's management team to continue executing well on its industry consolidation and portfolio optimization strategy, then I consider Omega Healthcare Investors to be an excellent "Income Factory".
That means it is likely to continue to pay steadily growing (and secure) dividends over the coming years and decades, making it a potentially ideal high-yield dividend growth choice for risk-tolerant and price insensitive income investors.
Disclosure: I am/we are long OHI. I wrote this article myself, and it expresses my own opinions. I am not receiving compensation for it (other than from Seeking Alpha). I have no business relationship with any company whose stock is mentioned in this article.