Investment thesis: New York Community Bancorp Inc. (NYSE:NYCB) is a Buy for moderate investors seeking equity income
Financial Statement Analysis
Profitability
The bank has been a consistent performer over the years, with 2015 being a lone blemish in an otherwise great investment profile. That year they faced six class action lawsuits and paid out three times as much interest expense under "borrowed funds" on their P/L. While the legal battle is still being fought, the worst of it seems to be behind them and puts the company in a great financial position moving forward.

(Source: Original Image – Data from NYCB 2016 Annual Report)
Quality and Performance of Loan Portfolio
While the bank's loans aren't as profitable as the national average (3.13 NIM), this can be explained by their conservative underwriting standards (Max LTV of 65% for secured loans). Furthermore, non-performing loans have decreased over time and currently stand at .48% of total loans. Another positive observation is that the bank is only levered 10X.



Examining the Dividend
While a 4% current yield is above average for today's low interest rate environment, analysis shows that prior years' dividends were in tenuous positions before finally being cut last year. The dividend is much better established now as evidenced by the metrics below. In particular, I'd like to point out the 33% plowback ratio to show management's commitment to reinvesting in the company to facilitate future growth.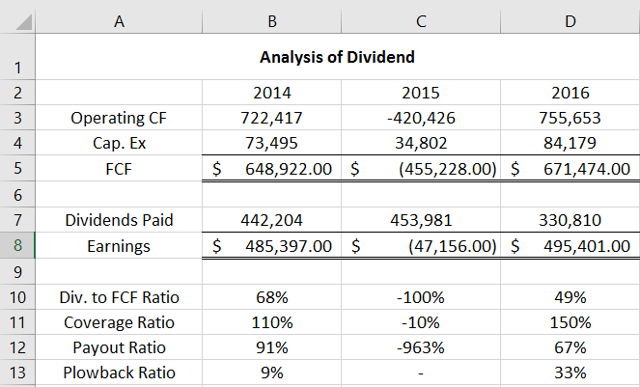 (Source: Original Image - Data from NYCB 2016 Annual Report)
Valuation
12.42 P/E Ratio
.97 P/B Ratio
Price Performance
NYCB has been able to outpace the Financials Index (with reinvested dividends) since the financial crisis, albeit with more volatile price swings. The stock has trailed, however, for the past two years which presents an interesting price point for investors. The poor price performance coincides with the time when the company wasn't profitable. The strength of their loan portfolio indicates that their earnings are sustainable. This leads me to believe this is a great buying opportunity given the strong fundamentals.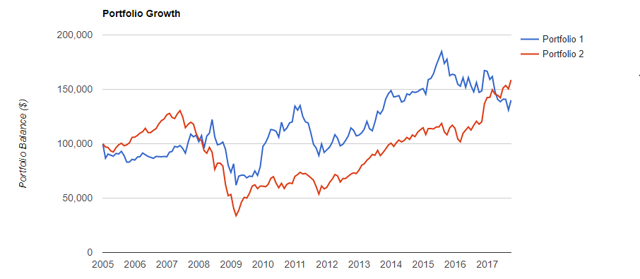 (Source: Portfolio Visualizer)

(Source: Yahoo Finance)
Conclusion
All things considered, the company's financials are strong and the dividend is well established. However, the pending litigation is cause for concern in regards to potential cash settlements or penalties/fines. Even if that's the case, the bank's significant cash balance wouldn't make a significant dent. I would encourage enterprising investors to still take advantage of the buying opportunity because the worst of it seems to be behind NYCB and there is only upside at this point.