November 2017: Natural Gas Demand Overview And Forecast
Summary
EIA has released natural gas monthly figures for August. We review them and provide our latest forecast.
Exports now equate to more than 11% of national consumption.
Natural gas consumption in the U.S. should to stay strong but grow very erratically.
We currently expect natural gas storage to peak at 3,794 bcf in the week ending November 3.
The U.S. Energy Information Administration has recently released their natural gas monthly statistics for August, 2017. In this article, we will briefly review their consumption and exports figures, then look at our latest estimates for September and October and conclude with our forecast for November, December and January.
Aggregate demand (national consumption + exports) for American natural gas was down 4.20% yoy in August. Consumption dropped by 6.10%, as weather was relatively cool (there were some 14% fewer cooling degree days than in 2016). Conversely, exports surged by 15.30%. On a 12-month average basis, the growth in total demand stayed positive and has exceeded that of consumption by 2.8 percentage points - the second-largest value on record so far (see the chart below). Indeed, total demand has been growing faster than consumption since May 2015, pointing to the rising weight of exports within the overall demand structure.
In the chart below, you can clearly see how the growth rates in consumption and exports have diverged over the past year or so - while consumption is falling, exports are rising, and total demand growth on balance stays positive, although it has slowed over the past months. Previously, however, total demand growth was almost entirely driven by national consumption.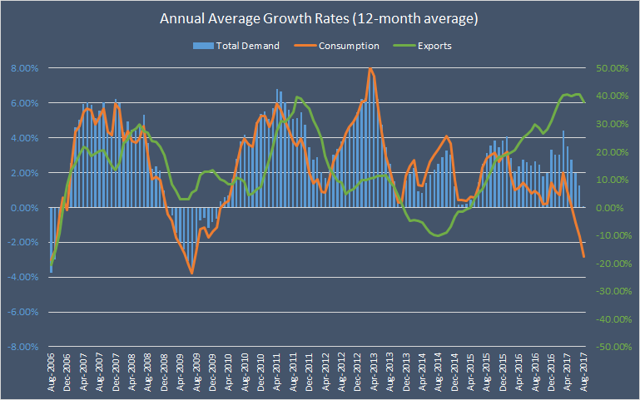 Source: EIA, Bluegold Research estimates and calculations
Pipeline and LNG exports combined reached 247.0 bcf in August, which is equivalent to 11.90% of national natural gas consumption on a monthly basis. On a 12-month average basis, exports now equate to more than 11% of national consumption, and their share in the aggregate demand structure has essentially doubled over the past two years.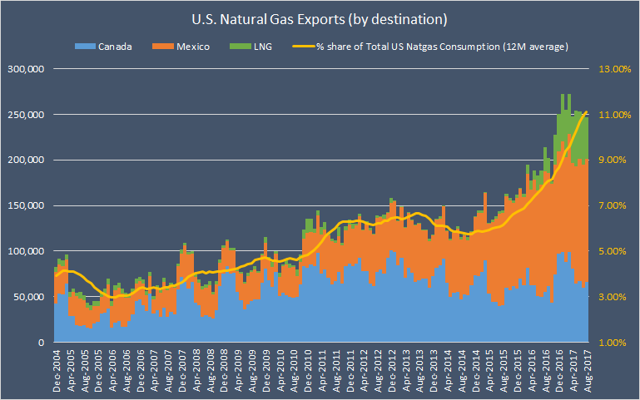 Source: EIA, Bluegold Research estimates and calculations
Exports remain the fastest-growing source of demand for American natural gas. While total demand increased by 13.80% (from January 2012 to August 2017), exports expanded by 94.00% over the same period. In fact, exports recently surpassed "Other" category in the overall demand mix and are on course to become as significant in weight as U.S. commercial users (see the chart below).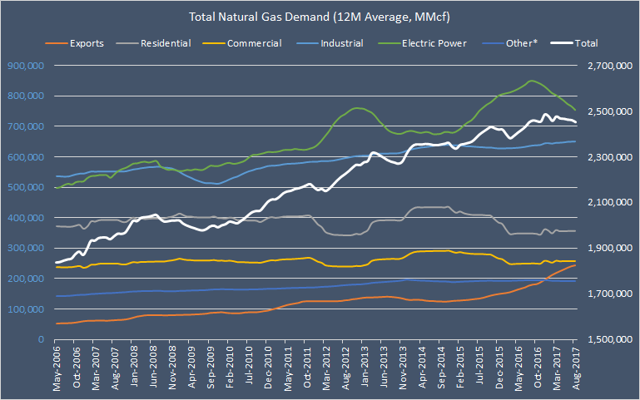 Source: EIA, Bluegold Research estimates and calculations
*The Other category includes lease, plant and vehicle fuels, as well as pipeline and distribution use.
Other fast-growing sources of demand include Electric Power / power burn (+17.80% since January 2012) and industrial consumption (+11.40%). Note also that since January 2012, residential consumption of natural gas actually declined by 5.60% and remains below its long-term average of 400,000 MMcf.
Estimates and Forecast
After declining by 6.10% yoy in August, we believe that consumption then fell by another 1% yoy in September, but then recovered in October, expanding by 4.0% from 2016. While heating demand was depressed in October, cooling demand was high, since warmer weather conditions were disproportionately concentrated in the Southern part of the country, which led to stronger consumption in the Electric Power sector - especially because the spread between natural gas and coal prices was historically very low.
Currently, we expect natural gas consumption in the U.S. to stay strong but grow very erratically. Under the latest weather forecasts, we anticipate to see a whopping 11.0% annual growth rate in November, followed by a tiny 0.8% growth in December, and then again some 10% growth in January. Please note that there is a large degree of uncertainty to that forecast, as weather models remain volatile and can generate sporadic changes in the number of heating and cooling degree days (HDDs and CDDs). It is important to remember that changes in HDDs have 3x stronger effect on natural gas consumption than changes in CDDs, so monitoring weather forecasts on a daily basis is absolutely vital. We update our forecasts on a daily basis. If you wish to receive a regular update on key natural gas variables - production, consumption, exports and imports - consider signing up for our exclusive content. To see our forecasting track record, please click here.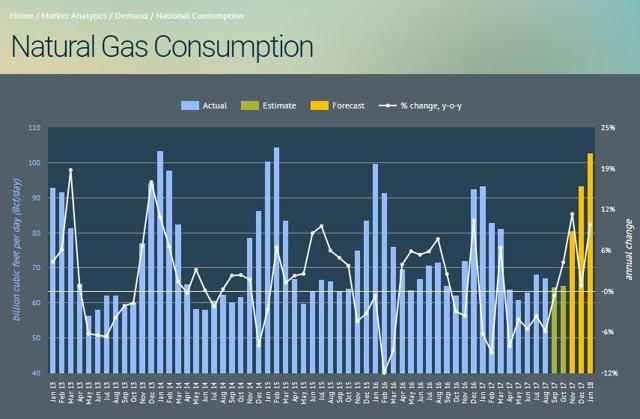 Source: EIA, Bluegold Research estimates and calculations
Exports should continue to expand rapidly. However, annual growth rate should slow on base effects. Currently, we expect exports to total 8.5, 8.8 and 9.4 bcf per day in November, December and January, respectively (see the chart below). We estimate annual growth was probably just around 21% in September, but then accelerated to as much as 56% in October. Such a huge jump in exports in October is primarily due to base effects, as in 2016, Cheniere Energy (LNG) curtailed its operations at Sabine Pass export terminal due to seasonal maintenance.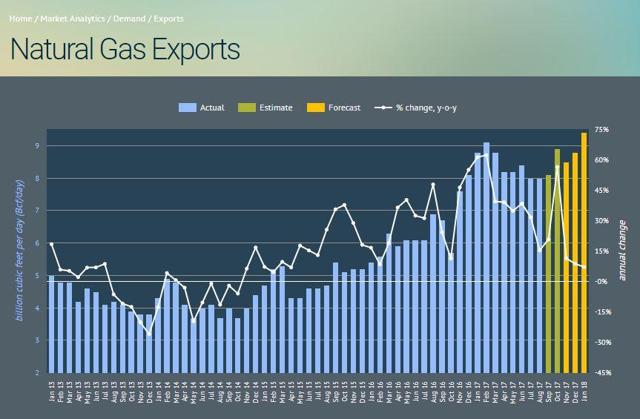 Source: Bluegold Research
Please note, that our methodology for calculating LNG exports is based on the vessels tracking system (Marine Traffic data), not on the liquefaction flows. Therefore, the forecast for November (and especially for December and January) will almost certainly be revised higher. Also, please note that because the lion's share of consumption is still determined by weather, we update our forecasts on a daily basis.
Storage Forecast and Price
We currently expect natural gas storage to peak at 3,794 bcf in the week ending November 3. We then expect to see a first draw from storage. The most recent price action, it seems, is a result of oversupply fears (dry gas production has grown markedly over the past months), but may also be influenced by last year's painful memories (in 2016, December contract lost 15% in value over the course of the first 9 trading days, before recouping all the losses by the expiration date). This year, the trade pattern could be somewhat similar - but will it?
At Bluegold Research, we not only provide you with the latest forecasts on natural gas fundamentals, we also trade and publish our positions. We are in the same boat with our clients. Consider signing up, if interested.
This article was written by
High quality, up to date analytics (natural gas, crude oil and forex)
Bluegold Trader (BGT) is an independent provider of public market information and trading analytics. BGT is a one-stop shop for all your research needs in energy and forex trading.

Analyst's Disclosure: I/we have no positions in any stocks mentioned, and no plans to initiate any positions within the next 72 hours. I wrote this article myself, and it expresses my own opinions. I am not receiving compensation for it (other than from Seeking Alpha). I have no business relationship with any company whose stock is mentioned in this article.
Seeking Alpha's Disclosure: Past performance is no guarantee of future results. No recommendation or advice is being given as to whether any investment is suitable for a particular investor. Any views or opinions expressed above may not reflect those of Seeking Alpha as a whole. Seeking Alpha is not a licensed securities dealer, broker or US investment adviser or investment bank. Our analysts are third party authors that include both professional investors and individual investors who may not be licensed or certified by any institute or regulatory body.