The high yield junk bond craze of the 1980s has returned to the current bull market in the form of high yield dividend stocks. And history reminds us how that bubble burst during the stock market crash of 1987.
This time, instead of being used to leverage mergers & acquisitions at the corporate level when available capital was not enough, high yield equities are influencing the propensity for daring risk/reward plays by retail investors or their advisors seeking outsized returns to leverage retirement account balances.
At Main Street Value Investor (MSVI), where quality takes the front seat in all of our equity research, we screened the current high yield dividend stock universe for fundamental strength and found mostly junk.
Here is our argument that high yield dividend stocks are the new equity junk bonds.
The Heidi Game Revisited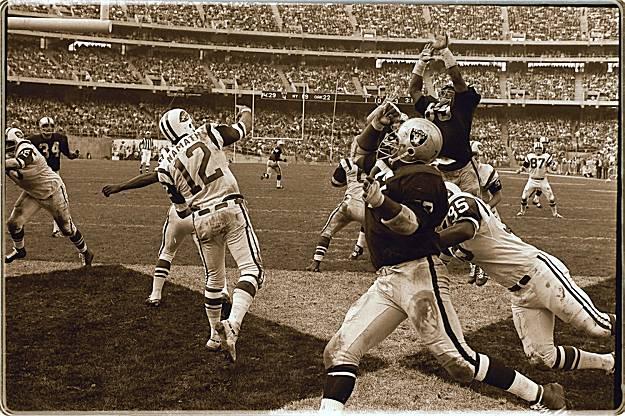 (Source: NFL Films)
Defining high yield equity is debatable and broad, but for this article, we will distinguish high yield dividend stocks as publicly traded equities distributing two and a half times the 10-year Treasury rate, currently at a 2.42% yield as of October 27, 2017. Thus, we arrive at 6% or higher as our arguable definition of high yield equity.
We have assigned the acronym HYDi for a high yield dividend stock - pronounced "Heidi" - recalling the 1968 television movie version of the best-selling 1881 children's book, and the infamous NFL contest that immortalized it for American football fans.
The Heidi Game, or Heidi Bowl, was a game of the former American Football League played on November 17, 1968, between the Oakland Raiders and the visiting New York Jets. The game was notable for its exciting finish, in which Oakland scored two touchdowns in the final minute to win the game 43-32.
However, the contest got its iconic name for a decision by the game's television broadcaster, NBC, to break away from its coverage on the east coast to broadcast the television remake of Heidi, causing many viewers to miss the Raiders' comeback. The memory of the game has endured, as sportscasters are known to color the video highlights of poorly played NFL football games by declaring:
Put on Heidi, we don't care!
We like to think of high yield dividend investing as the current bull market's Heidi Game, although in this instance, the favorite investment game of HYDi may be interrupted by a market correction. The inevitable cyclical downturn in the overall stock market will likely preempt the principal capital invested by millions of retail investors heavily concentrated in risky high yield dividend equities such as business development companies (BDCs) and real estate investment trusts (REITs).
At MSVI, we advocate the ownership of quality companies represented by small-, mid-, or large-cap stocks listed on U.S. major exchanges and available at reasonable prices.
Of the 345 publicly listed HYDi's currently available to trade in the U.S., including speculative over-the-counter (OTC) and micro cap (less than $1 billion market cap) issues, only a handful of stocks passed the MSVI screen for quality operations.
Being likely in the late innings of a bull market, we did not screen for the equally important element of price or value. Instead, we isolated companies that appeared as quality operators in a simple screen of hundreds of 6%+ yielders. The assumption is we would only do further due diligence on these lucky issues if any presented compelling valuation ratios from a market event or controllable company catalyst.
Holes in the Screen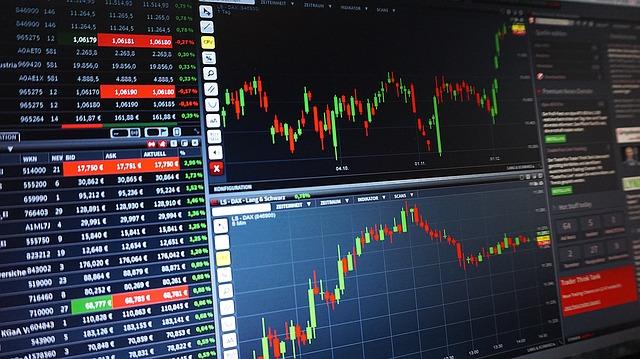 (Source: PIX1861/Pixabay)
First, a disclaimer on using screens to research stocks. Stock screens are tools for merely separating the wheat from the chaff. In our case, the wheat is the apparent quality companies that with further due diligence may present as worthy investments, if the price is right. Of course, the chaff is the perceived junk. That written, we never use screeners for outright investment decisions.
To the contrary, screens may inadvertently eliminate an otherwise quality enterprise. However, for this research, we are running a basic quality screen to determine if HYDi's are universally safe or not from market downturns relative to overall company quality.
Anyone who regularly reads, writes, and comments on Seeking Alpha knows that HYDi's have become a perceived crown jewel in this bull market, particularly for retail investors and advisors seeking to increase total return from retirement portfolios.
To be sure, by definition, other prevalent investment themes such as dividend growth investing (DGI) and dividend-seeking value investing would avoid high yield dividend stocks unless the company presented as having a wide margin of safety at the time of investment.
Whether a wide margin of safety or not, intelligent investors do not buy stocks based on market euphoria.
His Neighbor Said, "Buy the Yield"
For a little background, high yield dividend investing first appeared on my radar earlier in this bull market from an extended family member who was retired. Acting on a tip from a neighbor - mistake number one - he moved a substantial amount of capital from a well-known, blue-chip equity REIT to the unpriced, non-tradeable securities of two high dividend (6-10%) hotel REITs. Not surprisingly, a high fee and commission broker was behind the transaction.
As might be anticipated from any disciplined REIT, DGI, or value investor, the REIT staple that was sold out to create the capital for the high yielders ended up a five-bagger stock with ~4% in average annual dividends during the same holding period. Although the unpriced hotel REITs paid significantly higher dividends, one security eventually went public at about the original cost per share. That price is up about 50% since the IPO. Undoubtedly adequate, but that equates to a half-bagger in eight years, not a five-bagger such as the blue-chip REIT sold to create the capital for the high yield, unpriced security.
Of course, my unfortunate family member is an example of the risks involved with unpriced securities, but whether priced or unpriced, I believe that persuading a retiree to sell a 4% relatively stable yielder for the 8-12%+ yields of risky equities is not an uncommon practice. The enticement of a stock's high yield seems to overshadow the necessary due diligence required to determine if the representative company is stable enough to justify the yield such as from capital allocations and shareholder returns in a well-managed operation.
Paraphrasing resident REIT expert and value investor, Brad Thomas, would I rather own a quality 4% yielder that has compounded average capital gains of 6% a year or a high-risk HYDi that yields 10% but averages a 5% annualized capital loss? In the former, the value investor is averaging a 10% average annual total gain, whereas the HYDi fan is settling for a meager 5% average annual total return.
Perhaps some retirees have had the exact opposite experience by investing in HYDi's that are producing double-digit total returns each year during this bull market. But when will the party end? High dividend investors that think he or she can time the perfect exit are playing the fool's game.
In an attempt to get our arms around the fascinating endurance of this high yield dividend stock marathon, we screened all of the >6% HYDi's currently available for publicly traded consumption. We were stunned by the results, leading to the conclusion that my family member's portfolio that was preempted by a HYDi investment is perhaps more the rule than an exception.
Main Street Value Investor's HYDi Screener
Regular readers and members of Main Street Value Investor know that we follow the mantra of giving our portfolios a K.I.S.S., i.e., keep investing super simple. If the complicated, deep dive quant approach to investing was as valuable to portfolio returns as it is to the generation of fees and commissions, why aren't more retail investors successful than not?
Our approach to building wealth from long-view value investing focuses on a few key indicators that highlight the quality of a company represented by the stock that perpetually sits within the perilous eyeshot of Mr. Market.
Nevertheless, we do not let Mr. Market deter us from taking ownership slices of wonderful companies when the underlying stocks are trading at reasonable prices. We prefer companies that pay sustainable and predictable dividends to shareholders, as those payments keep us compensated in the short term as we wait for the capital appreciation of the stock over the long term.
In our 17+ years of active investing, we have discovered a mere handful of fundamental measures of a company that more often - although not always - predict the direction of the forward-looking long-term performance of the underlying stock. In our view, Wall Street presents itself as sophisticated for one covert reason: to justify all those fees and commissions, and the outsized bonuses generated from the sales activity, regardless of portfolio performance.
We think investing is simple, if not easy; doable, if not intimidating. We drown out the noise by giving our portfolio a K.I.S.S. each market day by keeping investing super simple. Thus, we used just four primary key indicators to filter the HYDi universe: dividend payout ratio, revenue growth, profitability, and debt coverage.
Oversimplified, perhaps? But would an intelligent investor buy into a friend's business that overpaid its dividends to partners, was not growing revenues, was unprofitable, and had debt levels leveraged at more than double the partner's equity? Unlikely, yet investors are backing up the truck for HYDi's and other equities with similar weak fundamentals every market day.
First, let's review the basic parameters of our HYDi quality screen. At the time of this research, there were 345 U.S. publicly traded, high yield stocks paying dividends of 6% plus.
| | |
| --- | --- |
| HYDi Screen | Stocks Filtered |
| >6% Dividend Yield | 345 |
| U.S. Major Exchange | 221 |
| Over-the-Counter | 124 |
| Micro Cap | 272 |
| Small Cap | 41 |
| Mid Cap | 22 |
| Large Cap | 3 |
| Lower Risk HYDi's | 65 |
(Source: Main Street Value Investor)
Because we only invest in major-exchange-traded companies and avoid the highly speculative OTCs and micro caps, we quickly eliminated those HYDi's. Our initial low-risk screen produced 65 small-, mid-, and large-cap high yield dividend stocks trading on major U.S. exchanges. This initial quality screen eliminated over 80% of the original 345 HYDi's.
We then further screened the 65 remaining equities for quality fundamentals.
(Source: Main Street Value Investor/Charles Schwab & Co.)
The screen eliminated HYDi's with dividend payout ratios of greater than 125%, negative three-year revenue growth, and companies that are losing money. Our "no-brainer rule" is if you do not want to lose money, then avoid taking long positions in companies that are losing money. Another reminder that investing is 90% half common sense, as Yogi Berra might have said.
Investing is 90% half common sense.
We then eliminated overly leveraged companies carrying debt that is more than double the outstanding equity.
Just like financially troubled households that carry debt twice their net worth, the same holds true for most companies. Using debt in a low-interest rate environment is judicious; leveraging too far beyond net worth or net asset value is a recipe for disaster just waiting for the first signs of a market downturn or economic recession to cook the books. The good times are euphoric until they are not.
To be sure, we could have individually researched the SEC filings and reports of each of these 345 HYDi's, but the rigor of a probable one-year academic, micro-analysis was unnecessary, as our flash illustration exposes the obvious: high yield dividend stocks, for the most part, are high-risk investments.
The Baker's Dozen
Let's take a quick look at the definition of each parameter in the HYDi screen.
Payout Ratio
The payout ratio is the proportion of earnings paid out as dividends to shareholders, typically expressed as a percentage. A lower payout ratio is preferable to a higher one, with a rate higher than 100% indicating the company is paying out more in dividends than it makes in net income.
To be sure, many of these tickers are REITs and BDCs that are required to pay out 90% of earnings to shareholders. But close to 20% of HYDi's are paying out higher than 125%. Where is the cash flow to support this generosity? Most likely the excess payout is coming from somewhere on the balance sheet or cash flow statement that is potentially detrimental to the company's financial stability.
Three-year Revenue Growth
When considering the worthiness of a company's inclusion in the Main Street Value Investor Model Portfolio, we emphasize actual growth metrics as opposed to speculative forecasts best left to the crystal ball. As defensive investors, we prefer companies that are already growing, not just promising to grow.
For the HYDi screen, we looked at trailing three-year increases in revenue to determine if a company is growing sales to seed those enormous dividends.
Net Profit Margin
We screened for net profit margin in the most recent fiscal year (MRFY), i.e., trailing 12 months of income after taxes divided by sales. The median net profit margin was about 13%. At MSVI, we prefer highly profitable, cash-generating companies that provide margins of safety in a literal sense.
Debt-to-Equity
Our screen searched for total debt-to-equity and eliminated HYDi's with debt exceeding two times outstanding shareholders' equity, i.e., total assets minus total liabilities or the company's net worth. Nonetheless, on the surface, debt does not appear an overall issue for HYDi's.
The HYDi Game Results
The final screen produced just 13 high yield dividend stocks of companies that presented quality, risk-averse operations in the context of exchange listing, market capitalization, payout ratio, revenue growth, profitability, and debt coverage.
Here are the 13 HYDi's that survived our primary screen for quality: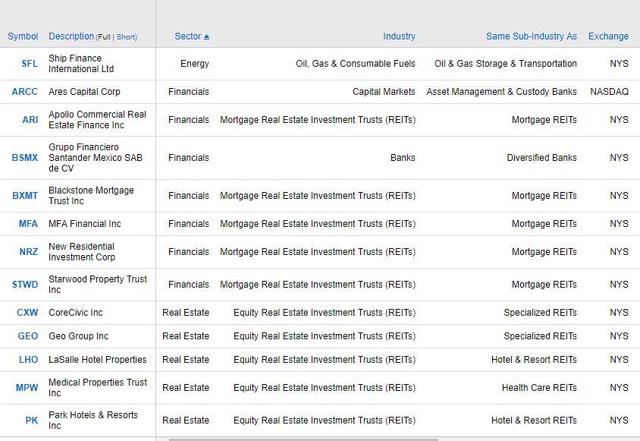 (Source: Main Street Value Investor/Charles Schwab & Co.)
The energy sector yielded just one perceived quality HYDi:
Ship Finance International (NYSE:SFL), a small-cap energy shipping company based in Bermuda.
The high-dividend laden financial sector produced just seven companies, including one BDC, one commercial bank, four non-diversified mREITs (mortgage REIT), and one diversified mREIT:
Another traditionally high dividend haven, the real estate sector, produced only five REITs from our primary quality screen: two for-profit correctional facility providers, one healthcare eREIT (equity REIT), and two hotel eREITs:
Notably, our screen produced zero perceived quality HYDi's from the consumer discretionary, consumer staples, healthcare, industrials, technology, materials, telecom, and utilities sectors.
It is worth repeating that our screen is not recommending the HYDi baker's dozen, but merely suggesting further research to verify the quality of each company and to measure the intrinsic value of each stock.
The Dirty Dozen
For entertainment purposes only, here are the bottom feeder high yield dividend stocks from the original quality screen of the 345 exchange–traded, small-, mid-, and large-cap companies yielding 6% or higher at the time of this writing.
These 13 HYDi's screened as arguably the lowest-quality and are dubbed the "dirty dozen" (plus one) for overall unfavorable dividend payouts, revenue growth, profitability, and debt levels.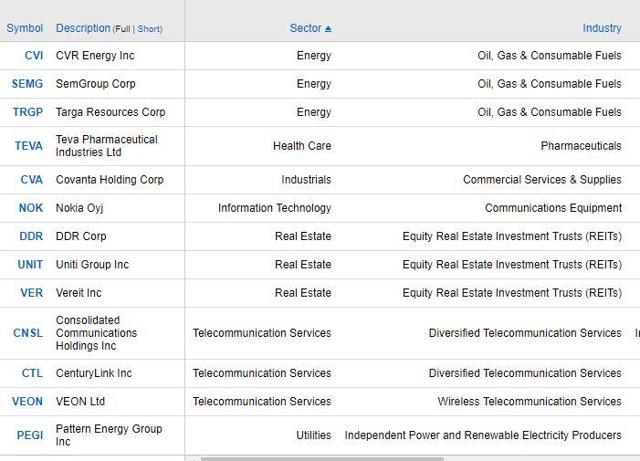 (Source: Main Street Value Investor/Charles Schwab & Co.)
Chasing Yield Before Quality is a Recipe for Junk
Many top authors and loyal readers on SA focus their research and investing energies in high yield dividend investing, particularly REITs and BDCs, as well as closed-end funds (CEFs) and preferred stocks not covered here. As should be expected, these folks will respectfully chime in and remind me of what I missed, overlooked, and tripped over in my analysis, while further challenging some of my assumptions and conclusions.
Such professional debate is what makes Seeking Alpha the number one crowdsourced investment site for the buy side. That written, our thesis remains that HYDi investors are apparently chasing yield more so than quality. If yield before quality is a conscientious trading strategy, then so be it with our best wishes.
Nonetheless, it is important to remember that dividend rates adjust monthly, quarterly, or annually based on board-directed adjustments and payouts. Separately, the corresponding yields go up and down each market day as a prisoner of the current market price. When the price goes up, the yield goes down, and vice-versa. That is the fundamental economic nature of the price/yield relationship, whether bonds or equities.
So the next time Mr. Market preempts the anticipated, albeit leveraged performance of your high yield dividend stock portfolio, you may find yourself screaming, "Put on Heidi, we don't care!" Poorly played football games and junk equity will do that to you.
Main Street Value Investor on Marketplace
I invite you to learn more about Main Street Value Investor in the SA Marketplace where we host an actively-managed model portfolio of mispriced stocks with compounding returns and wide margins of safety through all market cycles.
Join Now and Avoid Our Upcoming Price Increase
We are raising our prices 60% for new subscribers on April 2, 2018. The good news is by that time we will have added a second model portfolio of 'underfollowed' small-cap total return stocks to the service. Of course, MSVI's flagship large-cap total return portfolio will remain and continue to grow with new ideas. Join today and lock-in the current low monthly or annual rate for life as long as you maintain active membership. Learn more here without obligation.
.........................
Comments are strongly encouraged and always welcomed. Please read the important accompanying disclosures.
Main Street Value Investor is a trademark, and Main Street Value Investor Model Portfolio (MSVI) and Main Street 20 Watchlist are service marks of David J. Waldron.
Data Sources: Seeking Alpha, Charles Schwab & Co. (Morningstar, Thomson Reuters, and S&P Capital IQ).
Disclosure: I/we have no positions in any stocks mentioned, and no plans to initiate any positions within the next 72 hours.
I wrote this article myself, and it expresses my own opinions. I am not receiving compensation for it (other than from Seeking Alpha). I have no business relationship with any company whose stock is mentioned in this article.
Additional disclosure: Data is for illustrative purposes only. The accuracy of the data cannot be guaranteed. Narrative and analytics are impersonal, i.e., not tailored to individual needs or intended for portfolio construction beyond the contributor's model portfolio which is presented solely for educational purposes. David J. Waldron is an individual investor and author, not an investment adviser. Readers should always engage in further research and consider (as appropriate) consulting a fee-only certified financial planner, licensed discount broker/dealer, flat fee registered investment adviser, certified public accountant, or qualified attorney before making any investment, income tax, or estate planning decisions.