Continuing our weekly series, Open Insights, we'll take a look at the EIA's Weekly Petroleum Status Report ("WPSR") for the week of October 27, 2017.

After a reported large draw in crude, distillates and gasoline from the American Petroleum Institute ("API") after the closing bell Tuesday night, the EIA report Wednesday morning was somewhat muted. The data though wasn't entirely negative, but the expectations for a "monstrous" draw turned into a "large" draw in reality. Let's run through today's numbers.
Crude inventories declined 2.435M barrels for the week as exports leapt to an all-time high of 2.133M bpd, eclipsing the prior high of 1.984M bpd recorded in the week of September 29th. This is the highest rate of crude exports ever from the US, and given where WTI/Brent spreads are, it will continue. Crude imports fell to 7.571M bpd from last week's spike, and are within the 4-week averages.
We believe production at 9.553M bpd is still overstated. The Petroleum Supply Monthly data released Tuesday pointed to 9.2M bpd of production, which means the WPSR overestimated US production by close to 150K bpd. We think that delta continues to roll through September and October numbers, and will keep skewing the WPSR data. However, so long as inventories trend down, reality will catch up in stock numbers.
Refinery utilization increased slightly by 20 basis points to 88%, and we are officially in maintenance season. Historically, based on 5-year averages, we are in the trough of maintenance outages, and by next week or the week after, refineries should be brought back online, and crude demand will start increasing. Every 1% increase in refinery utilization translates to an increase in crude demand of 186K bpd; so climbing from a 88% utilization to 92% (historical end-of-season average) would boost crude demand by close to 750K bpd or 5M barrels for the week.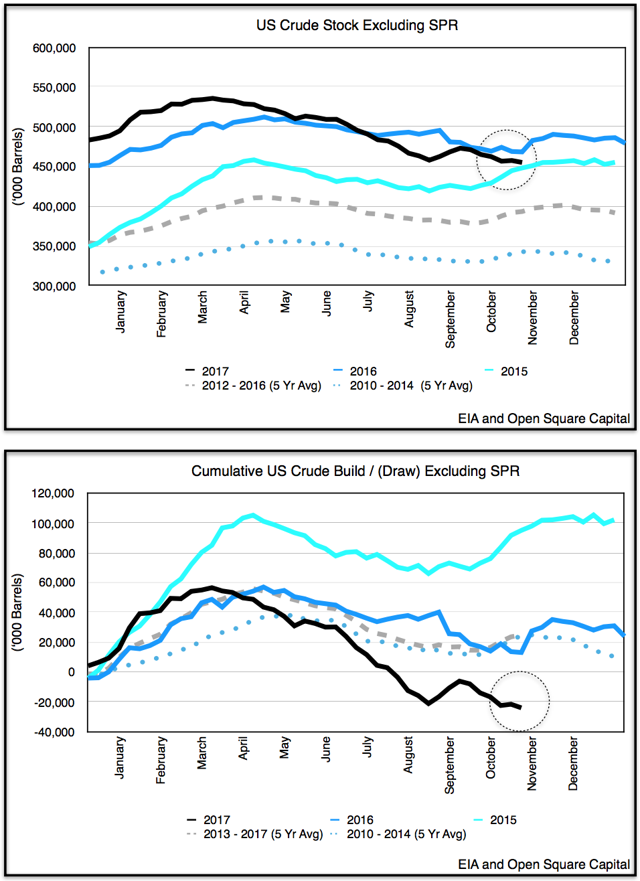 Gasoline and distillates decreased by 4.020M barrels and 320K barrels, respectively. Combined total crude and petroleum product stocks fell by 5.798M barrel for the week.
Here's our updated chart for total US crude and products.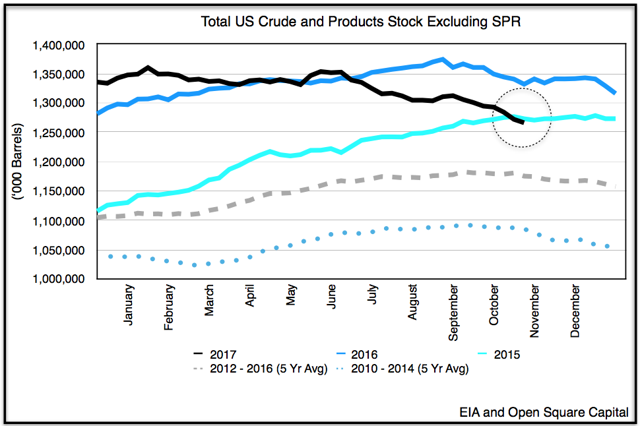 As always, we'll leave you with some food for thought.
So after a slight let-down from what API figures were alluding to last night, if we step back and look at the total oil inventories drawn in October (i.e., crude and petroleum products), we see that oil has drawn by 28M barrels; if we looked at total oil stock drawn over October we're seeing a 28M barrel draw. Tack on the 3M barrels of crude released from the Strategic Petroleum Reserve, we're into the 30M barrel range of draws. This continues to be unprecedented draw, given that the 5-year average for this time of the year is 4M barrels (5-year average for 2010-2014) or 5M barrels (5-year average for 2012-2016).
One thing we're keeping an eye on is the adjustment, the EIA's "plug" in its supply/demand equation. This week it totaled 563K bpd or 3.9M barrels, but the number has been creeping higher as the weeks have continued.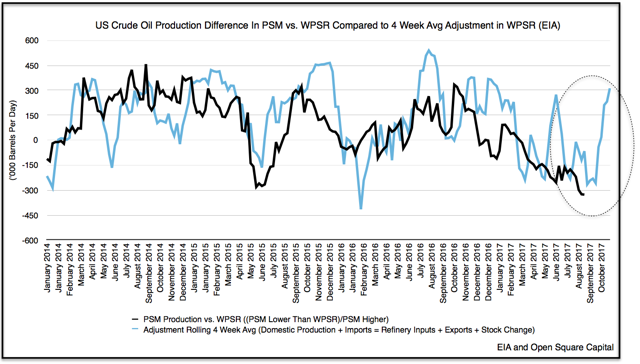 We believe at some point that figure will reverse once the data catches up, which means inventory "draws" may be higher than what's reported. In the end it's a plug, and given the multitude of assumptions in the EIA model, the number can jump around. Stay tuned on that one as we now head into November.
As always, we welcome your comments. If you would like to read more of our articles, please be sure to hit the "Follow" button above.
Disclosure: I/we have no positions in any stocks mentioned, and no plans to initiate any positions within the next 72 hours.
I wrote this article myself, and it expresses my own opinions. I am not receiving compensation for it (other than from Seeking Alpha). I have no business relationship with any company whose stock is mentioned in this article.