Are You Sitting On A CEF Time Bomb?
Summary
A "heart to heart" discussion about closed-end funds and why many are ticking time bombs.
A look at the three major, current negative factors for CEF investing and why they are not being discussed.
A discussion of the factors that need to be looked at as part of the due diligence process.
Note: Income Idea subscribers received an early look at this CEF School article on 11/1.
CEFs (closed-end funds) are AWESOME! Seriously... they are and CEF investors will typically agree and are likely nodding their heads along!
Closed-end funds let you invest in compelling asset classes while generally drawing an above-market distribution while the actively managed fund can make investments with conviction. What makes this even better is that in the vast majority of the cases, you buy those assets at sometimes substantial discounts.
However... like an aggressive dog, it can sometimes bite, particularly in times when you are having too much fun!
As much as I LOVE CEFs, more and more of the closed-end funds which we look at in our articles or I am requested to look at by a subscriber ends up having a lot of "eh" or "leave it" ratings with a bunch of... "watch out for..." statements.
While in our latest CEF school article we discussed why interest rates mattered for closed-end funds, I wanted to write this article for both subscribers and my regular Seeking Alpha community to sound the bell and make it clear...
Many Of The Closed-End Funds Are Ticking Time Bombs!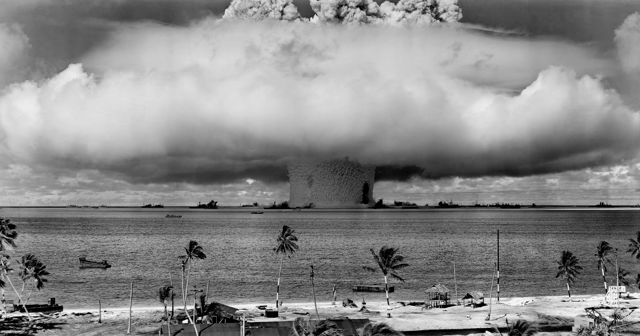 In two of my recent closed-end fund articles discussing the Reaves Utility & Infrastructure Fund (NYSE:UTG) and the PIMCO Dynamic Income & Mortgage Fund (PCI), it became abundantly clear that the vast majority of the retail public either does not fully understand where or how the distribution is generated or may understand it but does not care, putting their faith into management and past performance.
In order to understand why CEFs may be time bombs, it is important to understand them, so let's take a few moments to discuss the basics.
There are generally three types of closed-end funds: equity, fixed income, and hybrid.
Equity CEFs are the minority of the CEF investment universe and are generally fairly easy to understand. Such examples may be the number of utility funds, dividend focused funds or internationally focused funds that invest in harder to access areas, such as frontier or developing markets. These funds may or may not pay a distribution and more often than not are not levered.
The vast majority of the closed-end funds out there are fixed income funds. Pick your flavor of fixed income and you have a closed-end fund for it. Plain vanilla municipal bonds? Yes. Investment grade corporate bonds? Yes. Mortgage bonds? Yes. Junk Bonds? Yes. Emerging markets bonds? Yep, got those too. Senior floating rate? You got it!
More often than not, fixed income CEFs use leverage in order to juice up the returns.
The recipe is quite simple really. In the vast majority of cases, shorter-term interest rates are lower than long-term interest rates. The funds will borrow money at short-term rates and invest them in higher-yielding, longer-term maturities. Borrow money at 2%, invest it at 5%, and you are making money for your investors and most will not complain about the high fees.
Because the leverage is traditionally secured by the underlying investments, money for leverage is relatively easy to find as banks, endowments and institutions are looking for it. Leverage typically comes from either issuing debt or preferred stock shares which are higher up in the capital stack than common shareholders, therefore in the event of a default, preferred shareholders are made whole before common shareholders.
So that is CEF fixed income investing at its core. Lastly there are hybrid-type closed-end funds which by prospectus can invest in either debt or equities, or equity funds which have a flexible enough mandate that they can generate income through derivatives or covered call writing.
No One Wants To Know How The Sausage Is Made!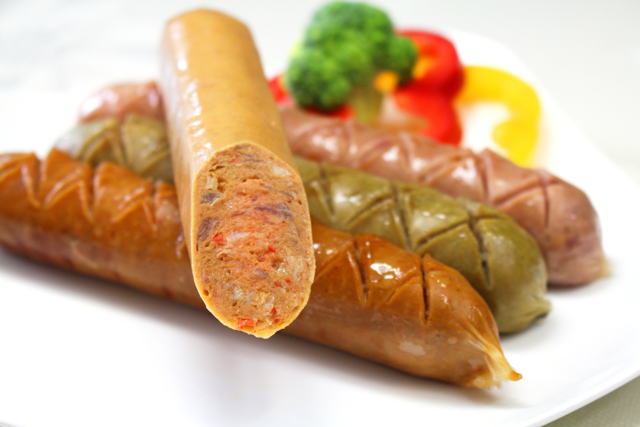 Some may enjoy a sausage but no one really wants to know what it is made of.
The vast majority of closed end fund investors, both on Seeking Alpha and other communities, merely shop CEFs on two metrics, the "dividend" and the discount to NAV.
A few weeks ago we went in-depth on the fallacy of the "dividend" and why it is merely a distribution. We discussed it in "CEF School: Distributions 101 - Distributions Are NOT Dividends," so if you have not done so already, PLEASE, I implore you to carefully read it.
As we now know, a dividend is earned, a distribution is not.
A CEF distribution is NOT a common stock dividend. Unfortunately too many investors associate a steady distribution rate to mean the fund is healthy. In reality a "steady" distribution rate may simply mean the fund is committed to paying out a set percentage every year, whether or not it comes from income and even if it means return of capital or return of principal.
Two prime examples where we saw this in are NYSE:MIN as we discussed in "MIN: Good Fund Ruined By Policy" and NYSE:ERC "ERC: Ruined By An Unsustainable Policy."
Many of the closed-end funds however are "income only" funds which are supposed to pay strictly from income. When that income does not cover the distribution, eventually the distribution will be cut. Cut the distribution significantly enough and it will send investors away and drive the price down to increase the total market price distribution rate.
Every week, my friend and fellow Seeking Alpha author and marketplace contributor Stanford Chemist publishes his CEF Weekly Round Up.
In his round-ups, one of the areas which is looked at is the closed-end funds which have raised distributions and funds that have recently cut their distributions by 5% or more.
As of his last article, for the month of October, 14 closed end funds have cut distributions anywhere from the minimum 5% threshold to as much as 24%, and only one fund has raised its distribution, NYSE:KST, a small $50 million CEF. The total number of funds which have cut their distributions including less than 5% is quite a bit more.
Batman... We Got A Problem!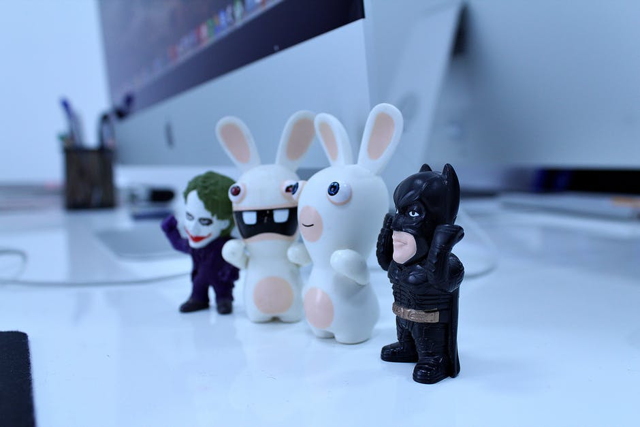 Just The Beginning!
Why are funds cutting their distributions? The answer is the same as to the other question, "Why do we look at leverage and distribution quality in our articles?"
Times are changing and we no longer have a rising tide to lift all boats. It is necessary to examine the sausage to see the ingredients.
Generally the last eight years have been a wild bull market for almost any closed-end fund.
We had a fairly steep yield curve, asset prices were depressed post the GFC and have been rallying back to normal and the leveraged funds were able to put more juice behind their action. This is why many closed end funds were generating more than low-double-digit year-over-year growth, and when you have that type of growth, almost any sub-10% distribution would be easily supportable... but times have changed.
Let's look at the reasons.
1. Low, Low, Low Interest Rates
Record low interest rates are a blessing for closed-end funds, especially levered fixed income closed-end funds with higher durations.
Below is a chart for one-month LIBOR rates from January 2000 through January 2016. LIBOR is what most of the taxable CEF leverage is based off of.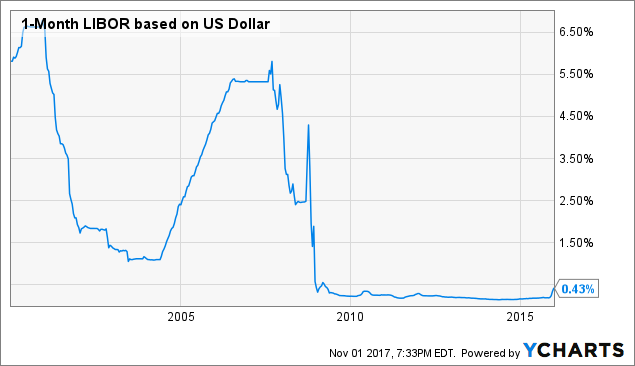 One-Month LIBOR based on US Dollar data by YCharts
Over the last 10 years, the typical CEFs' borrowing rates have plummeted by more than 5%.
Lower interest rates on borrowing went straight towards the bottom line and increased the cash available for distributions.
"But WAIT!" you may say... the amount the fund may be earning fell as well, right?
Well, one very simplistic way we can look at this is through the Treasury spreads. Remember the borrow at short term, invest in long term which we discussed above?
Below is a graph of the spread between 2- and 10-year US Treasury yields. The 2-year Treasury will represent fairly well an overstated borrowing cost the fund is paying for leverage and the 10-year Treasury will understate how much the fund is earning on the investment side.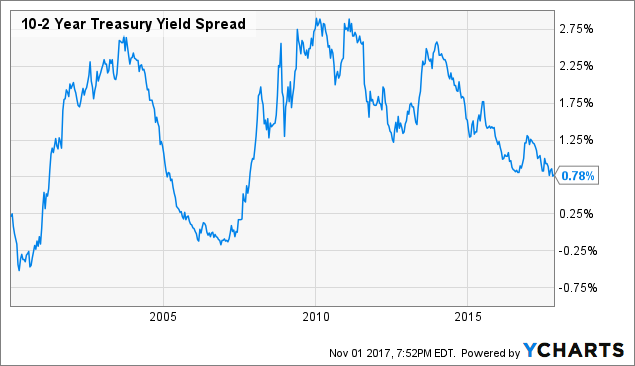 10-2 Year Treasury Yield Spread data by YCharts
As we can see, from the start of the GFC, and when the short-term borrowing rates came down, the longer-term yields actually went up. There was more money for the CEFs to make... pure BLISS!
The funds which really stood out were those that were paying lower short-term borrowing rates and were able to purchase higher-yielding, long-term investments; the longer the maturities, the higher the duration, the BETTER the fund did.
Since then however the spread has come down to decade lows.
Intermediate rates are not alone. As we can clearly see, the 30/10 spread is now down to pre-2008 Financial Crisis lows.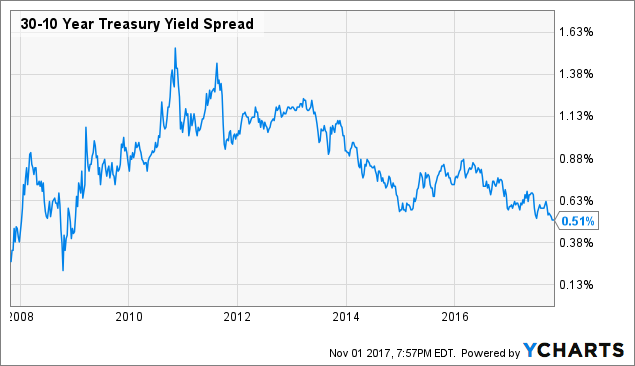 30-10 Year Treasury Yield Spread data by YCharts
This leads into issue number 2.
2. Rising Borrowing Rates, Lower "Reinvestment" Rates, Re-investment Risk
The LIBOR chart above was only through 2016... let me update that for you.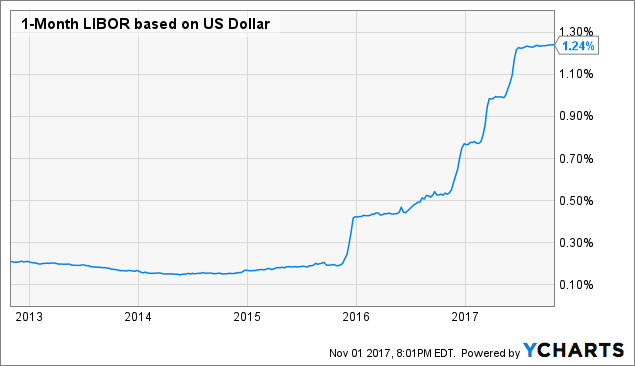 One-Month LIBOR based on US Dollar data by YCharts
The average expense for a fund to borrow today is at least 1% higher than it was two years ago. This does not take into consideration the fund's ability to negotiate as low of a spread over LIBOR. Fund expenses are going up.
Unfortunately the funds are NOT able to reinvest maturing securities in the same yields as they were able to buy 10 years ago either.
Corporate bonds?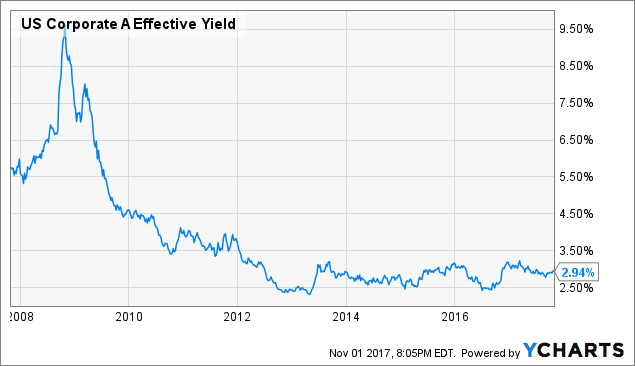 US Corporate A Effective Yield data by YCharts
An A credit has an average yield of 2.94% today whereas the same maturity security 10 years ago, and likely that one is maturing today, was yielding as low as 5.5% in 2008 and as much as 9.5% in 2009.
A closed-end fund could have borrowed at anywhere from 4.5% to 1.5% and invested in quality corporate bonds yielding up over 9%... great cash flow.
Today that same fund is borrowing at 2% interest rates and investing in corporates paying 2.9%?!? After paying the 1%+ in fees... can someone explain to me how the fund can generate a 6% or higher distribution rate?
So what must a fund do? Seek out junk!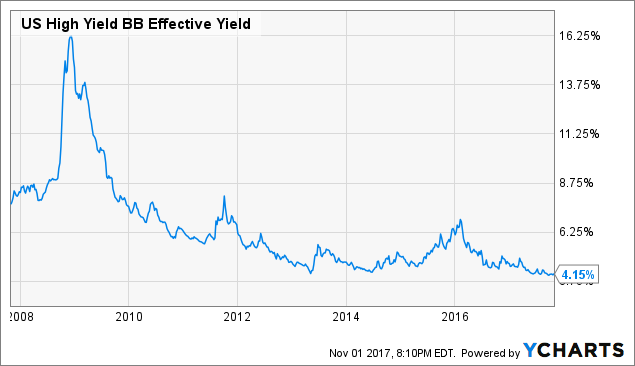 US High Yield BB Effective Yield data by YCharts
But of course even junk is yielding decade lows and half of what it was yielding back in 2008.
Simply put, this is a very bad place to be for leveraged closed-end funds which pay out unsustainable distributions.
Safer areas?
Municipal bonds are not immune however either. Below is the yield of the iShares National Muni ETF (NYSEARCA:MUB). The yield here is lower than what the bonds are paying, but it is a good representation. Even though the yields are lower than they were... the average muni yield today is only about 1% lower than it was 10 years ago.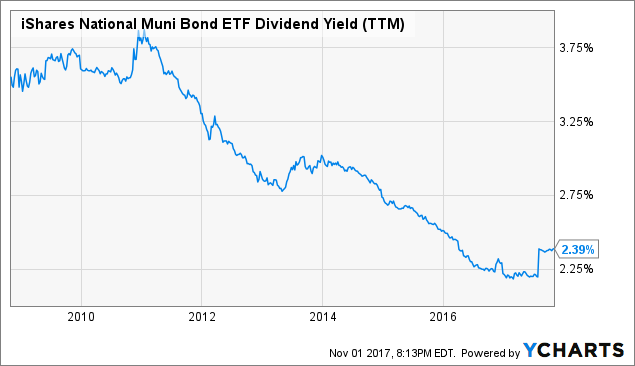 MUB Dividend Yield (TTM) data by YCharts
Sovereign Emerging Markets as represented by NYSEARCA:PCY have also done better, yielding only about 1.5% lower than it was during the GFC (Emerging markets went through their crisis a year or two earlier than developed markets).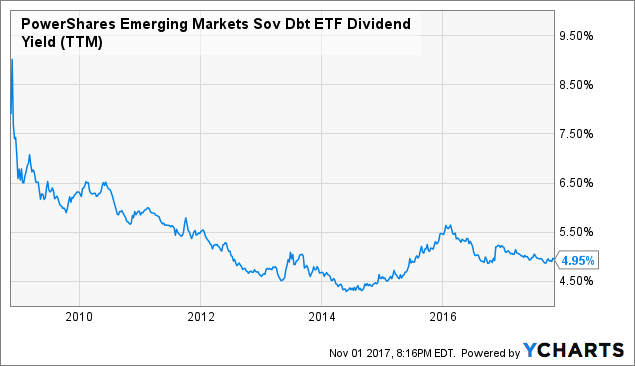 PCY Dividend Yield (TTM) data by YCharts
The third problem for CEFs is that the underlying asset classes represented in the funds are NOT as safe as they once were or investors think!
CEFs need to generate a high distribution as that is what makes them attractive. As we can clearly see, in order to maintain a positive distribution, managers had to go into riskier assets. You no longer have the days of seeing quality corporate bond funds yielding 5% or more; instead you have CEFs reaching into riskier asset classes just to generate some income. In essence what this means is fixed income funds with words like "Dynamic" or "Strategic" really mean "JUNK!" and "Risky!" nowadays.
When the economy starts turning and companies start defaulting on their loans, who is more likely to get hurt more? "High Yield" or "Investment Grade?"
This also means funds are continuing to go down the foggy road of derivatives and other risky trades in order to generate incremental income.
In the municipal world, reaching for yield means riskier municipal credit, be it Chicago or Illinois credit or trying to trade or pick up the falling knife in Puerto Rico bonds or riskier revenue backed bonds with questionable coverage. This also means funds investing and splitting up their quality municipal bonds into tender option bonds where they sell off a part of the bond in exchange for variable interest payments (and also additional leverage).
For international bonds, it means funds going to literal war zones! We saw this first hand when researching emerging markets bond CEFs. As we found, the Franklin Templeton Emerging Markets Income Fund (NYSE:TEI) had a good amount invested in Iraqi and Ukrainian sovereign bonds. Yep... Warzones!
When you look inside, you sometimes find the sausage is not that pretty.
So Why Aren't Investors Panicking?
Because the Net Asset Values ("NAV") have been increasing!
This is perhaps the biggest reason why investors are oblivious to the troubles underneath the waves.
We ran into this issue when we discussed PCI in the article "PCI - Not For Me."
The very simple answer is, the growth in the net asset value does not state anything about the health of the underlying income.
All while the interest rates have been coming down, the "value" of the bond or its market price increases.
So, all of those bonds which were purchased 10 years ago with 8% coupons are now worth A LOT MORE in a 4% world. The securities which were most affected are those higher-duration, longer maturity securities... say long-term mortgage-backed securities? =)
Fellow contributor Williams Bay Analytics, a former institutional bond sales person, tackled this question perfectly for PCI and by default other CEFs in this article, "PCI: A 20-Month Review Of My Case Study And Why I Recently Sold":
These closed end bond funds are designed to pay out net interest income. Over time they distribute what comes into the fund minus expenses. The NAV return does not determine what is available to distribute. The NAV goes up as the prices of the holdings get marked higher (or vice versa). It does not however lead to any increase in distributable income all things equal.
Please read his article as he goes into detail about the NAV increases and leverage.
Bottom line, investors equate NAV with income stability. That is incorrect and hides issues in an environment where the NAV growth came from declining interest rates.
THE Bottom Line
Retail investors are generally all too happy to look at the distribution and discount to NAV as main reasons for investing. Very few go further and look at the NAV stability to justify their actions.
Unfortunately, between the NAV growth provided by lower market interest rates and fund sponsors managed distribution policies and "banked UNII" balances, the wool has been kept over the sheep's eyes and the blinders on the horse (pick your analogy).
Here is the reality... all of this is already happening today!
Distribution coverage rates have been coming down across the board and many funds have already started cutting distributions ALL WHILE new and existing investors are dumping more money into funds at any signs of discounts sending what were once meaningful discounts to NAV into minuscule amounts or even premiums!
The only way to separate the good from the bad and to identify the opportunities is to look at the financials.
This is why we look at distribution coverage and quality to see how it is generated and if it is being covered or merely covered from the banked UNII of yesteryear.
This is why we look at the leverage and more importantly its structure to see how the expense side of the fund will be impacted by interest rates and if previous coverage ratios are still valid or meaningless.
This is why we look at the holdings to see where management is heading with their investments. Are they relatively safe and understood investments? Or is management trying to generate alpha with significant risky exposure?
This is why we look at the maturity and call exposure to see how badly the fund is going to get hit with reinvestment risk.
And ALL of this is why investors need to look beyond "the dividend."
Numerous followers and trial subscribers ask and wonder why I rate relatively few "Like it!" funds. The answer is there is relatively little value investments in the CEF space. Many of the funds which I have written about and loved a year or two ago, I would not touch with a 10-foot pole today. From this article, I hope you now see the CEF world with a similar set of eyes.
With Income Idea, our goal, at least for the CEF space, today is to find those few good opportunities as they go through our process, but more importantly, to identify funds that are worth owning someday, but perhaps not today; good funds with good fundamentals but that may simply be "expensive."
Often times, being in cash and taking out the income that you need is a smarter move than being invested for the sake of investing in an expensive car as it heads into a brick wall.
I further hope it is now understood why I have not discussed many, if any, "high yield" funds in this service, outside of subscriber requests.
A prudent income investor should not be trying to catch a falling knife or chase yield.
This is also why the bulk of the "Like It" funds are in the asset classes where I still feel there is some opportunity or at the very least, a safer place to hide, such as quality municipal bonds, hedged strategies, covered call funds and emerging markets bond funds.
I sincerely hope this article is helpful and help you understand the current market in the broader due diligence process.
Questions? Let's keep the convo going!
- Maks

I hope you enjoyed this article and it was helpful in your due diligence. I also hope you now have a good understanding of the type of research we do beyond what you see in the regular articles.
I believe in active management that works, and I am here to help you find those opportunities. Please follow me here on Seeking Alpha as we look for those opportunities and sort out the good managers from the mediocre. Simply click the "Follow" button next to my name at the top of the article or on my profile page.
This article was written by
Intrepid Leader at an RIA.  My firm and I simplify the lives of busy clients by providing ongoing financial planning and asset management. this is done by providing our clients customized, ongoing comprehensive financial planning, and customized investment advisory services tailored to the clients' needs. As a fiduciary, we have a legal obligation to put the needs and interests of our clients above our own. Specialties: fee based comprehensive financial planning, retirement planning, life insurance and protection planning.
Analyst's Disclosure: I/we have no positions in any stocks mentioned, and no plans to initiate any positions within the next 72 hours. I wrote this article myself, and it expresses my own opinions. I am not receiving compensation for it (other than from Seeking Alpha). I have no business relationship with any company whose stock is mentioned in this article.
Seeking Alpha's Disclosure: Past performance is no guarantee of future results. No recommendation or advice is being given as to whether any investment is suitable for a particular investor. Any views or opinions expressed above may not reflect those of Seeking Alpha as a whole. Seeking Alpha is not a licensed securities dealer, broker or US investment adviser or investment bank. Our analysts are third party authors that include both professional investors and individual investors who may not be licensed or certified by any institute or regulatory body.