There is great reason to be optimistic on the U.S. economy (SPY) and this is shown in stock prices at record levels, but I think U.S. stock market investors are overlooking global factors (VGK) (EEM) (FXI) (HEDJ) (DXJ). Many investors are all in on the synchronized global growth story. I believe in a decoupling of the U.S. economy from a global low growth environment and the U.S. leading the global business cycle allowing the Fed to normalize while facing global concerns. There are elevated risks in emerging markets.
I believe in exactly the opposite, that is, unsynchronized growth, where the U.S. data and outlook improves while emerging markets deteriorate. I think there will be a moderate EM downturn which will weigh on inflation expectations and risk sentiment while the U.S. economy continues improving.
The Fed is correct for tightening policy (TBT) (TLT) (TMV) (TTT). The U.S. economy has solid fundamentals as shown by powerful credit growth, home prices, deleveraged household debt to income ratios, and repaired net worth.
U.S. financial conditions as described by lower Treasury yields (long term interest rates), a weaker U.S. dollar, and higher stock prices, are easier than when the Federal Reserve's tightening cycle began. This is counterintuitively the opposite expected effect.
The real federal funds rate is still below its neutral rate so policy is still accommodative. The Fed is going to reach the neutral Fed Funds rate or potentially higher in 2018 and this implies more rate hikes that are not yet priced in.
While most FOMC participants judge the equilibrium short-term real interest rate that is consistent with a neutral monetary policy to be low-perhaps in a range of 0 to 1 percent-this is still above the current inflation-adjusted federal funds rate.
William Dudley, Source: Bank of International Settlements
For the Federal Reserve's, dual objective to be met, it's going to require higher real inflation-adjusted interest rates and tighter financial conditions. Max employment cannot be sustained if inflation surges because the Fed would need to respond through abrupt, swift tightening which could prove recessionary. Preemptive is the right approach. The Phillip's curve effects will return and I'm optimistic on U.S. employment and growth. Pushing up real rates a little doesn't risk much harm to the underlying U.S. economy, but there could be turbulence in financial markets and emerging markets. China concerns and hawkish Fed policy are correlated.
If the Fed wants to tighten policy and genuinely defend against long run inflation, they are going to have to correct the easing in financial conditions and push up real rates to at least their neutral estimate. This chart shows the easing of financial conditions despite Fed tightening.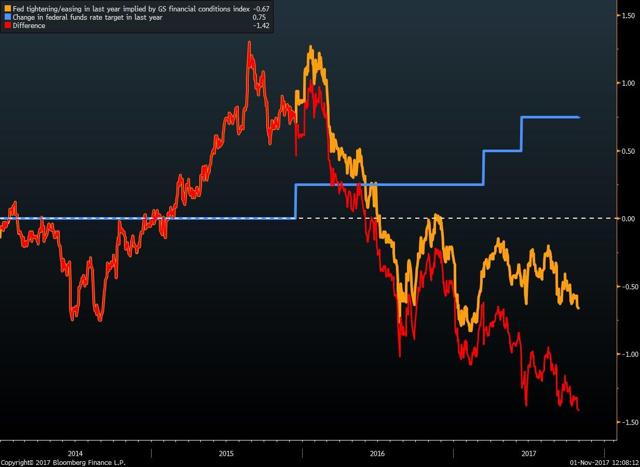 Source: Boesler, Bloomberg
I don't think the effects of the balance sheet unwind strategy are fully appreciated. There is also a disconnect between market-based monetary policy expectations and the Federal Reserve's own projections. I think it is very much a problem. The larger the misalignment becomes, the more volatile the effect will be when it is corrected. Treasury prices have largely ignored rate hikes so far. I think the Treasury market is going to find itself very behind the curve on monetary policy tightening and there will be sharp upside reactions in yields as the Fed moves in December and in 2018 while allowing their balance sheet unwind to occur.
Potential tailwinds for bond prices are relatively attractive yields versus other developed markets, a flight to safety and declining inflation expectations as a result of a downturn in commodity prices in emerging markets. I still believe monetary policy and the path of the U.S. economy will be primary to mid-curve yields such as the 5 and 10 year and will outweigh the decline in inflationary expectations very similar to the taper tantrum of 2013.
I will end with a recent quote from Federal Reserve chair candidate Jerome Powell. On the Federal Reserve's reaction function to a downturn in emerging market economies and China:
Significant risks of more adverse scenarios remain. The corporate debt situation in EMEs has been worsening, particularly in China, and market reactions to even small surprises can be unpredictable and outsized.

Even with these risks, however, the best thing the Federal Reserve can do--not just for the United States, but for the global economy at large--is to keep our house in order through the continued pursuit of our dual mandate. Finally, it bears remembering that Fed policy normalization is occurring not in isolation, but in the context of a solid U.S. economic recovery
Disclosure: I/we have no positions in any stocks mentioned, and no plans to initiate any positions within the next 72 hours.
I wrote this article myself, and it expresses my own opinions. I am not receiving compensation for it (other than from Seeking Alpha). I have no business relationship with any company whose stock is mentioned in this article.
Additional disclosure: Currently short various commodity, metals, and mining stocks.