We read the Q3-2017 results from Sabra Healthcare (SBRA) with a significant amount of trepidation. First, we had seen the bomb dropped by Omega Healthcare Inc. (OHI) just two days ago. Second, SBRA had seemingly developed a flair recently of announcing significant capital transactions with the nonchalance of a 12-year-old putting up a lemonade stand. We went through the press release, the 10-Q and the supplemental information. We were not displeased.
1) A low payout ratio for the quarter
The normalized adjusted funds from operations (AFFO) came in at 60 cents a share, while the previous quarter's regular dividend payout would have been 43 cents, giving a payout ratio of around 72%. We think that is a healthy area to have it at in this industry and SBRA should try and hold this under 80%.
2) Dividend hike with resolved previous dividend issues
SBRA had confused a lot of investors with an adjusted dividend payout last quarter after the CCP merger. Newly-minted SBRA shareholders who had never previously received a SBRA dividend were under the impression that the adjusted dividend was the actual quarterly dividend. The confusion was made worse by an initial lack of clear information on SBRA's website. SBRA fixed that with a clear mention in the third quarter press release, and added a 2-cent dividend hike to assuage investors further.
On November 1, 2017, the Company announced that its board of directors declared a quarterly cash dividend of $0.5201087 per share of common stock, which consists of (I) a full quarter dividend of $0.45 per share (an increase from $0.43 per share) and (ii) $0.0701087 per share, which is the difference between the prorated dividend paid on August 18, 2017 and our previous full quarter dividend of $0.43 per share. The dividend will be paid on November 30, 2017 to common stockholders of record as of the close of business on November 15, 2017.
The $1.80 dividend now represents an almost 9% yield on the closing price as we write this.
3) Full exercise of option to purchase additional shares
SBRA's announcement to offer shares at $21 was well received and the investment banks underwriting the deal had sufficient demand to exercise the option to purchase the additional 2.4 million shares. The shares issued did not impact the results for this quarter as they were issued on September 28th and October 2nd and hence changed the weighted average shares outstanding very little.
4) A credit upgrade in 2018
If SBRA can execute successfully ridding itself of Genesis Healthcare (GEN) properties, we see no reason why they would not get a credit upgrade in 2018 from rating agencies.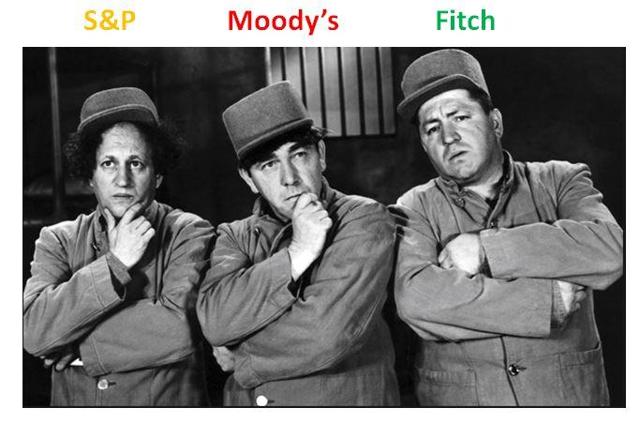 Fitch has SBRA at investment grade (corporate and unsecured notes), while the other two deep thinkers are taking their time with the corporate rating.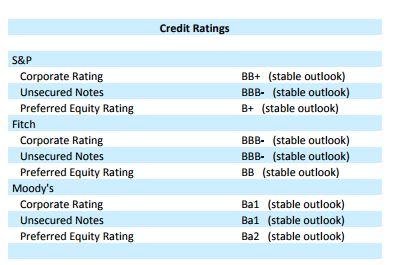 Source: SBRA Q3-2017
To us, this seems like a very high likelihood as SBRA has shown an immense focus on operator metrics and prioritized the balance sheet (by issuing more equity) versus the income statement (by extending leverage). S&P which already has the unsecured notes at investment grade is likely to move the corporate rating up and Moody's should not be far behind lifting their ratings as well.
5) Shares are now cheaper than they have been in a long time
With the dividend yield approaching 9%, it is now abnormally elevated levels for SBRA. YCharts has still not adjusted for the corrected dividend payout and the increase, but even the lower numbers are a standout.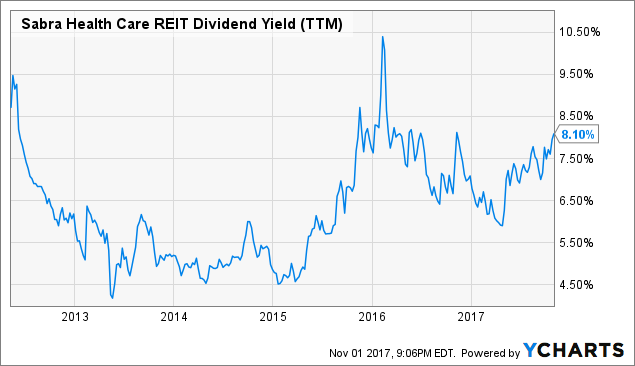 SBRA Dividend Yield (TTM) data by YCharts
Even the dividend yield spread compared to industry stalwart Ventas (VTR) is abnormally elevated and will look even more so when the numbers are accurately reflected.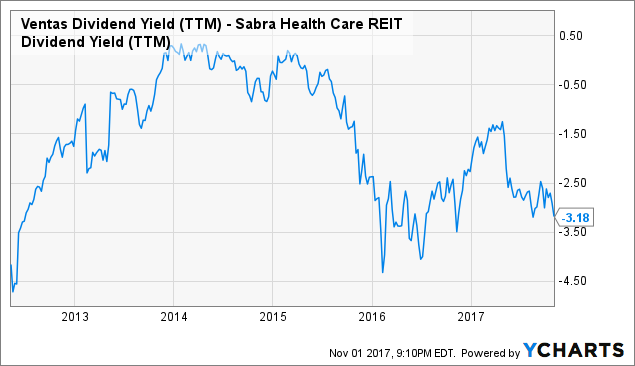 Fundamental Chart data by YCharts
All while SBRA has become a safer, larger company with improved credit metrics and significantly improved operator metrics.
6) Challenges ahead
Executing the sale of the Genesis portfolio will be a key driver in 2018. Until it is done and executed, and at hopefully a good price we might add, we would say SBRA still has their work cut out for them. Outside of that they have to also work with Signature, although they have accounted for that in their guidance for 2018. Even if there is a rocky road ahead, SBRA's strategy seems aligned with our view of the situation that the challenges need to be addressed head-on rather than wait for them to become catastrophes.
One additional point on our watchlist is the floating debt to fixed debt ratio. SBRA's comparatives are from pre-merger days, but the variable percentage is definitely high.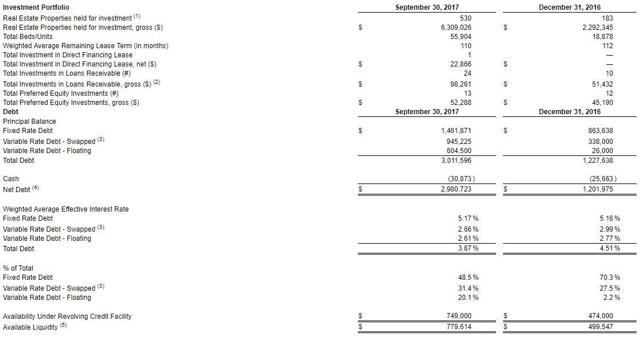 This has had the impact of reducing interest costs in the short term but the non-swapped "true variable" portion can become an issue in case of rapidly rising short-term interest rates. SBRA is probably planning to pay this down with the Genesis proceeds, but we will be monitoring this ratio going forward.
Conclusion
The senior housing and skilled nursing sectors have issues and investors not cognizant of the risks are just fooling themselves. But SBRA has the right approach and prefer it over OHI by a country mile. SBRA's third quarter gives us confidence in our decision to sell puts across the November 2017 and April 2018 time frames. As this is shaping up, it appears we will likely just pocket the premium on the November sells and ultimately April should prove no different. The stock is a great bargain for those who don't have a position, and selling the $20 puts or creating an outright long is a low-risk strategy at this price.
On our scale of 1 to 10, where 1 would be "avoid like the bubonic plague" and 10 would be "buy like this is Apple (NASDAQ:AAPL) in March 2009," we would rate SBRA at 7.5.
Disclaimer: Please note that this is not financial advice. Investors are expected to do their own due diligence and consult with a professional who knows their objectives and constraints. TipRanks: BUY SBRA
Seeking Alpha has changed its policies. Previously "following" someone required a ritualistic commitment and an offering of not less than 4 oxen or 3 breeding horses. Now, all it takes is one click! If you enjoyed this article, please scroll up and click on the "Follow" button next to my name to not miss my future articles. If you did not like this article, please read it again, change your mind and then click on the "Follow" button next to my name to not miss my future articles.
Disclosure: I am/we are long OHI, SBRA, VTR. I wrote this article myself, and it expresses my own opinions. I am not receiving compensation for it (other than from Seeking Alpha). I have no business relationship with any company whose stock is mentioned in this article.
Additional disclosure: We are also short November 2017 and April 2018, $20 puts.