We have once again had a reader request for comment on Papa Johns (PZZA) following the just reported quarterly earnings. We try to honor requests for coverage as time allows, and as such we are following up Papa Johns. The stock is imploding on the news, down over 10% at the time of this writing, and trading with volatility, touch a new 52-week low in intraday trading.
Figure 1: Five Day Trading History of Papa John's Stock

Source: Google Finance
Don't lose sight of the fundamentals
With this action, we have on paper losses since we called for a hold when the stock was at about $70, but most of these losses are from today's trading. We cannot lose sight of the fundamentals. You may recall that there are four key things to look for from a restaurant stock. First, we look for growing top-line sales. Second, we must look for controlled expenses to ensure any rise in sales generates net income growth. Third, we look for store management, that is, closing of underperforming stores and opening of new ones. Finally, and most importantly, comparable sales are absolutely key. As we have said before, if this indicator is negative, you just do not buy the stock, unless the trend is improving substantially.
Top line
In the just reported second quarter, a trend of stable growth continued, but the growth is slow. The question is whether or not the results are enough to justify the premium valuation. The Street says no, but let's take a look. Sales have grown slowly:
Figure 2. Papa John's Third Quarter Earnings Over The Last Three Years.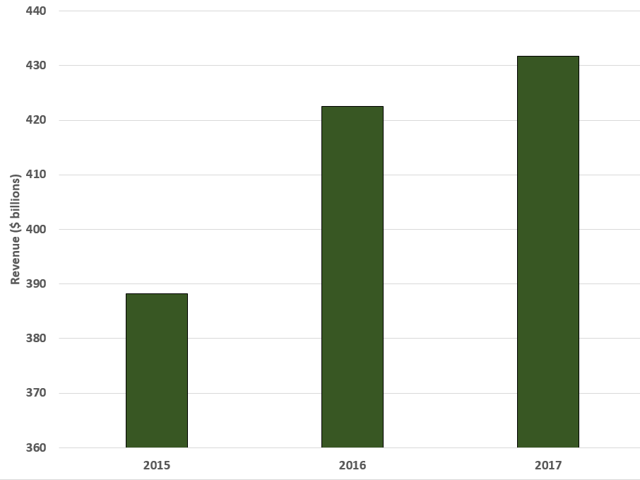 Source: SEC Filings
As you can see, sales growth is stalling, although this was a bit expected. However, we were looking for sales of $432.5 million, and as such our expectations were just missed with revenues coming in at $431.7 million. We were slightly more bullish than the Street, because we were expecting solid same store sales both domestically and internationally.
Comparable store sales
Comparable store sales are perhaps the most important indicator we look for. Over the last few quarters, comparable sales have been stronger internationally. However there has been some pressure on same store sales and the trend is unfavorable:
Figure 3. Papa John's Third Quarter Comparable Sales Over The Last Three Years.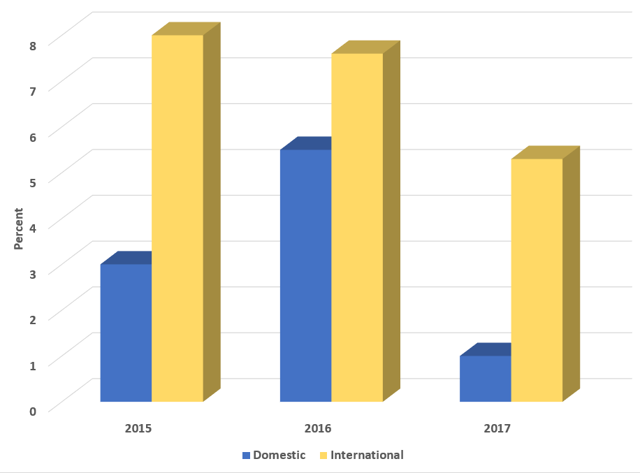 Source: SEC Filings
While same store sales were positive, and this is a good thing, the degree to which they were up is the real key. The comps are respectable, but nothing to get too excited about. In fact, it is the trend in comps that has us most concerned. In the North America region, same store sales grew 1.0% during the quarter versus the year-ago period. While this is now the 28th quarter in a row of positive sales momentum in North America, we are seeing less than expected growth. We were looking for 2.0% growth as advertising had kicked up. Further, international same store sales growth disappointed. While it grew just 5.3% during the quarter, we were looking for at least 5.5%.
Store management
One bullish piece of news is that the company is focused on manageable growth, and plans to leverage its strength internationally. Our estimates for same-store sales had accounted for the closure of Indian operations. Overall, Papa Johns has added 130 stores over the last four quarters. It also plans to open 1,000 restaurants, 80% of which will be international, over the next 5 years.
Earnings trends
With revenues rising slightly, we need to consider expenses and their impact on earnings. Consolidated operating income increased $132,000, or 0.4%, for the third quarter of 2017. Operating income as a percentage of consolidated revenues decreased 0.1% to 7.8% thanks to a slight increase in the cost of sales, which was offset a bit my declining administrative costs. All in all, earnings have trended higher:
Figure 4. Papa John's Third Quarter Earnings Over The Last Three Years.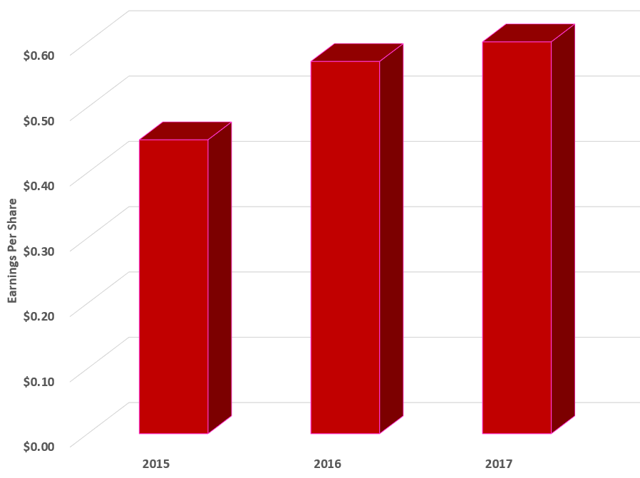 Source: SEC Filings
Earnings per share rose to $0.60. This was just below our expectations of $0.61 per share. Our earnings projections had factored in higher sales. That said, we should be mindful that this earnings per share growth is also driven by higher share repurchases, which have reduced the share count:
Figure 5. Papa John's Third Quarter Share Repurchases Over The Last Three Years.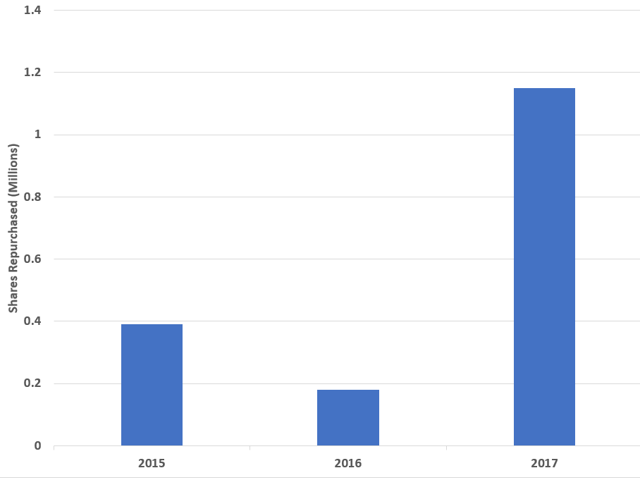 Source: SEC Filings
The company repurchased $87 million worth of shares in the quarter, significantly stepping up its buying this year. Year-to-date, Papa John's had repurchased 421,000 shares coming into the quarter, and repurchased another 1,152,000 shares this quarter. Without these repurchases, earnings per share would have been about a penny less.
Impact of the NFL
We try not to get into the political side of things, but we must note that we have previously discussed the severe impact that we believed the NFL protests would have on advertisers. Further evidence supported this thesis as NFL ratings continued to plummet, due to protests and counter-protests. We being this up because Papa-Johns has a major partnership with the NFL and is one of their biggest advertisers. On the conference call, CEO John Schattner said:
"The NFL has hurt us by not resolving the current debacle to the players' and owners' satisfaction...leadership starts at the top, and this is an example of poor leadership. The controversy is polarizing the customer...the country."
While there is no indication that Papa John's will pull its advertising as of yet, with the declining viewership weighing, we believe that part of the decline in North American sales can be attributed to this issue. It is something that we will be looking forward to hearing from other management teams of companies that advertise heavily with the NFL as they report.
Looking ahead and our take on the stock
Despite a better share price, we still cannot get behind the name. This is because based on this quarter's underperformance, we see 2017 coming in below our prior expectations. Management acknowledged this too, and they now see comp sales of 0.1% to 1.5%, down from 2% to 4%. We are slightly more bullish for the fourth quarter overall as consumer spending and confidence is at all-time highs. Therefore, we see comp sales rising 1-2% for the year, on the back of a strong fourth quarter. However, with this reduced outlook for comparable sales, we are expecting revenues to take a hit to $1.795 billion, and as such only see earnings growing 4-5%, with our 2017 projection being for $2.85 in earnings. As for 2018, assuming an average Q4 with no catastrophic changes from management, our initial outlook is for $1.86 billion in sales (assuming about 3% growth) and $3.30 in earnings.
In the short-term expect pressure on the stock. The comparable sales issue will keep the stock pinned down. Earnings are not growing at a fast enough pace to justify a buy at these levels, and as such, we recommend a cautious hold at this time.
Note from the author: Quad 7 Capital has been a leading contributor with Seeking Alpha since early 2012. If you like the material and want to see more, scroll to the top of the article and hit "follow." Quad 7 Capital also writes a lot of "breaking" articles that are time sensitive. If you would like to be among the first to be updated, be sure to check the box to "Get email alerts" under "Follow."
Disclosure: I/we have no positions in any stocks mentioned, and no plans to initiate any positions within the next 72 hours. I wrote this article myself, and it expresses my own opinions. I am not receiving compensation for it (other than from Seeking Alpha). I have no business relationship with any company whose stock is mentioned in this article.