Last month, I argued that due to significant weakness ahead, the yen is a currency to be shorted for the month of October.
Indeed, my predictions were proven to be right. In the past month, we have seen the yen fall against the dollar to a level of 0.00878 at the time of writing: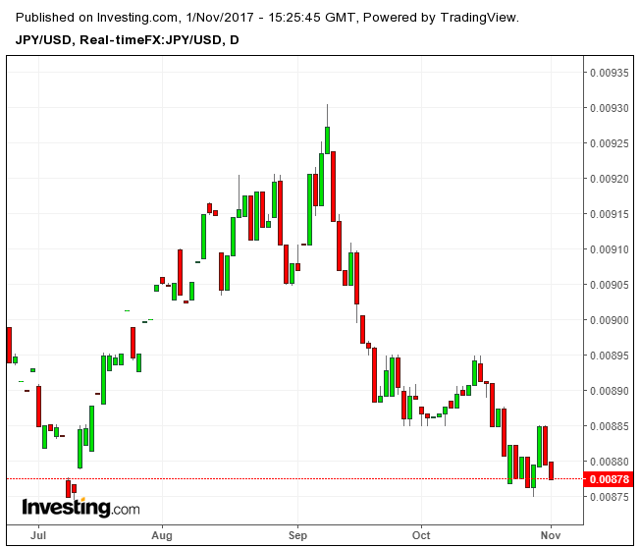 Now, when we flip the chart over, we can see that the dollar is trading near a four-month high versus the yen: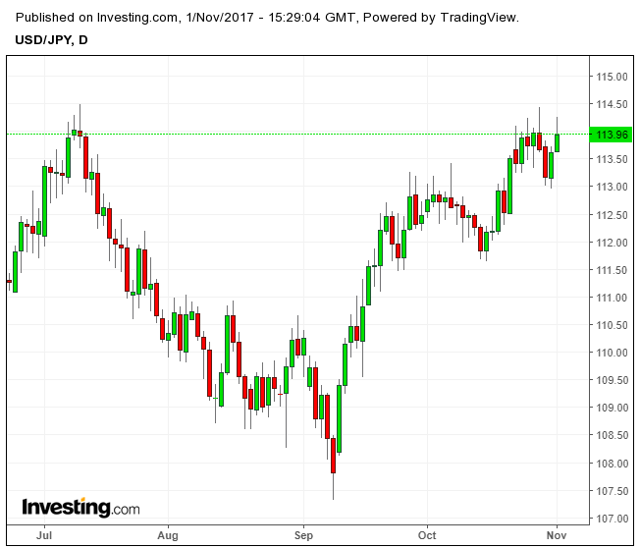 More broadly, we see that the dollar is still trading at highs well above that seen pre-2015: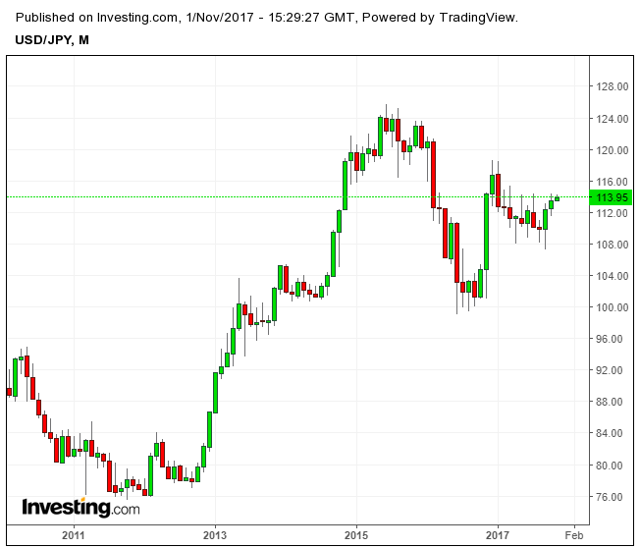 In this regard, the dollar still has a lot of room to fall against the yen should the tide turn.
As a matter of fact, the yen strikes me as a potential contrarian play at this point. While growth in the United States and Europe has been strengthening, there is always the potential that a rate rise could derail such growth. While central banks are taking quite a cautious approach with rate rises around the world, we have already seen that high inflation in the United Kingdom coupled with low growth has necessitated rate rises, and should a similar trend materialise across the United States and Europe, then the yen could reactivate its status as a safe haven currency.
Ultimately, growth has been picking up in the West. However, with concerns of a potential market bubble in the United States, there is always the potential for a reversal. Moreover, with significant speculation that the greenback is overvalued, the yen has little room to fall and a lot of room to rise at this point. In this regard, I see the yen as quite a good contrarian play at this time.
Disclosure: I/we have no positions in any stocks mentioned, and no plans to initiate any positions within the next 72 hours.
I wrote this article myself, and it expresses my own opinions. I am not receiving compensation for it (other than from Seeking Alpha). I have no business relationship with any company whose stock is mentioned in this article.