Challenger, Gray & Christmas has released the October report on planned layoffs and the data is good. Planned layoffs declined by 10.5% month to month, are down -3% year over year and -25% year to date. To put this into a long term perspective the YTD figure is at a 20 year low.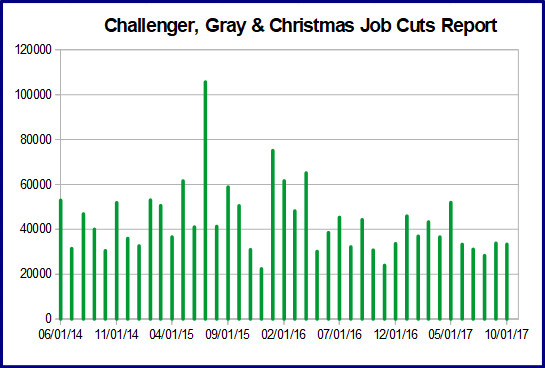 Cuts this year are led by the retail sector which should be no surprise. Retailers have been closing stores, slashing work forces and cutting costs left and right in an effort to compete with online and big-brother Amazon.com (AMZN). Retail accounts for more than 22% of this year's YTD job cuts total. The runner up is healthcare/products at 9.5% and followed closely by services. Food and industry round out the top 5 sectors for job cuts with about 10% between them.
The leading reason for jobs cuts this is cost cutting and we have seen cost cutting in several sectors, not just retail. While cost cutting measures aren't great for those getting cut they are good for business, stocks and the market. Earlier this week Simpson Manufacturing Company (SSD) released earnings with revenue up 13%. They also announced a long term cost cutting plan aimed at enhancing share holder value. That stock gapped up 10% at the open, following the release, and then extended that gain to more than 20% over the course of the intervening days.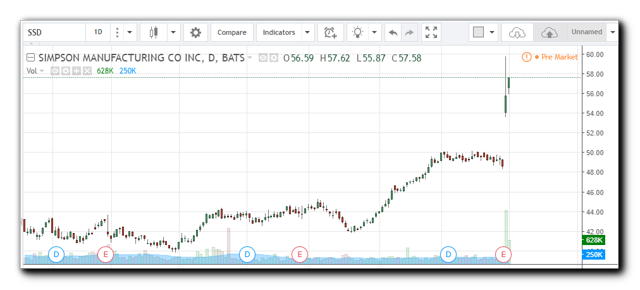 Considering the state of the housing market, the rebuilding of hurricane damage, the fact there were no construction job cuts last month and ADP says 62,000 new construction jobs were created I would expect to see a lot of screws, fasteners and other products of Simpson get used over the next year or two.
The Data Suggests Robust Hiring Coming Soon
Yesterday's ADP suggests that hiring was above expectations. Today's Challenger report suggests the same but you have to look deep into the data. The October figure of 37,387 was unexpectedly low at a little more than 10% of last year's October number. This does not suggest robust hiring. What does is the YTD data and more specifically the number of planned hires announced last month.
On a year to date basis the number of planned hires for 2017 is 25% above the 2016 YTD total and 20% above the 2016 full year total. This is robust hiring plans, in my opinion. Looking to past years data we can see that November and December are not heavy hiring months but could see the addition of 50,000 to 100,000 new jobs.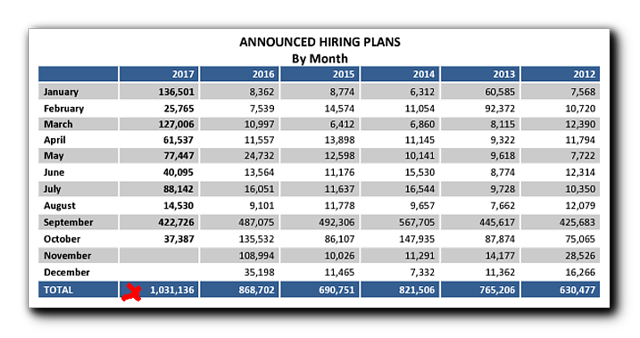 Now, looking to this year's month to month data, and remembering that the Challenger data is for planned layoffs and thereby forward looking, we can see that last month's read was for 422,000 new jobs. These hiring plans may have been postponed by the storms but likely not put off indefinitely. Looking back to last year's NFP readings job gains were moderate in November and December and then spike to above 235,000 for January and February.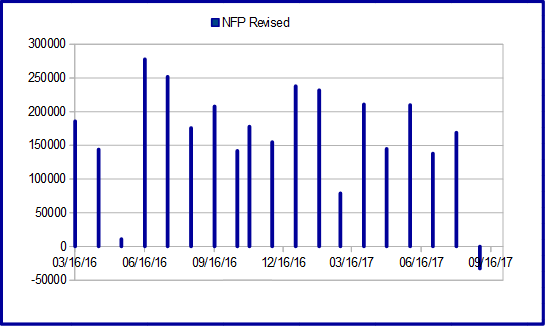 Today's jobless claims data shows new long term 44 year lows in initial and continuing claims with total claims bouncing from its own recently set long term low. This data supports the ideas of tightening labor markets, improvement within the economy and a marked lack of job losses, if not the idea of job creation.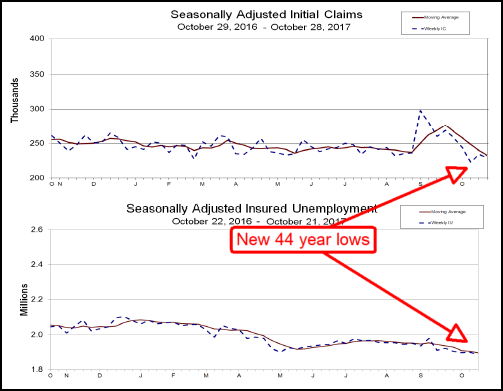 Expecting Strength In Jobs Creation
Looking at the MarketWatch consensus estimate for tomorrow's NFP I can see that I am not the only one looking for some strength in job creation. The consensus estimate is 320,000, more than double the 12 month average and a substantial rebound from last month's modest decline. While this number is important and likely to spur new highs in the broad market S&P 500 (SPY) the more important figures will be unemployment, labor force participation, workforce to population ratio and average hourly earnings. As a group I would expect to see these data points add up to a larger, more engaged workforce commanding higher wages.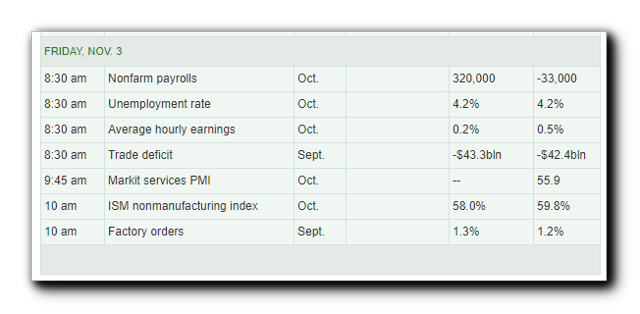 Disclosure: I am/we are long SSD, SPY. I wrote this article myself, and it expresses my own opinions. I am not receiving compensation for it (other than from Seeking Alpha). I have no business relationship with any company whose stock is mentioned in this article.