Not a bad month, with the total value of the portfolio being up nearly 1% (0.9%). I say "not bad" because the S&P 500 was up over 2%. However, most of that gain (more than half) was due to five tech stocks, and we all know who they are probably. I bet you could name at least three of them off the top of your head without much thought (for the record, they are Facebook (FB), Amazon (AMZN), Apple (AAPL), Google (GOOG), and Microsoft (MSFT)). So, since I don't own any of those stocks, and since my portfolio also consists of fixed income investments, I am pretty pleased with being up 0.9% for the month.
October Activity
This month was very light for dividends, however it was my first dividend collected from Cisco Systems (CSCO), so that is moderately exciting. You will notice I have not collected any dividends from 3M (MMM), Magellan Midstream Partners (MMP), or CVS Health (CVS) because they are all fairly new positions. I will receive my first dividend from each of them in the next couple of months however.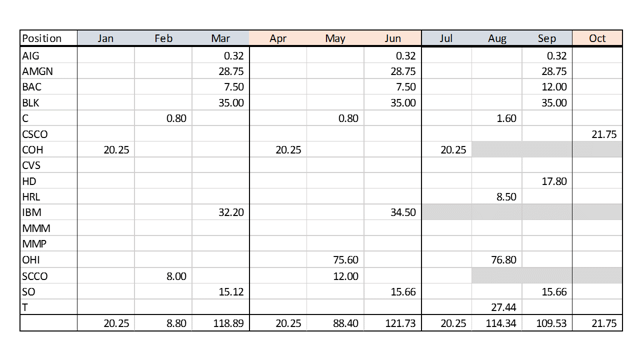 So my $21.75 dividend from CSCO was the sum of my dividend activity for October. However, I once again collected several hundred dollars from my fixed income investments, which is still new to me and also moderately exciting.
October Performance
Equities had a great month in October, as I've already mentioned. Some of my best performing stocks were the financials, specifically Bank of America (BAC) and BlackRock (BLK), up 8.1% and 5.3% respectively. My best performer was 3M, which was up a staggering 9.7%. Remember when I bought a half position at $208.40 just in case it ran up and never got to the point I wanted to dive in with a full position? Well it closed October out over $230 per share. Oh well, at least I do have the half position.
Looking a little further into the performance of equities, my mid-cap fund was up 2.3% and my international fund was up 2.0%. The only class of assets that was down for the month was domestic fixed income, and combined my domestic fixed income funds were down just 0.2%. They paid out more in distributions than they were down, so there is nothing to worry about there.
Individual Stocks
Here are my stocks as of close of business October 31. As you can see, some of them have dipped below a 2% yield due to their recent performance, namely Bank of America and Citigroup (C). They actually were both below 2% last month as well, but they each experienced price appreciation in October, so the yields are even lower now.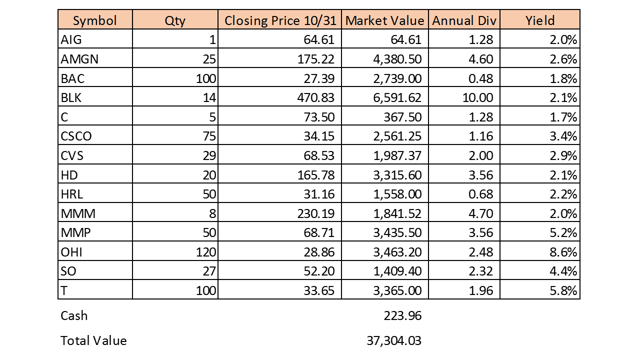 About five months ago I wrote an article detailing why I thought the banks would be returning massive amounts of capital to shareholders in the coming year and I was correct. However, I was not correct in my guesses as to how much they would hike the dividend. I guessed low. BAC raised their dividend 60% and C doubled theirs. The next round of dividend hikes should occur next summer, and while it is still early to predict what they might be I am willing for now to ride out winter with these two stocks to see what next year might bring.
CVS is a different story. Since I bought the stock less than a month ago it is down almost 15%. Stay tuned. I am considering my options (pun intended) on how I might mitigate this loss and may employ my "stock repair strategy" later this month. No guarantees, since I haven't run the numbers yet but we shall see.
Projected Dividends
November is shaping up to be a FUN month, and I will hit my high water mark for dividends in a single month with over $175. I will receive my first dividends from CVS and MMP. In addition, OHI announced their regular quarterly dividend increase from $0.64 to $0.65 per share. Q4 will also mark the first month that my dividends will exceed $300 for the quarter, more than twice what I received in Q1. To be fair, I have added quite a bit of capital to the portfolio since Q1, but I still have a lot left to add. There is well over $65,000 in the S&P 500 Index fund as of this writing so there is much more to come.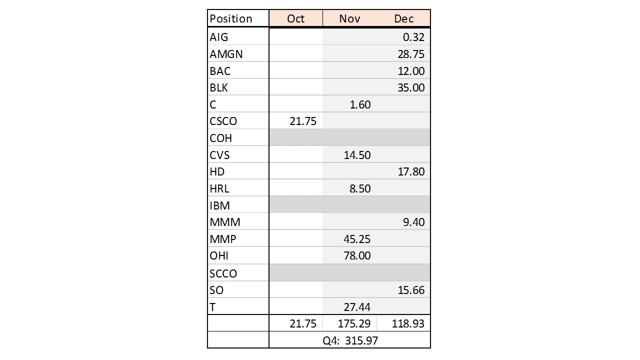 Sector Diversification
With the addition of CVS and the addition of some more shares of AT&T (T), my sector weightings have shifted quite a bit. I am now at a full position in the Telecom sector and I'm overweight in Health. The Financials sector still makes up a huge portion of my overall portfolio in part because it is simply outperforming most of the other sectors I own. I would still like to add a stock from the Materials sector but I can't find a suitable one at a reasonable price. I am working on an article on some Consumer Staples stocks, and that might be where I add some capital next.
| | |
| --- | --- |
| Consumer Discretionary | 8.9% |
| Consumer Staples | 4.2% |
| Energy | 9.2% |
| Financials | 26.2% |
| Health | 17.1% |
| Industrials | 4.9% |
| Materials | 0.0% |
| REIT | 9.3% |
| Technology | 6.9% |
| Telecom | 9.0% |
| Utilities | 3.8% |
| Cash | 0.6% |
| | 100.0% |
Asset Allocation for the Portfolio
Last month the large cap portion of my portfolio accounted for slightly less than the targeted 40%. This month, due to some excellent price appreciation and the deployment of the cash I had at the end of September it now accounts for 40.7%.
Most other asset classes are right at target, but as has already been mentioned domestic fixed income has slipped from 29.3% last month to 29.0% at the end of October. I believe it if drops below 29% I will address it by re-directing some cash to one of my fixed income choices. I'd rather buy stock because that is more fun, but more fixed income shares should equal more fixed income distributions each month, so that would be OK too.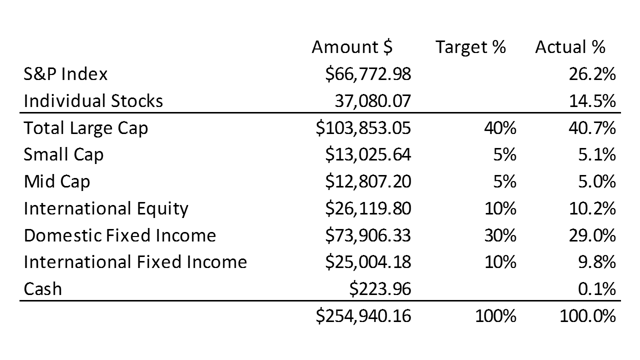 Sales and Purchases in October
Again, no sales were made with the exception of about $1,800 of the S&P 500 Index fund. On October 6th I purchased CVS and on October 12th I added to my position in AT&T. Details of both of these transactions can be found by clicking the links I included in this paragraph.
Final Thoughts
October was a good month. I am slowly building the individual stock portion of my portfolio to something that will help see my wife and I through our golden years. I am pleased with the price appreciation of the portfolio, but the ultimate goal is cash, cash, and more cash. So far (fingers crossed) I have yet to experience a dividend freeze or cut and the dividend increases I have expected have come like clockwork. The next dividend hike I expect should come from AT&T any day now.
November should be an interesting month. I encourage you to "follow" me if you want to be updated on my progress. As always, thank you for taking the time to read this and good luck!
Disclosure: I am/we are long AIG, AMGN, BAC, BLK, C, CSCO, CVS, HD, HRL, MMM, MMP, OHI, SO, T. I wrote this article myself, and it expresses my own opinions. I am not receiving compensation for it (other than from Seeking Alpha). I have no business relationship with any company whose stock is mentioned in this article.