This year's World Series didn't disappoint. Not in the least. It was a back-and-forth, seven-game thriller between the Astros and Dodgers, one that included a 13-12 extra-inning seesaw that will be talked about for years. Let's put it this way: History will not confuse this series with the exceedingly low volatility in the market this year.
Baseball is a numbers game. Whether batting average, home runs, or the intricate advanced analytics that are now en vogue, baseball tracks it all. And when looking to assess player performance, there's an old saying: You are what the back of your baseball card says you are.
On October 27, the US Commerce Department reported that the back of the US economy's baseball card shows continued strength in the third quarter. In fact, Q3 results exceeded expectations. The advanced estimate of gross domestic product (GDP), the granddaddy of all economic indicators, grew at a 3% annualized rate, versus the 2.5% expected growth rate.
A variety of inputs, including strength in personal spending, government spending, private investments, and exports, contributed to the result and likely caught the Street's eye. Notable, too, is the fact that business fixed investment was up a solid 1.5%, which could suggest growth is broadening. With companies seemingly upbeat about the outlook, and with overseas markets improving, markets appear to have had the footing they needed to continue to run in October.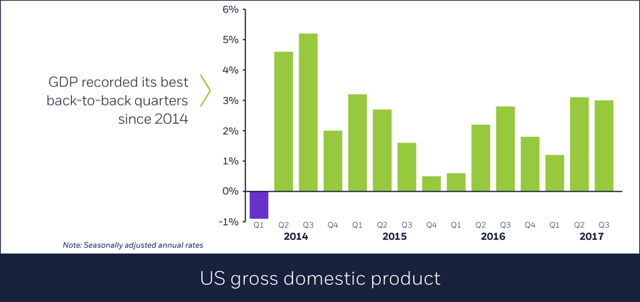 Source: US Bureau of Economic Analysis
Domestic equities
Reports of strong quarterly earnings, a better-than-expected GDP report, and consumer sentiment, which was at its strongest in 13 years in early October, were likely factors in domestic stocks moving higher.
The S&P 500 and the Nasdaq Composite hit new highs, amid large gains in technology following positive earnings results from Amazon (NYSE: AMZN), Microsoft (NYSE: MSFT), Alphabet (NYSE: GOOG) and Intel (NYSE: INTC).
Not to be left behind, the Dow Jones Industrial Average notched its own record high, surging past the 23,000-point mark for the first time ever in October. Some market observers pointed to strong earnings from industrial stocks, including Caterpillar (NYSE: CAT) and 3M (NYSE: MMM), as drivers.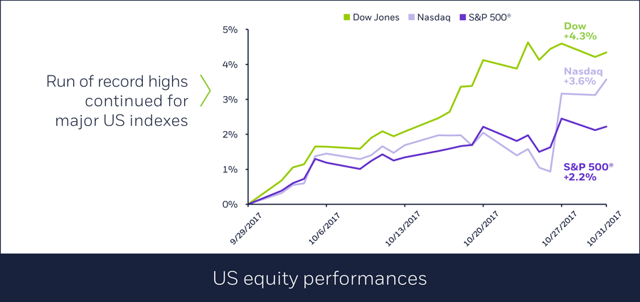 Source: FactSet
International equities
Emerging markets bounced back from September, powered by India, Korea, and Taiwan. Observers also pointed to solid economic data out of China, including GDP, industrial production, and retail sales.
Among developed markets, Japan's Nikkei 225 Index went on a record-breaking, 16-session win streak and closed at a 21-year high on October 24. The index seemed to climb amid investor expectations that Prime Minister Shinzo Abe's ruling coalition would win a snap parliamentary election-which it did, in resounding fashion.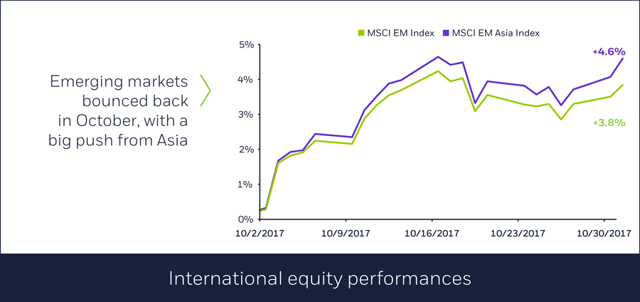 Source: FactSet
Fixed income
The fixed income markets were largely mixed. Although interest rates were higher across the yield curve, some parts of the market were able to post moderately positive returns, including high yield bonds. Segments with the greatest interest rate exposure were the most negatively affected, specifically intermediate- and long-term Treasuries.
As for goings on at the Federal Reserve, indications toward the end of the month were that President Trump favored nominating Federal Reserve Governor Jerome Powell as the next Fed chairman, a move that would signal continuity for monetary policy. Economist John Taylor, also thought to be in the running, is seen by market observers as more hawkish than current Fed Chair Janet Yellen.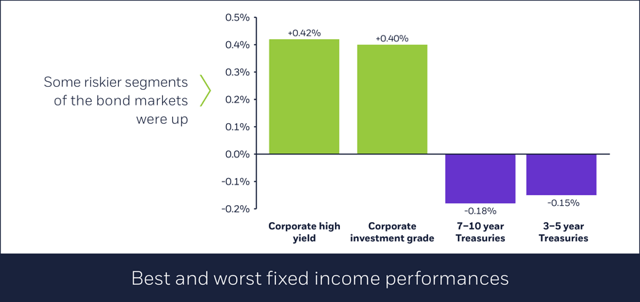 Source: Morningstar
The bottom line
Baseball's the only major sport without a clock, with its time measured in innings. So until that final out is recorded, no one really knows when the game's going to end. The same is true of this current bull market. But if looking at the back of the market's baseball card, history tells us that it's going to end, sooner or later.
There are always unique stories and circumstances behind the numbers, but investors can typically count on several old standbys when pullbacks do occur:
Investors shouldn't be surprised or alarmed-pullbacks are a normal part of investing.
It's important to prepare with the right mix of domestic and international stocks as well as fixed income securities.
Typically, the name of the game is diversification, which some have described as the only free lunch in investing.1
The final out of this baseball season was recorded last night. But it doesn't appear to be the bottom of the ninth for this bull market. After eight strong years of market returns, though, a few reminders of seasons past can help inform investors how they may want to approach their future investment decisions.
Disclosure: I/we have no positions in any stocks mentioned, and no plans to initiate any positions within the next 72 hours.
I wrote this article myself, and it expresses my own opinions. I am not receiving compensation for it. I have no business relationship with any company whose stock is mentioned in this article.