Thursday Thoughts - Powell To Head Fed, Tesla Crashes And Burns $1.4Bn
Nov. 02, 2017 2:43 PM ET
DBA, SPY, QQQ, DIA, SH, IWM, TZA, SSO, TNA, VOO, SDS, IVV, SPXU, TQQQ, UPRO, PSQ, SPXL, UWM, RSP, SPXS, SQQQ, QID, DOG, QLD, DXD, UDOW, RWL-OLD, SDOW, VFINX, URTY, EPS, TWM, SCHX, VV, RWM, DDM, SRTY, VTWO, QQEW, QQQE, FEX, ILCB, SPLX, EEH, EQL, SFLA-OLD, SPSM, QQXT, SPUU, IWL, FWDD, SYE, SBUS, SMLL, SPXE, PPLC, PPSC, UDPIX, JHML, OTPIX, RYARX, SPXN, USSD, HUSV, RYRSX, SCAP, SPDN, SPXT, SPXV, USWD, TSLA
22 Comments
Summary
Tesla burns through $1.4Bn in Q3.
The Fed burns through $180Bn in Q3.
Why is the Fed not crashing?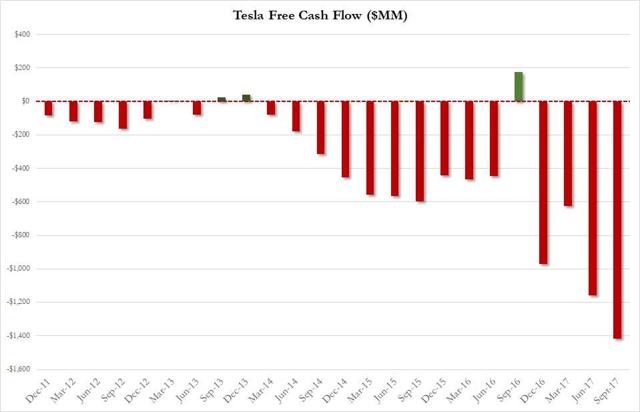 $1,400,000,000.
That's a lot of money to burn through in a single quarter - especially in a quarter where not only were just 260 Model 3s actually delivered by Tesla (TSLA) but they have now pushed back full-scale production targets through March, so two more lost quarters ahead, with Q4 losses now estimated at an even $1Bn.
Their leading underwriters are likely to defend the company's poor earnings. Just a month ago, Nomura gave them a $500 price target. Our take on Tesla has been somewhat more negative (see February's "Tesla's Emperor Musk Has No Clothes!" or May's article, or "Tesla Valuation Reaches Peak Insanity") and, though we were often early, our Tesla shorts have all wound up being successful, so far.
Our Trade Idea for this earnings period was:
Sell 6 TSLA April $350 calls for $23 ($13,800)
Buy 6 TSLA April $370 puts for $65 ($39,000)
Sell 6 TSLA April $320 puts for $34 ($20,400)
That nets you into the $30,000 short position for $4,800 with a $25,200 (525%) upside potential if TSLA is below the current price of $320 in April. It's a lot of margin ($15,465 ordinary margin) and a lot of risk – if TSLA gets back to $380, you will have to pay the short caller $18,000 but we'd roll them along to higher, longer months. Of course, if TSLA does well then maybe our oil play does well (more electric cars) and that one we can make $2Bn on!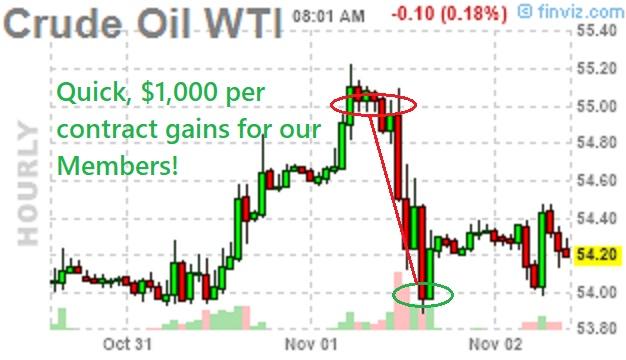 In yesterday's morning report, we called for shorting Oil (/CL) Futures at $55 and those picked up a nice $1,000 per contract gain at $54 yesterday - just a fun thing to do while we waited for Tesla's earnings to be released. The Russell (/TF) short at 1,515 paid a whopping $1,500 per contract at 1,485 and the Dow (/YM) Futures short we called at 23,450 caught a 100-point drop that was good for gains of $500 per contract.
Of course, we're going to need those quick wins because Tuesday's 597,839 contract spread on June 2021/Dec 2017 oil contracts has jumped almost $1, to $4.55. So we'd be about $600M out of pocket if we closed it today; but we started with a $2.14Bn credit, so we can afford to ride it out a bit longer and, of course, it was meant to be a long-term trade - not like our quickie Futures plays.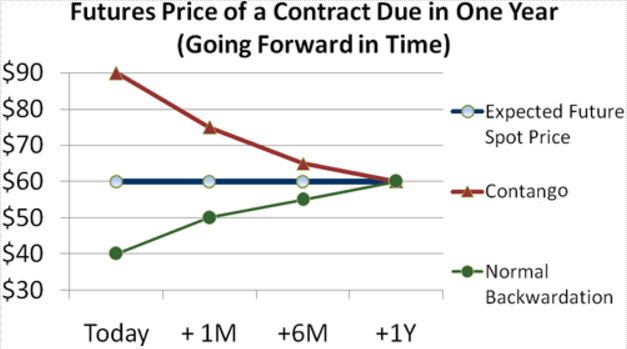 In a NYMEX spread like that one, we're really only concerned with the rolling cost since, ultimately, we bought cheap June 2021 barrels for $50.32 and sold Dec. 2017 barrels for $53.90. There are two ways to win and the one we are counting on is that the front-month barrels will fall faster than our long barrels and we cash out with a profit (started with a credit); but the other way to win, if oil goes higher, is to buy back the Dec. calls (now $54.30) and roll them (resell another month) to a longer month for low cost. At the moment, the March 2018 calls are $54.66, so we get an additional 0.36 credit for rolling 597,839 contracts ($215,222,040), bringing our credit total up to $2,355,485,660.
As time goes on, if the contracts go higher and we can keep on rolling for credits, our spread will simply widen and widen until we cash it in for the net of the spread. We would probably make more money being "wrong" if oil goes higher in the long run than if our shorting premise pays off in early rounds. Either way, it's nice to start out with a $2.1Bn credit.
It looks like Trump will appoint Investment Bankster Jerome Powell to head the Federal Reserve. A long-time Republican (he was assistant to Reagan's original VP pick, Richard Schweiker), Powell is actually a very good guy whose last private gig was managing a sustainable energy fund (Global Environment Fund). Powell was a compromise pick by Obama.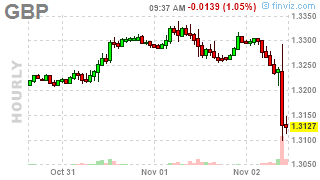 Powell is expected to maintain the Fed policies (easy money, very slow increases) but the US Dollar is rising this morning (94.66) as former Goldman (GS) Bankster, Mark Carney announced a "one and almost done" rate increase (now 0.5%) that leaves the UK with a much looser forward policy than the US has. That has sent the pound back to $1.31 - already 2% off yesterday's highs. It was also noted that the UK economy was growing at just 1.7% - the reason they are continuing to print money at this insane pace.
Carney is having the same problem our Fed is having: Although they have drastically increased the Monetary Base by growing their balance sheet (about 200% for each) and growing the reserve balances of their primary dealers, the banks have not turned around and put that money to work in the economy and thus we have very little economic growth and very low inflation - despite a massive uptick in the money supply.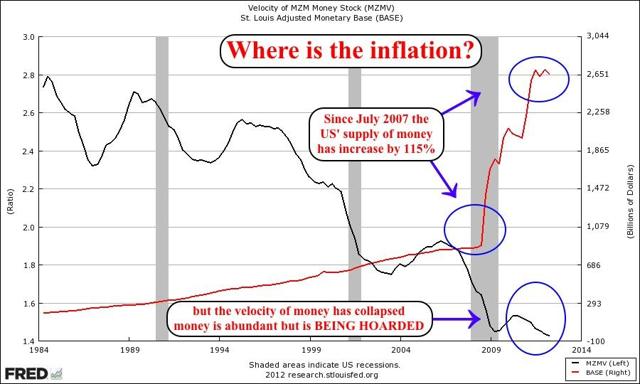 Because the Central Banksters of the World have MASSIVELY inflated the Money Supply while the Velocity of the Money has approached record lows, I believe they are sitting on a ticking inflationary time bomb because it's very hard to withdraw that money, once it's out in the wild, while the smallest increase in velocity can have a huge impact on prices - ESPECIALLY if Output remains the same and our recent Productivity Reports have not been very encouraging.
So it's all about the velocity now and we'll look for upticks in lending activity as a warning that inflation is soon to follow. Of course many would argue that inflation is already here - we have a stock market that's inflated 300% since the crash and things the Fed doesn't measure like medical costs and college tuitions are completely out of control and oil, which they never count, was $42 last November and is now $54, which is up 28.5% - what inflation?
It's almost time for our 2018 set of "Secret Santa's Inflation Hedges" and we'll certainly be going back to bat on the Agricultural ETF (DBA), which has been on a run lately but should really hit its stride next year, if the Global Economy doesn't derail. We have the slightly profitable spread from last year's Secret Santa List in our Long-Term Portfolio (LTP) as well as our Options Opportunity Portfolio (OOP):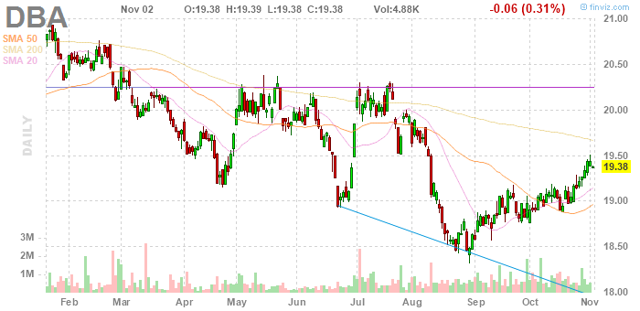 We're almost at our $20 target and we should collect the full $8,000 from our $3,700 net entry, so up $4,300 would be a 116% gain since August. We'll look for something similar to help pay for our groceries next year as well; so then, like the Fed, we can pretend inflation doesn't affect us!
This article was written by
Philip R. Davis is a highly respected options trader, entrepreneur, and founder of philstockworld.com, one of the most influential stock and options trading sites on the web. With over 20 years of experience in the financial industry, Mr. Davis has earned a reputation as a trusted authority on options trading, equities, and macroeconomic trends. As the creator of Phil's Stock World, Mr. Davis has built a vibrant community of traders and investors of all levels, providing them with unparalleled insights, analysis, and trading ideas. Whether you're a beginner or a seasoned pro, Phil's Stock World offers valuable resources that can help you navigate the complexities of the financial markets and achieve your investment goals. With a unique approach to teaching the art of options trading, Mr. Davis and his team of expert contributors including Optrader, Sabrient, Income Trader, Trend Trader, and Warren the Trader AI provide members with live chat sessions during trading hours, real-time trade alerts, and in-depth technical and fundamental analysis of hundreds of stocks. In addition to his role as an options trader and financial guru, Mr. Davis is a serial entrepreneur and founder of several successful companies, including Accu-Title, a real estate title insurance software solution, and Personality Plus, a precursor to eHarmony.com. He is also the President of Delphi Consulting Corp., an M&A consulting firm that helps companies of all sizes obtain funding and close deals. With his unique blend of wit, humor, and financial acumen, Mr. Davis is a sought-after speaker on options trading and financial markets. His writing style is both entertaining and informative, providing readers with specific and actionable trade ideas, as well as deep insights into the macroeconomic forces that drive market trends. In short, if you're looking for a trusted and experienced options trader and financial expert, Philip R. Davis is the real deal. Join the growing community of traders and investors at Phil's Stock World, and start profiting from his insights and analysis today.
Analyst's Disclosure: I am/we are short TSLA, USO, UGA, DIA, SPY, QQQ, IWM. I wrote this article myself, and it expresses my own opinions. I am not receiving compensation for it. I have no business relationship with any company whose stock is mentioned in this article.

Positions as indicated but subject to RAPIDLY change (currently mainly cash and an otherwise slightly bearish mix of long and short positions - see previous posts for other trade ideas).
Seeking Alpha's Disclosure: Past performance is no guarantee of future results. No recommendation or advice is being given as to whether any investment is suitable for a particular investor. Any views or opinions expressed above may not reflect those of Seeking Alpha as a whole. Seeking Alpha is not a licensed securities dealer, broker or US investment adviser or investment bank. Our analysts are third party authors that include both professional investors and individual investors who may not be licensed or certified by any institute or regulatory body.