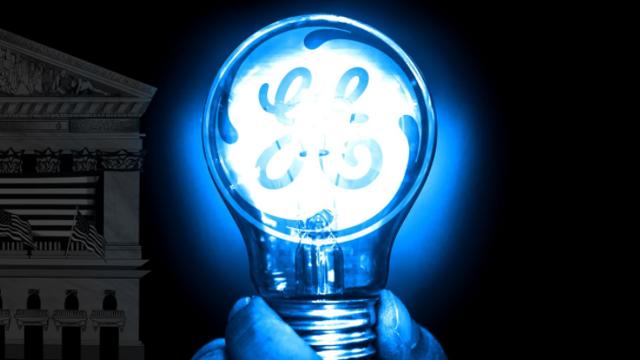 General Electric (GE) has been perhaps the most hotly debated stock in the US market over the past few weeks. The bears continue to say that GE has so many problems that its shares won't move higher under any reasonable circumstances, but the bulls – like me – think that sentiment and other factors are bad enough that a bottom should be near. I was early to the party with my bullish call off of the earnings report, but the stock is down a bunch just since then, as a lot has transpired. The thing is that the news cycle has been so negative on GE of late that I cannot help but think the stock is near an inflection point. In addition, the dividend is almost certainly going to be cut on November 13th and unless there's some unforeseen disaster that accompanies that announcement, I still think that will be the catalyst for GE to bottom and eventually move higher.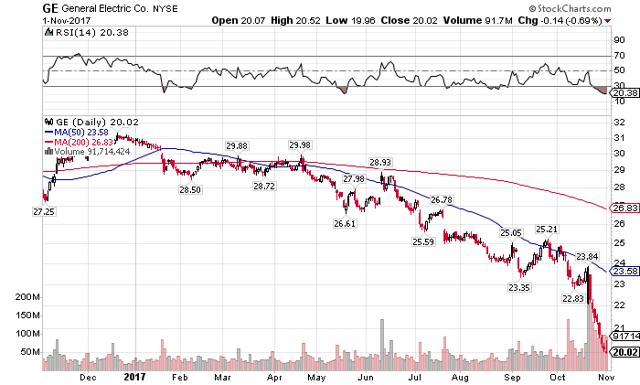 I've already talked about the chart in the linked article but to be honest, there isn't much to say; this is awful. It seems GE cannot catch a break and while I don't think this is a $30 stock, I don't think it is a $20 stock either. Anytime you see a decline like the one that has befallen GE in the past couple of weeks, something abnormal is happening. After all, just have a look at the slope of the decline; it's astounding. The RSI is showing some pretty extreme oversold levels on the daily and weekly charts and the selling has to stop at some point; things are not this bad for GE. However, this is a very powerful downtrend and will take some doing by the bulls to get out of it; obviously that hasn't come close to happening yet.
However, I think that the combination of the news cycle as well as the impending dividend cut should create a bottom for GE in the coming weeks. First, analysts have been mercilessly cutting price targets and offering up bearish sentiment for weeks at this point (see: here, here, and here for some examples). Analysts are rightly concerned with GE's results from the first three quarters of this year but I think they are also missing the point on the CEO switch. As Immelt's legacy continues to unravel – poor performance of the stock as well as rumors of "spare" jets following him around aren't helping – the focus should be more on the new man in charge, Flannery. While he's in the unenviable position of trying to clean up Immelt's sizable mess, he also has the latitude to do whatever it takes to do so. For instance, guidance was blown up in the Q3 report and slashed from the mid-$1 range to just over a dollar for this year. Things like this are possible with a new CEO and that can reset expectations to more reasonable levels, which I think will ultimately help the stock bottom. Bearish sentiment needs to reach extremes in a situation like this and I'm convinced it has after the Q3 report and guidance cut. Seriously, what else could go wrong?
If the shellacking GE has taken from the analyst community wasn't bad enough, Fitch was out with a note earlier this week stating that it had downgraded GE's default outlook to negative from stable. The firm cited the same old concerns – margins, FCF, high working capital usage – but these are all known problems. That's not to say they aren't problems – GE is obviously in a state of tremendous flux right now – but Fitch didn't say anything new that should alarm investors. However, in terms of creating a bottom in stock, the Fitch outlook downgrade should help as it adds fuel to the fire of bearish sentiment. It is important also to note this wasn't an actual downgrade; Fitch just put GE on notice.
Moving forward, GE has the ability to continue to divest assets – the stated goal is another $20B or so in the next two years – and it has apparently been chatting about divesting the railroad business. That sort of cash would go a long way towards alleviating short term concerns surrounding FCF but at the same time, GE has to be careful not to divest its best assets and be left with poor earnings capabilities. Whether GE divests the railroad business or not doesn't matter a great deal at this point; what matters is that apparently everything is potentially on the table, as GE has been in that business almost since its founding.
I don't believe GE will make the same mistake it made with Capital where it divested so many assets there wasn't much left to actually earn profits. Flannery surely must have learned from that experience and I don't think he's in danger of repeating that offense. GE needs cash but what it needs more is a group of assets that has long term earnings power so what it does in terms of asset divestitures will be critically important. This is the principal medium term risk to the stock in my view; if GE botches the assets it unloads to get to $20B, the stock will be down for a long time. As I said, I don't think this mistake will be repeated after the Capital debacle, but it is a risk to the bull case.
GE promised us all an update on November 13th and that will be perhaps the most watched and talked about update the company has ever done. There is an enormous amount of market value riding on whatever GE ends up saying and I think the principal topic should be and will be the dividend. GE has cash flow concerns; I've brought them up in the past as well as many others, and there's no denying it. However, cutting the dividend will go a long way towards alleviating those concerns and I think GE needs to go big. Cutting the dividend by 10% or 20% won't work and if that is the case, I think investors will react negatively and all bets will be off. We need a sizable cut – 33% to 50% comes to mind – in order to really take the pressure off of its FCF. Right now, the dividend is just too large and GE cannot afford to continue to pay anything close to the $9B or so per year it is on the hook for with its dividend.
However, once we get the dividend cut, assuming it is big enough, GE should be freed from the endless cycle of bearish sentiment. The dividend cut is the move GE needs to make in order for the stock to stop falling and I hope that it doesn't mess it up. Flannery still has a free pass from investors since he's trying to clean up the disaster that Immelt created and he needs to use it to get the dividend down to a level where GE can actually pay it. In addition, a big dividend cut will likely satiate Fitch and the other rating agencies as FCF concerns will abate to a large extent. We'll have to wait and see what happens but that is another potential positive outcome from what would normally be a negative event.
I was way too early to the "long GE" party and while I caveated my switch to a bullish position with the thought that this sort of selloff could happen, I'm a bit amazed at just how bad things have gotten for GE. However, the endless cycle of downgrades and price target cuts have to end and if GE comes through with the big dividend cut that it should on the 13 th, it should be free to make a bottom, finally. GE's principal concern is cash generation but in one move – meaningfully cutting the dividend – it can help to mend that issue and that should be a catalyst for the stock to bottom. It is very difficult to be a GE bull these days but I still think there are reasons in place why the stock won't continue to fall medium term.
Disclosure: I am/we are long GE. I wrote this article myself, and it expresses my own opinions. I am not receiving compensation for it (other than from Seeking Alpha). I have no business relationship with any company whose stock is mentioned in this article.