Summary
The Wall Street Journal states the DOJ has AT&T's acquisition of Time Warner in its crosshairs. The report states the DOJ is considering a lawsuit to stop the merger.
I beg to differ. I feel the deal is a lock to be approved. There is precedent.
Concerned current and prospective shareholders should keep calm and be patient. The news signals the end of the negotiations is near. In the following article, I make my case.
What happened?
The WSJ reported the DOJ has AT&T's (NYSE: NYSE:T) acquisition of Time Warner (NYSE: TWX) in its crosshairs. According to Seeking Alpha Breaking News:
"Time Warner has been halted after a 6.2% tumble on word the Justice Dept. is considering an antitrust suit to challenge AT&T's acquisition of the media company. AT&T has jumped 1% on the news. The DOJ is reportedly also in settlement talks with the companies that could lead to approval with conditions, the WSJ reports. But the department is preparing litigation in the case it does decide to pursue the matter."
Here are my thoughts. If the DOJ were to file a lawsuit regarding the acquisition, this would be very bad news for the stock. Nevertheless, I'm not concerned in the least regarding the DOJ doing this. In the following sections, I will make the case that the DOJ will inevitably approve the acquisition for concerned dividend and income investors.
Current chart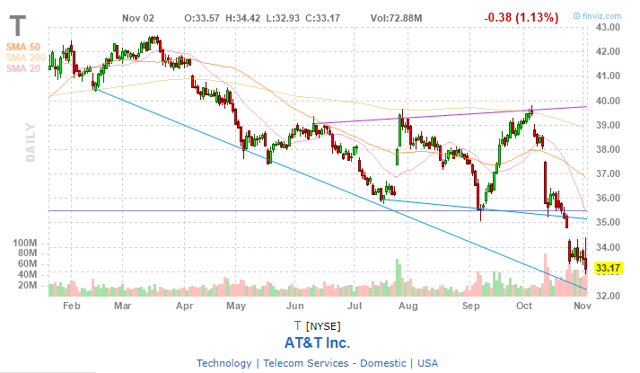 Source: Finviz.com
There is precedent
Comcast's (NASDAQ: CMCSA) takeover of NBC Universal created a $30 billion media behemoth. The company now controls not only the content but how that content is delivered to customers.
Comcast is the No. 1 provider of video and residential Internet service in the United States. It acquired a 51% stake in NBC Universal from General Electric (NYSE: GE).
DOJ regulators were quoted at the time as being concerned about many of the same concerns raised against the AT&T and Time Warner merger. The DOJ was quoted as stating that an all-powerful Comcast might stifle competition from new online video competitors. Furthermore, they were concerned about customer price increases as well.
Nevertheless, the deal went through after Comcast agreed to certain conditions. The conditions included relinquishing management rights of its minority stake in Hulu. Hulu is co-owned by News Corp. (NWSA), Walt Disney Co. (DIS) and NBC Universal. It did take several months of negotiations, which provided fodder for several disparaging headlines prior to the deal being approved.
I expect the same for this deal. The DOJ is basically showboating at this time to ensure no one thinks it is giving a pass to AT&T. The move also improves its negotiating position with the threat of a lawsuit hanging over AT&T's head like the Sword of Damocles! Classic Trump negotiating tactic! In the end, the deal will get done. AT&T will have to make some promises regarding being fair to other content providers and ensure there are no immediate price increases.
No vertical acquisition ever denied by DOJ
AT&T and Verizon (NYSE: VZ) are the two big bullies in the wireless industry. If these two companies tried to merge, the DOJ would shoot it down in a heartbeat.
Nevertheless, the wireless industry at present is fiercely competitive. Margins are being pressured due to commoditization of the product. I see this highly competitive environment as a positive for getting the Time Warner deal done.
The DOJ must take into consideration that the big telcos need to vertically integrate in order to survive. It's really a no-brainer that the deal goes through. Can anyone name a vertical integration of two companies that was not approved by the DOJ? I could not. Case closed.
President Trump's regulatory reform stance
President Trump has continuously stated he wants less regulation. Trump constantly states that for every new regulation, two old regulations must be eliminated. If the DOJ were to disapprove the deal, this would fly in the face of everything he has been espousing. I don't see Trump backtracking on his promise for less, not more, regulation.
Some have said Trump may stop the deal due to his hatred of CNN. I have no concern whatsoever that President Trump has an issue with CNN. In fact, I believe that is actually a positive for the deal getting done. Trump doesn't want to appear to be taking out his personal issues on the company. He will have to recuse himself, so to speak. So what are dividend and income investors to do?
Investor takeaway
Don't let the ominous headlines regarding the DOJ blocking the deal worry you. The deal will get done, although there may be a few bumps along the way. Everyone's situation and risk tolerance is different, so I can't make a blanket statement on how you should position.
Nonetheless, a not-so-famous quote by one of my investing role models, Peter Lynch, seems quite apropos at this juncture for current dividend and income investors in AT&T. Lynch stated:
"The key to making money in stocks is not to get scared out of them."
That is how I feel about AT&T right now. The report of a potential lawsuit from the DOJ seems ominous, yet is actually good news, in my opinion. This means the end of the negotiating process has begun. I expect AT&T and Time Warner to sign on the dotted line regarding the DOJ's demands in short order and get on with business. Case closed.
One thing I've learned over time is to do the exact opposite of how I feel. Over time, I've learned that often the exact time I threw in the towel marked the bottom in the stock. Being able to pull the trigger and pick up shares at the point of maximum pessimism in a stock is one of the hardest things to do in investing, I surmise. This is why I always advocate layering into a position over time to reduce risk. And always have dry powder ready if an opportunity arises. I believe that time is now for savvy investors.
Please use this information as a starting point for your own due diligence and consult an investment adviser prior to making any investment decisions. Those are my thoughts on the matter. I look forward to reading yours.
Your participation is required!
The true value of my articles is derived from the prescient observations of Seeking Alpha members in the comments section below. Do you believe AT&T represents a value trade or a trap at current levels? What are your thoughts on the stock price going forward? Thank you in advance for your participation.
Last but not least! Please read!
I am in the process of launching a Seeking Alpha Marketplace subscription service in the near future. The service will focus on creating and maintaining a balanced portfolio with the objective of returning 25% on an annual total return basis.
I have been ranked the World's #1 Financial Blogger on TipRanks for the past four years. Here is the link TipRanks.com/top-experts. For the past four years, my stock picks have returned 26.5% on an annual basis.
Now, I want to start a subscription service here on Seeking Alpha, where we can all collectively express and exchange great investing ideas.
As I state in the conclusion of my articles, you, the Seeking Alpha members, provide the true value to these articles.
I know I can't do this without you!
I am looking for Seeking Alpha members that would like to join as founding members of the service when the service kicks off in the near future. I am also looking for a select group of "Deacons" of the service. Deacons and Founding Members will have their subscription price locked in for the entirely of their membership regardless of any future price increase.
There will be a limited number of spots, so please let me know if you are interested ASAP. I want to thank all those who have already expressed interest! We are getting a tremendous response! I will be getting back with everyone who has messaged me so far ASAP with the details! If you would like to know more about becoming a Deacon or Founding Member, simply leave a comment below, or you can go to my Author page and send me a private message. Here is the link to my author page. The SEND MESSAGE link is in the upper right hand side.
I want to thank the many members who have already contacted me! The more the merrier, my father always said! I appreciate your time and consideration in the matter.
This marks my 7th year writing for Seeking Alpha. I would like to thank all 17,000 of my followers and all readers of my work for your tremendous support through the years. I would not have this opportunity without you. Take care - Dave.
This article was written by
I have been a Seeking Alpha Contributor for over a decade. I became a
CNBC Contributor
 in 2015 for having the #1 track record according to stock pick returns. I was also featured in
BARRON'S 
for being the Top Performing Financial Expert according to TipRanks from 2010-15. In 2020, I was named "
Blogger of the Decade
" on Yahoo Finance for having the best stock picking track record from 2010 to 2020. In addition, I am a currently a licensed REALTOR® in the state of Texas, a former FINRA registered OIl & Gas securities representative, banking industry executive with Citibank, and auditor with EY, a major accounting firm. I received my BBA in Accounting (With Honors) from the University of Texas - San Antonio. 
I am a self-made man and started out my career in the US Army's 10th Mountain Division as a Mountain Infantryman. I am a member of the DAV and a Disabled Veteran. I  have managed my own portfolio for the past 30 years. This includes successfully navigating the 2000 and 2008 bubbles, so I completely understand the full cycle the market can take. People who know me in investing circles call me the "Bubble Surfer" for my ability to preserve capital during times of duress. My professional background has provided me with an intimate knowledge of corporate financial statements and how companies actually make money. This expertise and wisdom is the value I wish to share with you. Here is a profile of me featured in the
Globe and Mai
l detailing my career.
DISCLAIMER: David Alton Clark is not a Registered Investment Advisor or Financial Planner. The Information in his articles and his comments on SeekingAlpha.com or elsewhere to be used as a starting point for your own due diligence. Do your own research and always consult a registered investment Advisor.
Analyst's Disclosure: I am/we are long T, VZ. I wrote this article myself, and it expresses my own opinions. I am not receiving compensation for it (other than from Seeking Alpha). I have no business relationship with any company whose stock is mentioned in this article.
Seeking Alpha's Disclosure: Past performance is no guarantee of future results. No recommendation or advice is being given as to whether any investment is suitable for a particular investor. Any views or opinions expressed above may not reflect those of Seeking Alpha as a whole. Seeking Alpha is not a licensed securities dealer, broker or US investment adviser or investment bank. Our analysts are third party authors that include both professional investors and individual investors who may not be licensed or certified by any institute or regulatory body.