By Karen Schenone, CFA
Income can play a role in your portfolio no matter where you are in your investment journey.
If you're retired, income is very likely your top investment objective: how to turn a lifetime of savings into a dependable stream of cash to meet expenses. But income isn't just for retirees. Millennials and Gen Xers, still building for growth, often prefer the relatively steady return from reinvested dividends and interest that compounds over time.
Income investors are faced with a conundrum, however. The Federal Reserve (Fed) has raised interest rates four times since 2015, but yields are still at historic lows. For people looking for ways to boost the income of a portfolio, that has often meant casting a wider net than the traditional core holdings of U.S. Treasuries and investment-grade corporate bonds.
Fortunately, investors have lots of options to consider. Where you land depends on a host of factors, from your personal risk tolerance and time horizon to where you (or your financial advisor) believe the economy and markets are headed.
Stocks, bonds or other?
Back in 2007, before the financial crisis, a portfolio of investment grade bonds would have yielded comfortably over 5%. Today, those bonds yield just over 3%; the 10-year Treasury currently generates about 2.3% (source: Bloomberg, as of 10/19/2017). To get the same yield levels, then, investors need to take on more risk.
Because bonds are income-generating instruments, they're the natural place to look first. For example, income has driven about 90% of annual bond returns over the past 10 years, based on the Bloomberg Barclays U.S. Aggregate Bond Index. That said, while stock prices have been more volatile, and unusually strong in recent years, dividend yields still added about 2% to stock market returns each year.
Price and income returns in past 10 years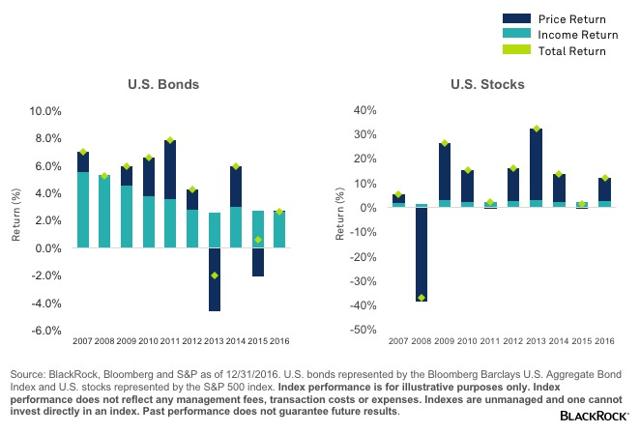 Digging a little deeper, different assets have distinct risk/return profiles.
Dividend Paying Stocks - stocks that pay higher-than-average dividends or are growing their dividends can offer substantially more growth potential than bonds
Corporate Bonds - bonds issued by corporations tend to offer higher yields than government bonds to compensate investors for added credit risk
Municipal Bonds - issued by state or local municipalities, bond income is generally exempt from federal income tax and might be exempt from state and local taxes, depending on where you live
Preferred Stocks - class of ownership in a corporation that has a higher claim on its assets and earnings than common stock, and typically pays fixed or floating rate coupons or dividends like a bond
Real Estate Investment Trusts (REITs) - trust or company that owns or operates real estate investments, which typically pass through most of the income earned by the investments
As the chart below shows, however, higher risk doesn't necessarily translate into higher income.
Many ways to slice the income pie
(30-Day SEC Yields of iShares ETFs)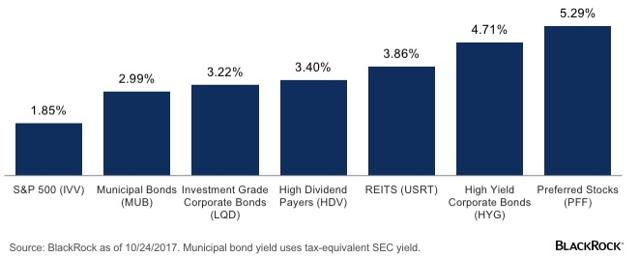 The performance quoted represents past performance and does not guarantee future results. Investment return and principal value of an investment will fluctuate so that an investor's shares, when sold or redeemed, may be worth more or less than the original cost. Current performance may be lower or higher than the performance quoted. Performance data current to the most recent month-end and standardized performance may be obtained by clicking here.
Diversify your sources
Given the risks required to enhance income potential, investors may not want to rely on one source of investment income. For example, master limited partnerships (MLPs) tend to have revenues that are driven by oil prices as the source of the cash flow. From 2012 to 2014, investors bought $7.0 billion of ETFs that held MLPs for the higher yields. Energy prices declined in the second half of 2014, and in 2015 MLPs returned -32.6% using the Alerian MLP Index. (Source: Bloomberg and Alerian.)
Rather than trying to time returns, consider targeting yield from a diversified mix of assets. Exchange-traded funds (ETFs) are a convenient, low-cost way to add specific exposures to a portfolio. For those investors pursuing diversified income in a single ticker, consider the iShares Morningstar Multi-Asset High Income Index ETF (BATS:IYLD), which seeks to track an index that aims to deliver high current income while providing an opportunity for capital appreciation by allocating 60% to bonds, 20% to stocks and 20% to alternative income sources.
This post originally appeared on the BlackRock Blog.