Energy Prices Becoming A Major Burden For Some Industries
By Stuart Burns
An interesting article in The Telegraph this week explores the challenge facing the U.K.'s industrial sector in terms of power costs and the government's competing priority of decarburizing the U.K.'s economy.
The U.K. is not alone in this. Much of Europe and the U.S. face a similar challenge of rising energy costs and concerns that industry is disadvantaged relative to competitors due to high energy costs, and that retail consumers are being forced to pick up much of the bill for the government's green agenda.
According to the article, British industry already pays well above the average for Europe, and Europe itself is a high power cost region relative to many other parts of the world.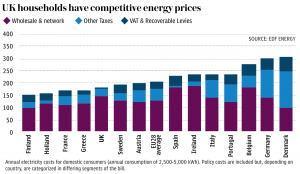 Source: Telegraph
Only Denmark has higher industrial power costs than the U.K. Denmark generates much of its electricity from wind turbines, for which the technology is only just becoming economically viable, without subsidy and without costing in the backup generating capacity the variability of wind demands.
Decarburization and social policies, which includes subsidies for renewables but also programs to improve energy efficiency, add 20% to U.K. bills at present. But - and it's a big "but" - they are rising fast.
Levies for such programs are estimated by Andrew Buckley, a director at the Major Energy Users Council (MEUC), to reach 40% by 2020, according to The Telegraph. Some major users, such as the steel industry, have been made a special case, and the government has reluctantly granted an 85% rebate of green taxes for steelmakers. However, that makes the problem worse for firms that do not qualify; every subsidy for one is pressure to increase costs on another.
Some firms are moving off grid, investing in their own turbines, solar parks or micro gas plants, sometimes backed up by battery storage if based on renewables. Rather than ease the problem for those left on the grid, it makes the situation worse. Funding a network with fewer consumers spreads the fixed costs over those that are left.
Of course, the U.K. is not alone in this, but policymakers create different policies in different countries depending on their priorities. Consumers, even in common markets like the EU, can therefore find themselves paying substantially more than their neighbours.
For the top ten highest energy users, the annual energy bills stands at around £120 million ($155 million). If they are paying 20% or more than their neighbor, that could equate to a £24 million disadvantage before they produce a single ton of product.
No wonder energy is becoming such a hot topic despite low oil and coal prices.
This article was written by
MetalMiner currently ranks as the largest metals publication in the United States according to third party ranking sites. Geared toward industrial metal procurement professionals, MetalMiner has attracted a wide audience in the finance community as well as a global following. MetalMiner principals have appeared on FoxBusiness.com, MSNBC, NPR Marketplace, BBC Radio among others. The team has also received coverage in The Christian Science Monitor, Forbes, American Metal Market, American Iron and Steel Institute, Automotive Industry Action Guide, among many others. The team's principals have extensive global metals sourcing and trading experience having worked for consulting powerhouses Andersen and Deloitte Consulting and leading trading companies such as Stemcor and Glencore. Updated 14 times a week, MetalMiner continues to grow and attract an audience everywhere.