On May 22, 2013, Ben Bernanke announced that the Federal Reserve would begin tapering the bond buying program known as Quantitative Easing. At the time, they were acquiring approximately $70 billion per month in treasuries and mortgage backed securities. The ten-year yield, the benchmark for interest rates, jumped significantly on the interpretation that tighter monetary policy was on the way.
At the start of the year, the 10-year was at 1.88% but ended the year over 3.0%. Much of the increase in interest rates came in May and June of that year, wh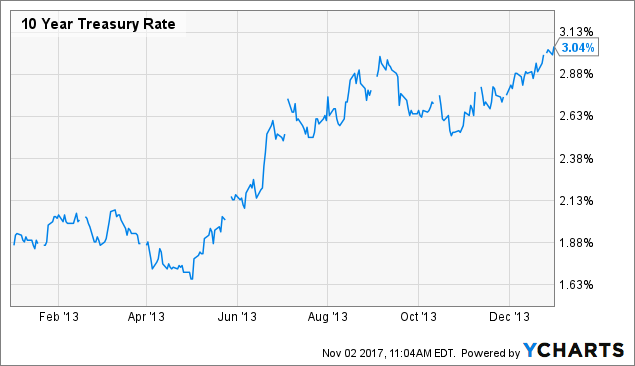 The stock market also fell from ~1675 to ~1575 (-6.0%) in less than 45 days before resuming the march higher.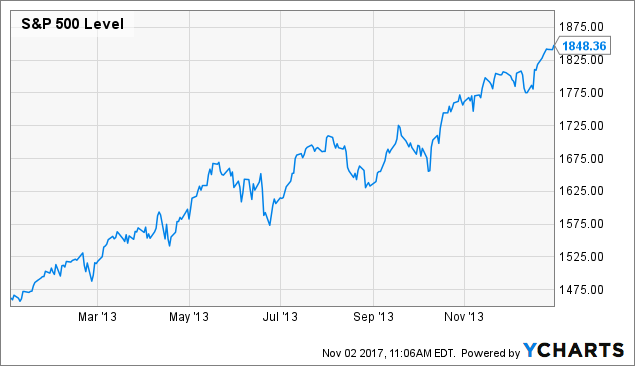 Since mid-2014, the Fed balance sheet has been flat. While it is difficult to see how the QE programs affected long-run output for the economy, it was clear what the asset buying did to interest rates, exchange rates, and all asset prices. Asset prices flat-lined in 2014 and went no where for 18 months before resuming their rise. But the rise is likely a result of the election (increasing sentiment and confidence) and global liquidity.
The central banks of Japan and Europe are still increasing their balance sheets. Liquidity is a global phenomenon and not something confined by arbitrary country borders. Just because the Fed is curtailing its bond buying doesn't mean global liquidity will be tighter going foward. Mark Grant, Seeking Alpha writer and manager of Hilltop Securities, has been on top of this trend. In his article titled, "Checks With No Balances," he states that the combined assets of the major central banks (including the Bank of England) will stand at $24 trillion by September of next year, up from $21.7 trillion today. The immediate effect on asset prices of quantitative easing announcements, in theory, uses the wealth effect to increase economic activity.
We recently experienced a number of bond market calls towards the latter half of October as interest rates rose through 2.40%. We were at our "Moment of Trust" according to Jefferey Gundlach.
The moment of truth has arrived for secular bond bull market. Need to start rallying effective immediately or obituaries need to be written.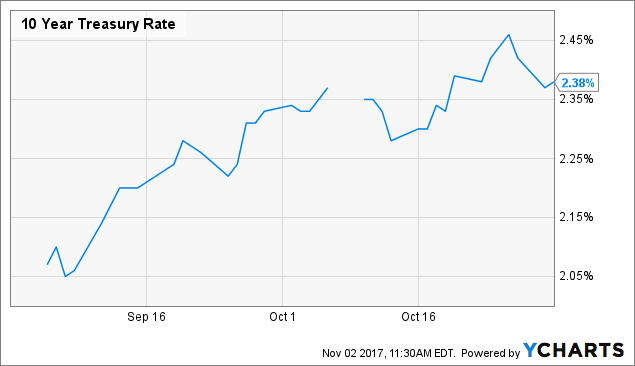 The 10-year breached 2.40% and hit 2.47%, the highest levels for the benchmark rate since March when it hit 2.63%. The media was all over the six-week increase in yields of about 40 bps. Calls for 3.0% were all over CNBC and Bloomberg. But what happened was just the opposite as the 10-year meandered back down below 2.40% and to sub-2.35% level as of this writing.
So is the bond market in for a rout? We've heard this narrative many times in the last 7 years. Google "Bond Market Rout" or "Bond Bull Market Over" and you will get headlines from notable publications from many different time periods over the last seven years. The outlook that the 30+ year bond bull market is over and yields will jump significantly, decimating your portfolio is a scare tactic by the media.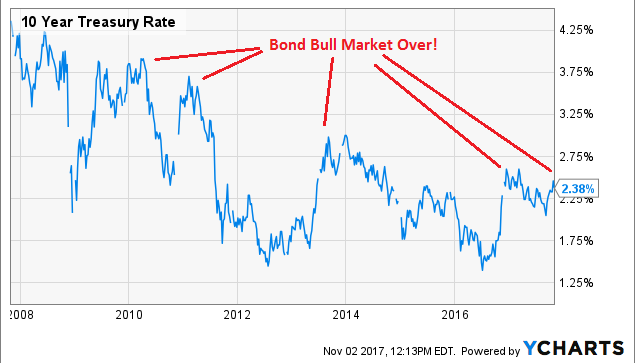 One of the central tenants of our investing strategy has been, and will continue to be, cautioning people to take what they hear/read in the financial news media with a grain of salt. We have likened CNBC to financial pornography as the cable news operators struggle with relevancy. Financial news hasn't been immune to that trend. In addition, the addition of Fox News Business added another competitor to CNBC and Bloomberg taking away a subset of eyeballs in a rather small total population of watchers of market news. The need for attention-grabbing headlines in a world of cable-cutting and more competition is more important than ever.
We use a lot of macro data and analysis to form our opinion on underlying asset allocation decisions and risk-return trade-offs. They help us form our outlook for positioning portfolios for lower risk but "acceptable" returns. Investors today have a tougher time than ever before given the excessive valuations in most asset classes. They're taking on more risk than in most decades of the past 70 years in order to achieve similar returns.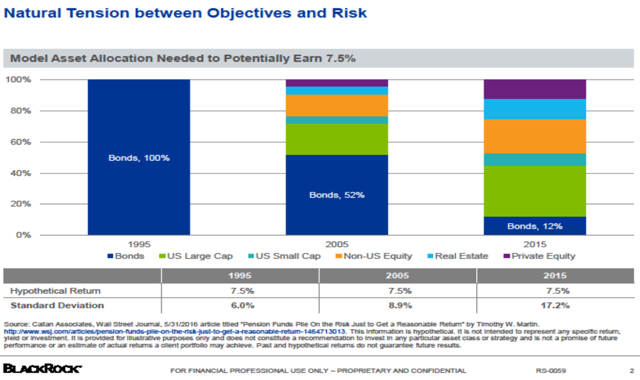 Investors are taking this added risk despite the higher geopolitical and monetary uncertainty. This is a byproduct of the demographic "bomb" that is occurring slowly before our eyes. The large amount of baby boomers entering retirement are needing to find yield anywhere they can. We've stated many times that investors have moved at least one step up the risk spectrum, and likely more, in order to achieve the same returns they did prior to the recession.
While growth has been stronger with back-to-back quarters of 3.0% growth for the first time in many years, synchronized global growth, and improving data, we have yet to see any inflation. Until we see significant inflationary pressures, interest rates are likely to remain low. The Federal Reserve still sees PCE inflation below 2.0% through 2018 which is something we would need to see for rates to move higher and eventually above 3.0%.
We continue to think we are in the bond bull market and that inflation is a byproduct of demographic shifts and global dynamics that should weigh on interest rates for many years. This is especially true when you combine the environment with expanding real yields as the Fed raises rates. The next rate hike is all but assured in December with another coming in June. Chairperson Yellen has telegraphed 3 hikes next year but the market is pricing in just over one.
Concluding Thoughts
The financial news media and those with a vested interest in pushing people towards stocks continue to use scare tactics to warn about fixed income. Investors are being pushed into higher risk allocations. The typical 60/40 asset allocation will generate much lower returns over the next five years while exposing investors to 31% more risk according to Blackrock.

As the S&P zooms higher, moving more into stocks can be enticing. The record low volatility is also creating complacency and lulling people into owning more equities. But with substantial overseas demand from Japanese and European investors, our yield differential will remain capped.
We help people avoid that by generating strong risk-adjusted returns in the bond market through closed-end funds.
Yield Hunting: Alternative Income Opportunities
Alpha Gen Capital started Yield Hunting in April 2016 with one purpose in mind: to find yield in a yieldless world. While some subscription services will find yield at any cost, we pride ourselves on the fact that our core portfolio can generate a roughly 8% yield while exposing investors to one third the risk of the S&P 500. Our one-year trailing return through the end of October is 21.89%.
We utilize fixed income CEFs, munis, baby bonds, among other investment vehicles to generate income while mitigating the risk on the downside from adverse and identifiable risks.
Disclosure: I/we have no positions in any stocks mentioned, and no plans to initiate any positions within the next 72 hours. I wrote this article myself, and it expresses my own opinions. I am not receiving compensation for it (other than from Seeking Alpha). I have no business relationship with any company whose stock is mentioned in this article.
Additional disclosure: The commentary does not constitute individualized investment advice. The opinions offered herein are not personalized recommendations to buy, sell or hold securities. As I have no knowledge of individual investor circumstances, goals, and/or portfolio concentration or diversification, readers are expected to complete their own due diligence before purchasing any stocks mentioned.

The strategies discussed are strictly for illustrative and educational purposes and should not be construed as a recommendation to purchase or sell, or an offer to sell or a solicitation of an offer to buy any security. There is no guarantee that any strategies discussed will be effective. The information provided is not intended to be a complete analysis of every material fact respecting any strategy. The examples presented do not take into consideration commissions, tax implications or other transactions costs, which may significantly affect the economic consequences of a given strategy.

This material represents an assessment of the market environment at a specific time and is not intended to be a forecast of future events or a guarantee of future results. This information should not be relied upon by the reader as research or investment advice regarding the funds or any security in particular.