Welcome to the sentiment follows price edition of Oil Markets Daily!
On September 25, we wrote an article titled, "Sentiment Follows Price: Why Oil Is Going Higher And There's Nothing You Can Do About It." A month later, WTI and Brent just closed at new highs of the year.
We wrote in a section in that article on why we believed oil prices were going higher. The consensus is obsessed over US shale's every details and still got it wrong, but they made an even bigger mistake - they ignored non-OPEC supplies ex-US.
To quote what we said:
But no worries folks, let's all just watch how many thousands of barrels the Permian grows, because that will surely offset the 200k b/d disappointment out of Brazil, 100k b/d from China, and 50k b/d from Mexico.

All the while, IEA just said global oil demand growth in Q2 2017 was 2.3 million b/d, when it's not even supposed to be seasonally that high.

Now for the final push, throw in Brent which is trading almost $59/bbl today and global physical spreads screaming "not enough barrels" and the recipe for higher oil prices is born.
The ludicrous thing was that it wasn't just obvious to us a month ago, it was obvious to us since the start of 2017!
Let's just look at the fundamental developments in 2017:
Consensus afraid of OPEC cheating - WRONG.
US shale pushing global oil markets into oversupply - WRONG.
Global oil demand growth slower than expected - WRONG.
All the while the market bounces prices around like pachinko balls, fundamentals turned ever more bullish. US oil storage is now the last place with surplus inventory, and that's quickly changing as well...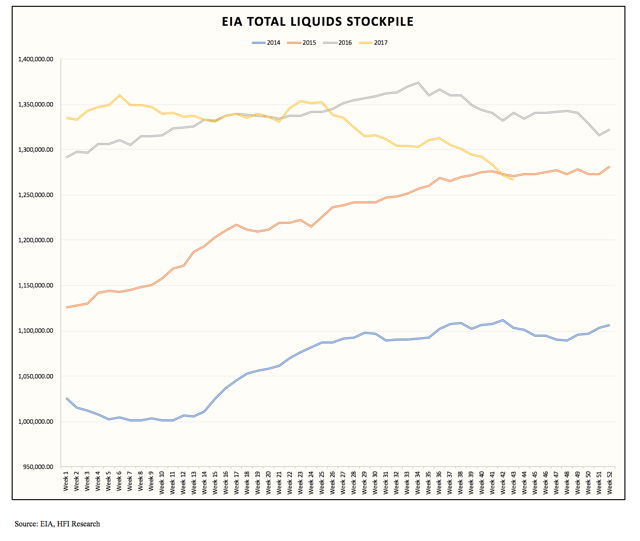 When we published our, "Perfect Storm - Oil Prices Will Rise," we really think it's the perfect storm. People are treating oil as toilet papers - you don't realize how much you need it... until you need it.
Venezuela is now on the cusp of defaulting and that puts 1 million b/d of production at risk. Iraq still has the Kurdistan issue on its hand putting another ~600k b/d at risk. But don't worry, US shale with its glorious ~350k b/d of growth YTD will bail the oil market out, just look at the efficiency gains!
If it's not already obvious that the market narrative that gripped the oil market this year was delirious if not downright delusional, then you just need even higher oil prices to slap some reality into you.
Even as oil prices rise and the market tightens, the consensus raised oil price estimates by $1/bbl for 2018... If you think we are joking, we are not.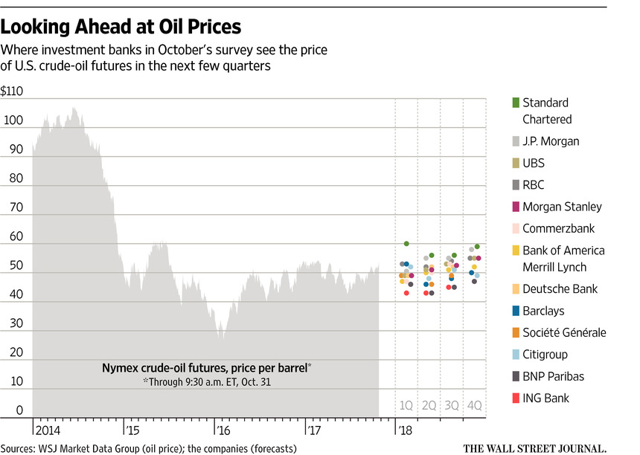 What should you take away from this?
Don't be consensus, it will just make you look like a benchmark hugger. Isn't sentiment a funny little fella?
Thanks for reading our OMD. If you want contrarian analysis on the oil markets, then you should think about signing up for HFI Research. We publish a weekly flagship report that dives into topics seldom discussed by the public. Come and see for yourself today! Sign-up here!
Disclosure: I/we have no positions in any stocks mentioned, and no plans to initiate any positions within the next 72 hours.
I wrote this article myself, and it expresses my own opinions. I am not receiving compensation for it (other than from Seeking Alpha). I have no business relationship with any company whose stock is mentioned in this article.