Investment Thesis
Last time I reviewed Kinder Morgan (KMI), I didn't like what I saw and wrote that I wouldn't buy it. This was in 2014. I must admit I'm biased; I get highly cautious about any stocks paying over 5% dividend yield in an ever-low interest rate environment. When a company must pay such high yield, it's because there is a risk involved. There are no free lunches in finance: risk vs reward, you remember that, right?
The dividend cut happened the year after (2015) and the stock tumbled by 54% since 2014. All KMI cheerleaders went very silent for a while. But now that management has pulled a rabbit out of its hat with a 36% annualized dividend growth rate through 2020, KMI is back on everybody's radar. Do you believe in second chances? Do you think your money is well invested in KMI? Let's dig further into this generous promise.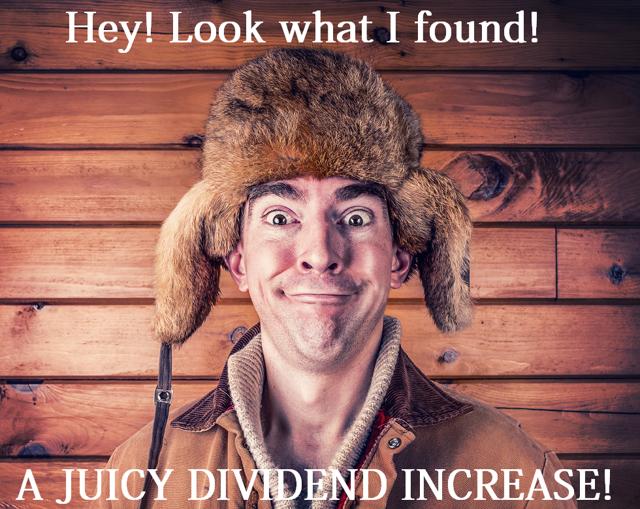 Understanding the Business
KMI has become the largest midstream energy actor in North America. Through its wide and unmatched pipeline network, KMI transports crude oil, refined products and natural gas. Through a series of acquisitions, KMI now has an eye everywhere; it's the Lord of the Ring of the energy storage & transportation business.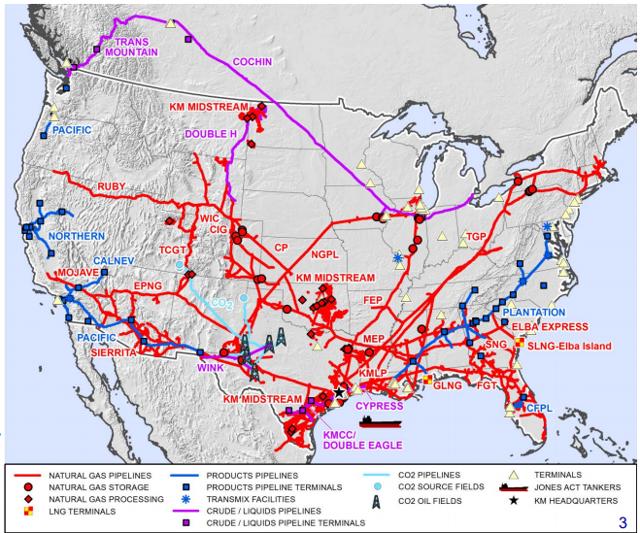 Source: KMI Investors Presentation
This type of business is obviously capital intensive as it requires lots of money to build and maintain pipelines. KMI's well-being depends on the prices of commodities. Shale gas and oil sands require higher prices to become attractive. If there is less production, there is obviously less transportation and storage needs.
Revenues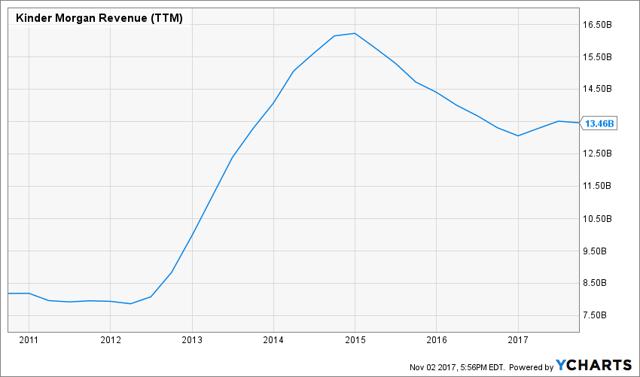 Source: Ycharts
Through the nature of its business, KMI revenues are affected by the prices of commodities. While there was a movement of consolidation in the past few years, KMI revenues dropped from their all-time high in 2015. Management expect to get back on track with more growth as they show a $12 billion project backlog which 86% of them are fee-based pipeline (basically like a toll booth!).
Earnings
Source: Ycharts
Don't get fooled by KMI's important drop in earnings since 2015. This is mainly because management went on an aggressive acquisition journey. New acquisitions are then valued at their purchase price and amortized in their balance sheet. KMI's enviable tax situation should last a few years enabling management to retain cash flow for other projects.
After raising debts like there was no tomorrow, KMI started to pay back their loans and reduced their burden by $5.8 billion since the end of the Q3 in 2015.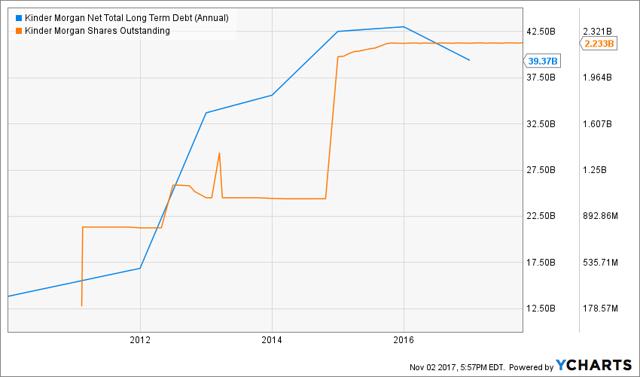 Source: Ycharts
Still, a rise in interest rate of 100 points would lead to a $110 million in interest payment over a full year (management's assessment). In other words, the situation is improving, but it's not too pinky either.
Dividend Growth Perspective
We can't discuss KMI situation without taking a long pause to stare at this graph: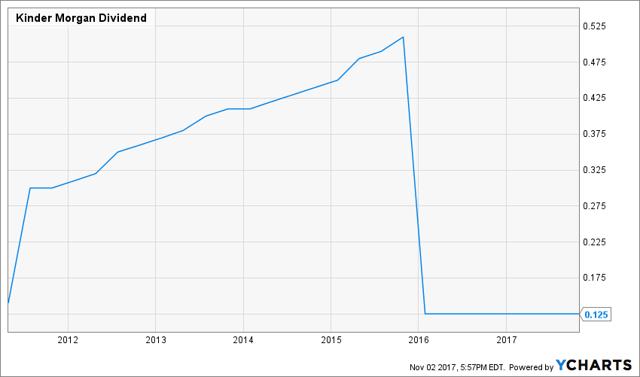 Source: Ycharts
This is an investor's worst nightmare: a "solid" 6%+ yielding stock cutting down their payouts like it was bad weeds. The economic outlooks at the time were bad, but I don't see how it has changed that much. Management came out strong screaming on rooftops that there would be future dividend growth increases:

Source: KMI Investors Presentation
Can KMI keep their promises? I don't think they can't afford to not hold to them. However, when I look at the company's payout and cash payout ratios, I have some doubts.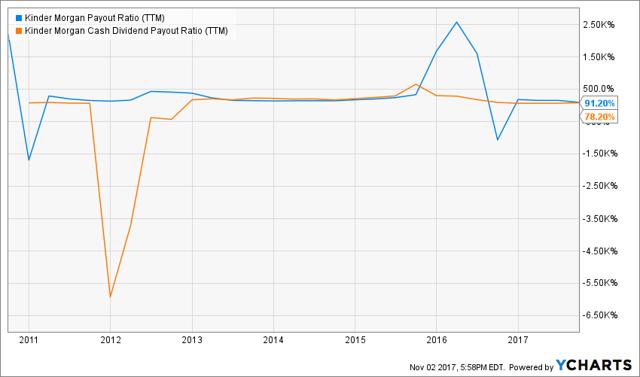 Source: Ycharts
As previously mentioned, the payout ratio is of no interest in this case as earnings are artificially low due to their major acquisitions. However, the cash payout ratio isn't incredible at nearly 80%. Then, management tells investors it will grow their annual distribution from $0.50 to $1.25 within 3 years? When I look at the company's cash flow progression so far, I find it hard to believe: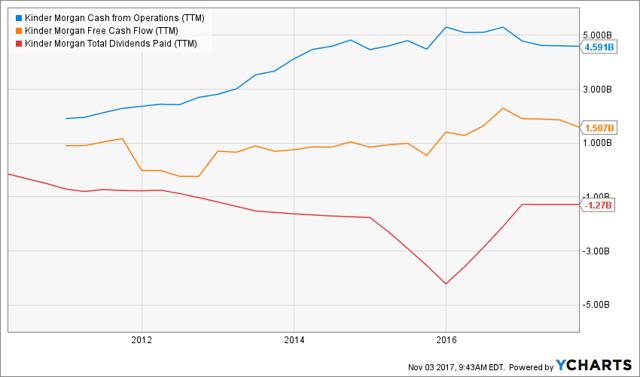 Source: Ycharts
KMI doesn't meet my 7 dividend growth investing principles.
Potential Downsides
The company's business model and growth perspective are mainly based on acquisition and expansion. Since its creation, KMI invested a total of $59 billion in both categories. The company has put some serious cash in building its empire.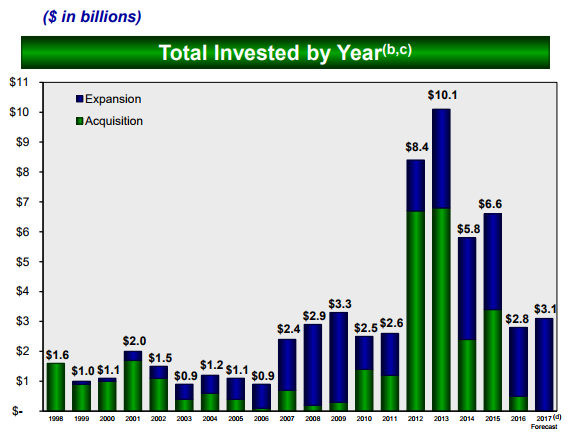 Source: KMI Investors Presentation
The problem I see with that is that pipelines are capital intensive assets. They don't only require lots of money to build, but also to maintain. The company will have to find roughly $2-3 billion worth of projects per year to invest in if it wants to keep-up with their growth objectives. As we all know, pipeline projects are not exactly popular these days.
As announced by management a fluctuation of $1 in the oil price would result in a $6 million dollar impact on the DCF. A fluctuation of $0.10 in the natural gas price would affect the DCF by $0.10. In other words; there is a serious risk of cash flow volatility as prices evolve. KMI doesn't have much room to handle business expansion, dividend increases and price volatility at the same time. Let's just say I'm skeptical about their promise.
Valuation
With a stock plunge and promises of better days, maybe there is a buy opportunity here. Let's see how the market reacted to their latest financial results: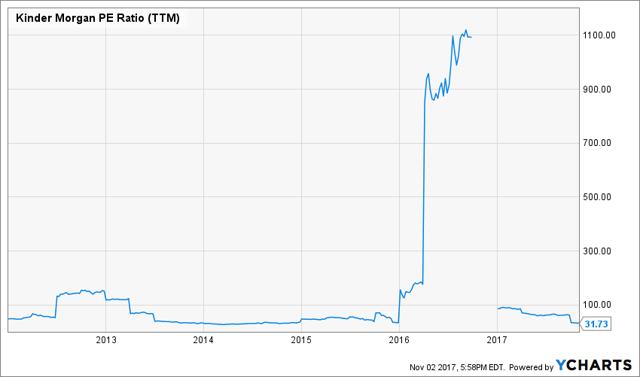 Source: Ycharts
It seems the market is not convinced at all by Mr. Kinder and his team. There is absolutely no hype around the stock (KMI is down -12.65% over the past 3 months as at November 3 rd 2017).
The reason why KMI is still trading at a 30+ PE ratio these days is definitely based on management's dividend growth promise. I ran a DDM valuation assuming we are in 2020 and the dividend is $1.25. Imagine that the company make-up to investors and then grow their dividend by 5% afterwards. Here are the results:
Input Descriptions for 15-Cell Matrix

INPUTS

Enter Recent Annual Dividend Payment:

$1.25

Enter Expected Dividend Growth Rate Years 1-10:

5.00%

Enter Expected Terminal Dividend Growth Rate:

5.00%

Enter Discount Rate:

10.00%

Margin of Safety

9.00%

10.00%

11.00%

20% Premium

$39.38

$31.50

$26.25

10% Premium

$36.09

$28.88

$24.06

Intrinsic Value

$32.81

$26.25

$21.88

10% Discount

$29.53

$23.63

$19.69

20% Discount

$26.25

$21.00

$17.50
Please read the Dividend Discount Model limitations to fully understand my calculations.
If management can make it, KMI investors will have a reason to celebrate. Their payouts will not only increase, but the stock value should also grow. However, if we look at the situation today and keep a cautious dividend growth rate of 10% for the next 10 years (cautious as management expects a lot more, I don't see how KMI could increase its dividend by 10% for 10 years right now), here's what we get:
Input Descriptions for 15-Cell Matrix

INPUTS

Enter Recent Annual Dividend Payment:

$0.50

Enter Expected Dividend Growth Rate Years 1-10:

10.00%

Enter Expected Terminal Dividend Growth Rate:

5.00%

Enter Discount Rate:

10.00%

Discount Rate (Horizontal)

Margin of Safety

9.00%

10.00%

11.00%

20% Premium

$23.57

$18.60

$15.30

10% Premium

$21.60

$17.05

$14.03

Intrinsic Value

$19.64

$15.50

$12.75

10% Discount

$17.68

$13.95

$11.48

20% Discount

$15.71

$12.40

$10.20
As it is often the case with the DDM, the truth is probably somewhere between both analyses. However, I don't see an incredible deal here as the risk is obvious.
Final Thought
After looking at KMI for the second time in my investor life, I will keep my initial decision and I will pass. There are plenty of stocks paying a yield between 3.50% and 4% and offering better growth perspectives or less risk. Try Lazard (LAZ), Cisco (CSCO), Omega Healthcare (OHI) just to name a few. As we discussed the risk vs reward theme in the introduction, I see the risk and the reward in an investment in KMI, but I still believe the balance is off.
Seriously, if you made it this far, it's because you liked what you read. Don't be a stranger; leave a comment and tell me what you think! I'm asking you one more thing; click on the "follow" button (it's orange, you can't miss it!) and you will get notified each time I write a great piece like this one.
Disclosure: I do hold LAZ, CSCO and OHI in my DividendStocksRock portfolios.
Additional disclosure: The opinions and the strategies of the author are not intended to ever be a recommendation to buy or sell a security. The strategy the author uses has worked for him and it is for you to decide if it could benefit your financial future. Please remember to do your own research and know your risk tolerance.
Disclosure: I am/we are long LAZ, CSCO, OHI.
I wrote this article myself, and it expresses my own opinions. I am not receiving compensation for it (other than from Seeking Alpha). I have no business relationship with any company whose stock is mentioned in this article.