Caixin China PMI Surveys Start Fourth Quarter On Softer Note
The Chinese economy enjoyed a steady start to the closing quarter of 2017, but the latest Caixin PMI data showed a further slowing of growth. Moreover, the upturn was again marred by a stagnating jobs market and sharp cost pressures.
Manufacturing-led slowdown
The Caixin China Composite PMI Output Index edged down to 51.0 in October from 51.4 in September, signalling a marginal deterioration in growth compared to the third quarter. The latest reading was the lowest since June 2016.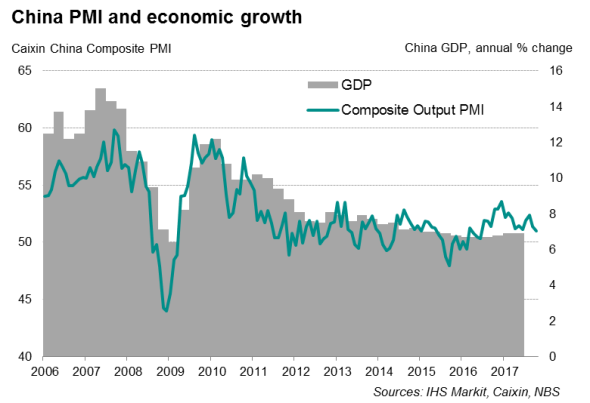 Services activity gained some growth momentum but the latest rate of expansion remained one of the weakest for one-and-a-half years. Manufacturing output growth softened, following a moderate expansion, on average, in the third quarter.
Slower output growth weighed on factory hiring. Lower employment in the manufacturing sector was reported again during October, stretching the trend to four years. The rise in service-sector employment was insufficient to stem the loss of manufacturing jobs: overall employment remained broadly stagnant.
Supply shortages constrain future output
The survey data showed a further rise in backlogs of work within the manufacturing sector, with the rate of accumulation the fastest since July 2016, reflecting stronger order book growth and muted output expansion.
Although this suggests that production could pick up in coming months, especially with stocks of finished goods currently in decline, low inventories of inputs and stringent production curbs (imposed by the government to reduce pollution) will likely thwart any efforts to ramp up production in the short term.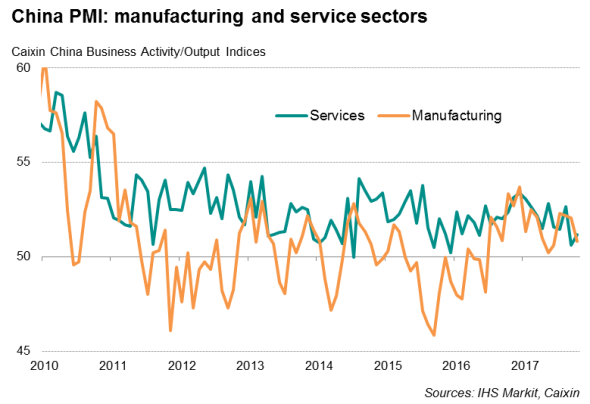 Rising costs
Survey indicators of input costs and selling prices pointed to inflationary pressures. The rate of input price inflation was sharp, remaining at one of the highest levels so far this year. As was the case in the past year, the manufacturing sector accounted for the bulk of the upward pressure on prices. Factory input cost inflation remained steep in October, reaching the second strongest so far this year.
There was evidence that stretched supply chains pushed prices higher. Low stock levels at suppliers and environmental inspection policies were cited as reasons behind longer delivery times, which lengthened to one of the greatest extents for over six years.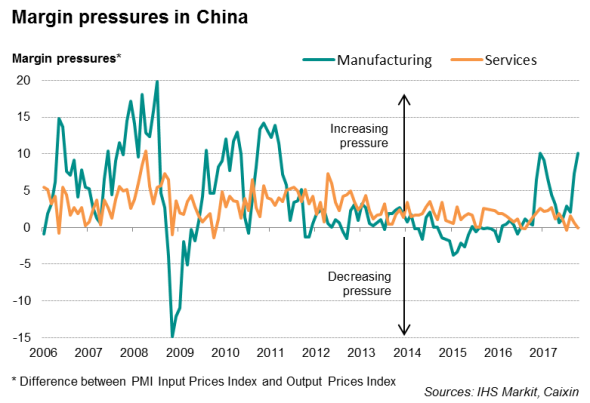 Higher cost pressures pushed manufacturers to raise their prices, though intense competition had limited their overall pricing power. As a result, firms continued to suffer an ongoing squeeze on profit margins.
By contrast, the service sector reported modest rates of inflation in both input costs and charges. Recent cost increases are often associated with higher prices for raw materials and energy, which have greater impact on manufacturers than service providers.
This article was written by
IHS Markit (Nasdaq: INFO) is a world leader in critical information, analytics and solutions for the major industries and markets that drive economies worldwide. The company delivers next-generation information, analytics and solutions to customers in business, finance and government, improving their operational efficiency and providing deep insights that lead to well-informed, confident decisions. IHS Markit has more than 50,000 key business and government customers, including 80 percent of the Fortune Global 500 and the world's leading financial institutions. Headquartered in London, IHS Markit is committed to sustainable, profitable growth.