The Tesla (NASDAQ:TSLA) Model 3 production ramp is delayed 3 months. The company is now expecting to reach a production rate of 5,000 units/week by the end of March 2018. The primary production bottleneck is in battery module assembly at the Gigafactory in Nevada, according to Tesla's Q3 update. More on that below.
CEO Elon Musk also confirmed that Tesla fired 2% of its workforce this year (700 employees out of 33,000 total) based on poor performance. Musk pointed out (as I did a few weeks ago) that this is likely a low rate compared to other companies. Average annual turnover for manufacturing companies is 13%. Only about half of all turnover is voluntary. The firings are a non-story, yet they were widely represented and received as bad news.
This is a reminder to distinguish facts from insinuation, speculation, and rumour and to put facts in their proper context. It's also a warning that analysts and the media do not always accurately represent the truth about Tesla. Be skeptical. Require hard evidence. Go deeper in your research. Keep this in mind, especially with the intense discussion of the Model 3 production ramp. Simply because it gets the most attention, there are more misleading articles on it than any other topic.
Model 3 production ramp is delayed, but not by long
The primary bottleneck for Model 3 production is Zone 1 and Zone 2 of the battery module assembly line at the Gigafactory. As Musk tells it, management discovered late into production that the supplier had botched these two zones. Tesla then had to build them from scratch. This is the primary cause of the 3-month delay. No other bottleneck was cited as a comparable source of concern.
Musk was reluctant to say what the production rate would be at the end of 2017 due to the inherent uncertainty of the ramp, but when pressed said it could be thousands of units per week. CFO Deepak Ahuja noted that this is not official guidance, and Musk concurred, clarifying that it was simply his "guess".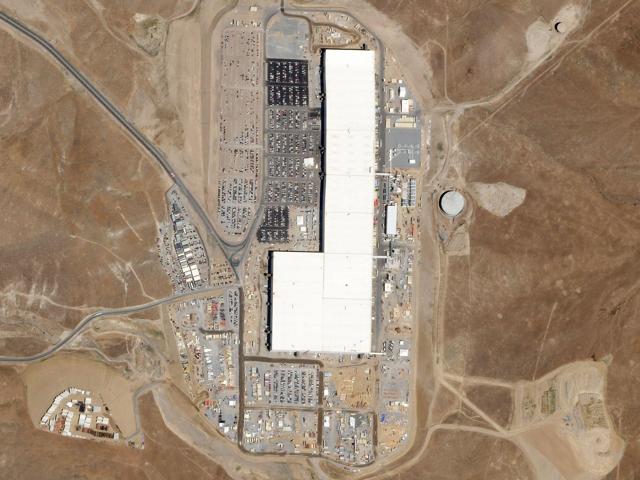 Aerial view of Tesla's Gigafactory in Sparks, Nevada. Photo credit: Planet Labs.
Musk made an interesting analogy between the Model 3's highly automated production system and a spreadsheet. If you are calculating even one spreadsheet cell by hand, computations will be excruciatingly slow. As soon as you automate that last cell, computation speed will suddenly spike. So too, Musk says, with Model 3 production. Tesla may still be producing a few dozen Model 3s per week, as it did in Q3. (We don't know for sure.) As soon as every automated production subsystem is working, that could spike to hundreds per week in a matter of weeks.
The company's goal of 10,000 units/week was originally supposed to be achieved with a second production line. Before starting work on the second line, management wants to see how far past 5,000/week the first line can be pushed. Already, some subsystems are capable of supporting production of 6,000-7,000 cars/week. Tesla would "rather accelerate production lines than duplicate" them, Musk said. Ahuja said he expected significantly less cap ex to achieve 10,000/week than 5,000/week.
To accelerate production, Tesla is pushing suppliers to make their robots go faster. Musk said suppliers were "shocked" by the speeds the company asked for. Tesla is also developing robotics and automation technology in-house. Musk said, "If you can see the robot move, it's too slow." The company wants to increase robots' speed to the point that air friction becomes a constraint.
Tesla's rate of cash burn appears sustainable
Tesla's cash balance at the end of Q3 was $3.5 billion. It burned $1.4 billion in cash in Q3, including $1.1 billion in cap ex, most of which was for the Model 3 production ramp. Cap ex is expected to be about $1 billion in Q4.
With a cash burn rate of $1.4 billion for Q4 and Q1 2018, the company would have a cash balance of $700 million at the end of Q1. So, it has enough cash to complete the first phase of Model 3 production ramp to 5,000 units/week, if the timeline doesn't slip any further.
In fact, cash burn should be less than $1.4 billion per quarter. On the earnings call, Ahuja explained that since the Model 3 is delayed one quarter, Tesla has decided to delay cap ex for one quarter on projects intended to accommodate Model 3 owners: service centres and Superchargers. In Q4, the company is also decreasing Model S and X production while sales increase, thereby reducing inventory. Both will bring down cash burn from its Q3 rate.
Model 3s being (very slowly) assembled by robots.
Ahuja also noted that Model 3 production should improve cash flow once gross margin hits breakeven because the company will collect payment from its customers before it pays its parts suppliers. Tesla expects the Model 3 gross margin to hit breakeven by the end of Q4 and to "improve rapidly in 2018".
Previous guidance was that the Model 3 gross margin would reach 25% approximately 3-4 months after the 5,000 units/week production rate is achieved. In the updated timeline, that's the end of Q2 2018 or the beginning of Q3 2018.
Deliveries of 5,000 Model 3s/week at an average selling price of $42,000 would generate $2.5 billion in revenue per quarter. At a 25% gross margin, the Model 3 will generate $630 million per quarter in gross profit.
With cap ex on the first phase of the Model 3 production ramp decreasing and gross profit from Model 3 sales increasing, Tesla's cash flow should improve considerably in Q2 2018 and Q3 2018 if it achieves this timeline. The company may become cash flow-positive, but it is difficult to say how quickly it will begin the second phase of the Model 3 production ramp, with the end goal of producing 10,000 units/week.
Musk, Ahuja, and CTO J.B. Straubel all emphasized that the company would decide how to proceed with the second phase of the production ramp after the first phase was completed. The next earnings call will be held in Q1, so we should hear more then.
Tesla's long-term outlook
As long as the delay in the Model 3 production ramp is limited to 3 months, it will have very little effect on Tesla's long-term prospects. I'm eager for the next update. That may be the deliveries announcement at the end of Q4.
Elon Musk's mistake (if it is a mistake) is constantly promising aggressive timelines that are ultimately missed. This is understandable given that Musk believes "speed is the ultimate weapon". If pushing aggressive timelines is what it takes to move as fast as Tesla, perhaps coming up short again and again is simply the price of speed.
Analysts' mistake is making Musk's promised timelines the barometer of success. The barometer of success is the fundamentals: the financial metrics, the level of technological innovation, the consumer love, and the level of durable competitive advantage. If Musk promises you the moon in six months and delivers it in three years, keep things in perspective: you've got the moon.
Battery cell production at the Gigafactory. At full speed, the cells move too fast to see. Source: TED.
What Tesla is doing with robots and automation is super-exciting. Long term, this matters a lot more than Model 3 production getting paralyzed for a few months. If you are investing in Tesla on a multi-year basis, the daily, weekly, and quarterly news cycle can distract you from what's really important.
Robots are a crucial part of the big picture and the long-term view. Just as the company has innovated in electric powertrain technology, battery pack power management software, and advanced driver assistance software, it is taking this combined physical engineering and software engineering acumen to the manufacturing process.
Most of the focus on Tesla is around product innovation. What are the advantages of electric cars over gasoline cars? How fast is the company developing full self-driving compared to competitors? But manufacturing innovation could be as big, or bigger. Don't get me wrong, autonomous cars will turn the world on its head. But autonomous factories could too.
CEO Elon Musk describes Tesla's ambitions for factory automation. Original source: Tesla's Q2 2016 earnings call.
Tesla's economies of scale with battery production are probably not a lasting competitive advantage over the very long term. With enough time and capital, car manufacturers and their suppliers can catch up. Autonomous factories might be a competitive advantage that lasts for many years. Over the past two decades, the productivity of car factories has been improving in small increments. Replacing humans entirely with robots would be a new technological paradigm yielding steep improvement.
This ambitious project takes a combination of world-class manufacturing talent and world-class software talent. No car company besides Tesla has both.
Conclusion
The Model 3 is delayed, but not by much. Tesla is also doing exciting things with robots. For those reasons, I'm optimistic about its prospects going into the next year and the next and the next. What is another 3 months when you're waiting for the moon?
Disclaimer: This article is not investment advice.