How much faith do you have in the viability of the GOP tax plan?
That's an important question. I mean obviously it's important politically in the sense that getting something (anything) done by the end of the year is critical for the White House and for Republicans. Equally obvious is that tax overhaul will echo for years to come in terms of the implications it could have for the broader economy and, thereby, for asset prices. But according to a lot of folks, it also has serious near-term implications for the markets.
There is considerable debate about how much of this year's equity rally (SPY) is attributable to tax reform "hope." To let Treasury Secretary Steve Mnuchin tell it, this is all about taxes. Here's what he said last month in a podcast with Politico:
There is no question that the rally in the stock market has baked into it reasonably high expectations of us getting tax cuts and tax reform done. To the extent we get the tax deal done, the stock market will go up higher. But there's no question in my mind that if we don't get it done you're going to see a reversal of a significant amount of these gains.
Actually Steve, there are a lot of "questions" about whether the rally in the stock market has "high expectations" about tax reform "baked into it."
To be sure, I'm in the camp that believes some of the rally in equities is indeed attributable to the assumption that, at the very least, there will be some semblance of movement on the tax front. But that said, it's far from clear that everyone thinks this is a done deal. For instance, it doesn't exactly scream "reflation imminent":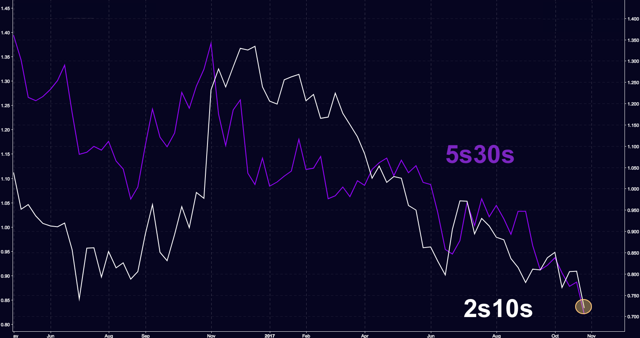 The 5s30s is the flattest since 2007 and the 2s10s fell 10 bps this week, the most since mid-2016. That seems to suggest the bond market doesn't see much in the way of hope that tax reform is going to materially boost GDP and, indeed, it kind of seems like maybe what you see there suggests some folks don't think tax cuts are going to pass at all.
Additionally, have a look at Goldman's sector-neutral High Tax basket, which contains 50 S&P stocks with the highest 10-year median effective tax rates: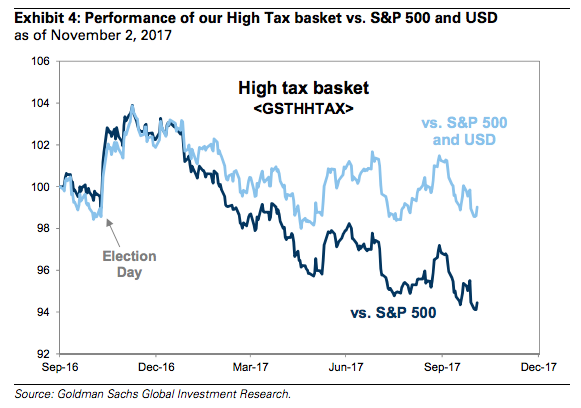 (Source: Goldman)
As you can see, that basket has faded the post-election bounce and then some - although, as Goldman notes, it's a little more complicated than that. Note the light blue in the chart above. Here's the bank explaining:
Because one method that US firms use to reduce their tax burdens is keeping earnings overseas, companies with the highest tax rates also tend to have the highest domestic business exposure. The median High Tax stock generates 84% of sales domestically vs. 73% for the median S&P 500 firm. A weaker USD benefits firms with high foreign sales, and the 6% YTD decline in the trade-weighted USD explains much of the tax basket's underperformance.
Still, the point stands: the post-election bounce has faded, and indeed, there's something a bit circular about the argument there, because one of the main culprits for the dollar's (UUP) decline has been increasingly pessimistic projections about the timetable for things like tax reform. So there's some figurative double counting going on there.
And then there's value (IVE) versus growth. As you can see, this doesn't say much for sentiment: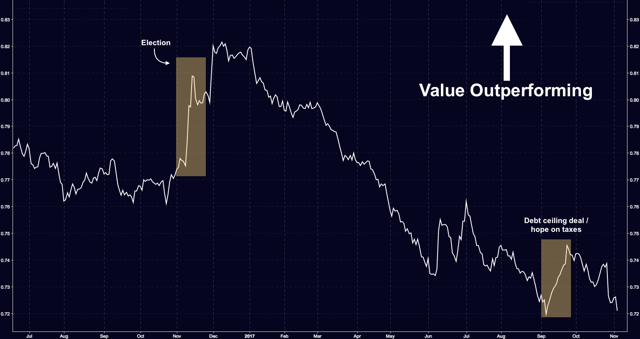 Anyway, the bullish among you would probably argue that stocks aren't rising based on tax reform hope anyway, and thus, any movement on that front would just be icing on the proverbial cake. As it happens, Barclays agrees. To wit, from a note out last week:
The effect of tax reform is not readily observable, but consensus earnings estimates, tax- related relative valuations, and correlations to fundamental and macro factors help frame the debate. A deep corporate tax cut would boost earnings expectations. However, consensus estimates have been stable and do not show the upside that should accompany expectations of a lower tax rate (Figure 27). Market prices should discount tax probabilities ahead of analyst estimates and company guidance. Stocks with the highest effective tax rates have underperformed for most of 2017. Relative valuations are now well off the post- election peaks, near the low end of the range (Figure 28).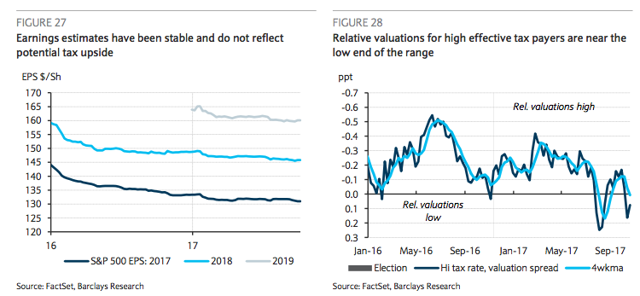 And on and on. Without getting too far into the political weeds here, more than a few people have opined that Mnuchin's comments about the market having tax reform "baked in" might have been simply an effort to motivate Congress to act more than they were an objective assessment of reality.
So, unless you want to simply point at the S&P and the Dow and say "There, those record highs prove the market is euphoric about tax reform," you're left with all of the numbers and charts shown above, all of which seem to suggest that people are wary of the prospects of or at least of the timetable around taxes.
There are two ways to look at that. The glass half-full approach would be to simply say that any progress would be an upside surprise, and against an already favorable backdrop (i.e., an equity market that's got some momentum), tax cuts could be the catalyst for the ubiquitous "blow-off top."
The glass half-empty approach would be to say that given the above, everyone is getting pretty impatient with this, and therefore, the inevitable stumbling blocks lawmakers will encounter over the next two months will only serve to underscore legislative ineptitude, creating still more uncertainty about the viability of an investment thesis that rests on rosy assumptions about future GDP growth.
I don't care which side you pick there, but, as Yoda might say, "pick a side you must."
Incidentally, the specs sure seemed to think the plan outline we got this week was going to create more reflationary euphoria than it actually did, because in the week through Tuesday, they pared their net TY longs by 151k contracts: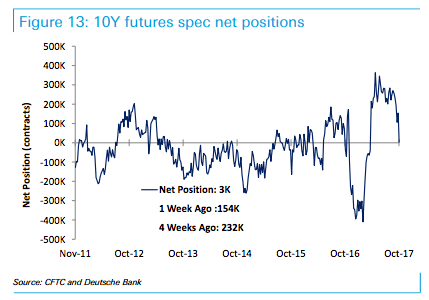 (Source: Deutsche Bank)
Disclosure: I/we have no positions in any stocks mentioned, and no plans to initiate any positions within the next 72 hours. I wrote this article myself, and it expresses my own opinions. I am not receiving compensation for it (other than from Seeking Alpha). I have no business relationship with any company whose stock is mentioned in this article.