This idea was discussed in more depth with members of my private investing community, REIT Beat. Become a member today
Last week Republican lawmakers unveiled a sweeping rewrite of the Tax Code, outlining a $1.5-trillion plan that will deliver significant tax cuts for corporations. At the center is a proposal to permanently cut the corporate tax rate from 35% to 20%, a significant decrease for American companies that will result in increased earnings and dividend growth for many corporations.
NAREIT has published the Tax Reform bill here
Commercial real estate is a beneficiary of the proposed Tax Reform bill as many small, medium, and large businesses should see profits grow as a result of the substantial tax cuts.
Under our current tax system, it makes more sense for companies to move manufacturing jobs out of the United States, produce products in lower-wage countries, and then export their goods back to the U.S., because we do not impose corporate tax on imports.
Companies which remain in the U.S. pay the highest business tax in the world and pay American workers American-level wages. Meanwhile, they are competing with companies who are paying foreign workers incredibly low wages – and paying no corporate taxes.
Reducing taxes on businesses and individuals, and reducing regulations, will cause more companies to invest in America again. The Tax Foundation reports that Speaker Ryan's plan will create about 1.7 million jobs in America, and increase Gross Domestic Product by more than 9 percent.
The U.S. Industrial market is over $1 trillion in size and this property sector represents one of the largest benefactors of Corporate Tax Reform. Demand exceeded new supply throughout 2016 – adding to a total of 27 straight quarters where this condition persisted.
The foundations of this prolonged and heightened demand are countless, but the growth of e-commerce is certainly a contributing factor. Supply-demand equilibrium will have to occur at some point, but Corporate Tax Reform should serve as a catalyst to boost the sector into additional innings. As Ben Butcher, CEO of STAG Industrial (STAG), explains (Annual Report),
Our experience continues to be that tenants generally do not move to obtain improved building parameters (clear height, cross dock, etc.) – they most often move to get into a larger building that will serve their specific needs such as a consolidation of facilities, M&A activity, etc.."
In STAG's 2016 Annual Report, Butcher (the CEO) goes on to explain,
In the foreword to his recent book, The Undoing Project, Michael Lewis talks about the impact that his book, Moneyball, had on how people think in areas other than baseball. Mentions were made about the "Moneyball of Farming," the "Moneyball of Golf," the "Moneyball of Medicine," etc.

In all of these areas, people were improving their decision-making by using analysis to avoid the flaws engendered by the application of 'conventional wisdom' and/or 'judgment.' As in the original Moneyball (of Baseball), the point is to increase the probability of the correct decision – not to guarantee a particular outcome.

STAG's investment thesis could be called the "Moneyball of Real Estate Investing" (as applied to the industrial sector). We use analysis to overcome judgment biases to find properties that are undervalued by other investors.

By aggregating these individual, relative value assets, we have created a large and diverse portfolio. This diversification greatly diminishes the volatility of projected returns – to the benefit of STAG's shareholders.

We at STAG will continue to execute our investment strategy and maintain our pricing and return discipline with accretive portfolio growth. We are committed to maintaining our impeccable reputation for integrity and good corporate governance.

In the practice of real estate acquisition and management, cash flow is what matters. Our promise to you, our fellow shareholders, is to maintain our focus on delivering the best, risk-adjusted cash flow returns available."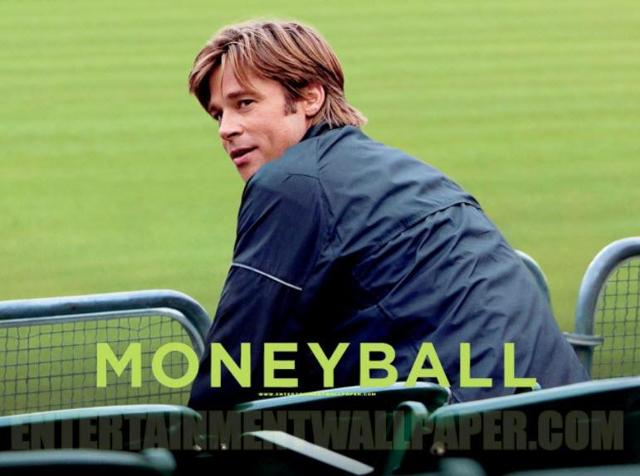 The Evolution of STAG
STAG Industrial is an Industrial REIT that went public in 2011 (the predecessor was STAG Capital Partners that formed in 2004), and since that time, the company has grown from 105 buildings to 347 buildings in 37 states, with approximately 69.1 million rentable square feet.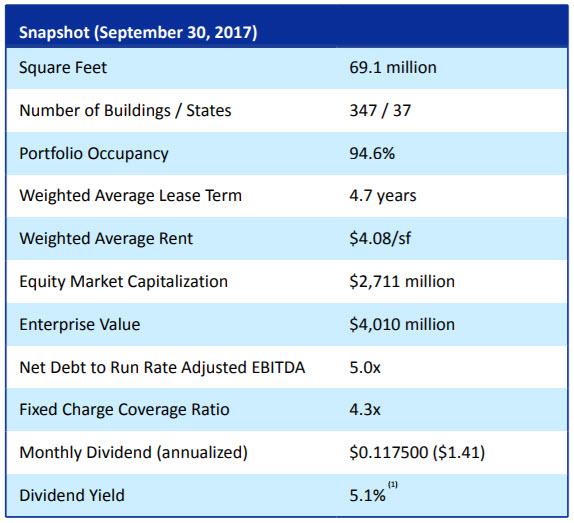 STAG's portfolio consists of 279 warehouse/distribution buildings (89.8% of portfolio), 53 light manufacturing buildings (8.5% of portfolio) and 14 flex/office buildings (1.3% of portfolio). STAG has grown rapidly since the IPO. The company's stated goal of acquisitions is 25% annual portfolio growth, and it stated that its pipeline of potential acquisitions exceeds $1.9 billion.

STAG has found that primary (27.2%) and secondary markets (62.5%) have similar occupancy and rent growth experiences. Furthermore, secondary industrial property markets generally provide less rent volatility and equivalent occupancy compared to primary industrial property markets.

I live in Greenville/Spartanburg, South Carolina, where STAG has a large presence (4.4% of revenue). Here's a snapshot of STAG's Top 10 markets: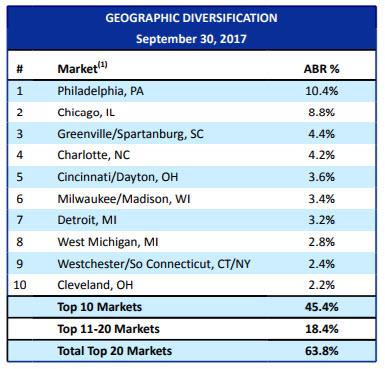 As illustrated below, historical primary and secondary market occupancy levels are very similar. "Super" primary markets historically operate at an occupancy level above primary and secondary markets: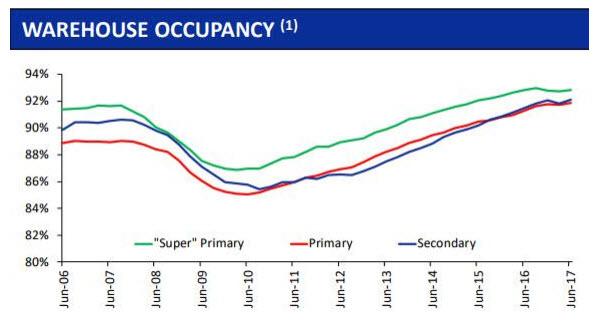 At the end of Q3-17 STAG's occupancy for the operating portfolio was 95.4% with a weighted average lease term of 4.7 years.
Secondary market rent growth has performed in line with Primary market rent growth over the past ten years. Super Primary market rent growth has displayed greater volatility over the past ten years compared to Primary and Secondary markets.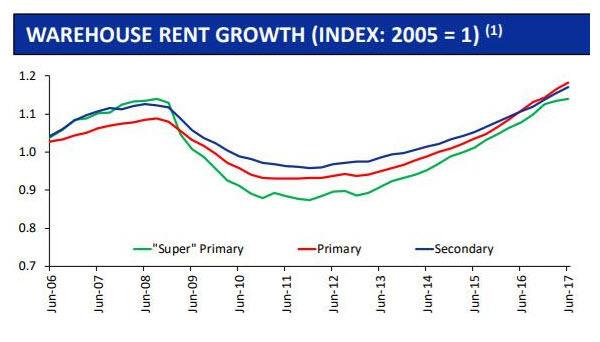 STAG intentionally invests in secondary markets due to the rationale that it enjoys low capital expenditures and lower tenant improvement costs (relative to other property types). Also, STAG's tenants tend to stay longer, since moving costs and business interruption costs are expensive relative to relocating a "critical function" facility.
Diversification is the Differentiator
As noted above, the U.S. industrial market is over $1 trillion in size, and as evidenced below, STAG's share of that market is less than 1%.

STAG refers to its well-diversified model as a "virtual industrial park." It makes sense, since the REIT's portfolio of properties represent many of the different categories that you would see while driving through a large industrial park.
STAG has limited REIT competition in many of its core markets, as a majority of the peer group consists of private investors. Here's a breakdown of the company's portfolio based on tenant profile:

One misconception (or so-called myth) as it relates to STAG is the fact that it does not evaluate prospective deals carefully. While the company does invest in secondary markets, it does so by thoughtfully evaluating each acquisition through a structured probabilistic risk assessment model.
As illustrated below, the selectivity represents over 1,000 sites evaluated and 1/3rd of them being underwritten. Offers were made on around 20% (of the 1,000), and the company closed on around 3.3%.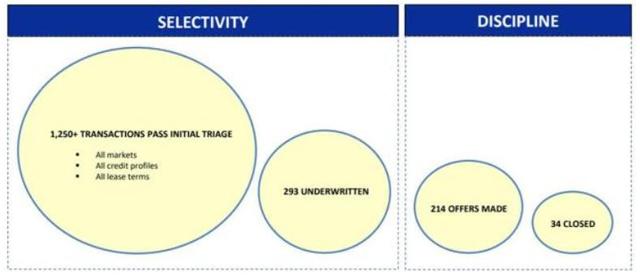 In other words, STAG has maintained a very disciplined acquisition model in order to filter out the best opportunities. So it's not just that the company is investing in secondary markets, it's simply that STAG is investing in the BEST deals available in these secondary markets.
In 2016, it acquired $472 million (22% growth) of industrial real estate at a weighted average Capitalization Rate of 7.9%. In Q3-17, STAG identified $120 million of accretive acquisition opportunities at 7.5% stabilized cash cap rate.

STAG's pipeline sits at $2.2 billion, year-to-date acquisitions crossed the $500 million mark, making 2017 the largest acquisition year ever with two months left to go. Acquisition guidance for 2017 was updated to $625 million from $675 million with an expected stabilized cash cap rate of 7.5%.
STAG's strategy and investment thesis have remained constant over six-plus years as a public company. The company was built to identify, analyze, acquire, and operate industrial real estate transactions across 60 plus markets across the U.S. The company's risk adjusted probability based analysis allows it to continually identify great relative value, granular transactions found across these markets.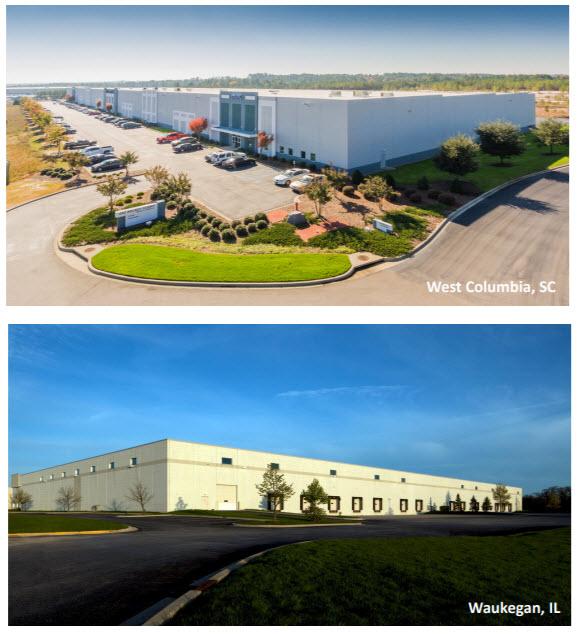 Improving the Cost of Capital
STAG's balance sheet is in great shape, the company raised $65 million of equity at attractive prices in the quarter through the efficient use of the ATM.
Also during Q3-17, STAG sold five buildings for $35 million and the company expects to have non-core and opportunistic dispositions between $60 million and $80 million in 2017. There were four opportunistic dispositions this quarter, generating proceeds of $34 million and resulting in unlevered IRRs of approximately 15%.

During Q3-17, STAG delevered down to 5.0x on a net debt to run rate EBITDA basis, when compared to the 5.3x for the same period last year. The company's fixed charge coverage ratio is at 4.3x and liquidity is $360 million.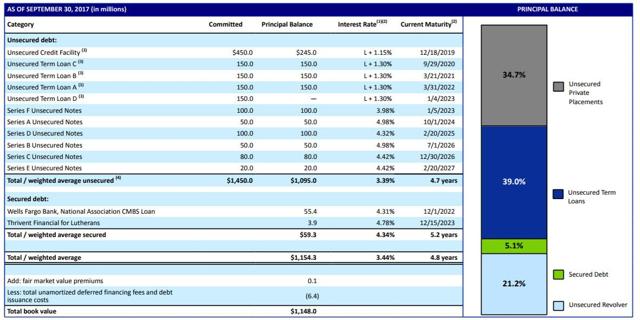 During the quarter STAG executed $150 million, 5.5-year term loan which was fully swapped out for an all-in fixed rate of 3.15%. The company also paid off three tranches of secured debt with a principal balance of $88 million and an interest rate of 6.1%.
Since year-end 2015, STAG has reduced its secured debt outstanding by 74%, reducing the overall cost of debt while also increasing the balance sheet flexibility. Secured debt now accounts for only 5% of the debt outstanding.

At quarter-end, STAG had approximately $1.2 billion of debt outstanding with a weighted average maturity of 4.8 years and a weighted average interest rate of 3.4%. STAG has no debt maturing until December of 2019.
STAG is Hitting All Cylinders
As noted above, the industrial sector is very healthy, both nationwide and in the markets in which STAG operates. During Q3-17, the company leased 2 million square feet and produced cash rent change and GAAP rent change of 10.5% and 18.7%, respectively.
These positive rent changes represent the largest quarterly rent increases in the company's history. STAG's tenant retention for the quarter was 71%, in line with historical averages (with the retention predicted to be in the 60% to 65% range for the year).

During Q3, STAG grew core FFO by 39% compared to Q3-16. On a diluted per share basis, core FFO was $0.43, an increase of 7.5% compared to $0.40 per share last year. The growth on per share metrics, coupled with growth in long-term cash flow, remains the primary focus for STAG and is a central consideration in the company's acquisition and operating decision-making.
On November 2nd STAG's Board of Directors approved a dividend increase to $1.42 per share annually. The company has increased the dividend every year that it's been a public company. As Ben Butcher, CEO of STAG, remarked,
This continued focus and demonstrated capital discipline combined with the abundance of accretive acquisition opportunities makes for very bright future for our company."
Now let's examine STAG's FFO/share growth forecast (powered by F.A.S.T. Graphs) compared to the Industrial REIT peers: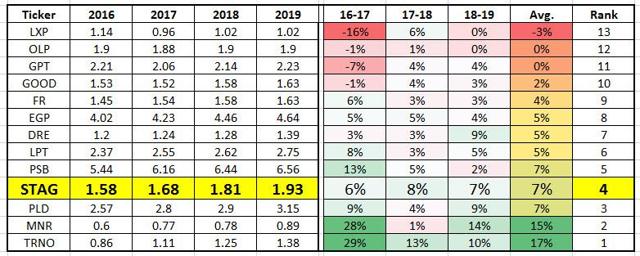 As you can see, STAG ranks #4 (out of 13) in terms of FFP/share growth.
Managing Risk Is What Separates The Best From The Rest
A few days ago I read an article by Beyond Saving,
When considering the relative strength of STAG, it is important to keep in perspective the performance of the industry."
I agree, let's examine STAG's dividend history:

Beyond Saving was referring to the fact that "STAG has reported declining SSNOI and declining SS occupancy." In Q3-17, STAG's same-store cash NOI decreased by 60 basis points over the prior year third quarter, which was driven by an average occupancy reduction of 60 basis points. Same-store cash NOI was down 30 basis points on a year-to-date basis.
However, STAG's year-to-date same-store pool represents less than 70% of the total portfolio. The 30% of STAG's operating portfolio excluded from the same-store pool is 96% occupied and has annual fixed rental bumps of approximately 2%.
I consider retention a key metric for STAG and the other Industrial peers. One analyst commented on the recent earnings call,
…you guys have about $3 million square feet expiring in the first quarter of 2018. It's pretty big chunk relative to most quarters. Do you guys have any visibility into those leases and are there any known move-outs that we should be aware of there?"
Benjamin Butcher, CEO of STAG, replied,
We look across 2018, we're pretty confident of our ability to maintain that 70% retention that we've had across most years. I don't think there's anything sticking out to us, really as an anomaly away from that so again, our expectations are around 70% for the year."
Another metric that I pay close attention to is the Payout Ratio. As illustrated above, STAG's dividend growth has been rather modest, but here's why…

STAG Is The Moneyball of Real Estate Investing
A few days ago PendragonY wrote,
STAG is performing nicely. Unfortunately, the market seems to have noticed this and pushed the price up quite a lot. While there are far worse problems to have, I'd like to see a bit of a dip so that the shares become a good value again."
At the time of that article, shares were trading at $29.00 per share. Here's the latest F.A.S.T. Graph: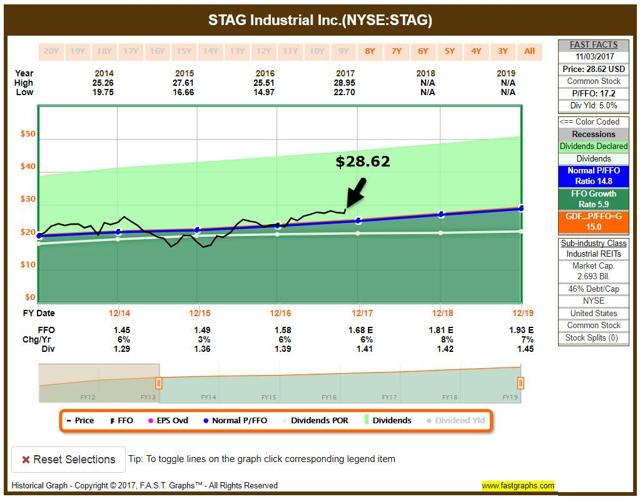 I agree with PendragonY, STAG has become a tad frothy.
The Bottom Line: STAG is trading at $28.62 per share with a dividend yield of 5.0%. While we are maintaining our Buy rating, we are recommending a pullback closer to $27.00 for new investors. We are impressed with management's performance and the margin of safety we are seeing with the payout ratio.
The pleasure of rooting for Goliath is that you can expect to win. The pleasure of rooting for David is that, while you don't know what to expect, you stand at least a chance of being inspired." - Michael Lewis

As any portfolio manager recognizes, the key to building a successful portfolio is to maintain adequate diversification across property types. REITs have consistently outperformed many more widely known investments. Over the past 15-year period, for example, REITs returned an average of 11% per year, better than all other asset classes.
By maintaining a tactical exposure in the brick-and-mortar asset class, investors should benefit from my REIT research. After all, I am the #1 ranked analyst (1+ million page views every 90 days) on Seeking Alpha with an exceptional 5+ year track REIT record.
Subscribe Today - For This Limited Offer
I will soon be launching a weekly podcast called "Show Me The Money," in which I will be providing sector updates and valuable REIT retirement investing strategies. I encourage all of my followers to post comments, as I try extremely hard to maintain an informative presence within the Seeking Alpha community.
Note: Brad Thomas is a Wall Street writer, and that means he is not always right with his predictions or recommendations. That also applies to his grammar. Please excuse any typos, and be assured that he will do his best to correct any errors if they are overlooked.
Finally, this article is free, and the sole purpose for writing it is to assist with research, while also providing a forum for second-level thinking. If you have not followed him, please take five seconds and click his name above (top of the page).
Sources: F.A.S.T. Graphs and STAG Investor Presentation.
Other REITs mentioned: PSB, FR, TRNO, DRE, GPT, EGP, LPT, MNR, OLP, LXP, GOOD, WPC, and PLD.
Disclosure: I am/we are long APTS, ARI, BRX, BXMT, CCI, CHCT, CIO, CLDT, CONE, CORR, CUBE, DLR, DOC, EPR, EXR, FPI, GMRE, GPT, HASI, HTA, IRM, JCAP, KIM, LADR, LAND, LMRK, LTC, MNR, NXRT, O, OHI, OUT, PEB, PEI, PK, QTS, RHP, ROIC, SKT, SPG, STAG, STOR, STWD, TCO, UBA, UNIT, VER, VTR, WPC.
I wrote this article myself, and it expresses my own opinions. I am not receiving compensation for it (other than from Seeking Alpha). I have no business relationship with any company whose stock is mentioned in this article.