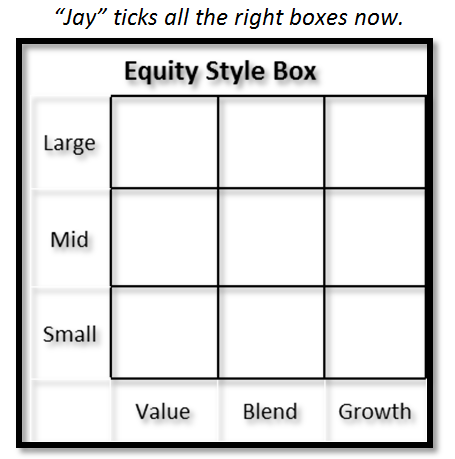 (Source: Headwater Investment Consulting)
Pressure for the Fed to do anything more than gradually normalize was already waning on Janet Yellen's watch. Further inertia to address the new challenges of the missing "mystery" has been increased by a change of leadership at the Fed.
The FOMC Hawks were keen to anticipate any negative impacts on the September Employment Situation report. Kansas City Fed President Esther George anticipating a weak number, repeated her view that tightening labor markets are nudging inflation in a direction that requires the FOMC to continue to "cautiously" raise interest rates. Post the Hurricane impacted weak employment number, she continued to advise against waiting for inflation to hit target before moving on interest rates again.
Showing that he was keen for the market to look beyond the hurricane impacts on the US economy, New York Fed President Bill Dudley swiftly framed the disappointing headline jobs data for September. Focusing on the tightening labor market fundamentals in the data, he guided that this makes the removal of monetary accommodation continue to be appropriate.
Dudley's lead was followed by Atlanta Fed President Raphael Bostic, who said that he is comfortable with another interest rate increase in December if the economic data trend continues as it has been doing so far. Noting that the markets have taken the normalization in their stride so far, he views this as a signal of fundamental underlying economic strength that will allow the FOMC to continue with its normalization process.
Dallas Fed President Robert Kaplan's baseline remained unaffected by the September employment report. Whilst remaining "open minded" about a rate hike in December, he also remains unconvinced that that it is necessary given that inflation is still low enough for the FOMC to drag its heels. Kaplan is also displaying the tendency to agonize over his indecision about whether low inflation is permanent or temporary in public, which does little to support his credibility however it does reinforce the message that the FOMC should be gradual.
Sitting on the sidelines of the rate setting FOMC this year, Boston Federal Reserve President Eric Rosengren continues to urge his colleagues to avoid letting their myopic focus, on the missing inflation, to become a more dangerous strategic blind spot. In his own eyes, inflation will be "much closer to 2 percent" in early 2018, once some technical factors in its calculation that have suppressed it drop out this year.
The "zeal" of the Hawks to move on from the hurricane impacted data and see through it in order to hike interest rates again in December is worrying St Louis Fed President James Bullard. The lack of sufficient clean Hurricane unaffected data between now and the December FOMC meeting has effectively stopped this meeting from being a live one in his opinion. He is now "getting more concerned that we might make a policy mistake."

(Source: Ben Bernanke)
Fed Governor Lael Brainard is also worried about the tightening "zeal" of her colleagues. To counter the zealots, she advocates that the inflation target should be viewed more symmetrically rather than as a ceiling. With this symmetrical view, and given that it has undershot for a long time an inflation overshoot should be tolerated for some time before it is addressed with tighter monetary policy.
Brainard's view resonated strongly with a concurrent argument that was being made by Ben Bernanke on his blog, in which he advocates the adoption of a temporary symmetrical price targeting strategy to overcompensate for the extended period when inflation has undershot its target. The beauty of this temporary target, is that it applies in the environment of the zero bound when there is no further means of easing monetary policy conventionally. Policy is therefore effectively eased by being overly tolerant of an inflationary combination of QE and a temporary target that remains unattainable in the short term. Bernanke also gives a big thumbs up to John Williams call for a new global 4% target for inflation that was covered in the last report. Imagine a combination of the two proponents, in which the new temporary target is 4%.... Bernanke has (even if only for a short period of time)! The net result is that, just like the low inflation problem, the easy money solutions have moved from temporary crisis responses to become normal central bank market operations. Crisis response has become normal behavior.
The agonizing Dallas Fed President Robert Kaplan has also been nudged by Williams and Bernanke into becoming a disciple of their views. He now advocates that the Fed adopt a formal policy process of renewing the inflation target periodically. Such a move would be an easy lead into the process of temporary inflation targeting and/or raising the target to a new higher global benchmark. Such a move could also be sold to the other FOMC members who remain data dependent, since it is in essence a process which is data dependent itself. They can argue with theory, but they can't argue as strongly against a data driven solution.
Swiftly using the latest Core CPI data to frame expectations of the December FOMC meeting, Chicago Fed President Charles Evans poured cold water on the "zealots". In his view, the numbers "didn't seem encouraging."
The pushback against the Hawkish zeal was curiously evident in the rhetoric of Cleveland Fed president Loretta Mester. Ostensibly, Mester is a Hawk. Although she does not vote this year, she will do so next year, so her current views provide a useful indication of how she will vote. In her latest comments, whilst admitting that she is in favor of a swifter pace of interest rate increases she admitted that she has no problem with the gradual pace of things. Mester has thus signaled that she will not be a dissenter if the FOMC drags its heels on interest rate increases next year.
The recent FOMC decision to do nothing, other than to signal that the December meeting is highly likely to see the next interest rate increase, was largely anticipated. It was also overshadowed by the theater of the next Fed Chairman final act episode of Apprentice.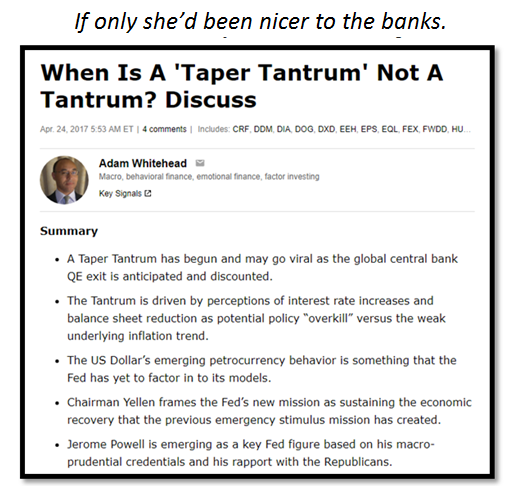 (Source: Seeking Alpha)
Jerome Powell's credentials to become the next Fed Chairman were noted back in the April report. The last report updated on his progress. Based on President Trump's (and/or rather Secretary Mnuchin's) priority, of an "easy regulation" guy over an "easy money" guy, Powell was a certainty since he is viewed as both in that order.
When Powell recently spoke before his Presidential selection therefore, significantly more attention and weighting were given to his words. His most recent speech in fact looked like a formal acceptance speech. He noted that the normalization in fact began in 2015 and thus far has been shrugged off by the markets despite sudden short-lived bursts of negative volatility. Looking forward, he sees greater risks for emerging markets where the Taper Tantrum has been shrugged off with increasing leverage and higher asset prices. He singled out China as a case in point. Despite these global risks however, he believes that: "the best thing the Federal Reserve can do -- not just for the United States, but for the global economy at large -- is to keep our house in order through the continued pursuit of our dual mandate." Evidently President Trump likes Powell's form, especially his bank friendly credentials, so much that his appointment whilst classic Trump Apprentice theater was a shoe -in.
For those expecting any significant changes to monetary policy, from the appointment of Powell as an alleged "easy money" guy, his commentary suggests that he will not deviate significantly from the path trodden by Janet Yellen. He swiftly embraced the dual mandate that has been criticized so vehemently in relation to Fed oversight and continued independence. As Chairman, he will demand the same degree of independence and flexibility to shoot from the hip that all previous Chairmen have abrogated to themselves. Powell's impact, if he becomes Fed Chair will be stronger in relation to regulation than to monetary policy therefore.
"Excellent" Fed Chairman Janet Yellen tried in vain to extricate herself, from the debate over the missing inflation and the new initiatives about inflation targeting, which she put her foot firmly into with previous comments referring to this as a "mystery". She grasped for the comfort of orthodoxy by pivoting towards the zealots, with her latest and final opinion that tight labor markets and economic growth will ultimately assert their influence upon inflation. Missing inflation is no longer a "mystery", now it is a "surprise" to her. She is however not convinced enough to offer anything more than a gradual response from the Fed to this return to normalcy. Yellen was also keen to defend her track record, either to boost her chances of being retained as Fed Chair or to burnish her legacy if she was not selected. To these ends, she recently opined that the recession would have been weaker and the recovery later and slower had the Fed not embraced the unconventional monetary policy that it is still only relinquishing with great ease. Ominously she also estimated that there is an "uncomfortably high" probability of a return to unconventional monetary policy, even though the normalization process is still in its infancy.
Yellen's candor was both enigmatic and refreshing if it was genuine. With central bankers however, there is always a sense that their candor is contrived with an ultimate agenda to deliver the policy outcome they have pre-committed to and/or to save face. Her most recent comments about a suspicion that inflation expectations are falling again, when combined with her warning that unconventional monetary is just around the corner, suggest that what is envisioned as a gradual normalization could potentially reverse into a monetary policy expansion at the first signs of economic weakness.
With Yellen out of the picture, analytical attention and effort is now being expended in trying to discern and then understand the impact of any change in the style of the Fed under her replacement Jerome "Jay" Powell. On monetary policy, his expressed views are similar to Yellen's so that one should not expect any major changes to what is expected to be the gradual approach to normalizing monetary policy. As a Fed Governor, he has been closer to the commercial banks than Yellen, who was viewed as being more intellectually disposed to the theorists and aloof from commercial bank practitioners. The style-drift of the Fed leadership is thus from academia to commercial banking practical expediency. Powell is therefore much more of a prisoner of the banks, so his behavioral style and policies will be more heavily influenced by the pecuniary interests of this community.
One interesting field of investigation, on what lies ahead for the Fed, is in relation to how it addresses the inflation "mystery" that both the departing Stanley Fischer and Yellen identified as a critical policy input. Thesis, antithesis and then synthesis into monetary policy action look set to occur through the subject matter of the Phillips Curve. New York Fed President Bill Dudley, recently set the stage colorfully for this new drama to be played out by the Fed, when he opined that the Phillips Curve is as "flat as Kansas". New thinking in the analyst community on this issue, suggests that there is a move within the Fed led by Patrick T. Harker and James Bullard to see what the Fed can do to address this issue through the statutory policy provisions of the Community Reinvestment Act. Jerome Powell has already signaled that community banking is an area of interest to him. In his view: "the Fed has a unique Community Development function that seeks to mobilize ideas, networks, and approaches that address a wide range of community and economic development challenges."
Could the Fed be embarking on a new phase, of social engineering through monetary policy, to address the inequalities that it has exacerbated through its attempts to address the fallout of the Credit Crunch? In practical economic terms, unlocking the earning potential of these forgotten economic communities, who have been left behind in the economic expansion, could be a valuable trigger for the missing inflation. Could President Trump be about to take credit for this new socio-economic experiment? Evidence is accumulating that does not contradict this new style-drift thesis in domestic-macro intelligence. The combined style-drift, of moving the goalposts on inflation targeting and the new excluded communities focus, have become elevated probabilities to be discounted by capital markets.
Just how far the style-drift goes, depends upon guiding hands of Chairman Powell. Initially, he will want to demonstrate that he has a safe pair of conservative Republican hands. It is therefore unlikely that he will do anything radical in his first few days and will rather focus on the gradual normalization hand that he has been dealt. As time elapses and if the missing inflation issue persists, then he may become more adventurous and listen to his more radical Democrat colleagues.
First and foremost, however, Powell will listen to the bankers. Banking reform will deal them a new hand to increase profits and risks, without paying the penalty in terms of higher capital costs. Pressure and influence on Powell, to increase the inflation target and take greater credit risk through exposure to those targeted by the Community Reinvestment Act, will only come after the bankers have wrung the last basis point of return on equity out of having their regulations repealed and watered down. Any style-drift by Chairman Powell is thus conditional upon a future slowdown in economic activity related bank profitability.
Disclosure: I/we have no positions in any stocks mentioned, and no plans to initiate any positions within the next 72 hours. I wrote this article myself, and it expresses my own opinions. I am not receiving compensation for it (other than from Seeking Alpha). I have no business relationship with any company whose stock is mentioned in this article.