Cobalt International Energy, Inc. (CIE) strongly implied that they are planning to file for Ch.11 bankruptcy in the near future unless they are able to sell assets immediately. There is an interest payment of $12.3 million due November 15 and I expect them to use the 30-day grace period to give them a few more weeks to try to pull a rabbit out of the hat of being able to sell assets quickly. They have hired the law firm Kirkland & Ellis and financial advisors Houlihan Lokey to advise them. The convertible notes and CIE stock plunged on the news, but the 1lien secured notes remained strong.
(In this article, I will cover just a few key issues because it would take a long novel to cover everything associated with the Cobalt soap opera.)
Bankruptcy Filing Expected In Mid-December
The latest 10-Q stated:
We have concluded that there is substantial doubt about our ability to continue as a going concern...alternatives may include asset sales or liquidity–enhancing transactions that we have commenced previously, as well as restructuring some or all of our debt to preserve cash flow which may include seeking private restructuring or reorganization under Chapter 11 of the U.S. Bankruptcy Code."
There is a covenant in the secured notes indentures that require them to have at least $200 million in cash (as defined in the indenture). While they do have, as of September 30, $547.3 million in total cash/cash equivalents (the total includes the $250 million that is part of current Angola arbitration), management is expecting Cobalt not to be compliant with this covenant in 1Q 2018. They would need a waiver, which 1liens may be very reluctant to give because I am of the opinion many secured noteholders are "loaning to own." (see below).
There is also the problem that they may be delisted from the NYSE. The delisting would be a "fundamental change" and under the terms of the convertible notes, they would be required to repurchase the notes at par (30-day grace period). This would cause a cross-default on other debt. Since the convertible noteholders could be negatively impacted by bankruptcy, I would expect they would grant a waiver.
Besides the $12.3 million interest due November 15, there is another $73 million interest payment due on December 1 on the other notes. At this point, before any of the covenant issues are breached and their 30-day grace period ends, I would expect the process would have started for a Ch.11 filing in mid-December.

Restructuring
Over the last year, Cobalt has restructured their balance sheet and raised additional cash. Last June, they also had a reverse 1-15 stock split. Cobalt had multiple exchange offers that were not open to most retail noteholders, by issuing $934.7 million 7.75% 2lien secured notes due 12/01/23 and 30 million ("old") common shares in exchange for $760.9 million 2.625% convertible notes due 12/01/19 and $513.1 million 3.125% notes due 5/15/24. Last December, they also raised cash by issuing $500 million 1lien 10.75% secured notes due 12/01/21.
Few interesting points about these transactions. First, a large amount of secured debt replaced unsecured debt, putting the remaining convertible noteholders in a weaker priority position in the event of a bankruptcy because now there is $934.7 million in claims ahead of them. Second, they reduced total debt by $339.3 million, which helped CIE shareholders by reducing the amount of total debt that has a higher priority than equity in bankruptcy. Third, some shorter maturity 2lien secured notes due 12/01/23 replaced convertible notes due 5/15/24. Usually, restructuring tries to lengthen maturity not shorten it.
CIE shareholders need to use the total amount of $2.841 billion principal debt (plus any unpaid interest) and not the debt carrying value reported on the balance sheet of $2.496 billion in determining how much debt has priority over equity for potential recovery in bankruptcy. Principal amount is used in determining the amount of a claim under Ch.11 bankruptcy and not the accounting carry value reported on balance sheets. This difference is over $344 million or about $11.60 per share.
It seems that some money managers want to "loan to own" Cobalt. The process was to exchange unsecured debt for secured debt. Put the company in Ch.11. Create a reorganization plan that gives the secured holders equity in the new company and use a backstopped rights offer to get an effective recovery greater than non-backstop participants. Not to seem cynical, but I think many secured debt holders do not want assets sales that pay off their notes. They would rather receive new equity and the possibility to get a recovery that is actually greater than their debt claim.
Angola
After pouring about $2.2 billion into Anglo, they tried to sell it to Sonangol, the Angolan state-controlled oil company, in August 2015 for $1.75 billion. Under the terms, Cobalt was paid $250 million after the sale document was signed. The sale agreement included a clause about terminating the sale if the Angolan government did not approve the sale within one year. The government did not give approval and now the entire matter is being litigated.
The parties agreed to use arbitration at the International Chamber of Commerce. This is not a very transparent process, unlike in the U.S. where documents and filings are often easily available. As with most litigation, the process takes a long time. Even if Cobalt were to win an award, there is the critical issue of actually getting paid. Frequently, judgements are awarded, but the real problem is collecting that award.
There was a very positive development earlier this year for actually getting paid an award. Angola, on June 4, 2017, became a party to the 1958 "New York Convention on the Recognition and Enforcement of Foreign Arbitral Awards." Many other countries have abided by this agreement for decades. This could be the real test to see if Angola is actually committed to the "New York Convention" if Cobalt gets an award. The New York Convention is absolutely critical to lower priority classes in Cobalt's bankruptcy, such as CIE shareholders, to get a recovery under a reorganization plan. Without Angola adopting the convention, I doubt Sonangol would ever pay an arbitration award. Cobalt is seeking a total of about $2 billion under two related arbitrations.
The Angolan assets already had an impairment charge of $1.692 billion because Cobalt was required to expense their investment and no longer allowed to capitalize expenditures due to their failure to meet the "sufficient progress" standard under Accounting Standards Codification 932.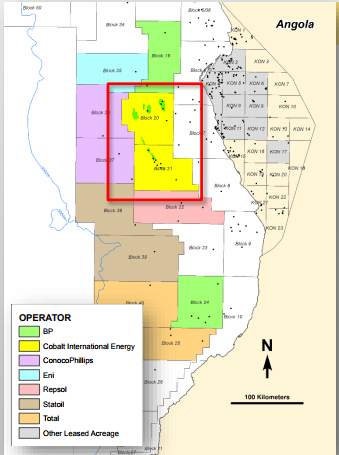 Source: September 2016 Investor Presentation
Sonangol most likely will file a claim with the U.S. bankruptcy court for the $250 million it paid when the sale contract was signed. (Assuming Cobalt files for Ch.11) This claim will most likely be highly contested by the other stakeholders. It will be interesting to see how the U.S. bankruptcy judge rules on the validity of the claim.
Sale of Entire Company and Individual Asset Sales
As CEO Tim Cutt stated in their recent conference call:
Cobalt continues to diligently pursue a sale of the entire company as one of our strategic alternatives. Although, we are not ruling out individual asset sales, selling the entire company is our primary focus as we believe it will maximize the value of our assets.
The process of selling any or all assets is taking more time than Cobalt has cash. I just do not see enough time to reach a definitive sale announcement before they need to decide on filing for Ch.11. At this point, valuations/selling prices for various assets are pure guesswork.
Projected Recoveries Under A Possible Re-Org. Plan
I expect 1liens to at least receive full recovery and could effectively get more than their claim via receiving new undervalued equity and backstopping a discounted rights offering used to raise cash for operations - not for paying down debt. 2liens could also get full recovery depending upon the terms of any rights offer that may dilute any new equity they might receive. Part of their recovery could include new debt on better terms.
Potential recovery for the convertible notes is all over the map. If assets are not sold at aggressive price levels or there is no award from the Angola arbitration, the convertible notes are not expected to get any meaningful recovery.
Shareholders will most likely get no recovery unless there is major award from Angola. There is just too much debt ahead of them in priority. They could, however, receive payment for "releases," especially if a restructuring support agreement is negotiated prior to a Ch.11 filing. (Releases in non-legal terms means - you pay me not to bring litigation against you.) Some CIE shareholders are excited about getting a release, especially after knowing that Perfumania Holdings, Inc. (PERF) paid shareholders $2.00 per share for their releases (docket 20) a few weeks ago, but that was a very unusual case.
Conclusion
Seeking Alpha readers who are institutional investors may want to consider buying the 1lien notes. Because trying to estimate the results from the Angola arbitration is just a "roll of the dice," I cannot give a recommendation on the convertible notes or CIE common shares; but at least since Angola is now part of the "New York Convention," there is greater possibility of actually getting paid if there is an award from arbitration.
I expect extreme volatility in the CIE common shares and convertible bonds as any information about the Angola arbitration is circulated (either fact or just talk). Be careful about determining what is fact and what is pure fiction.
Disclosure: I/we have no positions in any stocks mentioned, and no plans to initiate any positions within the next 72 hours.
I wrote this article myself, and it expresses my own opinions. I am not receiving compensation for it (other than from Seeking Alpha). I have no business relationship with any company whose stock is mentioned in this article.
Editor's Note: This article covers one or more stocks trading at less than $1 per share and/or with less than a $100 million market cap. Please be aware of the risks associated with these stocks.