What Is Worrisome About This Stock Market, And Where Readers Might Find Value
Nov. 06, 2017 4:10 AM ET
SPY, QQQ, DIA, IWM, SH, VOO, TZA, SDS, TNA, SSO, IVV, SPXU, TQQQ, UPRO, SPXL, RSP, SPXS, SQQQ, PSQ, CRF, QID, VFINX, UWM, QLD, DOG, DXD, UDOW, SDOW, SCHX, USA, TWM, URTY, ZTR, DDM, VV, RWM, EPS, SRTY, VTWO, QQQE, QQEW, FEX, ILCB, SPLX, EQL, SPSM, EEH, SPUU, QQXT, SFLA-OLD, IWL, SPXE, SPDN, SPXT, FWDD, SYE, UDPIX, OTPIX, JHML, PPLC, RYARX, SMLL, SPXV, HUSV, PPSC, SPXN, DUSA, USSD, ESGL, SCAP, USWD, CHGX, DMRL, GSEW, RYRSX, USMC, XLF, KRE, KBE, IYF, IBB, XBI, EEM, VWO, META, NFLX, GOOGL, GOOG, MSFT, AMZN, INTC, CSCO, GS, SCHW, JPM, CME, KO, WMT
22 Comments
Two items read this week were a little worrisome:
1.) Liz Ann Sonders, Schwab's great strategist, posted this to Twitter on Thursday: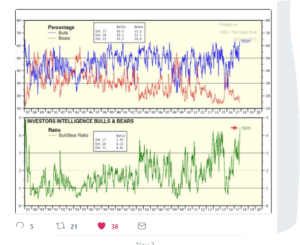 During most of this secular bull market, sentiment has been a mixed bag, with the AAII data being perennially bearish to the point where some wonder whether it is even worth measuring the data, while the "newletter" writer crowd and more institutionally minded have been pretty bullish.
2.)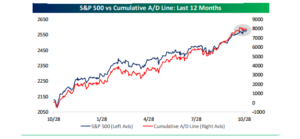 Bespoke's "stale breadth" post on the evening of November 2nd was somewhat surprising given that "good breadth" has been a hallmark of this rally all year.
3.) While ready to post this column, Horan Capital posted a piece by SeeitMarket, accompanied by a graph of breadth and momemtum: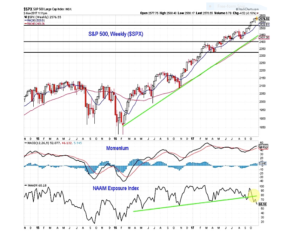 Consistent with the weakening breadth argument this past week was that while the Nasdaq Composite and the QQQ's were up over 1% on the week, the Russell 2000 as measured by the IWM was down 80 bps on the week.
If small-caps weaken or even stay flat, and large-cap Tech or the Big 10 of the S&P 500 continue their year-end rally, breadth will continue to flag, and the indices will continue to move higher.
Where Might Value be in Today's S&P 500 ?
1.) Technology and Financials were the bull market leaders of the 1980s and 1990s, and the two sectors that led to 50% corrections in the 2000s. Obviously, there are the secular growth stocks of this bull market that are Facebook (FB), Netflix (NFLX), and what I call the "tweener" Tech stocks that spanned a little of both decades, like Amazon (AMZN) and Google (GOOG, GOOGL), but look at some of what i refer to as the "original gangsters" or the 1990s growth stocks that are working off 17-year bases and could be poised for all-time highs. (Microsoft (MSFT) hit a new all-time high in late 2016 and hasn't looked back. It has been client's largest position, with a couple of exceptions, for the past 5 years). Oracle is another '90s growth leader trying to firmly break out to all-time highs, and readers still have time to get in on what I think will be much higher prices. Intel (INTC) and Cisco (CSCO) are two hardware giants trying to gain some traction. Intel looks technically better than Cisco, though. (Here was the October 2015 Seeking Alpha article where the "original gangsters" term was coined.) Long all stocks mentioned.
2.) Numerous Financial stocks are not too far from their all-time highs:
3.) Biotech is roughly 20% of the healthcare sector, and the sector is roughly 15% of the S&P 500 by market cap:
The iShares Nasdaq Biotechnology ETF (IBB): The large cap biotech ETF hit a high of $400 in late July '15 and has been building a nice base since then. Biotech seems to outperform when small-caps outperform, so if the IBB worries you, own a little SPDR Biotech ETF (XBI). The XBI hit a high of $91 and change in mid-2015, and is also working off the correction. It looks closer to a breakout than IBB.
4.) Don't forget Emerging Markets: The iShares MSCI Emerging Markets ETF (EEM) and the Vanguard FTSE Emerging Markets ETF (VWO) are the two longer-serving Emerging Market ETFs that are still more than 10% below their 2007 highs. Recently, the IEMG was bought for clients too. The weaker dollar no doubt helped the emerging market asset class this year, and so I'm waiting for a bought of dollar strength and the next global correction to add to the asset class.
Again, the EMs are still below their 2007 highs.
The struggle is what's the appropriate weight for EMs in client accounts: VanEck recently did a conference call and noted that EM economies are about 15% of global GDP, so a neutral-to-slightly overweight position relative to the global GDP market cap would seem prudent. Current weighting - depending on the account - is between 3% and 10%.
Conclusion
Other "gangsters" that look poised for a longer-term breakout are names like Coca-Cola (KO) and Wal-Mart (WMT), which needs to trade over the early 2015 high of $90 to break out to all-time highs once again. I just don't know if Wal-Mart can continue to push that rock up the hill known as Amazon. Wal-Mart spotted Amazon a 20-year headstart before getting serious about ecommerce. Remember, price tells you everything.
The risk advantage is that by buying long-term laggards on the verge of longer-term breakouts, there is less "hot money" in these stocks and more strong hands. And technicians will tell you, longer-term resistance for these stocks, once broken, should act as support, which could aid in risk management in a drawdown.
Clients are long all these stocks and ETFs mentioned.
The 2018 strategy will updated with forecasts sometime mid-to-late December '18.
What is written here for readers is simply what we have done and are doing for clients. (Opinions and positions can change at any time, without an update being provided.)
Another blog post was prepared for today, but the above charts and graphs caught my eye in terms of indicators flashing yellow.
Thanks for reading...
This article was written by
Brian Gilmartin, is a portfolio manager at Trinity Asset Management, a firm he founded in May, 1995, catering to individual investors and institutions that werent getting the attention and service deserved, from larger firms. Brian started in the business as a fixed-income / credit analyst, with a Chicago broker-dealer, and then worked at Stein Roe & Farnham in Chicago, from 1992 - 1995, before striking out on his own and managing equity and balanced accounts for clients. Brian has a BSBA (Finance) from Xavier University, Cincinnati, Ohio, (1982) and an MBA (Finance) from Loyola University, Chicago, January, 1985. The CFA was awarded in 1994. Brian has been fortunate enough to write for the TheStreet.com from 2000 to 2012, and then the WallStreet AllStars from August 2011, to Spring, 2012. Brian also wrote for Minyanville.com, and has been quoted in numerous publications including the Wall Street Journal.