The last crisis was undisputedly one of the largest in history. The S&P (NYSEARCA:SPY) and Dow (NYSEARCA:DIA) decreased well over by 50% from their peak in 2007, bottomed out one and a half years later, and returned to their lever only after 6 years, which is not actually that bad. There were instances where the market didn't surpass its previous highs for decades.
But how did the market fare for particular industries? For sure, there must have been some good apples among the bad ones. How did various fundamental metrics, such as P/E ratio, Price-to-Sales (P/S) ratio, and Price-to-Sales Growth (PSG) ratio, perform during the crisis? Were really expensive stocks - those with large metrics - the suckers? Or were they the ones that were cheap by their fundamentals and crises wiped them out? This is what I asked myself and tried to come up with answers.
I won't be trying to do Nostradamus type of things, I won't be giving any answers on where the markets might go, and even though this article will be pointed to the crisis, it's only because it's an interesting period. My two cents are that we are not going down yet. Not until the Fed, by some chance, gets an inexperienced new chairman who is known for simply echoing others' opinions without giving strong lead - Oops, this just happened! Never mind then.
For the returns themselves, I looked at the whole US market – all companies quoted in US. The period I looked at was between the peak on 12th October, 2007 and 6th March, 2009 - so the very peak and very bottom of the S&P 500. I filtered the stocks and got rid of micro-cap stocks with valuation less than $250 million at the peak of the market. This yielded roughly 2500 companies. Then I looked at what were their last recorded fundamentals as of 12th October, 2007 - namely, I looked at the P/E ratio, P/S ratio, and PSG. You might be familiar with PEG, which is Price-to-Earnings Growth, but this ratio is, in my opinion, especially now with a lot of low-CAPEX, high-growth companies, a very archaic way of looking at stocks. As an illustration, according to PEG, Amazon (NASDAQ:AMZN) would be a horrendous stock, but in fact, it's not that bad - I am not arguing about its fair value now. I assume at some point in the future when the sales grow a lot, the company will get its margins straight. Simply, sales are more stable than earnings. For the ratio, I take the price and divide it by 5-year growth in sales.
I did this for all the 2500 companies, then sorted the companies into their particular industries which I based on Morningstar industry codes, and also divided the companies based on which decile their fundamentals were in. For e.g., the 1st decile for P/E contains companies with the smallest P/E ratio and 10th decile contains the most expensive companies.
Let's begin with the P/E ratio.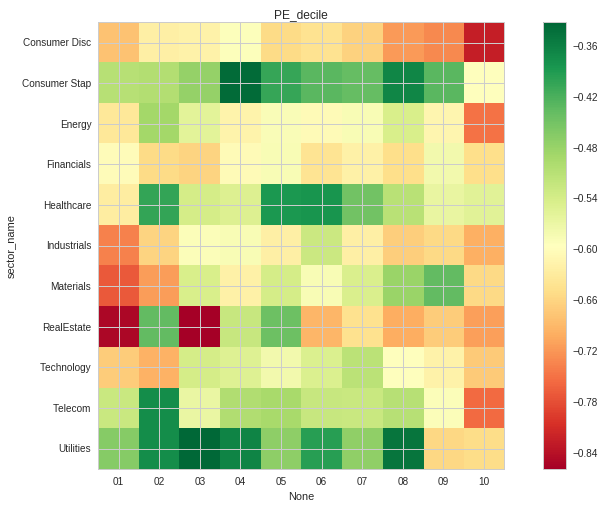 As you would think, the defensive stocks - utilities and staples - did pretty good. Don't get tricked, the green values are still around -40%. It seems like both extremes - 1st and 10th deciles - performed the worst for pretty much all the sectors. So the sweet spot is the middle. It's apparent, and will be even more further on, that real estate took the heaviest beating - a true epicentre of the crisis.
The P/S can tell also interesting story. It seems that P/E is somewhat good ratio, but it's so archaic. Thousands of academic research articles and quant funds tapped into it, although expensive stocks seem to underperform during the crisis.
The P/S ratio: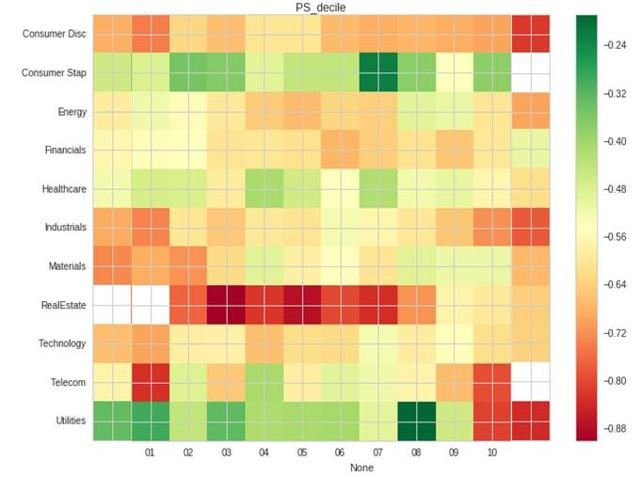 Apart from standard deciles just like I did for the P/E, because I already have the data for P/E, I combined P/E and P/S and created more strict portfolios. Simply the utmost left and right columns of both pictures contain companies for which P/E multiplied by P/S decile is either under 5 or over 90. This should filter out extremes in the fundamentals and hopefully reveal something interesting.
There is similar pattern as with the P/E - the outside deciles were hit the most. What's interesting is that low P/S and P/S*P/E decile for utilities showed that heavily overprices utilities don't fare well during crisis. Adding another constraint to the analysis helped only marginally with the most expensive stocks - their performance is really bad. P/S works quite decently for Industrials, Telecom, and Consumer Staples. It is not very informative for Energy nor Financials.
So far, both P/E and P/S showed that expensive stocks intuitively suffer during the crisis, but along with the cheapest, low-quality stocks.
PSG ratio - This ratio is the best predictor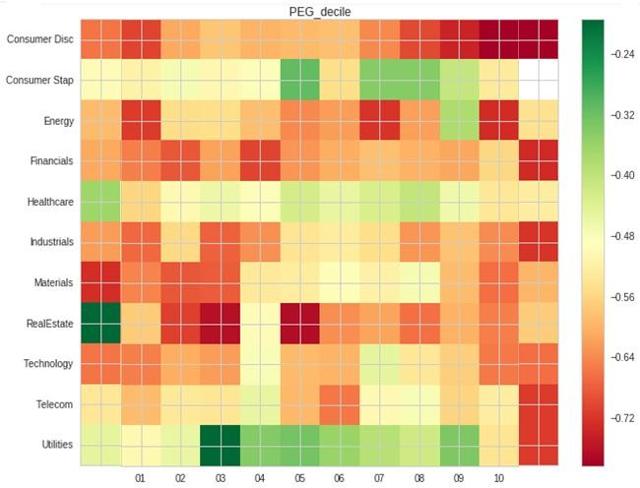 As last time, I didn't only look at PSG deciles, but added constraints, where the stocks are not only in the 1st and 10th PSG decile but also have P/E*P/S index lower than 25, or higher than 75. This creates "extreme" portfolios, where one is really cheap based on the metrics and one utterly expensive. The PSG in itself works for most stocks, and the "best" performers during the crisis were within the 3rd to 9th decile in most cases. This works really well for defensive sectors, where the performance of the companies was not that bad, meaning they lost only up to 30%. The extreme cheap portfolio (very left) managed to enhance the return compared to the 1st PSG decile but still looks pretty bad. On the other hand, the utmost right portfolio helped filter out really bad performers.
Overall, all three of the fundamental metrics are in some sense helpful in identifying overpriced companies, which intuition would suggest perform worse in the crisis than cheaper companies. The more metrics, the stronger is the selection of overpriced companies. Only one thing is the key to success, and also the hardest - identifying when the crisis comes.
Just out of curiosity, one of the most expensive Consumer discretionary companies was Vail Resorts (NYSE:MTN). Obviously, gambling lost appeal during the crisis. But the company recovered hugely.
If you are rather gloomy about the current markets and believe the apocalypse is coming any day, below is the current selection that would fit the above criteria for few sectors.
Consumer Discretionaries: IMAX Corp. (NYSE:IMAX), XO Group (NYSE:XOXO), MakeMyTrip (NASDAQ:MMYT). Financials: Interactive Brokers Group (IEX:IBKR). Industrials: HMS Holdings (NASDAQ:HMSY), Energy Recovery Inc. (NASDAQ:ERII). Tech: Callidus Software (NASDAQ:CALD), Guidewire Software (NYSE:GWRE), Cavium Networks (CAVM).
Disclosure: I/we have no positions in any stocks mentioned, and no plans to initiate any positions within the next 72 hours. I wrote this article myself, and it expresses my own opinions. I am not receiving compensation for it (other than from Seeking Alpha). I have no business relationship with any company whose stock is mentioned in this article.