We see you oil bulls. We see the giddy chat boards, the euphoric messages, the dismissive responses to anything oil negative. Be careful. Be careful oil bulls because you're about to get a whole lot dumber as oil prices rise.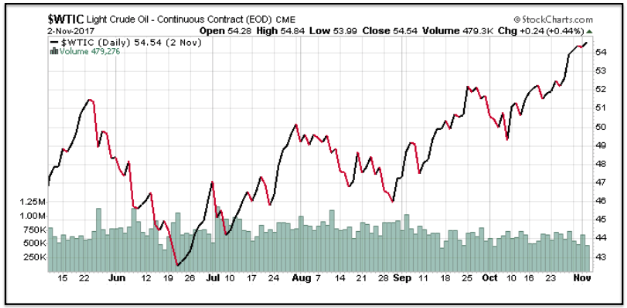 As the long awaited oil prices rise, it'll act as a salve to your beaten and battered portfolios, and that soothing feeling will inevitably bring about euphoria. You know euphoria, brought to you by endorphins, natures own opioid.
Nothing wrong with that though, because a healing portfolio will seem like the best thing, especially after months, if not years, of suffering. Yet, if you're not careful and you revel in that feeling too long, a trap awaits soon thereafter, and that is ... complacency.
The complacency that follows will blind oil investors. Data points and opinions that are contrary to your bullish thesis are now dismissed outright. Before when you were uncertain, you at least entertained the idea that you might ... just might ... be wrong. Armed now with higher stock and bond prices, oil bulls have seemingly begun to use that as an intellectual battering ram to beat down any contrarian opinion. Weak demand? Lack of inventory draws? What are you talking about? Just look at where prices have been going! Didn't you see the falling rig counts today??
Whoa oil bulls, hold on there. Be careful. Temper that complacency and dismissiveness, and stay vigilant. Oil rebalancing has been occurring, but it's by no means guaranteed. What's started as small inventory declines has now become a significant one, but there's still risks. A high stock market, an over-indebted global economy, and a complacent investor base could (will?) have consequences. Rising oil prices could incentivize material increases in production, or higher demand can turn out to be impermanent whether because commercial demand falls off and/or governments cease building their petroleum reserves. Lastly, what if oil prices rise so fast that it crashes the economy? What if oil spring boards from $60 to $80 to $90/barrel? Remember at close to 100M barrels of global demand per day, ever $10/barrel increase is a daily $1B transfer of wealth from consumer countries to producers.
Do we believe oil prices will continue rising? Sure we do. We've updated our thesis in these three Parts (Part 1, Part 2, and Part 3), and we think we're headed to Lollapalooza territory, but as we get there, we're still paying attention to the road. Our eyes are still looking out for dangers and pitfalls. As oil bulls we all want to get to the land of higher oil prices, but we may not get there if we're complacent. So in the meantime, enjoy the ride, but stay smart.
As always, we welcome your comments. If you would like to read more of our articles, please be sure to hit the "Follow" button above.
Relevance: USO, OIL, XLE, UCO, VDE, ERX, OIH, SCO, XOP, BNO, DBO, ERY, DIG, DTO, USL, DUG, BGR, IYE, IEO, FENY, DNO, PXE, FIF, OLO, PXJ, RYE, SZO, NDP, GUSH, DRIP, DDG, FXN, OLEM, CRAK
Disclosure: I/we have no positions in any stocks mentioned, and no plans to initiate any positions within the next 72 hours.
I wrote this article myself, and it expresses my own opinions. I am not receiving compensation for it (other than from Seeking Alpha). I have no business relationship with any company whose stock is mentioned in this article.