If you've been keeping up with this little series of articles - and if you haven't, you should catch up! (part 1 and part 2 here) - then you might feeling a bit conflicted about dollar-cost averaging. So far, we've seen how dollar-cost-averaging ("DCA") can beat out trying to buy low for long-term investors. Then we've seen how buying low could beat out DCA over the long term, provided one is willing to wait long enough for bargains to show up. With only a couple exceptions, though, an assortment of mechanical timing strategies either don't pay off enough, or require superhuman amounts of patience to execute, or don't offer enough downside risk protection.
But if you've gotten this far, then you're probably wondering about those investors who might want to sell a share or two instead of doing nothing but buying-and-holding. The most common argument for selling shares these days is to take some risk off the table, given historically high valuations. The idea of selling at when the market is expensive does make sense: intermediate- to long-term returns tend to be higher when price-to-earnings ratios are lower, for example. Another reason for selling might be to gather dry powder to deploy again when prices were more favorable, thereby juicing your returns. In theory, if you could reliably buy low and sell high to avoid periods of lower returns, you could outperform on a risk-adjusted basis a similar investor who only bought and never sold. But does this work in practice?
Experimental Setup:
As before, I imagined several hypothetical investors, each using a different strategy to time purchases of the S&P 500 index (SPY). Unlike prior experiments, though, these investors also use their strategy to time sales as well. So, for example, if an investor were to time purchases by assessing valuations based upon a trailing price-to-earnings ratio, then they would time their sales using the same metric. As before, these investors start off in 1994 by contributing about $2,000 per month to their brokerage account, adjusting upwards for inflation. They show high conviction in their purchasing habits; if the market isn't flashing a "buy" signal based on their chosen criteria, they'll hold onto the cash, and deploy 100% of it at the first opportunity. Dividend income is reinvested if purchase criteria are met, and held in reserve if they aren't.
Conversely, if by their metrics the market is looking expensive, the investors will look to harvest gains once a month by selling a certain percentage of their shares. They pay capital gains on their sales, using historical capital gains rates. To determine the impact of taxes, I subtracted the total taxes paid from the final portfolio value to calculate total return, assuming each investor would pay yearly capital gains from some other non-brokerage account; investors got to "keep" all proceeds of sales for use in later purchases. Cost bases were predicated on a "first-in, first-out" accounting method. I also assumed that our investors would automatically fall into the highest tax bracket for every year (they are, after all, investing thousands of dollars a month without fail); short- and long-term capital gains were treated accordingly.
Our investors for this experiment are:
Donna, who likes to dollar-cost-average, but will sell her shares if the trailing price-to-earnings ratio is well above the trailing 10-year median;
Earnest, who purchases only if the earnings yield of the S&P 500 is significantly greater than the sum of the ten-year treasury yield and the inflation rate, and sells if it is significantly less;
Penny, who purchases if the S&P's trailing PE ratio is significantly lower than the trailing 10-year median, and sells if it is well above;
Louis, who only buys when the S&P is trading at within 5% of 5-year lows, and sells only when the S&P is trading within 1% of 5-year highs;
Vickie, who follows the VIX and only purchases shares when she thinks investors are being fearful (VIX near statistical highs) and sells when she thinks they are more complacent (VIX near statistical lows); and
Connor, who believes there's merit to all these strategies, uses a composite score based upon each of the other investors' strategies to time his purchases and sales.
With these investors all at the starting line, I simulated a variety of scenarios, with various percentages of positions being sold (from 0% of the total position-basically, "buy-and-hold"-all the way up to 50%).
Results:
How do our different investors fare in these scenarios? To start, here is how our investors do when they buy-and-hold (our "null hypothesis"). Over the course of about 20 years, our investors place about $790,000 into their brokerage accounts. Assuming they never sell a single share, here's what they might expect to find in their accounts last week: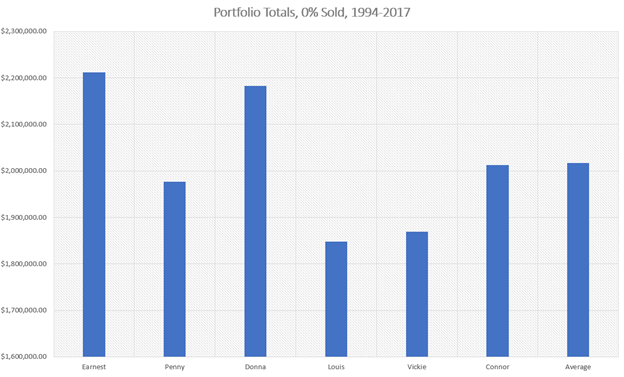 (S&P Historical Price Data from WSJ.com. Earnings history, inflation rates, and treasury rates from multipl.com. VIX pricing data from CBOE.)
These results look fairly like those generated by our previous experiment, much as expected. (Any differences seen from the last article are probably the result of paying short-term capital gains on dividend income as well as the effect of dividend reinvestment.) Next, let's determine in advance whether selling shares is even a profitable endeavor at all. If we took each potential buy and sell instance over the observed time (23 total years) and compared the market's average subsequent performance from each point, we get the following: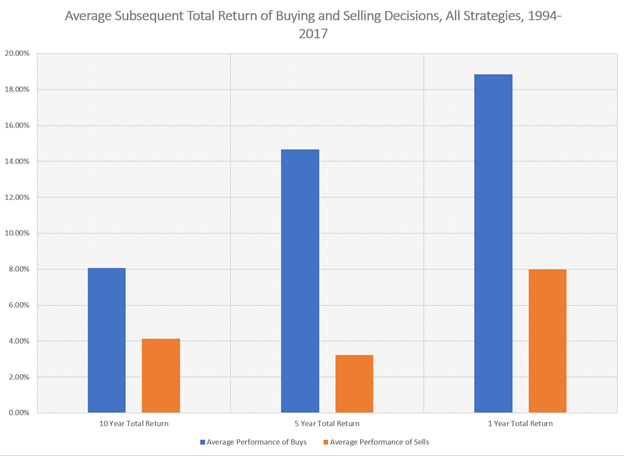 For the most part, investors' strategies appear to generate decisions that lead to outperformance over time. Penny, for example, appears to confirm the wisdom of Mr. Shiller, as her strategy would lead to decisions that would generate a 9.52% TR 10-year CAGR on shares purchased, on average, versus an only 2.97% TR CAGR on shares sold. That's a solid performance premium. Her 1-year outperformance was even better, generating an average 22.9% TR CAGR for purchases versus only 11.3% for sales.
| | | | | | | |
| --- | --- | --- | --- | --- | --- | --- |
| | Earnest | Penny | Donna | Louis | Vickie | Connor |
| Average Purchase 10-Year TR | 9.99% | 9.52% | 7.18% | 11.56% | 2.99% | 7.24% |
| Average Sale 10-Year TR | 3.07% | 2.97% | 2.97% | 6.44% | 6.79% | 2.48% |
| Average Purchase 5-Year TR | 14.31% | 16.44% | 10.97% | 25.81% | 6.68% | 13.88% |
| Average Sale 5-Year TR | 2.61% | 3.24% | 3.24% | 2.20% | 1.94% | 6.07% |
| Average Purchase 1-Year TR | 16.29% | 22.93% | 15.54% | 27.14% | 14.73% | 16.48% |
| Average Sale 1-Year TR | 7.44% | 11.29% | 11.29% | 16.76% | 13.91% | -12.67% |
Connor's strategy looks even more impressive in some respects-if one uses a composite score as he does then one theoretically avoids an average 12.7% loss over the next year by selling at the appropriate time, versus an average 16.5% 1-year gain for purchases. Focusing on the difference in performance between buying and selling for each strategy gives a sense of how we might expect each strategy to perform in our scenarios: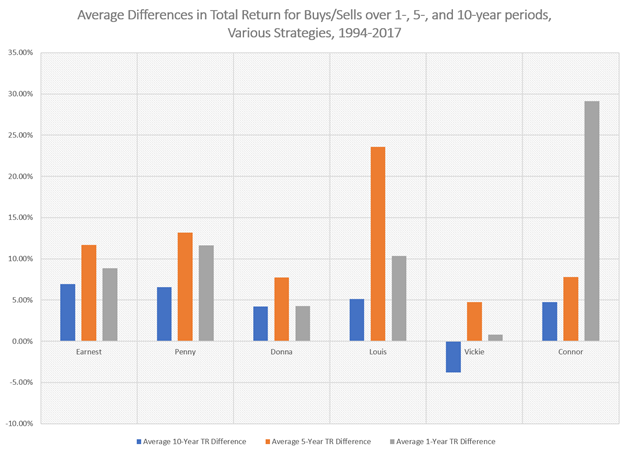 Remember, these numbers represent the average of all possible daily decisions generated by each strategy over the period observed. Thus, we might expect, on average, Vickie to underperform relative to her peers, and Earnest, Louis, and Donna to really take the lead. Their performance looks even better when one considers that the median yearly total return of the S&P 500 over this time frame was a robust 8.2%; most strategies outperformed this handily. Theoretically, at least, it appears to be the case that most strategies lead to generally good decisions, in the aggregate: buying generally leads to outperformance, and selling generally helps avoid underperformance.
A strategy to engage in tactical sales seems like it should work. Let's pretend our investors harvest 15% of their portfolio once a month if the conditions look right based upon their metric of choice. How do they do over this time?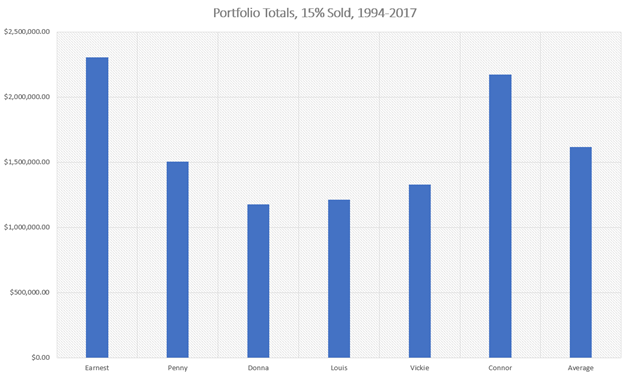 Surprisingly, our investors tended to do a lot worse! In fact, as it turns out, a view of average performance with progressively higher degree of sales shows a distinct and disturbing trend: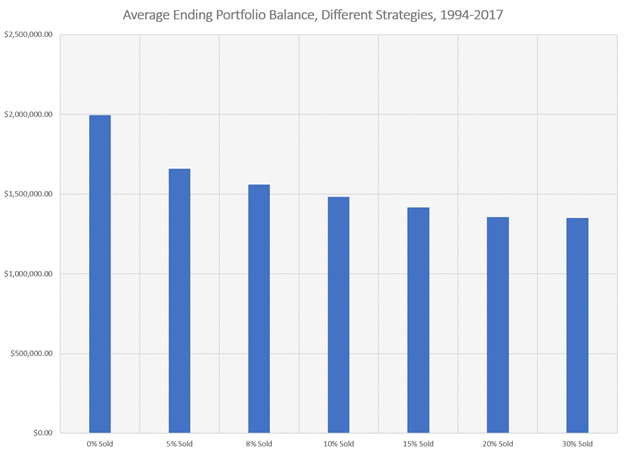 This was not an expected result. I'll point out this was an average of all strategies and that there were indeed a couple strategies that outperformed relative to the null hypothesis, which we'll get to later. Nevertheless, the trend is a bit disheartening: it appears that, in general, buying and selling does not outperform buying and holding over the long run.
What explains this? Is it taxes? The answer here is a qualified, partial "yes." If we compare the performance of each investor without the headwind of taxes, we find that some of them come close to getting back to baseline. Others don't.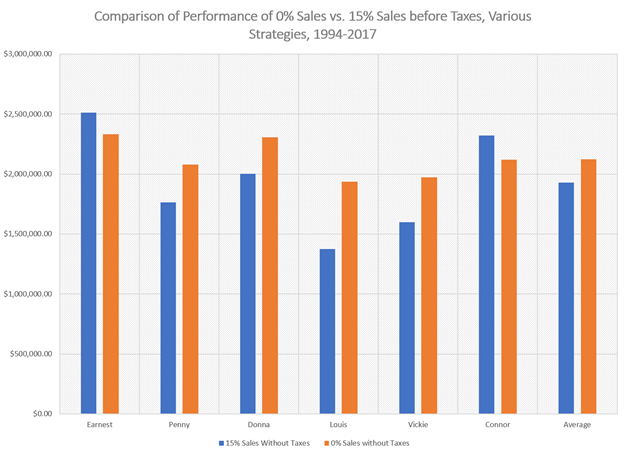 So while taxes play a significant role, most buy-and-sell strategies come far short of their buy-and-hold counterparts, even when taxes aren't considered. Taxes are certainly a large part of the equation, but on their own they can't explain the difference we see in these strategies. If not solely the effect of taxes, then, we are left with the likelihood that it is the act of selling itself that leads to our investors' general underperformance. In terms of total return, time in the market has once again defeated timing the market, regardless of the seemingly sound basis for profit-taking.
These are, of course, total returns, without accounting for downside risk. If selling shares doesn't lead to outright outperformance compared to buying and holding, then does it at least reduce downward volatility? And does harvesting gains to build a cash reserve significantly buffer against additional downside risk? To figure this out, let's start with the average downside risk associated with each strategy at a 0% sell rate and the average effect on a portfolio in the event of a 30% downturn: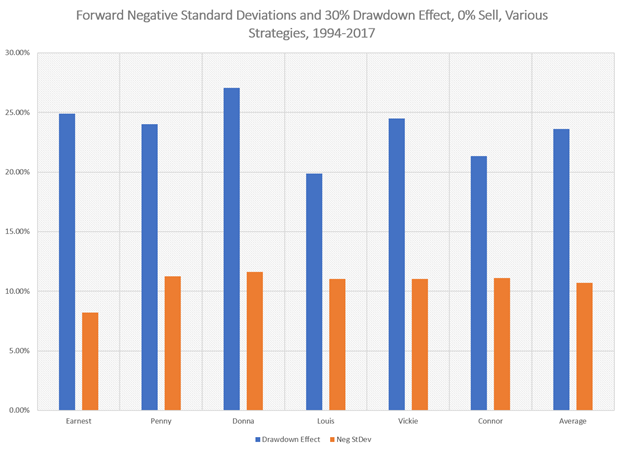 With the buy and hold strategy, every portfolio is subject to a similar degree of downside volatility, and nearly full exposure to a significantly negative market event. This is particularly true for Donna, who captures the highest rates of negative volatility and downside exposure for the group, which underscores the point made previously that dollar-cost-averaging for the long term requires a strong stomach and a willingness to tolerate the inevitable bear market. What protection does tactical selling provide?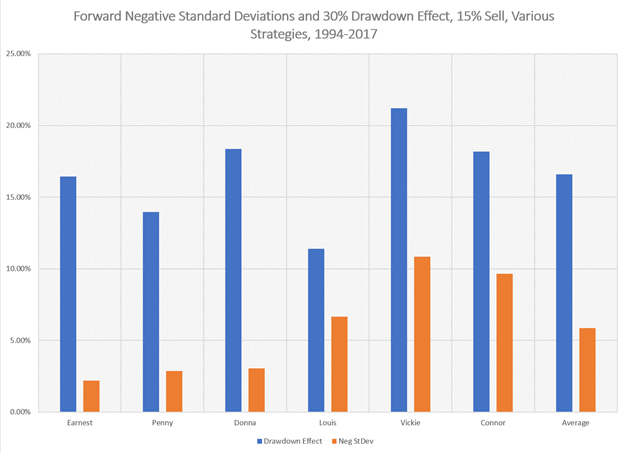 At a 15% sell rate, our investors are-on average-able to cut their negative volatility and downside exposure nearly in half. Earnest sees his negative volatility cut by a whopping 600 basis points, and he cuts 800 basis points off his downside exposure. This holds true for virtually all the other investors, except for poor Vickie, who gives up about $540,000 in total returns to generate a total of 350 basis points of protection per year. Peggy, Donna, and Louis also pay a premium for protection (around $500 per basis point), though their costs aren't nearly so high. Only Earnest and Connor see an advantage from selling tactically, as they increase their total returns while adding protection. Connor manages to increase his total return, in fact, by a solid $160,000. (Getting paid for being protected sounds like a pretty good deal.)
In fact, Connor's strategy ends up being somewhat interesting: while all the other investors, including Earnest, see a point of diminishing returns with increasingly high percentages of sales (Earnest's inflection point is around 30%), Connor's total return manages to go higher and higher with higher degrees of selling. If Connor chooses to show even more conviction in his timing by selling half, three-quarters, or even 100% of his position at a time, his total returns only go up, while his downside risks continue to diminish.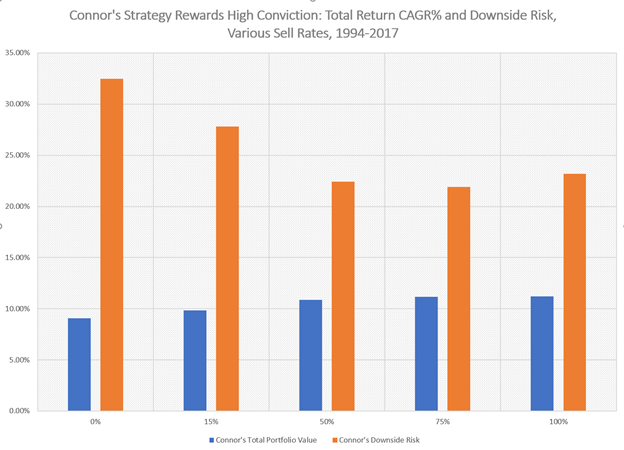 Connor remains the exception, though. For the others, even Earnest, it seems true that beyond a certain point, selling shares-no matter how sound the reasoning-imposes a cost. Safety, it seems, is not without its own risks.
Caveats and Conclusion:
As before, there are certain caveats that apply to this analysis.
The first is that there are probably any number of methods to time the market that might outperform that were not included here. The reader could easily suggest that by limiting the analysis to only the methods shown here, I missed out on a whole universe of methods that reliably outperform when used to time stock sales. This is certainly a possibility. That said, the fact that the methods discussed here produced-in general-decisions that led to improved performance, at least in aggregate, suggests that outperforming (even significantly) is not by itself sufficient to overcome the headwind produced by selling. Sales are pernicious for two reasons: capital gains taxes, and time out of the market (which reduces exposure to the generally upward nature of stocks and access to dividend income). For any formulaic methodology to reliably outperform, it must reliably produce signals to sell when the risk of significant loss is considerably higher than the combination of taxes and the loss of capital appreciation and dividend income. The analysis indicates that this is a high bar to clear.
Another caveat: the analysis used a somewhat binary approach to buying and selling, as the investors here used up all available funds as soon as their metric of choice gave a "buy" signal. In a similar fashion, their percentage of their total position sold was also held constant through each scenario. It's possible-in fact, it's probable-that had they calibrated the size of purchases and sales to the strength of the signal received that their performance might have improved. However, it does not immediately follow that this improvement in performance would have been enough to overcome the significant headwind generated through successive taxation and loss of market exposure. What concerns us here is not the comparison of performances between methods, but rather the comparison of performances of any method with progressively higher degrees of sales. In most instances, selling any amount reduced total returns.
I was once again surprised by the results of this experiment. It seems intuitive that selling when stocks look expensive and buying when they look cheap would lead to improved performance. And, in fact, there is some evidence to suggest that these metrics-price-to-earnings ratios, 5-year peaks and troughs, and earnings yield-all can help investors arrive at reasonable decisions to buy or sell, at least in the aggregate. But with very few exceptions it appears that what you are getting when you sell is decidedly not outperformance relative to the market in general, or even outperformance relative to a buy-and-hold baseline. What you get with selling is downside protection and safety-and there is a definite price for that.
Whether or not you choose to pay for such peace of mind is strictly up to you, of course. There are, naturally, some investors for whom the premium to be paid for safety is worth it, and there are other investors for whom such a premium is like buying an extended warranty on a television: something that sounds nice in theory, but not so useful in practice.
Finally, while evaluating these methods for generating buy and sell signals, there were a couple of outliers that outperformed consistently throughout each of these analyses. Relying on buy/sell signals generated by the earnings yield/10-year yield + inflation rate generated both improved total returns and risk-adjusted total returns over most time intervals, including both short- and long-term periods. A composite score that took other valuation tools into account but relied primarily on the EY/10Y-INF spread also generated a highly useful signal that-at least in this retrospective analysis-rewarded a high degree of conviction. The source of this outperformance is probably worth exploring further.
To close this series of articles, I'm left with the following actionable conclusions:
For most investors with long time horizons and high tolerance for risk, buying the S&P 500 on a regular interval and never selling shares will generate highly acceptable returns over time that beat most market-timing strategies.
For investors with both long time horizons and high degrees of patience, waiting to purchase at market multi-year lows will generate improved risk-adjusted returns, but only if the interval lows are low enough.
For investors with less tolerance for risk, tactical selling using a variety of market-valuation instruments may lead to downside protection, but at a distinct cost to total return.
For investors who wish to maximize risk adjusted and total returns over most time periods, a focus on the spread between the earnings-yield and 10-year Treasury yield may generate the most useful signal for timing purchases and sales. A composite score with this spread as its core may further enhance total returns and total risk-adjusted returns.
Disclosure: I am/we are long SPY.
I wrote this article myself, and it expresses my own opinions. I am not receiving compensation for it (other than from Seeking Alpha). I have no business relationship with any company whose stock is mentioned in this article.