This Baby Has Been Thrown Out With The Bathwater
Summary
REIT macro trends have thrown the baby out with the bathwater.
Tanger isn't a typical mall REIT with big box anchors and risks.
If Tanger can return to historical P/AFFO by the end of 2019 we're looking at 40% annualized gains.
Macro trends, like how Amazon (AMZN) is eating retail, really seem to throw people. But, trends don't tell the whole story. You must look at businesses one by one, in any market. Very often, there are businesses that aren't impacted by trends. For example, Tanger Factory Outlet (NYSE:SKT) is doing just fine.
We'll get to SKT specifically in a just a moment. First, we need to look at dividends, prices, and trades. Then, we'll fold in how trends and macro thinking can poorly impact investors.
I want to be clear about something. I care about both dividends and total returns. I will often look at dividends as one indication of success but it's not everything. I do care about capital gains, even though I rarely sell and don't trade much. All that said, I think it's a bit crazy to look at "draw downs" and top-to-bottom numbers to determine risk.
I definitely care about dividend consistency, dividend growth and dividend payout ratios. But again, that's not the entire story. I want to buy when the price is right. I almost always avoid paying when I see a stock at a 52-week high. And, quite frankly, as a net buyer of stocks, I cheer when prices fall.
This will likely get me into a lot of trouble, but I pretty much ignore macro factors. For example, I think there's a lot of money to be made in market sectors that are threatened (e.g., oil and gas in light of solar and wind), and market sectors that people "hate" (e.g., sin stocks like guns, tobacco, alcohol). And, I mostly don't care to use politics as a ladder, or as a slide.
All of this matters when we look at retail-exposed REITs. Recently, CBL & Associates (CBL) took a massive beating. They cut the dividend, management ain't so great, and they cut their full year guidance. The news is bad. So, the price fell and who really knows what happens next. But, I can tell you this very clearly:
I was never interested in CBL
I am not interested now
I will probably

never be interested
That's past, present and future. Yet, I bring up CBL because is facing serious headwinds as a retail REIT. More importantly, I am not interested in mall REITs. I think brick and mortar is fine, but I don't like malls, especially if they are "big box" oriented. In any event, this is a case where CBL never even shows up on my radar. Perhaps that's macro but I don't see it that way. CBL was too risky for me to start and I generally don't like mall REITs that are big box, and that's that.
However, I try not to throw the baby out with the bathwater. I still like REITs. And, I like retail REITs. I just don't like mall retail REITs. I like to pick and choose areas where I can have a better advantage.
For example, I like to go with REITs that have been strong for a long while. In fact, just to be 100% clear about this, I did a head to head of Tanger Factory Outlet to Simon Property Group (SPG).
The result? SKT wins because it has been paying dividends for more than 20 years now. And, those dividends have been growing and growing.
Source: F.A.S.T. Graphs
The most impressive part to me is that Tanger increased dividends through the Great Recession. The dividend payout ratio is under control. Total annualized rate of return crushes the S&P 500 during this time.
So, in a quick bake off, would I choose CBL or SKT? The answer is pretty obvious. I wouldn't buy CBL in the first place, but even if I considered it, why put money in CBL when I can put it into SKT?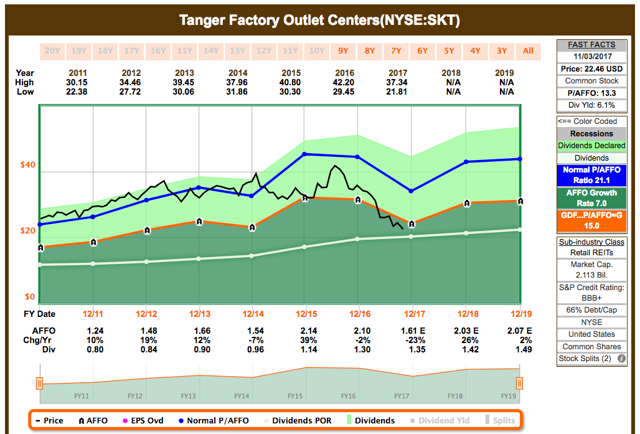 Source: F.A.S.T. Graphs
CBL is bleeding whereas SKT is taking a "hit" due to being a retail REIT. But, not all retail REITs are created equal. SKT's business model is based on outlets. Indeed, they are far, far different. SKT's occupancy has been outstanding for years and they are designed as destinations. SKT's also done a great job building digital tools for shoppers, while keeping locations very fresh and clean.
I think a lot of people missed all the good news about the outlet malls. In fact, the Wall Street Journal said this back in March:
Internet shopping is reshaping the retail landscape and slamming mall operators. But one corner of the industry is thriving: outlet centers.

Buoyed by shoppers looking for discounted goods and bustling demand for space, owners of outlet centers are posting strong results in an otherwise bleak retail environment.
See, this brings me back full circle. The problem with "macro" is that SKT looks like a mall REIT on the surface and it gets thrown out. But, it's a different animal. It's not a regular "mall REIT" and it's done quite well following a simple business model and script. Macro analysis throws it away. What a shame.
I'll close this out by saying that the normal P/AFFO for SKT is above 21. But, right now, it trades at just over 13 P/AFFO. From this point, if it can return to its average P/AFFO of 21 then we're looking at total annualized rate of return above 40%. I don't know if that can happen, but I'm willing to take the small risk that it can close some of the gap, and land around 16-18 P/AFFO and that easily gives investors double-digit returns.
While it's accurate to say that buying SKT at a 52-week high would be foolish, my cost basis is way down near the 52-week low. It might take me a year to recovery my loss but that also assumes that "Retail REIT Apocalypse" continues to hold down SKT. I just don't see it. SKT is doing fine. I'm buying.
The deeper points are the following:
Not all retail REITs are the same. Not all "mall REITs" are actually mall REITs because outlets don't follow the same business model. Furthermore, SKT doesn't have the same exposure to Amazon-crushed retailers as most mall REITs. In short, they are different animals, with different risks.
It's a poor strawman to talk about "recovering losses" from 52-week high price points, unless you personally have bought at peak prices. Instead, it's far superior to look at your own situation and average cost per share. It's only then that you can look at how long it'll take for dividends to smooth over the rough edges.
Macro analysis can give us some useful hints. However, to be blunt, I'll take fundamental value-oriented analysis any day because I believe it's a market of stocks not a stock market, or even a "sector" market. SKT is an excellent example of how a label and a poor macro vibe can throw the baby out with the bathwater.
Although I care about dividends, and dividend growth, I do pay attention to price and value. That means that if a stock is overvalued I will sell. I'll capture those capital gains and I'll redeploy the cash. I don't do that often, but I'm not blind to gains and I don't ignore overvaluation. Further, I relish undervaluation as an opportunity not as a weakness or risk. I'm going to dig deeper when the price falls but if the cash flows are there and leadership is strong, I'll be more inclined to buy, not sell.
Ultimately, even if SKT doesn't get back to its historical P/AFFO we're still looking at incredible potential here and a very juice dividend right now. It only has to improve slightly for investors to create double-digit gains.
In fact, SKT doesn't need to do much at all. There's not a requirement for any type of revolution. Instead, investor psychology just needs to change a slight amount and we'll be doing just fine. The business is strong, the dividend is strong, the management is strong. Again, I've been buying and I might be buying even more.
This article was written by
I am an investor, entrepreneur, father, husband, coach and teacher.
Analyst's Disclosure: I am/we are long SKT. I wrote this article myself, and it expresses my own opinions. I am not receiving compensation for it (other than from Seeking Alpha). I have no business relationship with any company whose stock is mentioned in this article.
Seeking Alpha's Disclosure: Past performance is no guarantee of future results. No recommendation or advice is being given as to whether any investment is suitable for a particular investor. Any views or opinions expressed above may not reflect those of Seeking Alpha as a whole. Seeking Alpha is not a licensed securities dealer, broker or US investment adviser or investment bank. Our analysts are third party authors that include both professional investors and individual investors who may not be licensed or certified by any institute or regulatory body.