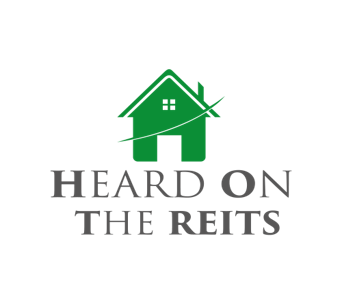 Earnings were generally positive even if some results fell short of analyst expectations. We were particularly impressed with how apartment REITs continue to perform well, and likewise for the data center and infrastructure REITs. Retail REIT stocks were punished somewhat this week after CBL reported worse than expected results even though – as we point out – some retail REITs had improving results compared to last year.
We've listed below a few earnings highlights for review.
Select Earnings Highlights
Please note these are highlights and have not been further analyzed beyond announced figures.
Dividends this Week and Next.
Heard on the REITs: Profitable, customizable REIT strategies from expert portfolio strategist Arturo Neto
Heard on the REITs is focused on more than single REIT stock ideas. It's highly valuable, in-depth, institutional-quality research designed to save you time while helping you become a better-informed REIT investor. What's more, you get personalized portfolio asset allocation guidance and actionable REIT investing strategies. At Heard on the REITs, I share my best ideas in a concentrated portfolio while implementing smart strategies to minimize downside risk. As a Heard on the REITs subscriber, you'll invest alongside one of the most read REIT authors on Seeking Alpha. Join our community today!
Sample Premium Research Report
Disclaimer: Please note, this article is meant to identify an idea for further research and analysis and should not be taken as a recommendation to invest. It is intended only to provide information to interested parties. Readers should carefully consider their own investment objectives, risk tolerance, time horizon, tax situation, liquidity needs, and concentration levels, or contact their advisor to determine if any ideas presented here are appropriate for their unique circumstances.
Past performance is not an indicator of future performance.
Investing in any security has risks and readers should ensure they understand these risks before investing.
Real Estate Investment Trusts are subject to decreases in value, adverse economic conditions, overbuilding, competition, fluctuations in rental income, and fluctuations in property taxes and operating expenses.
This post is illustrative and educational and is not a specific offer of products or services.
Information on this blog is not an offer to buy or sell, or a solicitation of any offer to buy or sell the securities mentioned herein, nor is the author compensated by any of the products mentioned.
Information presented is believed to be factual and up-to-date, but we do not guarantee its accuracy and it should not be regarded as a complete analysis of the topics or subjects discussed.
Information presented is not believed to be exhaustive nor are all the risks associated with the topic of each article explicitly mentioned. Readers are cautioned to perform their own analysis or seek the advice of their financial advisor before making any investment decisions based on this information.
Investment decisions should be based on an individual's own goals, time horizon, and tolerance for risk. Nothing in this content should be considered to be legal or tax advice and you are encouraged to consult your own lawyer, accountant, or other advisor before making any financial decision.
All expressions of opinion reflect the judgment of the author, which does not assume any duty to update any of the information
Any positive comments made by others should not be construed as an endorsement of the author's abilities to act as an investment advisor.
Disclosure: I am/we are long BXP. I wrote this article myself, and it expresses my own opinions. I am not receiving compensation for it (other than from Seeking Alpha). I have no business relationship with any company whose stock is mentioned in this article.
Additional disclosure: Long
BXP
SLG
DRE
MNR
KIM
REG
SPG
GGP
SRC
O
ACC
EDR

UMH
AMH
AAT
HPT

CUBE
HTA
SNR
WY
AMT
UNIT
CCI
CORR
DLR
QTS
CXW
BXMT