The U.S. stock market is making new highs and seems to be rising on a parabolic trajectory (see chart of Dow Jones Industrial Average below).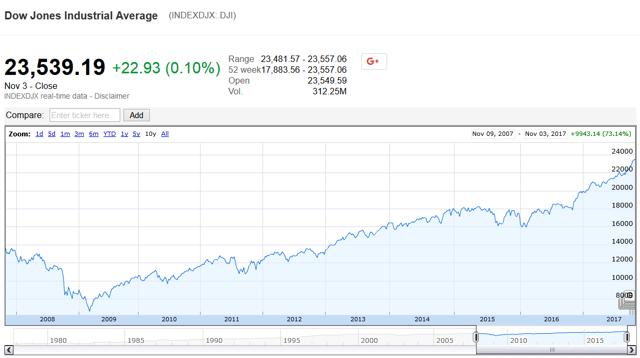 You might think that this rise in the stock market isn't a result of money printing, as quantitative easing (QE3) has stopped since 2015. But don't forget that the ECB and Japan have ramped up their quantitative easing programs starting in 2015. The following chart shows how the ECB and Japan have taken over that task from the Federal Reserve since 2015.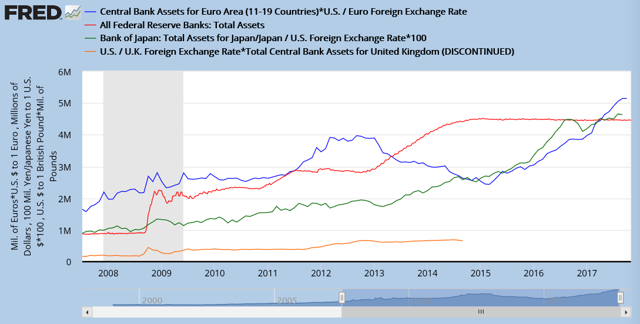 The ECB recently announced that they would decrease its bond purchases from 60 billion euro/month to 30 billion euro/month starting January 2018. The reason for this is because the Eurozone has seen a steady 2% GDP growth since it started QE in 2015. Japan on the other hand is still continuing its 80 trillion yen Japanese government bond buying program and is keeping its 10 year bond yield at 0% as it doesn't see any inflation showing up.
Meanwhile, the Swiss National Bank joined the party in 2015 and has been aggressively adding U.S. equities to its balance sheet and now owns $80 billion in U.S. stocks.
All of this shows that stocks and bonds are being propped up by central banks, which is keeping bond yields at record lows and pushing stocks to record highs. But the hard data is showing signs of deterioration.
First of all, the leading indicators are turning red now. The following chart definitively shows that the trend is pointing down.

The yield curve is at its lowest since the economic recession of 2008. At this pace, we still have a year or two before a new recession starts. It also shows there isn't much room to increase interest rates.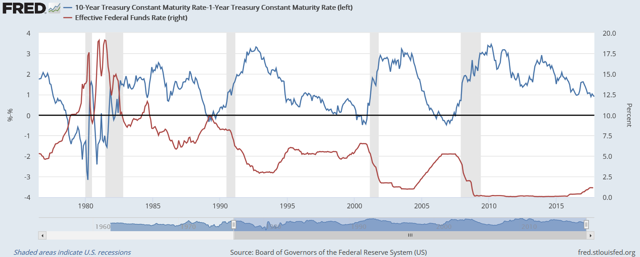 On the fiscal side, I'm expecting larger deficits coming (see chart below from FRED). We will see annual deficits of over $1 trillion in the coming years.

First of all, the debt ceiling was extended in September 2017 and the U.S. debt subsequently rose $600 billion in just 2 months. Higher debt, means higher deficits. The new deadline when the government can't pay its bills will occur somewhere in March 2018.
On the following chart you can see the cash balance of the U.S. treasury. A lot of cash was spent to prop up the stock market since Trump became president last year. It ran out of cash in March 2017. In April the cash balance went up due to tax revenue coming in. But also that cash has been spent. In September 2017, the treasury ran out of cash again and subsequently restated its debt ceiling to add another $200 billion in cash by issuing debt. We will see what will happen in March 2018 when they run out of cash again.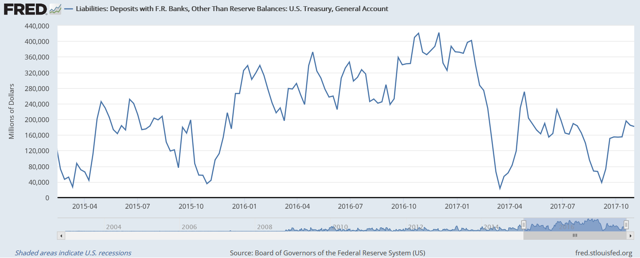 Second, in October 2017, Trump finally started repealing Obamacare by hitting on subsidies for insurers. It is forecasted that the federal deficit will go up by $194 billion over a decade.
Third, Trump's recent tax plan would lead to a $1.5 trillion decrease in tax revenue for the next ten years. As social security and medicare have to be paid, we will see a massive increase in deficits here. Moreover, this is just mainly a corporate tax deduction, not a payroll tax cut. Small businesses will benefit while working Americans are left out of the game.
All of these increases in deficit will have a significant effect on bond yields, which will be going higher due to repricing of risk as the status of the U.S. dollar is waning. A higher bond yield always leads to a decrease in the value of the currency as the following correlation below shows. I think we are closer to the end than the beginning of a bull market in U.S. bonds and this means we could see the U.S. dollar drop with rising bond yields.

Inflationary times are coming when bond yields rise. Investors should protect themselves by going into assets that benefit from inflation: equities and precious metals.
A key indicator on inflation just flashed red (see chart below from FRED). Real GDP has now surpassed real potential GDP and that means the consumer price index ((CPI)) has nowhere to go but up. The difference between the two is the "output gap" and is used by the government to decide whether it needs to implement stimulus measures. Obviously, the end of QE3 and the introduction of QT (Quantitative Tightening) was partially based on this chart. Also of note is that a period of recession usually accompanies the closing of the output gap.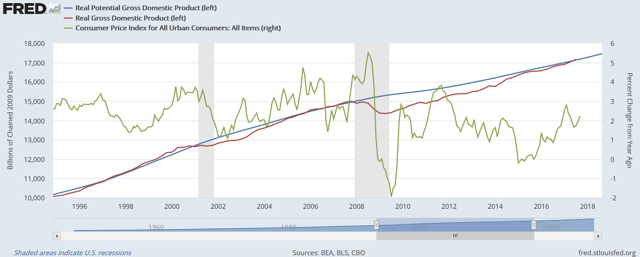 Conclusion
Investors are warned that inflationary times are coming. Based on a higher deficit, higher debt, rising bond yields, deterioration in the economic leading indicators, flattening yield curve and closing of the output gap, we can be fairly sure that a period of recession will come in a few years and it will be an inflationary one. We can prepare for this by buying one of the most underpriced assets, which is precious metals. Or you can buy bitcoins, which is an alternative way to divest from the U.S. dollar. Equities will do well in inflationary times, but I wouldn't consider it as valuations are pretty high already.
Disclosure: I/we have no positions in any stocks mentioned, and no plans to initiate any positions within the next 72 hours. I wrote this article myself, and it expresses my own opinions. I am not receiving compensation for it (other than from Seeking Alpha). I have no business relationship with any company whose stock is mentioned in this article.