PDF Of Full Analysis With Appendix
Investment Thesis
Amazon (NASDAQ:AMZN) is essentially the 21st century version of Berkshire Hathaway (NYSE:BRK.B). Guided by exceptional management which effectively disseminates its values and decision-making ability throughout the organization, the firm has consistently proven its capacity to seamlessly pivot into new opportunities while deploying organic, low-cost capital to its most promising ventures. By first building out its e-commerce business and perfecting fulfillment, it was able to collect from customers before many products were received, and given the sales volume, this resulted in a substantial negative cash collection cycle (CCC). In other words, Amazon has historically been able to finance a large portion of its business through customers themselves, thus accelerating its "flywheel" or overall growth.
The firm also manages its cost structure very well, which, in retrospect, has both made for a lower risk investment historically than many have realized and demonstrated its sustainable competitive advantage. As long as Amazon continues to deploy its larger capital expenditures wisely in cloud computing, the firm is well-positioned to ride long-term global trends such as high growth in each segment of cloud computing, increased e-commerce expenditures, increased demand for unique content and media segmentation, increased adoption and practical applications for artificial intelligence, greater population densities, and stronger overall global economic growth. Many of these long-term tailwinds are difficult to predict in aggregate, but when forecasted conservatively, present a reasonably-priced top company at worst and a stellar investment with the potential for high future capital gains at best. Without delving deeper into Amazon's many initiatives within its three overarching business units and why they are primed for future success, I believe these trends give Amazon a high probability of being the world's largest firm by revenue and/or market capitalization by the time Jeff Bezos is in his 80s and the world has approximately 10BB citizens1.
Industry Overview and Strategic Positioning
Supplier Power: Low
Supplier power is determined by the ease of firms to switch suppliers, the number of suppliers, the type of commodity being supplied, and the strength of labor unions. In both the retail and cloud segments, supplier power is low. Firms in each segment generally develop their core competencies internally, and given Amazon's scale in each, it's able to effectively manage its suppliers. No supplier accounted for more than 10% of its purchases in 2016.
Amazon's sources inventory from millions of suppliers, which are either third parties who sell directly to consumers through Marketplace or outright vendors who sell exclusively to Amazon. This diversity provides the requisite insight to negotiate more favorable terms over time with best-selling products, occasionally earn higher margins on its own Amazon-branded products, and lower overall prices over time.
In terms of labor supply, shareowners face virtually no risk of work stoppages given the diverse selection of Amazon's inventory, the way it negotiates new categories or "verticals" with vendors, and the fact that it turns its inventory and overall asset base very quickly (10K, p. 57). Given the seasonal nature of retail spending, the firm periodically supplements its workforce with independent contractors and temporary personnel. This is where Amazon's well-known culture of continuous improvement has historically been cultivated and added value; an ability to train these heads quickly while ultimately decreasing the reliance on them over time. For nonexempt employees, Amazon is currently paying premium wages for top talent in AI-related fields, but the firm adequately manages its dependence by utilizing stock-based compensation (SBC) in a manner that aligns the interests of all stakeholders (customers, shareowners, employees).
Buyer Power: High
Buyer power is determined by the importance of the product to the quality of the seller's respective products (if the product is not a final good), the level of competition, how differentiated the products are, and the cost of products in proportion to the seller's total product costs. Buyer power is high in retail and fair in the cloud segment.
Even though most products are somewhat differentiated, given the competition levels, buyers generally have many alternatives for products sold on e-commerce sites. Many traditional brick and mortar retailers have built-out e-commerce capabilities and/or offer greater convenience and quicker deliveries through in-store and in-home options.
Competitive Rivalry: High
Competition levels are determined by seller concentration, the level of product differentiation, excess capacity, and barriers to entry. Competition is notoriously high in retail and fair in the cloud segment. The retail environment is continuously changing, and firms can compete with a differentiated product and customer experience over the internet on at least some scale relatively easy. For reference, Amazon outlines a host of potential competitors on p. 4 of its 2017 annual report.
The largest entities that Amazon would be most concerned about, however, compete on selection, price, and convenience in the retail segment and quality, speed, reliability of service and tools, and ease of allowing customers to change their respective business practices once serviced in the cloud segment.
Competition can most objectively be measured using the Herfindahl-Hirschman Index (HHI). This metric takes a firm's market share and squares it, thus properly accounting for both the concentration and number of firms. I use a population consisting of all retail and computing firms, and as you can see, Wal-Mart (WMT) has been the largest entity in the industry for many years. If anything, this simply shows that while Amazon dominates e-commerce, it still has a long way to go in its offline capabilities to match the revenues generated by a historically brick and mortar Wal-Mart.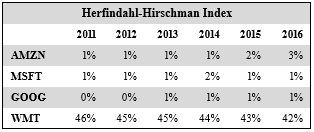 Threat of Substitution: Fair
Substitution levels are determined by a product or service's universality and/or technical complexity, as well as the number of patents or legal barriers that exist. In retail, customers once again typically have many choices. Amazon has chosen to facilitate choice and transparency through its business model by offering a broad selection, low prices, and seeking continual customer feedback, all while attempting to retain and immerse customers in its ecosystem through the Prime program.
In the computing industry, technical complexities and higher capital requirements have contributed to a consolidated market amongst the bigger players. Amazon was the first institution to provide cloud infrastructure as a service (IaaS) and thus its extended lead in this segment is well-documented. While this business is siloed from Amazon's other segments, its higher margins and favorable growth outlook allow the firm to experiment more than it otherwise would be able to. Given Amazon's early entry into both industries, it once again has a strong economic moat that will not be easily replicated.
Threat of New Entry: Fair
Threat of new entry is determined to be fair in both retail and computing. The retail environment is continuously changing and numerous firms are now making the requisite investments to compete in an omni-channel world. Competitors in both industries can also easily form strategic partnerships to quickly improve their competitive positioning. Amazon once again has the scale and brand that comes with being a successful first-mover, but it once again must now work back upstream to capture expenditures that have traditionally lent themselves to an offline environment.
Management and Governance
Amazon passes 6 of 10 criteria used to measure corporate governance, and the firm's 10-member board is comparable in size to those in its peer group. Criteria consist of recommendations set forth by CFA Institute in its 2009 publication, The Corporate Governance of Listed Companies: A Manual for Investors.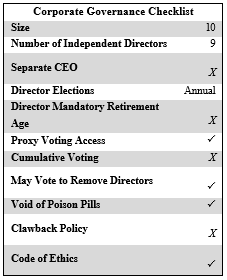 The first criteria missed is the fact that that Amazon's Chairman and CEO are not separate individuals. Jeff Bezos holds both positions, and investors should be aware of his other time commitments (Blue Origin, Bezos Expeditions, Nash Holdings LLC). Bezos also funds Blue Origin with sold Amazon stock, and in April 2017 noted that he plans to sell $1BB worth of stock each year into the foreseeable future to fund Blue Origin. The long-term trend of Bezos decreasing what is currently a 16.9% holding also coincides with greater public acknowledgement of other leadership contributions at the firm. In April 2016, Amazon bestowed the title of CEO to both Andy Jassy and Jeff Wilke for their long-tenured roles leading AWS and the Worldwide Consumer businesses, respectively.
The second criteria missed is the fact that Amazon does not currently have a mandatory retirement age for directors, which, combined with the fact that the firm does not have cumulative voting, has contributed to five current members serving for more than 10 successive years. This has partially allowed Amazon to maintain its long-term focus, however, and lower board turnover is typically indicative of start-up companies. Since Amazon is now a very big company, potential shareowners should look for it to continue to infuse new directors onto its board in the coming years.
A final call-out pertains to how Amazon compensates its directors. Board members are compensated solely with SBC, and the firm does not currently have a clawback policy for these shares. This aligns with its long-term focus but is nonetheless unique, given that a flat cash salary is generally believed to be best at maintaining director independence.
Ultimately, after research and review, Amazon's lean culture starts with Management and extends to its overarching governing philosophy. I once again believe Amazon's management to be one of the best in any industry, with a low-risk of unexpected departures or other negative self-inflicted events for potential shareowners.
Market-Based Valuation
Amazon's implied enterprise value is determined to be $448.3BB. After adjusting for the same line items in the Discounted Cash Flow (NYSE:DCF), the firm's intrinsic share price is estimated to be $992 (p. 9). Amazon is benchmarked to a peer group consisting of Microsoft Corporation (MSFT), Alphabet, Inc. (GOOG) (NASDAQ:GOOGL), and Wal-Mart Stores Inc. The first two were selected, given their similar strategies in computing, while Wal-Mart competes head-to-head with Amazon for retail expenditures.
Multiples are applied to Amazon's particular values to approximate a valuation range, with the median multiple chosen for the final valuation (p. 9). As you can see, all of Amazon's Enterprise Value multiples are higher than its peers except for Revenue. Enterprise Value multiples are assigned 100% in this valuation compared to Price multiples since the latter obscures the level of debt a firm undertakes, a firm's value is theoretically independent of its capital structure, and producing high EPS in the foreseeable future is in-and-of-itself most likely counter to Amazon's optimal long-term strategy. Why this is the case is outlined in greater detail in the Financials section. A final point to make is that the EBITDA and EBIT multiples are adjusted upwards to account for the capitalization of operating leases, discounted at a rate of 10% for simplicity and consistency. The EBITDA and EV/Revenue multiples are determined to be most applicable in this case and assigned 75% and 25% weights, respectively.
This valuation method accounts for 30% of the final price as multiples are more prone to error. Markets can trade far from intrinsic values for extended periods of time, and one must remember that these numbers are not only an instant in time but also a proxy for Amazon. They do not provide the same context Amazon's underlying financials do and the firm has the requisite financials to make other valuation methods useful too. If there is a discrepancy between the conclusion these other methods produce and the market price, one would want to be prepared to take advantage of that difference.
Discounted Cash Flow (DCF) Valuation
The DCF-implied intrinsic share price ranges from $727 to $1,629, with a target price of $1,281 (pp. 10-12). This valuation method comprises 40% of the final share price. To create an accurate comparison between firms, future operating lease payments were capitalized, which firms are required to disclose for the next five years per U.S. GAAP. The created asset and corresponding liability were then depreciated and paid down throughout the forecast period, respectively.
Estimates for depreciation/amortization and cash taxes paid flow through from their respective tables (p. 30-33). For cash taxes, a 35.0% long-term effective rate is used, and depreciation is outlined in detail in the Financials section.
Lastly, the terminal values are analyzed and the implied EBITDA exit multiple is compared to the current EBITDA multiple chosen in the Market-Based valuation. The terminal value represents 80%+ of the enterprise value, which is very high for a DCF valuation regardless of the length of time. This is reflective of Amazon's thin margins and long-term-oriented outlook, which simultaneously must be taken to justify its current valuation. If the terminal value proportion was much higher, conducting a DCF valuation may not be as beneficial as simply using multiples.
The implied EBITDA exit multiples are all lower than the current 17.7x median EBITDA multiple in the market-based valuation, reflective of the fact that investors may currently be willing to pay premiums for certain firms and industries. After thoroughly reviewing each input, no changes are made and the valuation is determined to be sound.
Cost of Capital and Distributions to Shareowners
A blended weighted-average cost-of-capital (WACC) of 6.8% is calculated (p. 16). The cost of equity is determined using solely the DuPont based-method.
The DuPont rate is 4.1%. This method is superior to capital asset pricing model (CAPM)-based approaches because it provides greater insight into the factors contributing to changes in the final value that CAPM obscures. With Amazon, we can once again see that its immense asset turnover, combined with its online model, has allowed it to produce a negative CCC, which translates into consistently positive, albeit small, margins.
The dividend-based rate cannot be used as Amazon notoriously does not pay a dividend and probably never will. This is beneficial for shareowners as insofar as Amazon invests the capital more effectively than they would, which will be reflected solely in greater long-term capital appreciation of the stock.
A final point to make regarding potential distributions to shareowners pertains to share repurchases. Amazon has a share repurchase program with $5BB available indefinitely, but has not repurchased shares since 2012. Like most firms, Amazon manages its repurchases in conjunction with perceived valuation levels, debt financings, and working capital needs.
Residual Income Valuation
The Residual Income method was also used to value Amazon. Using the underlying assumptions from the income statement, this method provides a good measurement of the income left to equity holders after dividends have been paid and their opportunity costs have been considered. Typically used with non-FCF-generating firms (start-ups), it is very applicable to Amazon since its continuously involved in so many new initiatives, and will almost surely never pay a dividend.
As you can see on pp. 13-15, Amazon's management is in a strong position to produce "economic profits" in addition to accounting profits over the next five years. This is a direct reflection of Amazon's superior business model. It once again often collects from customers before they receive their respective products (negative CCC), and thus has an organic source of financing through the customers themselves. As transaction volume has increased, it has created a successively stronger balance sheet and lower capital costs. The firm easily clears its hurdle rate or "equity charge," allowing it to take opportunistic investments in other ventures.
The terminal value is calculated by multiplying the 5th year's ending book value by the midpoint of Amazon's 10-year low P/B ratio of 6.46x and a current industry average of 10.8x. Final call-outs include the fact that this method assumes that no additional lines besides net income and dividends affect the book value of equity ("clean surplus" accounting) and that no additional premiums are added to the final share price. The intrinsic value per share ranges from $1,176 to $1,764, and this method comprises 30% of the final share price.
Financial Statement Construction
In this section, I will outline pertinent line items on Amazon's financials and the inputs and processes used in their construction.
Revenue Forecasts
A hybrid approach of using bottoms-up trends and industry estimates to forecast Amazon's revenues was conducted. First, Amazon has historically grown overall revenues by a whopping 28% YoY the previous seven years. Likewise, its overall portion of total e-commerce expenditures in the U.S. has steadily grown from 9% in 2006 to over 39% in 2017. Therefore, a wise place to start when forecasting revenues is future e-commerce market trends.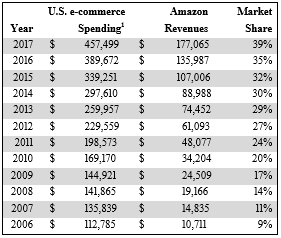 Per Statista2, U.S. e-commerce expenditures are expected to grow to $713BB in 2022, a 12.06% CAGR from 2016. This growth is driven by more organizations interacting with customers online (i.e. technological feasibility), but primarily shifting demographics, as younger Americans are more adept with making e-commerce purchases. Currently, the U.S. lags seven nations in its proportion of e-commerce spending to total retail spending, where a younger demographic combined with mobile device usage growth and denser populations have been a boon for e-commerce.

After normalizing the industry estimates to account for the difference between them and the historical data, I then apply Amazon's estimated market share each year to the total market size. I assume Amazon is able to grow its e-commerce market share each year, capping out at 50% of U.S. e-commerce expenditures in 2022.
These are the YoY growth rates used in the Downside scenario, while the historical growth of 28% and the midpoint of the two numbers are used in the Upside and Base scenarios, respectively. The numbers were cross-checked against revenue consensus estimates from Estimize for the next two years and ultimately deemed acceptable.
A final point to make is that Amazon's business segments allow for easy revenue recognition, thus decreasing risk for shareowners. The firm has only restated revenues twice on an annual basis in its 20-year public history and both were positive changes.
Income Statement Summary
Most accounts on Amazon's pro forma income statement are estimated as a percentage of total revenues, using historical trends and estimates proposed by Amazon's Management in its 10K and 10Q (p. 17-19). Accounts not estimated in this manner include depreciation and total interest expense.
Depreciation is estimated by first making a useful life assumption for the CAPEX undertaken in each period. While most firms reporting per U.S. GAAP provide a useful life assumption for each asset class, Amazon chooses to be more guarded with this information. It does not provide this number and in the PP&E section on its balance sheet, even includes Land and Buildings as the same line. Therefore, I must estimate a hypothetical useful life in a less precise manner. After reviewing each of Amazon's peers, I ultimately selected a 15-year useful life.
This value is used both for the existing PP&E and CAPEX, and both also use the midpoint convention to reflect that the expenditures occur throughout the year as opposed to the beginning (annuity due) or end (annuity). The two depreciation numbers are finally summed to provide the total book depreciation expense (p. 30). Amazon also does not provide explicit depreciation guidance so these values cannot become incrementally more precise and are used "as is."
For tax purposes, Amazon uses accelerated depreciation to lower its taxable income (tax EBT), thus reducing its effective tax rate. A Modified Accelerated Cost Recovery System (MACRS) 15-year asset class is used to depreciate the CAPEX, while the tax depreciation of the existing PP&E and capitalized leases are assumed to be the same as their book values since Amazon's tax income statement is irretrievable and these actual values are historically unknown. Ultimately, the lower cash tax expense is used in the DCF to get an incrementally more precise share price, and the difference between the book tax expense and the cash tax expense flows through to the balance sheet each year in the form of a deferred tax asset (liability).
Amazon's total interest expense is the sum of the interest expense for the capitalized operating lease payments and the interest expense of the year-end debt balance. An amortization process is used to calculate the hypothetical payment (PMT) on the capitalized liability from the operating lease payments each period (rate ∙ PMT). The discount rate used is the same rate of 2.29% used for Amazon's debt. Paralleling the depreciation process, the midpoint convention is also used here to reflect that the payments occur throughout the year as opposed to the beginning or end. Since Amazon reports per U.S. GAAP, the interest expense represents an operating activity outflow (CFO), while the reduction in principal represents a financing activity outflow (CFF) on the statement of cash flows (p. 23-25).
A final point to make is that Amazon expenses its SBC within multiple income statement accounts (10K, p. 61). Many firms consciously choose not to do this, instead providing investors the basic inputs used to price the options. This is yet another example of Amazon's management acting in the long-term interest of shareowners. Even though SBC is a noncash expense, it still represents a real cost - and a relatively large one at that in Amazon's case, given its previously outlined compensation philosophy. After constructing the income statement and reviewing each input, it is ultimately deemed to be robust and no changes are made.
Balance Sheet Summary and Cash Conversion Analysis
The balance sheet is constructed using numerous assumptions and adjustments from the other financials. Working capital accounts are estimated as a percentage of revenues or COGS.
The cash conversion cycle (CCC) is the most comprehensive way to analyze a firm's working capital accounts. Comprised of three metrics (days sales outstanding (DSO), days inventory outstanding (DIO), and days payable outstanding (DPO)), the number represents how quickly firms collect cash and is directly reflected in the DCF valuation in the change in working capital line. Ceteris paribus, the shorter (longer) a firm's CCC, the higher (lower) its intrinsic value. As one can see on p. 9, Amazon's CCC has shortened further since 2013, while its peers have stayed relatively the same.
Short-Term Technical Indicators
On a year-over-year basis (YoY), Amazon has outperformed the S&P 500 by 19.6%. With its 1,633% Q3 2017 EPS overperformance, the stock broke its upper Bollinger band3, but I believe investors should not worry about undertaking a long position. Amazon heads into the holiday shopping season with momentum, and the firm could very well outperform expectations once again when it reports Q4 results in February.

This momentum can be seen in a couple other technical indicators. The first is the short interest percentage, or Days-to-Cover ratio. This is the number of shares sold short as a percentage of average trading volume. The higher the value, the more skepticism is prevalent in the market. Amazon's current value is 1.74, which is currently lower than the S&P 500 average of 3. The second is Amazon's Put/Call ratio of 0.89 and a deeper dive into its outstanding Call options, which show a few different November Calls with the highest open interest.
Finally, one should note the prospect of U.S. federal tax reform on Amazon's outlook. While it currently does not have a Cash hoard amongst the likes of Apple (NASDAQ:AAPL), Microsoft, or Alphabet, if the corporate tax rate is lowered to 20% in November, it would change Amazon's intrinsic share price to $1,501 in the Base scenario. This would also give U.S. firms greater incentive to repatriate funds to the U.S., which, in many cases would be used to make domestic capital investments. Thus, increased real GDP may result over time, which may benefit Amazon compared to non-U.S. based competitors such as Alibaba (NYSE:BABA). Nevertheless, these prospective changes - and any successive changes by governments around the globe - are near impossible to predict on a long-term comparative basis across international firms at this point.
Overall, it is my belief that these bullish factors could give the stock a tailwind, pushing it closer to its calculated intrinsic value in the coming months.
Investment Risks
Investments may not be suitable for all investors. Individuals should make their own decisions based on their particular objectives and financial constraints. Past performance is not indicative of future results, and individuals should also understand that investments may fluctuate in price or value. The risk of loss is real and retention of principal is not guaranteed. I have not made any trades involving the underlying security in the previous 72 hours and do not plan to initiate any positions within 72 hours after the issuance of this report.
The following external sources were used in the construction of this report: Amazon annual reports (10-K), quarterly reports (10-Q), annual proxy statements (DEF14A), reports of employee stock plans (11-K), earnings call transcripts, corporate by-laws and articles of incorporation, EDGAR, Yahoo Finance, Estimize, and a Value Line screening tool. Underlying datasets are available upon request, and follow-up questions are welcome at the contact information provided
[1] Worldometers - real time world statistics
[2] U.S. e-commerce market size 2015-2022 | Statista
Traditional Bollinger bands used; limits set 2 standard deviations from moving average.
Disclosure: I am/we are long AMZN. I wrote this article myself, and it expresses my own opinions. I am not receiving compensation for it (other than from Seeking Alpha). I have no business relationship with any company whose stock is mentioned in this article.