I started Project $1M with the goal of growing an initial stake of about $225k (which ultimately became $275k) into roughly $1M in 10 years. It implied the need to achieve an annualized return of close 13%, which would be a fairly incredible effort if a low churn portfolio were to achieve a result like that. We are now at the end Year 2 and so far the portfolio is performing materially better than expected.
Project $1M began with the assumption that the S&P 500 has a lot of junk, mixed with a lot of good businesses, and that carefully identifying those truly good businesses and holding onto these businesses over the long haul would result in outperformance over the long haul. There's a lot of hubris in that assumption, I know, but I think it is also a fun experiment to see if a largely passive portfolio can outperform the constant rebalancing that goes on in index funds.
I set out to pick best of breed businesses that were cash-flow monsters that would literally drown themselves in the weight of the cash flow that these businesses would throw off. I then added onto this an ability to extract exceptional returns on capital, and finally optimized around those businesses that had strong secular stories and tailwinds.
Project $1M has certainly benefitted from the focus of investors to chase growth. As can be seen below, year to date returns for the portfolio are a whopping 32%, with 1 yr returns clocking over 30%. To be clear, this was an outcome that was quite unexpected, and frankly, something which I don't expect to be repeated at any other for the duration of the portfolio life.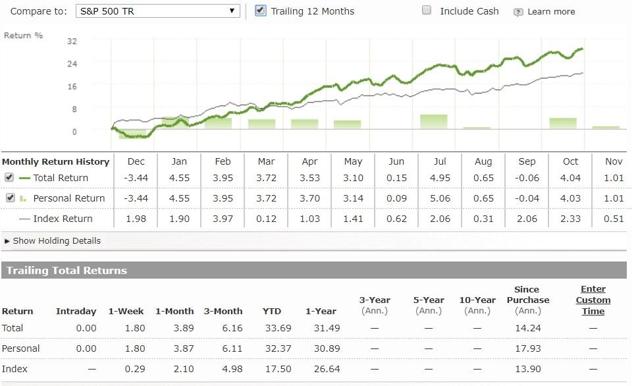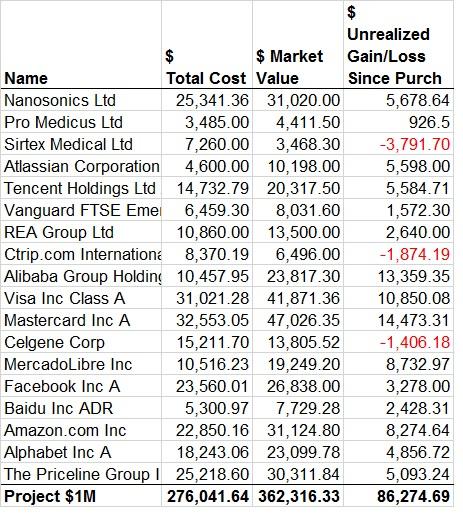 The theme of the second half of 2017 was a focus on increasing concentration in the portfolio and eliminating potential areas of risk or mistake. I went bigger in my higher conviction names, and cut out some of the more speculative positions
Amazon, Facebook, Google are more dominant than ever
One of my thematic observations of the latest reporting season is that Amazon (AMZN), Facebook (FB) and to a lesser extent Google (GOOGL), are entrenching their market dominance with consumers, and merchants. With consumers enraptured by these brands, and seemingly unconcerned with forking over sensitive, private information around consumption, interests, likes etc they will only increase in scale, power and dominance.
I view Amazon as having the greatest market advantages of all of these businesses. Amazon is also morphing into a less transactional business, and one that will have a greater degree of recurring revenue, which will add additional predictability to its growth and steadily improve margins. The performance of the Prime business is a good example of this.
However equally as important for Amazon is that it can now use its considerable consumer strength and presence to steadily expand into additional verticals (pharmacy potentially being the latest), at arguably a lower cost than its peers. Part of this is due to the significant market premium that the business is awarded by the market, arguably due to the additional growth opportunities it has. Amazon and Facebook both saw increased investment from me over the last few months.
Alibaba, Tencent extending structural advantages in China
Similarly, Alibaba (BABA) and Tencent (OTCPK:TCEHY) will also be transformative, particularly in China. It remains to be seen whether they can take some of the definite structural advantages that they enjoy in the Chinese market and parlay these overseas. Even if they are unable to do so, the runway and opportunity for growth in the Chinese market alone with provide both of these businesses with massive opportunities for the next decade.
I was able to take advantage of general market turmoil in 2016 and pick up Alibaba for ~$65 share. Amazing to see that it is now almost 3x that price in just 2 years. One of the faults with that initial purchase is that I was a little timid in really going aggressively after a bigger line of stock. The risk of political intervention is the biggest things that have held me back around more significant investments in Chinese businesses. Regulatory risk aside, both have tremendous market advantages in an economy posed for decades of growth. I will be staying put with my level of investment in both these businesses, with the caveat that price falls of 30% or more would get me interested to buy more.
Lower conviction holdings eliminated
Starbucks (SBUX), CRH Medical (CRHM), Resmed (RMD), Marketaxess (MKTX), MiMedx (MDXG) and Hennessy Advisors (HNNA) were all discarded. Nothing against any of these positions, but with my focus on removing risk from these portfolio and going more heavily into names that I had the greatest degree of confidence, these were all names that I targeted for elimination. While it looks like many names were eliminated, they collectively represented less than 10% of the overall portfolio. I remain very bearish on all manner of physical retail, which is the reason I had prioritized Starbucks for removal. All the other names were not names that I had any degree of conviction about.
Disciplined buying
In order to keep focused and disciplined with my purchases, I had written out of the money puts on many of the names in the portfolio with a view to purchasing these at the time of a market sell off. Unfortunately, with the rise in prices, many of these options either ended up expiring early or rose so rapidly in price that the options became significantly out of the money, and I ended up redeeming them early.
While I had hoped to actually purchase some additional stock in some of these high quality names, I wasn't presented with the opportunity to buy. On the positive side, the writing of options generated some $12k in option income this year in these names.
I aim to refresh some additional put option sales on the names in the portfolio at some point next year, however will wait (perhaps in vain) for at least some semblance of a market pullback before I start writing additional puts.
Future Expectations
All told, a fairly solid result for Project $1M, which I don't expect to be repeated for the remainder of the Project timeframe ( another 8 years). It will be interesting to see if 2018 brings a fall of 20-30% in some of these names in my portfolio that will trigger a cycle of purchases.
I eagerly look forward to seeing what 2018 brings.
Editor's Note: This article discusses one or more securities that do not trade on a major U.S. exchange. Please be aware of the risks associated with these stocks.