Silver (NYSEARCA:SLV) has been going down in 2017 and I see no immediate reversal happening soon (see chart below). So investors should be careful picking mining stocks. The key indicator of the health of a mining company can be found in the all-in sustaining cost (AISC).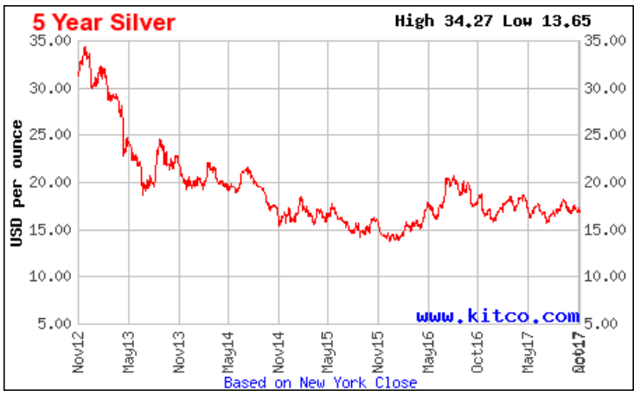 The silver price is flattening out at around $16/ounce and won't be going up soon as supply is higher than demand. Silver supply hasn't increased because miners can't afford to increase supply at these prices. Silver demand has fallen in the U.S. and India. When I look at the silver premiums at bullion dealers, I can see that everything is on sale. The premiums are at rock bottom as nobody cares about silver anymore. The U.S. mint also posted dismal numbers on silver sales.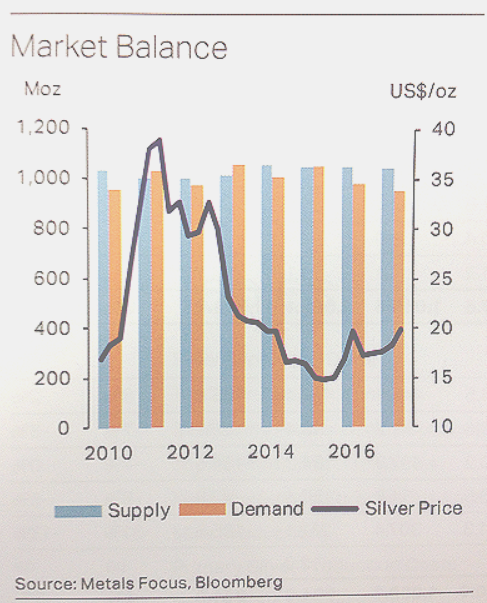 Let's see if the silver miners can make a profit at these prices today.
In the chart below, I have summarized the cost cutting measures of several silver miners, based on their latest earnings release. These numbers represent the outlook for the given year.

Curiously, some of the silver miners listed above are in the money and have cut their AISC outlook far below the current silver price of $16/ounce. But others haven't done so well and have seen a huge increase in AISC. The average is at $11.5/ounce, which is well below $16/ounce. Notable movers are Endeavour Silver (NYSE:EXK), Fortuna Silver Mines (NYSE:FSM) and Silvercorp Metals (NYSE:SVM). Silvercrest Mines was bought out by First Majestic Silver in 2015.
Since last year, silver miners are actually making money and improving their margins. But this year, we see that some miners can't keep costs down anymore because they are having grade and production issues. The low hanging fruit has definitively been picked already. So they need to go mine lower grade material now and actually need to put money in mine development to get to new mineralized areas.
For example, Endeavour Silver has had a huge increase in AISC from $14/ounce to $17.5/ounce in Q3 2017 (and it was even higher in Q2 at $20.46/ounce). This was due to production problems at its Guanacevi mine where lightning struck and disabled their electrical substation. This was repaired in July 2017 and should improve their costs now. Moreover, Endeavour Silver has been busy drilling at its properties and has put money into development of its mines to ensure optimized future production. The share price has seen a very steep decline as a result and it is now trading at a very inexpensive price of $2/share. Considering they are about to start production at El Compas in Q1 2018 and will be almost doubling production in about two years from the new Terronera mine, I would be accumulating shares of this company. The risk however is that when the silver price keeps dropping towards $10/ounce (which is not unthinkable), Endeavour Silver could have serious problems holding its head above water.
Another miner who has seen increases in AISC is Avino Silver. This was due to a change in mineralization profile at the Avino mine. Gold recovery was lower as a result, but they have resolved this issue and are back on track. In addition to this, the company is developing the Bralorne mine which they acquired in October 2014. Drilling is ongoing and environmental permitting is underway. Considering the low market capitalization of the company ($1.26/share) compared to its earnings ($0.08/share) it is fairly valued. Also, the company just issued shares at the market in the amount of $25 million dollars in August 2017, so its cash balance should be healthy.
I recommend Fortuna Silver Mines, as this is a pretty big player in the silver space and their AISC is pretty low at $8/ounce. It is a profitable company and has a large cash balance. It is amazing how this company keeps lowering its AISC. For the uncertain investor, this is an ideal company to buy as it will stay profitable at even lower silver prices. The risk of bankruptcy is minimal.
Another silver mine I recommend is Silvercorp Metals. This company is also reducing its AISC every year and has a huge cash balance. In fact, it is so well-funded that it has re-started to pay dividends in the amount of $0.02/share which is almost a 1% dividend.