By Parke Shall
We have spent the last six months or so laying out our bullish case for Costco (COST). Ever since the retailer was knocked down off of its highs as a result of the news of the Amazon (NASDAQ:AMZN) and Whole Foods merger, the company has been unable to restart an uptrend, despite months of publishing great sales and fantastic comps. Today, we wanted to reiterate that we believe COST, despite its aggressive valuation, will once again resume moving higher and is one of the only retailers that we truly believe to be Amazon proof. Its October numbers continue to prove our case.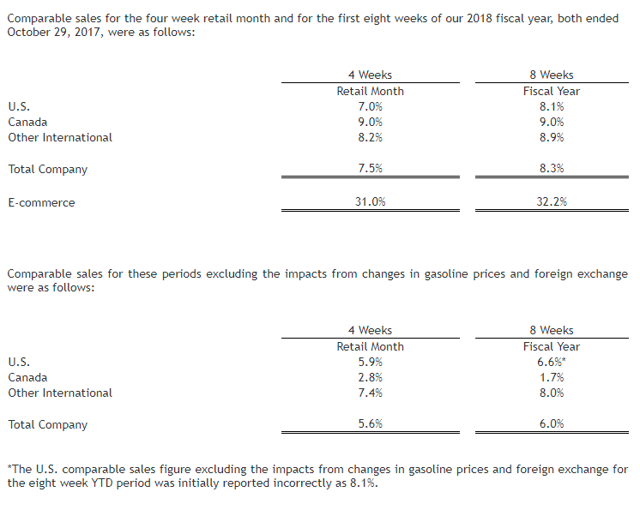 (Source: Costco IR, link above)

Our continued bullishness in the name has recently been helped along, yet again, by another month of fantastic sales by the company. Costco released its October numbers just days ago and its consistent trend of posting mid to high single digit comps continues.
Not only is this trend great, in and of itself, but in a sector that is falling apart, it is truly a remarkable achievement. Most brick and mortar stores have simply crumbled over the last couple of years, at the hands of Amazon and other online retailers. COST has been able to consistently buck that trend for reasons we have expounded on at length, and we believe it will continue to do so, thereby making it well worth its aggressive multiple, which we believe is the one biggest turnoffs that investors have regarding the company at this juncture. Take a look at how COST stock has compared to a basket of brick and mortar stocks over the last couple years.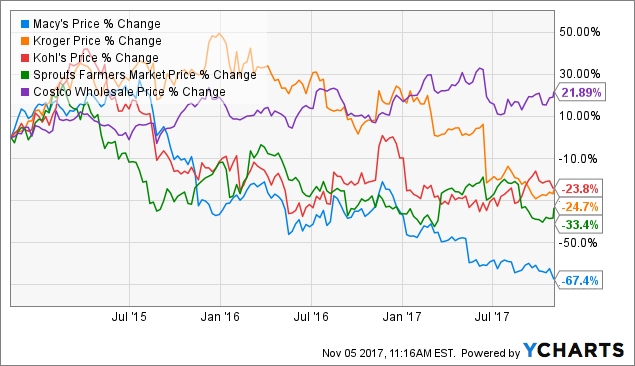 M data by YCharts
This growth continues to support the case that COST should be a higher multiple stock. To anyone that follows the business model closely, this shouldn't be too much of a surprise to you. After all, Costco runs an extraordinarily unique, almost SaaS-like model that is actually quite similar to Amazon's Prime product. You can read our full thoughts on a comparison of the business models in our article "Costco is Amazon, Amazon is Costco".
Without reiterating a lot of what we have said in past articles, we will direct you to our library of articles on Costco, including the above linked one that basically describes why Costco is the Amazon of brick-and-mortar retail and why we believe that the two are far more likely to merge than they are for one to overtake the other.

Looking at October's comps only serves to confirm and reiterate our assertion that Costco is doing just fine and is Amazon-proof.
One of the reasons that people do not feel that COST is a good investment at this juncture is the company's multiple. Not only is the multiple frothy for the overall market, but it is definitely frothy for brick-and-mortar retail, which, as you can see from the chart below, is sporting average multiples at about 10 or 12.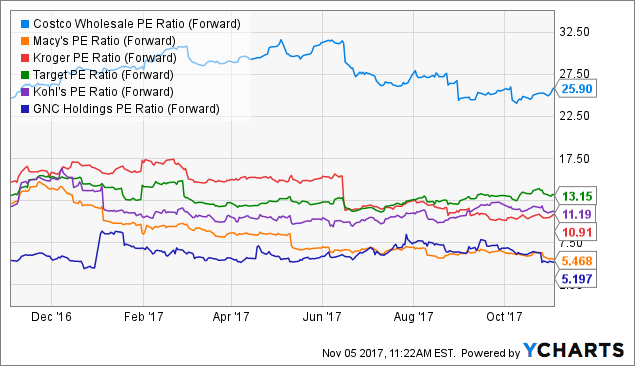 COST PE Ratio (Forward) data by YCharts
Generally, we also look for not only low multiples but multiples that are low in comparison to the sector or peers. While it is true that Costco does sport an above average multiple, we believe that this is a premium that is well worth paying. We believe that Costco's model is unique and its results, complemented once again days ago with its October sales, are so positive, that we believe investors should take a "contrarian" view and pay Costco's large multiple in order to own it. We explain our full reasoning for this in a previous article that we wrote called "Costco: Think Contrarian And Pay Up For This Expensive Retailer".

We are value seekers. We didn't like Nordstrom (JWN) over the last couple of years because of the multiple that it had. Its price tag was just too expensive compared to peers. We don't want readers to think that we are advocating for going out and buying a basket of retail stocks with PE's in the mid-20s. However, as again detailed in our library of work about Costco, we believe Costco to be one very real and very valuable exception to the rule.

October's sales continue to prove to us that Amazon is not having a negative effect on this business, thereby marching our thesis that Costco and Amazon can coexist and both flourish, forward. We continue to believe Costco will make new highs in the coming year and head toward $200. Costco remains a buy.
Disclosure: I am/we are long COST. I wrote this article myself, and it expresses my own opinions. I am not receiving compensation for it (other than from Seeking Alpha). I have no business relationship with any company whose stock is mentioned in this article.