The price of gold (NYSEARCA:GLD) was fairly flat in 2017, trading at $1250/ounce (see chart below from Kitco).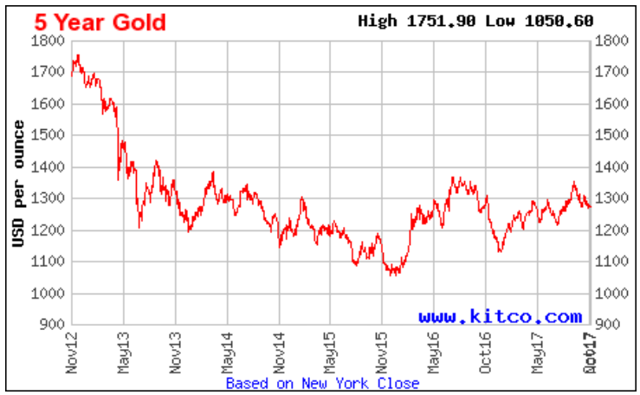 Even though gold went slightly up, many gold miners (NYSEARCA:GDX) were underperforming in 2017. I attribute this to the decreasing interest in gold. Demand has fallen steadily as the following chart shows (data taken from WGC).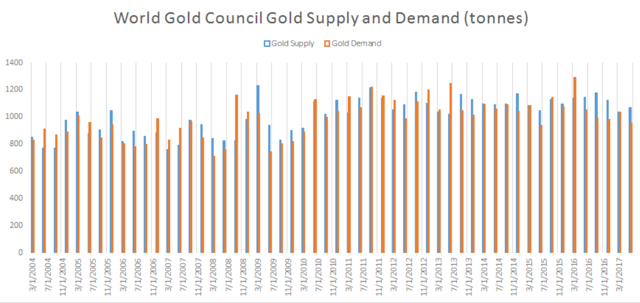 Gold premiums have been moving down at the bullion dealers, gold sales at the U.S. mint were down this year. So I don't expect that gold will be going up a lot for the remainder of this year. The only increased demand I see is coming from India, Russia and China (as shown in SGE deliveries). So we can clearly say that gold is moving from West to East. But I expect that demand will improve next year when fiscal deficits will go up due to Trump's tax plan implementation and debt ceiling problems in March 2018.
Due to lower gold prices, also supply has been going down as miners find it more and more difficult to increase production. Gold production has been coming down and I want to point out that even China has seen a decline in gold production in the past years (See chart below from SRSrocco Report).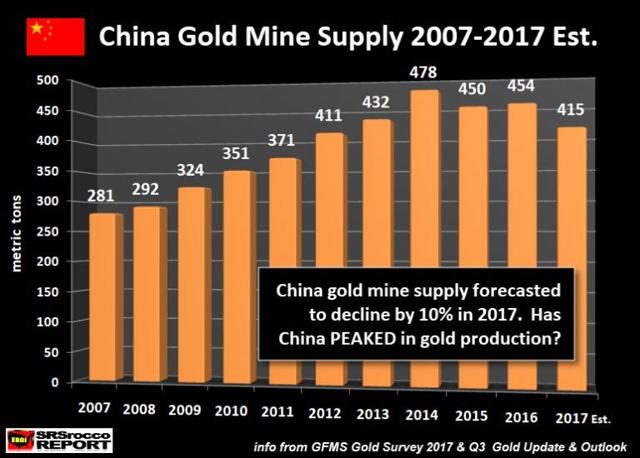 Investors should mitigate the risks in their gold miners portfolio, and we can do that by looking at the costs. In June 2013, the World Gold Council, an industry group, produced a detailed standard for what miners should include in all-in sustaining costs, or AISC. We will use that metric. The following table lists the most recent AISC numbers of several notable gold mining companies and compared these to the 2013 numbers. These numbers can be found in the financial reports of the respective companies and over the Internet
My first reaction from the results is that overall, the all-in sustaining costs have been going down from last year, resulting in an average AISC of $850/ounce, which is pretty good compared to the current gold price of $1250/ounce. There are some exceptions like New Gold (NYSEMKT:NGD), Barrick Gold (NYSE:ABX), Agnico Eagle (NYSE:AEM) and Anglogold (NYSE:AU), which saw an increase in AISC compared to the previous year.
New Gold had problems with the construction of its newest mine Rainy River. Capital costs were estimated higher and the construction of the mine was delayed by 3 months. But those problems are now history and Rainy River is now finally commissioned. It is expected to double the production of the company and puts New Gold into the list of 1 million ounce producers. I believe that New Gold is very inexpensive and investors are having a wait and see mentality at this point due to the setback at Rainy River earlier on. I expect the share price to at least double at this point considering its cash flow would be in the $250 million/annum with a conservative P/E of 15.
Barrick Gold had a lot of debt on its balance sheet ($6.45 billion in 2017). The company has resolved this issue by selling several of its mines and has substantially reduced AISC. It is one of the better players in the gold mining industry with a very low AISC. I expect debt to get reduced more in the future and this will result in a steady increase in share price.
Agnico Eagle was able to lower its AISC substantially in 2015 due to a superb operating performance with record gold production and positive net income/cash flow. This year it is also on track to achieve higher production and this should translate in a good reduction of AISC going forward. It is doing so well that the company has issued a quarterly dividend of $0.1/share, a 1% dividend.
Anglogold also re-introduced a 1% dividend this year due to increased cash flow. The problem with this company though is its huge amount of debt that it has to repay, this translates into an underperforming share price. When you look at the AISC, it is one of the highest in the gold mining sector. They have high capital and maintenance costs and I'm questioning the re-introduction of the dividend. They could use the increased cash flow to pay off debt in these uncertain times.
Kinross Gold had problems on the production side a few years ago. But it seems the company has overcome this problem and has seen steady increase in production and revenue, which translates in a lower AISC. The share price has been in an uptrend since 2016.
A good example of why AISC isn't everything can be found at Eldorado Gold. The company has an AISC of around $850/ounce which isn't bad, but it has seen a huge decrease in production at its Turkish mines. Revenue is down as a result and the share price has followed. There are much better companies to choose from with less risk.
Oceanagold is one of those companies. It has one of the lowest AISC in the gold mining space and the share price reflects this. The company has a steady 0.75% dividend and the share price is actually higher than 2013 when we saw the crash in the gold price.
Newmont Mining has also done very well with decreasing AISC. It has been able to reduce debt from $5 billion (2013) to $1 billion (2017) and has $2 billion in free cash flow. The share price has been outperforming as a result.
Conclusion:
Gold miners have been able to lower AISC consistently to $850/ounce due to cost cutting and mining higher grade mineralized zones. But this can't keep going and we already see that gold supply is going down, for example in China. We are entering an era of secular decline in production. I expect that AISC will be flatlined now and rise slightly due to lower production. Even though AISC will rise, the margins are pretty good in the gold mining space with a gold price of $1280/ounce. So I expect that the gold mining industry will do well going forward.
Disclosure: I am/we are long NGD. I wrote this article myself, and it expresses my own opinions. I am not receiving compensation for it (other than from Seeking Alpha). I have no business relationship with any company whose stock is mentioned in this article.
Editor's Note: This article discusses one or more securities that do not trade on a major U.S. exchange. Please be aware of the risks associated with these stocks.