The information in this article discussing PennantPark Investment (PNNT) was previously made available to subscribers of Sustainable Dividends, along with target prices and buying points, real-time changes to my personal BDC positions, updated rankings and risk profile, real-time announcement of changes to dividend coverage and worst-case scenarios and suggested BDC portfolio. PNNT reports calendar Q3 2017 results later this month.
Does Higher Yield = Higher Risk?
Typically, higher yield implies higher risk, but this is not always the case, especially when it comes to business development companies ("BDCs") as discussed for Monroe Capital (MRCC) in "10% Dividend Yield With A First-Lien Portfolio".
PNNT currently has a dividend yield of 9.7% compared to the average BDC closer to 9.2% even after including THL Credit (TCRD), Prospect Capital (PSEC), and Medley Capital (MCC), that could be priced for a dividend cut and Triangle Capital (TCAP-OLD) that recently cut its dividend due to continued portfolio credit issues predicted in the article linked below.
Please read the following recent articles on some of the higher yielding BDCs: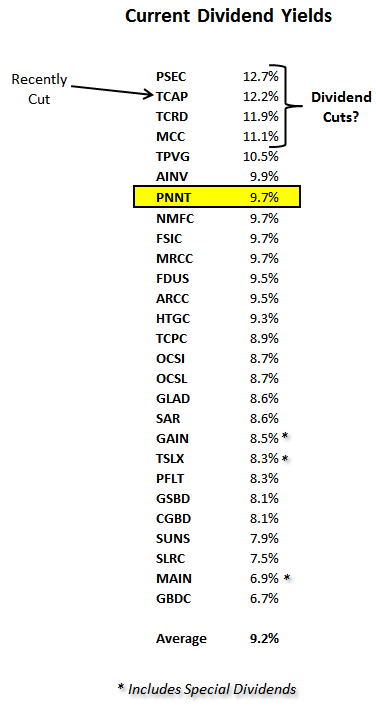 Source: BDC Buzz.com

Quotes from management: All quotes from management in this article can be found at "PNNT Transcripts" on SA.
Dividend Coverage Discussion:
PNNT has easily over-earned its previously reduced dividend and hit my best case projections, covering its dividend by 128% for the quarter ended June 30, 2017 (similar to the previous quarter at 130%). However, the company is still reliant on the 16% fee waiver of management and incentive fees (extended through 2017), especially if the portfolio experiences meaningful yield compression. There was a decline in portfolio investments of almost $100 million due to sales and repayments of almost $200 million during the June quarter.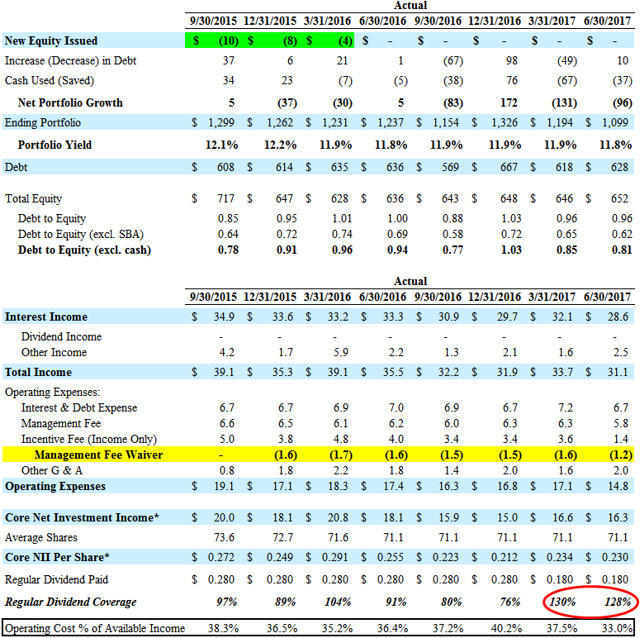 Source: BDC Buzz.com
Management is focused on maintaining its net interest margin and dividend coverage, even as its portfolio yield continues to decline, through selling some of its equity investments, including PAS Technologies and e.l.f. Beauty (NYSE:ELF) and rotating into income-producing investments as well as reducing its cost of borrowings (discussed next).
"We expect that yields will come down, end of June the average yield of the new investments was 10.6% whereas the average yield in the portfolio is still over an 11%. So over time we would anticipate we are happy to reduce risk and feel very comfortable about capital preservation and take a little less yield if that's the tradeoff. We have a reasonable sized equity portfolio to write and to monetize over time, we should provide some lifts and some ups, while we are making the rest of the portfolio lower risk… We exited the second half of our position in the common equity e.l.f. Cosmetics during the quarter as well as our equity investment in PAS. The sales of these equity positions generated $30 million in cash."
The company has significant borrowing capacity due to its SBA leverage at 10-year fixed rates (around 3.5%) that are excluded from typical BDC leverage ratios. I have assumed that the company will maintain regulatory leverage between 0.60 and 0.80. However, I have not projected significant portfolio growth as management has mentioned that it would prefer to keep GAAP leverage (includes SBA debentures) near 0.80:
"We remain comfortable with our target regulatory debt to equity ratio of 0.6 to 0.8 times. We are currently at 0.5 times the regulatory debt to equity. On an overall basis, we are targeting overall GAAP leverage of 0.8 times. As of today, we are currently at 0.8 times overall GAAP leverage"
PNNT will likely use higher leverage in 2018 as it continues to increase the amount of first-lien positions that currently account for 42% of the portfolio. The company was able to utilize the full $225 million of available SBA debentures during the previous quarter.

Source: 10-Q for June 30, 2017
As with many other BDCs, PNNT is paying down higher cost borrowing to improve or at least maintain net interest margins over the coming quarters. On May 25, 2017, the company announced the redemption of its 6.25% Senior Notes due February 2025 (PNTA) that is expected to result in interest savings for the company due to partially being repaid with its amended revolving credit facility. The credit facility was extended to May 2021, and the size of the facility was adjusted to $445 million with an accordion provision to permit increases to the facility up to $750 million. The pricing of the facility remains LIBOR plus 225 basis points but could be reduced by 25 basis points if certain conditions are satisfied.
"During this past quarter, we continued to optimize our capital structure. We paid off $71 million of expensive, 6.25% baby bonds, and we right sized and amended and extended our low cost long term credit facility. These steps will reduce our cost of debt capital. We are pleased with the extension of our Credit Facility while maintaining our cost, and are delighted to have received continuing support from virtually all of our existing lenders. Our Credit Facility amendment affords us the flexibility to redeem our 6.25% Notes, thereby creating considerable savings in interest expense while maintaining a comfortable level of liquidity."

Source: PennantPark Investor Presentation - June 30, 2017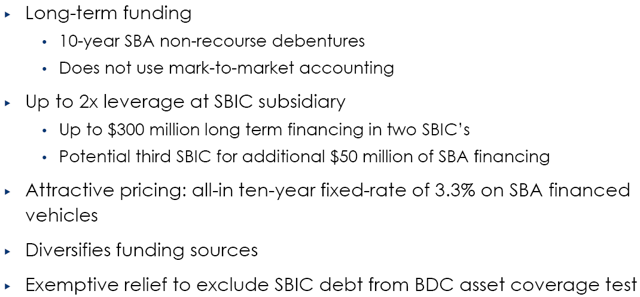 Source: PennantPark Investor Presentation - June 30, 2017
Risk Profile Discussion:
Portfolio credit quality improved slightly from the previous quarter with no investments on non-accrual and an increase in NAV per share from $9.09 to $9.18. Its portfolio yield declined slightly to 11.8% and was invested 42% in senior secured first-lien debt, 35% in second-lien secured debt, 11% in subordinated debt, and 12% in preferred and common equity.

Source: 10-Q for June 30, 2017
Energy, oil & gas exposure increased slightly to around 13% (was 12%) of the portfolio. There is the potential for NAV per share growth due to overearning the dividend as well as continued rebound in equity and energy investments.
"We believe that PNNT stock should be able to provide investors with an attractive dividend stream along with potential upside as the energy markets stabilize and our equity co-invest mature. NAV increased to $9.18 per share up from $9.09 per share last quarter. NAV at some point is going to start growing again and again, we think the stock is very cheap relative to us valuing those energy names. As I've said if you wrote off the two E&P names to zero your NAV would be like $7.50"
BDCs such as Apollo Investment (AINV) have recently reported improvements in oil-related investments, including its non-accrual investment in Spotted Hawk that was marked up during the September quarter, and management mentioned "things are going the right way" for the company and is using hedges to lock in gains:
"On the oil and gas side for Glacier and Spotted Hawk, given where oil prices are, things have been on the operator side very good this quarter. And so things are going the right way. And so, we put our hedge on in order to sort of try to lock some of that in."



Source: AINV Investor Presentation - September 30, 2017
PNNT management has its "three-point plan" that includes rotating the portfolio into higher credit quality first and second-lien lower yielding debt that will likely result in lower portfolio yields over the coming quarters:
"We have a three-point plan to do so. Number one, we are focused on lower risk, primarily secured investments, thereby reducing the volatility of our earnings stream. Investment secured by either our first or second lien are about 77% of the portfolio. Number two we are focusing on reducing risk from the standpoint of diversification as our portfolio rotates, we intend to have a more granular portfolio with modest bite sizes relative to our overall capital. And number three, we look forward to continuing to monetize the equity portion of our portfolio."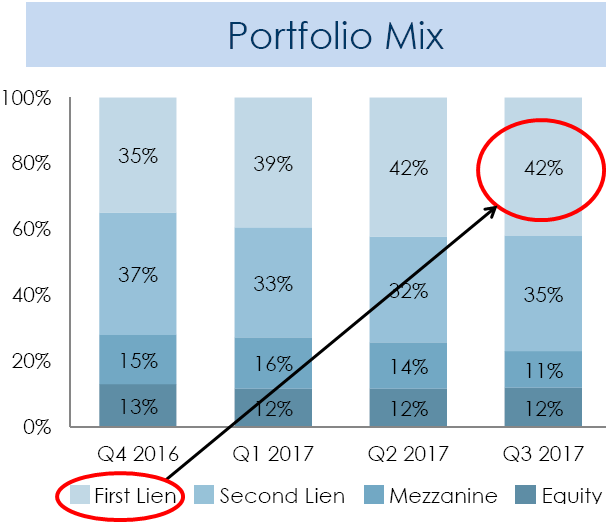 Source: PennantPark Investor Presentation - June 30, 2017
Around 33% of the total portfolio remains subordinated debt and equity positions, but energy exposure remains a primary concern for PNNT. However, management has mentioned that it will not make new energy investments in the coming quarters but will continue to support its current investments.
Total direct exposure to oil and energy-related investments account for almost $140 million or 12.7% of the portfolio fair value. RAM Energy and ETX Energy are the two largest energy/oil related investments, as shown in the following table, and both have previously sold non-core assets to generate liquidity/stability. ETX was previously restructured, resulting in realized losses but potential equity upside potential.
"With regard to our two E&P names, Ram and ETX, generally these companies are positioned to weather a period of prolonged lower energy prices, and should benefit from the gradual improving environment. Even if the two E&P investments were marked to zero our NAV would have been $7.54 as of June 30th. This indicates the potential upside value to our stock as we monetize those and other investments over time. We believe it will take more time for us to maximize the recovery of our overall energy portfolio."
The other oil/commodity-related investments, U.S. Well Services and American Gilsonite, have started performing better as drilling activity has picked up:
"During the past year we've had the opportunity to restructure most of our challenged energy names. Our two investments related to oilfield services, American Gilsonite and US Well, have started performing better as drilling activity has picked up. Increased values on those two names helped our entity this past quarter."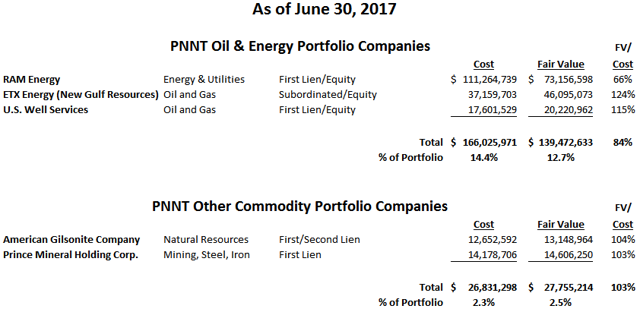 Source: BDC Buzz.com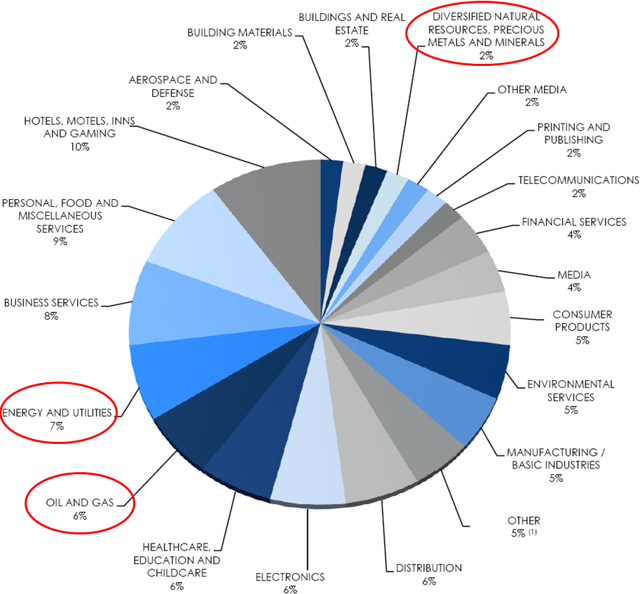 Source: PennantPark Investor Presentation - June 30, 2017
As of June 31, 2017, there were no investments on non-accrual status. This is a large improvement from September 30, 2015, when non-accruals were 9.4% and 5.5% of the overall portfolio on a cost and fair value basis, respectively.

Quality of Management and Fee Agreement:
I consider PNNT to have higher quality management, including its founder Art Penn in 2007 that also founded PennantPark Floating Rate Capital (PFLT) in 2010 and co-founded Apollo Investment in 2004. My primary concerns for PNNT are mostly related to still having a higher yielding portfolio with commodity-related exposure and lack of "total return hurdle" incentive fee structure to protect shareholders from capital losses. Also, dividend coverage is still reliant on the 16% fee waiver of management and incentive fees (extended through 2017). The waiver is based on previous ~16% portfolio energy exposure and contributes around $0.02 per share to net investment income ("NII"). Management was asked about fee waivers going forward and potentially changing the fee structure to something more permanent:
Q. "I understand that PennantPark was formed a long time ago and that the standard fee structure was established long time ago, when the fee structure was the norm for the market and yet overall market fee structures have changed. Has the board given any consideration as opposed to the fee waiver, just pushing some of the fee structure closer to what is kind of the current norm?"

A. "Yes, the board, as I said the board is always considering and obviously every year there's a formal framework but it's a discussion all the time. And as we get to the formal annual review I'm sure they'll consider something more permanent as well. I wouldn't overall obsess over the fee waivers going away in January, in my mind they're going to probably continue until we get some major off uplift in energy or until the board comes in with a more permanent structure."
There were no additional shares repurchased during the June quarter, and the $35 million share repurchase program expired on May 6, 2016. Potential upsides to the current projections and pricing include a renewed and utilized repurchase plan. However, this is not likely, given the recent comments from management.
Key Considerations for PNNT Investors:
Dividend coverage will likely decline along with the portfolio yield even as the portfolio is rotated out of equity investments.
Fee agreement needs to be updated with a total return hurdle to protect shareholders from capital losses as well as making fee waivers permanent.
Commodity risk should be considered a risk or an opportunity and watched closely as well as taken into account when pricing.
Upcoming Earnings Announcements:
BDCs have begun reporting calendar Q3 2017 results, including PNNT later this month. Please subscribe to Sustainable Dividends if you would like updates on the following as each company reports:
Target prices and buying points
Real-time changes to my personal BDC positions
Updated rankings and risk profile
Real-time announcement of changes to dividend coverage and worst-case scenarios
BDC portfolios
As mentioned in "Q3 2017 Earnings Season Preview For BDCs", many BDCs have provided timing for reporting Q3 2017 results. "A" denotes after the market closes, "B" is for before the markets open, and "Est" is estimated reporting date.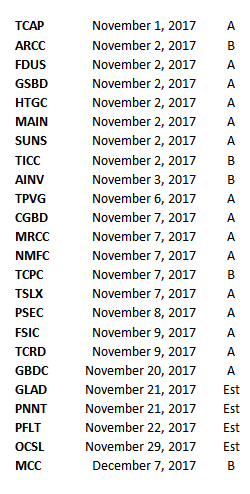 Disclosure: I/we have no positions in any stocks mentioned, and no plans to initiate any positions within the next 72 hours. I wrote this article myself, and it expresses my own opinions. I am not receiving compensation for it (other than from Seeking Alpha). I have no business relationship with any company whose stock is mentioned in this article.