The U.S. Economy
In recent months, we have discussed the emergence of a synchronized global expansion unfolding across most economic regions. Though the expansion is not expected to be a sharp move, it has the potential to impact the U.S. economy and has thus far contributed to a modest improvement to growth. The preliminary third quarter estimate for annualized U.S. GDP growth was 3%, overcoming hurdles from Hurricanes Harvey and Irma to beat consensus expectations.
The U.S. economy has previously reached 3% annualized growth for certain quarters during the post-Global Financial Crisis period, but it has generally struggled to maintain the pace. One vector for sustainably higher growth would be an uptick in investment spending. Investment spending boosts production capacity, reduces costs, and generates other productivity enhancements.
While investment spending has been choppy since the Global Financial Crisis, it has recently improved. For the third quarter, non-residential fixed investment - a measure for business investment - accelerated to a 5.8% year-over-year growth rate. Though we do not expect neither business investment nor domestic growth to be "off to the races" from here, we are closely monitoring key economic indicators to determine the sustainability of the upturn.
Several of these key indicators for private investment are indeed moving higher. The Institute of Supply Management (ISM) Manufacturing Index reached its highest reading since May 2004, Census Bureau data on core capital goods orders beat consensus expectations - having now risen for eight consecutive months - and economic outlook surveys of both U.S. CEOs and small businesses imply that capital expenditures plans are intensifying.
Supporting the investment uptick is positive corporate earnings growth. U.S. corporate profits have notably improved year-to-date, and as a percent of nominal GDP, remain close to record highs. Strong earnings growth provides American businesses with greater capacity to invest. Moreover, rising producer prices, accommodative credit conditions, and pockets of capacity constraints are each also contributing to support future capital investment.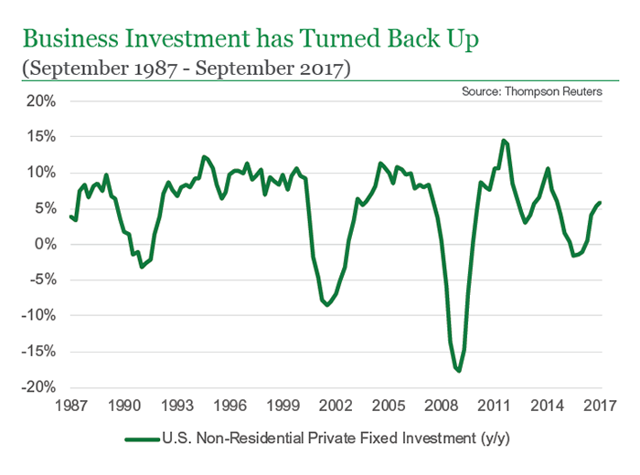 Though recent economic data have been relatively positive, there are several risk factors weighing on the sustainability of the investment upturn. Despite certain periods of weakness, aggregate U.S. capital expenditures over this business cycle are actually on par with prior expansions. Additionally, over a long-term view, there has been an ongoing, multi-decade trend toward asset-light business models, boosted in part by globalization and the outsourcing of manufacturing to emerging markets. These factors suggest less overall pent up demand that could act as a catalyst for a sustained investment cycle.
Finally, while today's increasingly tight labor market may induce greater investment spending, any sustained capital expenditure uptick would also act to accelerate the economy.
This would have the effect of tightening labor markets further. Upward pressure on wages and interest rates would materialize, and the already later-cycle economy would be moved even further along.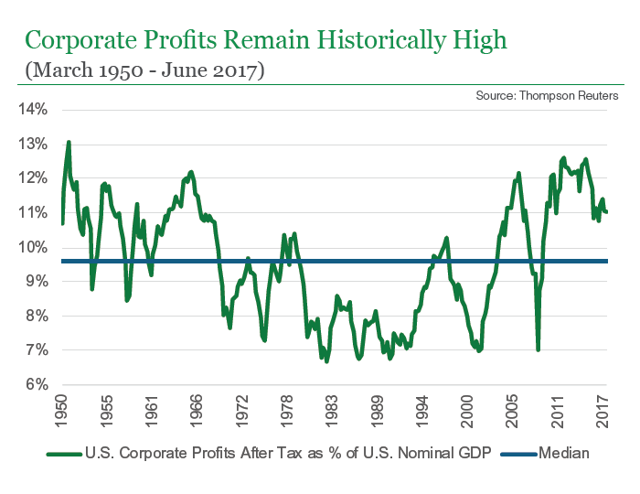 Global Economy
As in the domestic economy, an economic upturn is extending globally as well. Over the past eighteen months, developed economies have seen a modest acceleration in growth, and some large emerging market commodity exporters are gradually recovering from the recent commodity bust. The improvement is boosting profits, and for the first calendar year since 2010, all major economic regions are expected to generate positive earnings per share growth on a year-over-year basis.
The global upturn is providing broad-based support to the manufacturing sector, which can be seen in the global Purchasing Managers' Index (PMI). This survey is similar to the U.S. ISM Index and is an indicator of global manufacturing sector health. As of the end of the third quarter, the global manufacturing PMI has shifted higher, resuming a rising trend that dates to the beginning of last year. The pickup has coincided with an upturn in world trade volumes.
One risk factor that could challenge the global expansion is the managed deceleration of growth in China. After a long stretch of double-digit year-over-year growth, Chinese GDP has more recently grown in the mid-to-high single-digit range. Although the country is still growing quickly, its pace has slowed considerably as it converges with other developed economies.
Guiding this economic transition falls heavily on the Chinese government and the leaders of the Communist Party.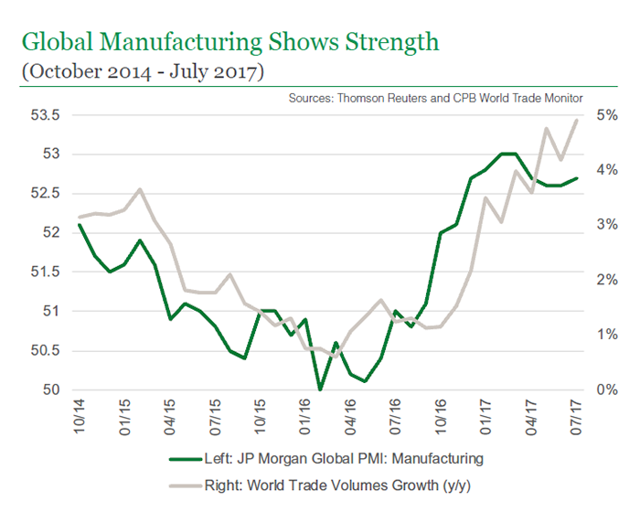 Last month concluded the 19th Party Congress, a twice per decade gathering of Communist Party officials as they pick new leaders and identify key government priorities. President Xi Jinping was awarded a second five-year term, and in a show of his consolidating power, Xi was enshrined in the constitution, elevating him to the same company as Mao Zedong.
Among his stated economic priorities, Xi did not update or revise China's ambitious GDP growth targets. This noteworthy de-emphasis of growth targets is a break from prior convention, and it suggests that Xi may be willing to sacrifice nominal growth going forward. Instead, Xi may choose to focus on implementing supply-side structural reform, transitioning China to a consumption-led growth model, or any other key economic issues that he prefers.
Our Perspective
Valuations in the broad U.S. stock market remain elevated. Similarly, valuations across most global equity markets remain at or somewhat above what we consider fair value, with significantly fewer pockets of cheap valuations remaining compared to the past several years. Investor complacency is elevated and volatility across various asset classes remains low. However, we continue to see few unsustainable excesses that would suggest the U.S. or global economy is at risk of imminent recession. In this environment, discernment and flexibility are critical.
Given the slow global growth environment, in portfolios geared toward capital growth, we are focused on targeting investments in fundamentally strong businesses with unique growth drivers, although we have become incrementally more comfortable owning economically sensitive names.
In general, we continue to believe that the key to generating attractive returns in today's slow growth environment is through owning innovative companies that achieve growth by creating new markets or disrupting old ones. However, as certain growth-oriented holdings reach our estimate of fair value and are trimmed, portfolios are becoming incrementally less growth tilted.
Regarding fixed income, our outlook is constructive toward credit, and although credit spreads are tight, they remain relatively attractive on a fundamental basis. As such, portfolios maintain a sizable allocation to investment-grade corporate bonds, although some portfolios may contain high yield exposure as well.
As we are in the later stages of the economic cycle, we are monitoring corporate credit allocations to determine if any action is warranted. Portfolios also have a notable allocation to U.S. Treasuries and Agencies as well as pass-through securities, including asset-backed securities. Generally speaking, portfolios are underweight non-agency mortgages.
We continue to believe a modest duration remains in clients' best interests. Over the intermediate term (which we define as the next 12 to 18 months), we expect that there will be continued pressure for interest rates to gradually move higher. We think the Fed will remain opportunistic, looking to hike the federal funds target rate when economic conditions allow, while also remaining sensitive to domestic and global market conditions, particularly as they reduce the size of their balance sheet by decreasing reinvestments of principal in Treasuries and Agency securities.
In our view, short term and income-oriented investors should also explore equities that display stable fundamentals and are trading at attractive valuations. We believe companies that generate strong, stable cash flows and pay an attractive dividend could be compelling options for these types of investors in the current environment.
Sources: Thomson Reuters and CPB World Trade Monitor. Analysis: Manning & Napier Advisors, LLC (Manning & Napier).