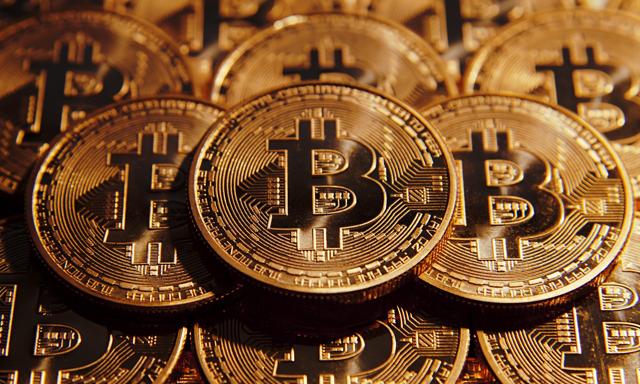 I'll be doing a series on Bitcoin to highlight both what it is, what it aims to be, and what its structure implies for the future of Bitcoin. This will be spread out over several articles.
I'll start with the basics. The basics, of course, will be well known for most ardent Bitcoin fans, but I doubt they're as easily perceived by the common investor. Thus, bear with me here as this will be the one article in the series where I'll bring the fewest original thoughts.
The Basics – What Is Bitcoin?
Bitcoin is a digital currency launched in January 2009, whose main distinguishing characteristic is that it's based on a peer-to-peer network creating a distributed ledger using a technology termed "blockchain".
That is, Bitcoin's main characteristic is that there is no central administrator creating the digital currency, saying who holds what amount of currency or relaying transactions. Instead, all of these functions are performed by the peer network itself.
This is in opposition to traditional currency, where currency creation is left to a central bank or a deposit-bearing financial institution (bank) when making loans. Likewise, the central bank and financial institutions centralize the records of who holds what amount of currency, and relay transactions between themselves for their clients. Today, the overwhelming majority of currency is digital, so Bitcoin being digital is not a distinguishing feature (hence, talk about digital currencies is gibberish).
In Satoshi Nakamoto's (the supposed creator/creators) words, Bitcoin is:
A purely peer-to-peer version of electronic cash would allow online payments to be sent directly from one party to another without going through a financial institution.
Blockchain And Miner Compensation
To achieve its peer-to-peer nature, Bitcoin implements a distributed ledger by using blockchain technology.
The blockchain is, as the name says, a chain of data blocks. Each block is mined for by miners. To mine a block, miners have to solve a cryptographic puzzle which is based on the existing chain. When a block is mined, two things happen:
The miner gets a block reward for finding the block first. The block reward is a given number

of new bitcoins, which are

reduced over time on a schedule

. Ultimately, this means there will be a time when the block reward no longer includes any bitcoin. This also has the result of limiting the potential bitcoin supply to 21,000,000 bitcoins (with

16,667,000 existing

as I write this).

The miner gets to include transactions into the new block. Presently, there's a maximum block size of 1MB. This allows miners to include around 2,000 transactions per block, on average. The miner gets paid for including transactions. Transactions willing to pay a higher fee will usually be included first.
When a block is mined, the block gets added to the blockchain, and work begins on a new block. Miners who didn't find the previous block, discard their work and also begin working on the new block. The transactions included in the blockchain (through inclusion in the new block) are thus validated and can no longer be changed.
The blockchain was needed not just to implement a distributed ledger, but also to prevent attacks like double spending (spending the same bitcoins twice). What prevents double spending is that the peer network only accepts the longest blockchain (as per a majority of the network). This means that the ledger is protected by a proof-of-work, since a longer blockchain had more work going into it (solving the cryptographic problems each new block imposes). Thus, the mining work serves not just the purpose of creating currency and registering transactions, but also of securing the currency and transactions.
Although Bitcoin uses blockchain technology, the concept of a blockchain itself is not patented (or, arguably, patentable). Anyone can launch a different blockchain to support not just different distributed digital currencies (termed "cryptocurrencies") but also for other purposes.
For instance, a blockchain could be used to secure and track components through a value chain, thus unquestionably validating their provenance. As a result of the above and Bitcoin's price rally, hundreds of different crytocurrencies have emerged. The new cryptocurrencies use the same technology, but often have different characteristics, in an attempt to make them technically more attractive than Bitcoin.
Bitcoin Specifics
Although Bitcoin implemented a blockchain to come into existence, there are still many specifics or parameters which are unique to Bitcoin. Many of these specifics can even change over time.
For instance, arbitrarily:
Bitcoin is set to have a limit of 21,000,000 coins issued.
The issuance, through block rewards to miners as described above, will follow a block schedule as follows: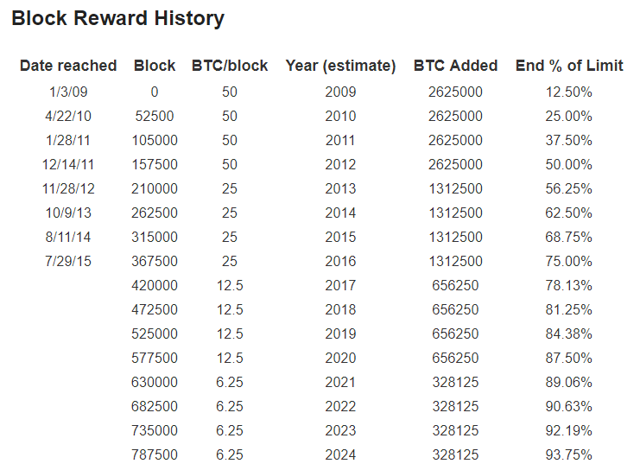 The difficulty of the cryptographic problem is adjusted over time (every 2016 blocks) to try and keep the block generation time around 10 minutes. That is, if more computing power joins the Bitcoin network, difficulty will be adjusted higher. If computing power leaves the network, difficulty will be adjusted lower – so as to try to keep block generation times rather constant.
The block size is set at a maximum of 1 MB. This could be changed, and indeed other crytocurrencies (as well as Bitcoin versions) are born because of seeking another limit. 1 MB allows for around 2,000 transactions to be included in each block, so this sets the limit of how many transactions the bitcoin network can accept per second (3-3.5/second).
Owning And Using Bitcoin - Transactions
To get bitcoins, you need to have (and thus generate) a Bitcoin address. The Bitcoin address is just a very large number. When a Bitcoin address is generated, it also comes with a private key which allows you to spend amounts from that address and the address constitutes the public key, which can be given to others so as to receive funds.
Bitcoin addresses can be generated either by transforming a passphrase into a valid Bitcoin address, or by seeding a random number which is then transformed into a valid Bitcoin address. This transformation is performed by hashing an input into the valid Bitcoin address.
The bitcoins in existence are not associated with anyone's ownership. Instead, they are just associated with addresses (new bitcoins are deposited into a given address), and the transactions since their generation, from address to address. Anyone controlling a private key to a given address can spend bitcoins from it.
A funny (but irrelevant) thing is that Bitcoin addresses can even be generated offline. That is, there is no validation at all of whether an address already exists and belongs to another person or not. The address space is so large, that the chance of this happening is vanishingly small. As a result, if per chance anyone generated an address equal to another already in existence and containing bitcoins, the second person would get a valid private key to that address and could theoretically spend those coins.
Likewise, anyone can see how many bitcoins are in each bitcoin address, as these addresses are public (any address that ever was in a Bitcoin transaction, from its generation, is on the blockchain). However, the person checking those balances does not know who the balances belong to, as there's nothing in the blockchain connecting a given address to a given person (or wallet).
Private keys (controlling addresses, and thus their bitcoin contents) can be stored in wallets, which are simply software programs/clients. These same programs can be used to create more addresses and corresponding private keys. Of note, a wallet doesn't really contain any bitcoins. Instead, if just contains references to where the bitcoins are, as well as the private keys necessary to spend those bitcoins. Again, anyone having access to the same private keys can spend those bitcoins, even if not having access to your "wallet".
You can receive bitcoins by giving the sender one of your public keys/Bitcoin addresses, for him to send bitcoins into. You can send bitcoins by signing a transaction (with your private keys) from your wallet to another Bitcoin address. Note that depending on the size of the transaction, the wallet might have to send bitcoins from several addresses using several private keys to sign the transaction. The wallets make the process of creating addresses and sending bitcoins transparent.
Finally, these bitcoin transactions are validated by their inclusion in new blockchain blocks, as they're mined by miners. The bitcoin sender can decide how much he wants to pay to validate the transactions. The less he offers to pay, the longer it will take for his transaction to be validated/included in the blockchain. Validation can take less than 10 minutes, or take as much as many hours. (There is an exception here for transactions which are internalized by exchanges, but those can't be said to have been officially validated in the blockchain.)
Conclusion
To sum it up:
Bitcoins are a digital currency whose main characteristic is it being based on a distributed ledger.
The distributed ledger is implemented through the use of a blockchain.
The blockchain is expanded with new blocks by miners. Each time a new block is discovered, the miner receives a block reward (new bitcoins) as well as transaction fees from the transactions included into the new block.
The inclusion of new blocks in the block chain is critical for securing the blockchain. The peer network will always accept the longest blockchain as valid. So whoever has more computing power is deemed to produce the valid blockchain (subject to a measure of chance).
Each time bitcoins are (or were) created by miners they are (were) associated with a Bitcoin address. Each Bitcoin address is controlled by a private key.
To spend bitcoins from any address, its private key is needed. Anyone can spend bitcoins from any address as long as he knows a valid private key for that address.
The typical user will use a Bitcoin wallet, which is simply a computer program. This computer program can be used to create and store Bitcoin addresses and corresponding private keys.
The Bitcoin wallet can also be used to send (or spend) bitcoins to other Bitcoin addresses. The software program will make it transparent from which addresses (from those the user has already created and which might have received bitcoins into) it will send the bitcoins, along with using the necessary private keys to sign the transactions.
Each time a user sends bitcoin, he'll have to specify how much he wants to pay in transaction fees, which will impact the speed that the transaction will take to be validated (included in the blockchain).
These are the broad basics of Bitcoin. In the following articles, I will cover many more aspects of it, including:
These aspects, culminating in the The Endgame, should leave you knowing all you need to know in what regards using, or investing in, Bitcoin.