Time for value?
I'm not telling something new when I say that the US stock market is not cheap. The numbers in Exhibit 1 speak for themselves.
Exhibit 1: Worldwide valuations

This leaves US equity-investors two options:
Invest in foreign stocks and/or

Invest in US value stocks.
According to Franklin Templeton there's a strong historical relationship between value and non-US equities. Over the past two decades, non-US stocks have tended to outperform US stocks when value starts to work.
Spin-offs have a history of outperformance and one ETF dedicated to spin-offs, the Guggenheim S&P Spin-Off ETF (NYSEARCA: CSD) is cheaper than the market. Famous value-investor Seth Klarman is a fan:
Spinoffs are an interesting place to look because there's a natural constituency of sellers and there's not a natural constituency of buyers.
Spin-offs: it's all about shareholder value
According to FINRA, there are four reasons for why some companies are saying they are better off as separate units than they are as part of one bigger company.
Better management

Separate growth trajectories and strategies

Better coverage from securities analysts

Unlocking shareholder value
The fourth reason is probably the most important one: the reduction of the so-called "conglomerate discount". This is the belief or feeling that the market values a diversified group at less than the sum of its parts. Spinning off one or more divisions can unlock this value for the shareholders.
There can also be tax-reasons at play: if properly structured, a spin-off is tax free to both the parent company and its shareholders. In contrast, a 35% corporate tax (plus state taxes) would be imposed on gain recognized on the sale of a separate business unit. In addition, the shareholders would be subject to a second level of tax if the parent company distributed the proceeds as a dividend or in redemption of stock.
Spin-offs: A history of outperformance
For investors, the appeal of spin-offs lies in their long history of outperforming the broader market, particularly in the years immediately following separation from a corporate parent.
Joel Greenblatt wrote (in 1997) the following about spin-offs in his book " You Can Be a Stock Market Genius":
You can make a pile of money investing in spinoffs. The facts are overwhelming. Stocks of spinoff companies, and even shares of the parent companies that do the spinning off, significantly and consistently outperform the market averages.
Exhibit 2: Parent and Spin-off 12-Month Relative Performance vs S&P 500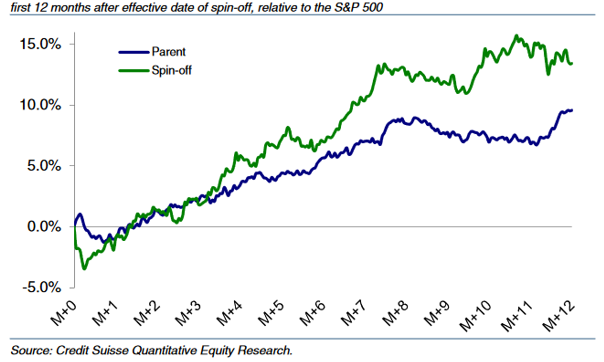 Please note that also the parent company is indeed outperforming the market after the spin-off.
Another remarkable feature: spin-offs underperform immediately after the spin-off.
Exhibit 3: Spin-off Relative Performance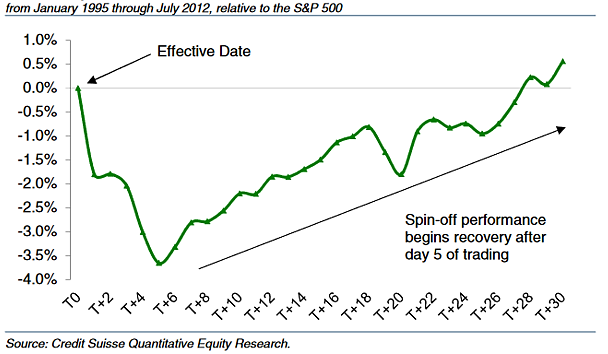 According to Credit Suisse, this initial underperformance is due to:
Index Selling:
If the parent firm was a member of an index, such as the S&P 500, the spun-off entity likely is not. Index funds and institutional investors will sell the spun-off shares when they do not meet their fund mandates.
2. Ownership Criteria:
The new owners of the firm (investors who received the spun-off shares), now own a firm that they never purchased. The spun-off firm may not meet their investment criteria. The parent may be a large-cap firm, while the spin-off a small- or mid-cap firm. The investor may decide to sell the new spin-off shares.
3. Limited History:
Available financial information may not be complete. Investors may wait to see how the spin-off fares on its own before investing.
4. Low Analyst Coverage:
Coverage from Wall Street analysts is significantly less for the spin-off versus the parent firm.
This initial selling pressure makes the spin-off cheaper and as time goes by the spin-off builds its own history and neglect by the analysts diminishes. The spin-offs climb their wall of worry to outperformance!
Exhibit 4: Spin-off outperformance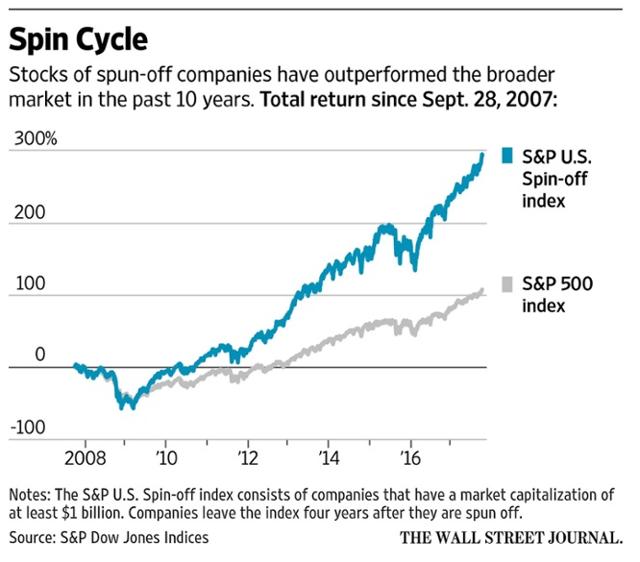 Small cap bias
Spin-offs are in general smaller in size than their former parent companies and the Guggenheim S&P Spin-Off ETF has as a result a clear small cap bias. As you can see in the below graphs from State Street Advisors, small caps perform well in the growth-phase of the economic cycle, which is the phase we are currently in. In the phase following the growth phase, the downturn, small caps perform badly. When we invest in spin-offs (and small caps) we have to keep a close eye on the economy in general and recessions in particular.
Exhibit 5: Size Factor Performance in Growth-Phase

Exhibit 6: Size Factor Performance in Downturn-Phase

This underperformance during recessions is also visible when we run a factor analysis of the Guggenheim S&P Spin-Off ETF on the Portfolio Visualizer-website.
Exhibit 7: Guggenheim S&P Spin-Off ETF factor analysis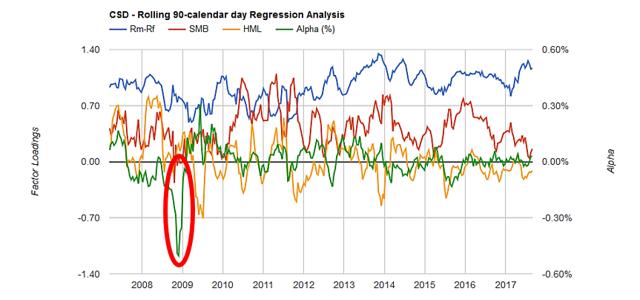 When we look at James Picerno's Recession Probability Estimate, we can only conclude that a recession is not around the corner.
Exhibit 8: Recession Probability Estimate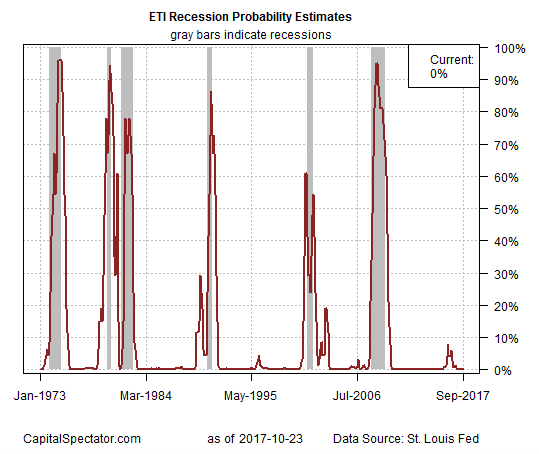 Portfolio composition
The Guggenheim S&P Spin-Off ETF tries to offer exposure to spin-offs "across a variety of industries". In exhibit 8 we compare the sector allocation with the S&P 500.
Exhibit 9: Guggenheim S&P Spin-Off ETF Sector Allocation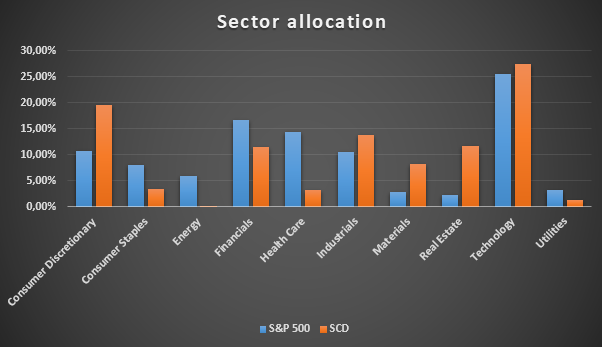 The biggest under-weights are HealthCare, Energy and Financials. The biggest over-weights are Real Estate, Consumer Discretionary and Materials. All in all we can say that the Guggenheim S&P Spin-Off ETF with its 60 positions and its current sector allocation is quite diversified.
Valuation
Besides being diversified, the Guggenheim S&P Spin-Off ETF is also cheaper than the S&P 500, as you can see in exhibit 9.
Exhibit 10:

Price momentum
On the price chart of the Guggenheim S&P Spin-Off ETF (NYSEARCA: CSD) we can clearly see that momentum is positive.
Exhibit 11: Guggenheim S&P Spin-Off ETF Price Chart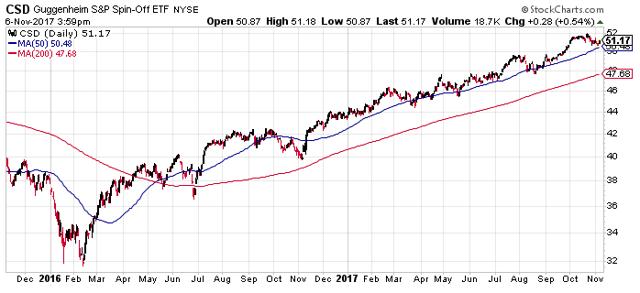 Conclusion
The combination of:
An economic tailwind,

A relatively cheap valuation and

Positive price momentum
makes us believe that spin-offs can continue their history of outperformance: buy the Guggenheim S&P Spin-Off ETF (NYSEARCA: CSD)!
Please click the "Follow" tab at the top of this article, if you like these articles and want to stay informed of any updates. If you would like to be among the first to be updated, be sure to check "Get email alerts" under the "Follow" tab.
This article provides opinions and information, but does not contain recommendations or personal investment advice to any specific person for any particular purpose. The information provided is for educational purposes only and does not constitute a recommendation of the suitability of any investment strategy for a particular investor.
Disclosure: I/we have no positions in any stocks mentioned, and no plans to initiate any positions within the next 72 hours. I wrote this article myself, and it expresses my own opinions. I am not receiving compensation for it (other than from Seeking Alpha). I have no business relationship with any company whose stock is mentioned in this article.