The VIX had its lowest close ever to close out last Friday and dropped even lower in aftermarket trading. Stocks, on the other hand, ran higher as the Dow (DIA), S&P 500 (SPY), and NASDAQ (QQQ) all closed at record highs. It has now been eight straight weeks since either the S&P or the Dow posted weekly losses.

Source: CNBC - Friday ~4 PM EST
Tech (XLK) was the top performing sector for both last Friday and for the week as investors responded to strong earnings data.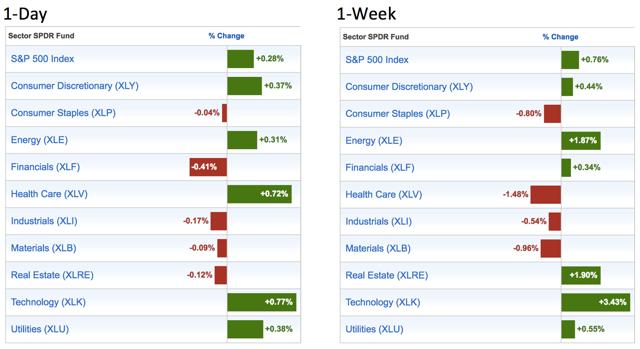 Source: SectorSPDR
The Energy sector (XLE) also posted significant gains for the week as crude oil prices pushed higher (particularly on Friday afternoon):

Source: MarketWatch
In relative terms, compared to the end of last week, 3-Month Treasuries increased 7.3% (up 8 bps), while 2-Year Notes rose 2.5% (4 bps), and the 10-Year was down 3.3% (8 bps). After widening at the end of last year, the 10-Year/2-Year spread has become quite a bit narrower thus far in 2017.

Although yields have mostly trended upward since this time last year, the yield curve has become noticeably flatter.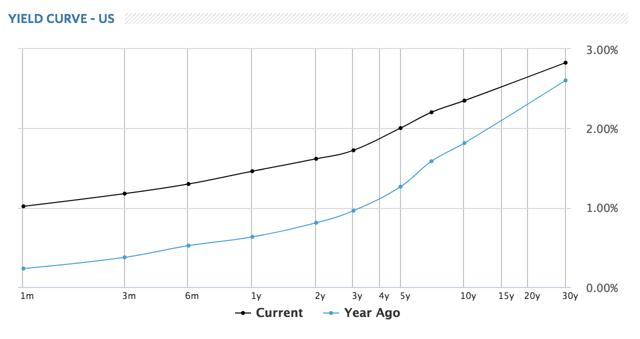 The Dollar saw notable movement against many currencies this week, though by the close of last week's trade the Dollar Index (UUP) was back almost exactly to where it was at the beginning of the week.

Gold also ended up closing out the week hardly changed from where it began, although it fell more than half a percent following the release of Friday's unexpectedly low jobs data.

Shout Out
Today, we feature a tweet from Bloomberg ETF Analyst Eric Balchunas, who spotted a filing for a new ETF which would seek to profit off the difference between implied and realized volatility on SPX options:

The ETF would accomplish its goal by "writing one-month S&P 500 Index call and put options" while simultaneously buying options "with a lesser market value (i.e., buying call options with a higher strike price and put options with a lower strike price)"
Their strategy of capturing volatility risk premium, as mentioned in the filing, is "based on the premise that the expected level of volatility of the S&P 500 Index priced into such options (the options' 'implied volatility') is, on average, higher than the volatility actually experienced by the S&P 500 Index (the 'realized volatility')."
Essentially, the idea is that as long as the volatility risk premium exceeds the fees of the ETF, its investors would walk away with a profit.
What are your thoughts toward the proposed ETF and more generally toward the ever-increasing variety of exchange traded products? Let us know in the comments section.
Thoughts on Volatility

Spot VIX exhibited behavior that was rather stunning, violating what appeared to be combinations of either increasing levels that appeared likely enough back through October 26, or even just more range-bound activity from the last week. The all-time low close was of course noteworthy, but the reasonably quick way that the index cut through the nine-handle in all of a day was by far the larger story to our view.
Prior to last week's close, 2017 witnessed several episodes of Spot breaking into the nines, and then gradually wearing down to lower and lower levels, with frequent but brief spikes higher that just as quickly subsided as the index strangled the life out of longs.
As an analogy, in this range, VIX shorts previously attacked more through suffocation (theta, contango) like a boa and less through an outright strike like a cobra (gamma). Last Friday's action was a very notable exception to this, and the long and short of it is that one may have to consider an entirely new playbook for how they want to position.
On that note, I recorded my first ever video commentary, a brief synopsis on the state of Spot, just the day before. Please pardon all the 'ums and ahs' in these first few videos that I record, lighting issues, etc. I promise that I'll work on the presentation, but it's a new medium for me that will take time and effort but hopefully add to the discussion as I improve. You gotta start somewhere, and it's better just to get going rather than to come out shining right out the gate!

The M1-M2 futures spread was holding up surprisingly well for those short the spread till this past Tuesday. Friday's slow grind lower in the VIX generated a meaningful widening in the M1-M2, as November responded more in toe with spot than the M2.
Now, it isn't too uncommon to see the M1-M2 debit approach about $2 as we approach maturity on the front month. But given how much ground was just gained by holders of the debit, coupled with how low spot is at present, this spread appears poised to potentially reach a very lofty figure if the Dec VX hangs in there while spot chills out.
Yesterday's MVB received a comment that attracted some interesting dialogue. It's a thought for playing what has worked over the last several weeks to months, and for those looking for innovative ways to position and work a tactic, you might consider the following: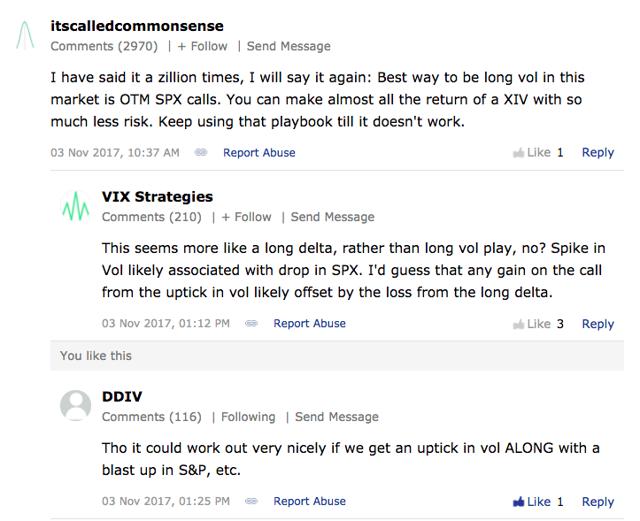 The thread continues, and for those looking to work a momentum trade, we think this position deserves merit. Now, ICCS's last statement deserves foremost attention: 'Keep using that playbook till it doesn't work'. This trade works well in an up market with a lot of skew. Take away either and the tactic falters, or at the very least works quite differently than it has.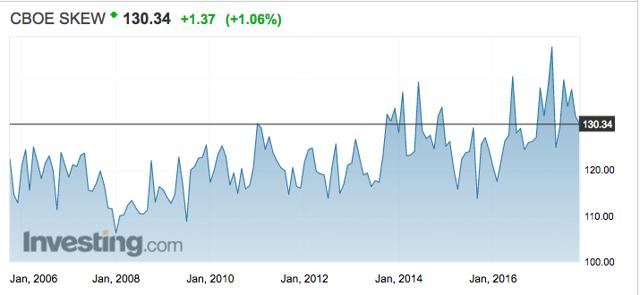 Given the rather suddenness of the VIX drop last Friday, we are particularly interested in readers' take on the situation. Do we now need to take seriously the prospect of Spot hanging out in the eights?

Fresh-squeezed ATM ES vol shifted dramatically over the course of a single week. The weekly and monthly contracts dove lower alongside spot VIX (which roughly corresponds to the monthly), while the quarterly contract barely budged. The 'contango' down the second column steepened at a speed that is far more common either for much higher VIX levels. We often see that rate of change when contango contracts or moves into backwardation.
The quarterly will be the key in our minds: does it hold firm, portending higher vol for the more-distant future, or does it quickly buckle and join its near-dated counterparts at the low end of the range?
We think over the next week or so at least, the quarterly is the place to remain long VIX. Time flies, short the guts (the monthly) looks attractive, but we'd advise the near-dated leg be a bit further out than a week (maybe 10 to 14 days). The monthly appears pretty vulnerable down to perhaps 6.2, which would be a new all-time low to our knowledge.
Conclusion
As always, thank you for sharing your thoughts and ideas. Reader and professional trader wb2 had this to say yesterday:

We appreciate the kudos wb2, but more importantly, we second your view that we are just loving the quantity and, more strikingly, the quality of statements we're getting on the MVB. We host the forum, but ultimately, the readers drive the conversation.
On a final and more personal note, my wife Lindsay and I have been trying to do more in terms of video capabilities of late on our separate projects (BOT for me, "Dree Your Own Weird" for Lindsay, which covers our family travels). I love this woman and hope to be as natural as she is on camera one day. We'll see! In the meantime, sincere thanks for reading, and we'd love to have you track our journey. Hopefully you can relate to what she has to share.
Please consider following us
Disclosure: I am/we are short SPY.
I wrote this article myself, and it expresses my own opinions. I am not receiving compensation for it (other than from Seeking Alpha). I have no business relationship with any company whose stock is mentioned in this article.
Additional disclosure: We actively trade the futures markets, potentially taking multiple positions on any given day, both long and short. It is our belief that the S&P 500 is meaningfully overvalued. As such, we typically carry a net short position using ES options and futures.