Oil is in break-out mode and taking Chesapeake Energy (NYSE:CHK) along for the ride. This is welcome news and a real catalyst for Chesapeake Energy going forward. The company just reported mixed earnings, slightly missing on revenues and beating on the bottom line. The late summer hurricanes had a negative impact on production.
Make no mistake, this has been a very tough year for any long-term holders of the stock. But I now believe the tide is turning towards a sustainable long-term rally. The share price has held a very strong level of support at $3.50 and in my view now is the time to pick up shares on the cheap.
Here is a three-year chart for more clarity.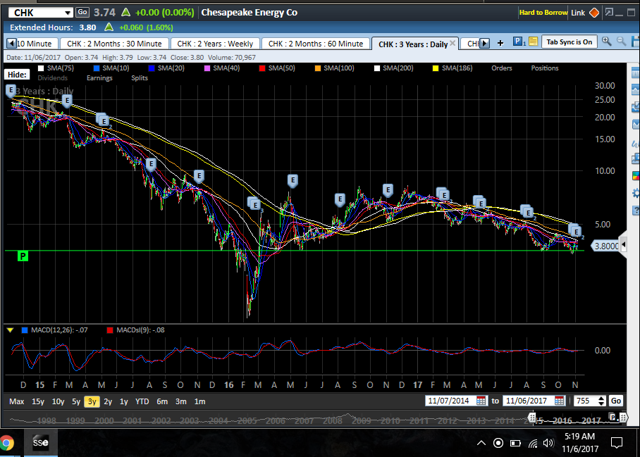 One can see the dramatic wipe-out that caught legendary investor Carl Ichan, along with many others, culminating in a shakeout for the ages in February 2016. Take out that plunge on false bankruptcy rumors in early February and you can see a solid level of support at the $3.55 level that has been tested multiple times.
Earnings call misses on revenues, beats on income
Let us take a look at the earnings for signs of life.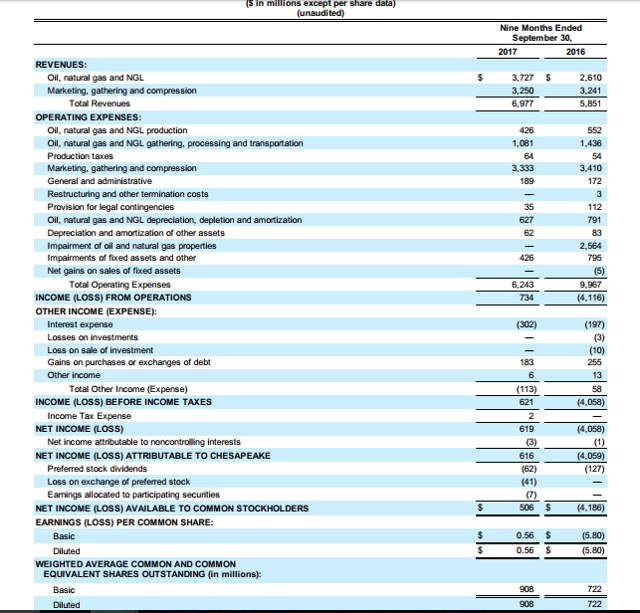 Interested investors can see on a YOY basis Chesapeake's total revenues rose nearly 20% through the first nine months to $6.977B against $5.851B a year ago. Net income is going the right direction as well, swinging from a $4.058B last year loss to a $621M gain before income tax.
Bear Case
Share dilution and higher debt refinancing continues to be a negative for shareholders.
Chesapeake Energy's share count now stands at 908M outstanding shares which is a huge dilution from the 722M a year ago. That will not sit well with investors if it continues. CEO Doug Lawler has been in the unenviable position of crisis manager in chief for years now, refinancing debt and selling shares into the market as the company did what it had to do to survive the oil price collapse of the last three years.
High interest rate refinancing of debt not a good sign.
I recently wrote an article of why I sold Chesapeake after the second quarter earnings report. One reason was the stock was trading significantly higher in the $4.50 range and I did not like the possibility of more dilution. I saw the downside potential to $3.50 as a possibility and did not want to take that ride to purgatory. Interested investors can read that article here.
That dilution event took place shortly after with Chesapeake selling $850M in notes at 8.% interest. Some of the proceeds were used to pay down earlier maturing debt. Investors can read the document from the SEC for themselves here. I for one do not like to see this high rate of interest on such a large amount of money, however they have extended maturities to a manageable level for the next two years.
Recent price action
When the news came out in October that Chesapeake was offering $850M of new notes, the stock price dropped past a solid level of support at $3.92 and fell to a three-year low of $3.41. I bought the stock around the $3.50 level for a trade that paid off immediately. The stock rallied 15% over the next several sessions hitting $4.05 the day before earnings. I sold half of my position that day near the high and bought back on Thursday and Friday under $3.64. I now believe that the $3.41 level will mark the yearly low.
Bull Case
Post earnings trade and oil over $55 is bullish for Chesapeake.
Here is a YTD Chart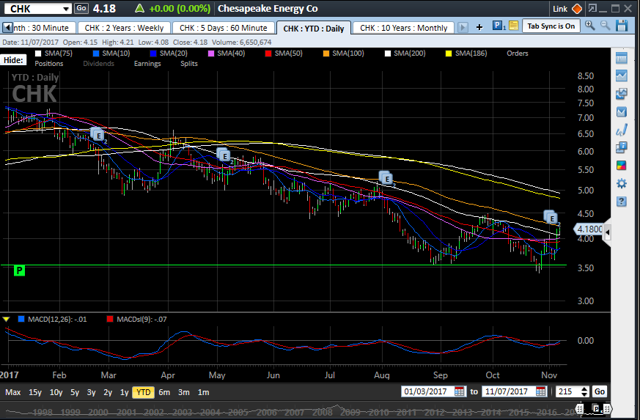 In my view risk is now to the upside. Oil is breaking out on global strength and geopolitical events in the Middle East. Yesterday's close over $57 was the highest in over two years and a welcome signal for oil bulls.
I believe CEO Doug Lawler is a huge positive for the company, and in my view will be the reason the company begins to thrive over the next 24 months. His work ethic, knowledge of the oil business and candor will serve him well going forward. He recently stated on the last conference call that he has "more confidence then ever in Chesapeake and its future prospects" and I for one believe him.
This week's trading activity in Chesapeake will be interesting as the bulls and the bears battle out their ideology in the stock. I believe the bottom is in at $3.41 for the year baring any major catastrophic event. Look for $4.24 to be a catalyst for a break out. My near-term price target for Chesapeake is $5 which I believe could happen in one day at any time.
Short Squeeze opportunity?
According to shortsqueeze.com there is 20.42% short interest in the stock, with current volume it would take 9.5 days for shorts to cover. Any large sale of non core assets which Chesapeake is working on will likely send the stock on a nice little joy ride to the $5 level forcing shorts to cover and driving the share price higher. You can view info from the website here.
Saudi Aramco IPO and Global Growth positive for oil prices
In my view it is important for oil bears to understand that global growth is happening and likely going to continue for a few more years. The Saudis have big plans and the deep pockets of the world have a lot to gain with oil trading in the high $60s to $70s. I believe upward pressure on oil is coming sooner than most expect. This will likely keep a floor under oil prices as the market makes higher highs and higher lows in oil.
Conclusion
In my view Chesapeake has mostly flushed out the weak hands before and after the last earnings call. I believe the Saudis will do their part to prop up oil prices for their day in the sun next year.
Chesapeake will increase their earnings and sell off more non core assets to pay down debt and continue work on balance sheet repair. The company's drilling expertise will continue to drive production in the right direction.
The company has serious lifting to do but I believe with natural gas at $3.11 and WTI at $57 and rising the company should be trading closer to the $5 range right now. A short squeeze can happen at any time. I like the stock right here and on weakness.
As always do your own research, make your own decisions and always have an exit strategy in place before making any trade.
Disclosure: I am/we are long CHK,LYG,BP,GE.
I wrote this article myself, and it expresses my own opinions. I am not receiving compensation for it (other than from Seeking Alpha). I have no business relationship with any company whose stock is mentioned in this article.